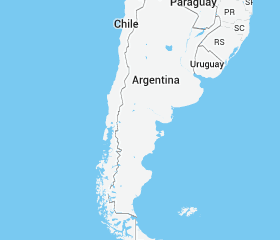 Argentina is the largest wine producer in South America, and the fifth largest wine producing country worldwide. Only about 10-15% of wine produced in Argentina is exported, however this number has been climbing since the 1990s.
The desire to increase exports has resulted in advances in the quality of wine produced and has generated an international interest and demand in Argentine wine.
Wine has been produced and consumed in Argentina for about 200 years. Spanish settlers are credited with bringing the first European vine specimens to the Americas in the 1500s. The Catholic priests who arrived in the region planted vineyards near monasteries to ensure a steady supply of wine for religious celebrations. In 1557 the first commercial vineyard was established in the area by Jesuit missionaries. The arrival of European settlers in the 1800s helped to advance wine production in Argentina as they brought with them new grape varieties as well as long-established knowledge and traditions in winemaking.
The winemaking regions of Argentina are located in the western part of the country among the foothills of the Andes Mountains. Vineyards are found in the broad valleys or sloping plains where the conditions for growing grapes are ideal. Days are warm and sunny and nights are brisk and chilly, with an arid desert-like climate. Although rainfall in the area is limited, water for irrigation is provided by the snowmelt from the nearby mountains. Of course within these regions there are areas characterized by their own particular climates and soil types, which enables the cultivation of different vines and the production of a variety of wine styles. Mendoza is Argentina's largest and most famous growing region and includes the well-known districts of Maipu, Agrelo, Lujan de Cuyo, and Uco Valley.
Argentina grows a wide range of grape varieties, with Malbec being the most popular. Other important red varieties include Cabernet Sauvignon, Syrah, and Bonarda. For white varieties, Pedro Gimenez, Torrontes, Chardonnay and Sauvignon Blanc are the most widely planted. Additional grape varietals grown in Argentina include Sangiovese, Tempranillo, Merlot, Pinot Noir, Riesling, Chenin Blanc, Viognier, and Semillon.
INTERESTING FACTS:
Grapes grown in Argentina have the longest "hang-time" in the world. By remaining on the vine longer, the grapes produce balanced wines with ripe fruit flavors and smooth tannins.
Because of the high altitude and desert-like climate, vineyards in Argentina rarely face issues of insects, fungi, molds, and other diseases that affect grapes in other countries. Pesticides are hardly needed and are rarely used.
Approximately 75% of Argentine wine is produced in Mendoza.
Although historically Malbec originated in southwest France, it has found its ideal growing conditions in Argentina. Malbec wine is characterized by it's deep red color, intense fruit flavors, and velvety texture.
The southern Patagonia region of Argentina is home to some of the world's most southerly located vineyards.
In November 2010, the Argentine government declared wine as its national liquor.
LEARN MORE:
http://www.winemag.com/Web-2013/Off-the-Grid-in-Argentina/
http://www.nytimes.com/2014/01/01/dining/argentina-tries-to-give-malbec-more-status.html?_r=0
http://www.foodandwine.com/articles/the-appeal-of-argentina-wine-country
http://www.amazon.com/Vino-Argentino-Insiders-Country-Argentina/dp/0811873307
http://www.amazon.com/Wines-Southern-Hemisphere-Complete-Guide/dp/1402786255