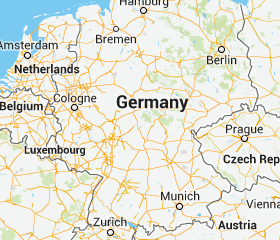 Germany is the eighth largest wine-producing country in the world and generates about 1.2 billion bottles annually. There are thirteen major growing regions in Germany and they are mostly situated along the Rhine River or its tributaries in the western area of the country. The proximity to the river is important as the water has the ability to moderate the cool night temperatures of the regions and reflect the warmth of the sun. Mountains often shelter the vineyards and some of the best sites are extremely steep, positioned facing the south or southwest, enabling them to receive plenty of sunlight. These steep vineyards can be very challenging to work and typically require a lot of difficult, manual labor to produce wine.
German wine regions are some of the coldest and most northerly in the world. A general rule of thumb for the German wine regions is the cooler the climate, the more dominant Germany's greatest and most popular variety, Riesling, is. Riesling is an aromatic variety with high acidity levels. It can be used for a variety of wine styles, including dry, semi-sweet, sweet, and sparkling. When it comes to Riesling, it can also be said that the cooler the climate, the sweeter the Rieslings tend to be. Mosel is the coolest of the German growing regions, and home to some of Germany's finest Rieslings. Other regions known for Riesling include Rheingau, Mittelrhein, and Hessische Bergstrasse.
Although the majority of German wine produced is white, red wine has become more popular in recent years. Spatburgunder, or Pinot Noir, is the most widely planted red grape varietal in Germany and is commonly grown in the regions of Baden, Rheingau, and Ahr. Other grape varietals often seen in Germany include Muller-Thurgau, Dornfelder, Silvaner, Grauburgunder, and Blauer Portugieser.
INTERESTING FACTS:
Winemaking in Germany dates back to 100 BC when ancient Romans, who conquered the region, began producing wine.
The wine-growing regions of Germany include Ahr, Baden, Franconia, Hessische Bergstrasse, Mittelrhein, Mosel, Nahe, Palatinate, Rheingau, Rheinhessen, Saale-Unstrut, Saxony, and Wurttemberg.
The regions of Rheinhessen and Palatinate (Pfalz) are the two largest in Germany.
Over 60% of the wine produced in Germany is white. Riesling and Muller-Thurgau account for over 35% of Germany's vineyard plantings.
Nearly 12% of Germany's vineyard area is planted with the predominant red wine grape variety, Spatburgunder, or Pinot Noir.
One of the most unique characteristics of German wine is its use of a classification system that measures quality based on the grape's natural sugar level at harvest (which is completely different from the sugar level of the final product.) The same grape varietal can produce anything from extremely dry to ultra-sweet dessert wines and is classified into two major quality categories: QbA and QmP.
LEARN MORE:
http://www.nytimes.com/2013/08/28/dining/reviews/germanys-rieslings-on-the-tip-of-the-tongue.html
http://online.wsj.com/news/articles/SB10001424052702303916904577376161929250858
http://www.snooth.com/articles/the-wines-of-germany-101/?viewall=1
http://www.amazon.com/German-Wine-Guide-Armin-Diel/dp/0789205777
http://www.amazon.com/The-Finest-Wines-Germany-Producers/dp/0520273222