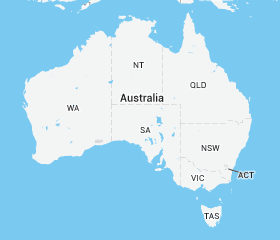 Australia is the sixth largest wine-producing country. It is also the fourth largest wine exporter in the world today, exporting close to half of the total wine produced. Over the past 30 years, Australia has earned a reputation for producing high quality wines, consistently winning awards at almost every major international wine competition and setting records for the price for a single bottle. The finest Australian wines are considered some of the best in the world.
Australia is considered part of the "New World" of wine producers. The Australian wine industry is renowned worldwide for it's ability to combine traditional winemaking techniques with new, innovative processes in bottling, grape breeding, and growing technologies. It is an industry strongly based on research and development fostered by organizations such as the Australian Wine Research Institute.
A wide range of climate types and geographical conditions characterize the vast landscape of Australia. This makes it a versatile wine growing country, capable of producing diverse styles of wines. Wine is produced in every state in Australia, and there are over 60 designated wine-growing regions, mostly located in the cooler, southern areas of the country. The most famous regions in south Australia include the Barossa Valley, known for its Shiraz, and the Clare Valley, known for its dry, crisp Rieslings. There is also the Limestone Coast, which is often referred to as "the Bordeaux of Australia," and is home to the Coonawarra and Padthaway regions. Other famous wine growing regions in Australia include the Murray Darling and the Hunter Valley regions of New South Wales, the Yarra Valley of Victoria, and the Margaret River area of western Australia.
Australia produces both red and white grape varieties. There are no grapes native to the country, and Vitis vinifera varieties were brought to Australia from Europe and South Africa in the late 18th and early 19th centuries. Today, the most widely planted red varieties include Shiraz, Cabernet Sauvignon, Merlot, and Pinot Noir. The most popular white varieties include Chardonnay, Semillon, Riesling, and Sauvignon Blanc.
INTERESTING FACTS:
The United Kingdom now imports more wine from Australia than it imports from France. The United States is the second biggest importer of Australian wines.
Australia has some of the oldest grape vines in the world. Many of Europe's established vineyards were destroyed by disease (phylloxera) in the 1800s. The only survivors were the vines brought to Australia.
The information on Australian wine labels is strictly regulated. Australian law says that if a wine claims to be from a specific geographic region, it must contain at least 85% of wine from that region.
Like the United States, Australian wines are labeled by their grape variety, rather than their appellation.
Syrah was originally called Shiraz in Australia and Syrah elsewhere. Its enormous commercial success has led many of the world's Syrah producers to label their wine "Shiraz."
Australian wine is often appealing to new wine drinkers due to its fruit-forwardness.
LEARN MORE:
http://www.winecompanion.com.au/
http://www.australianwinespot.com/australian_wine_articles.html
http://www.winespectator.com/blogs/show/id/47913
http://www.rakuten.com/prod/the-history-of-australian-wine/235872238.html?listingId=331334562&s_kwcid=