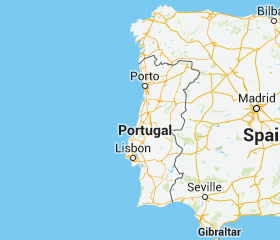 Portugal is the world's seventh largest wine producer and exports over half of its production. It is only 575 miles long but has the eighth largest vineyard acreage in the world with approximately 500,000 acres. Although it's a relatively small country, Portugal has over twenty distinct wine-growing regions. Most well known is the hot, dry Douro region in the north, best known for producing Portugal's legendary Port wine. The Dao and Alentejo regions are recognized for their production of affordable, quality red wines. Other notable regions include Vinho Verde, Barraida, and Colares.
Portugal is characterized by a temperate climate and features a significant variety of microclimates and soil types among its mountains, hills, valleys, and plains. In addition, there are close to 250 grape varieties indigenous to Portugal, more than any other country in the world. Internationally popular grape varietals like Cabernet Sauvignon, Merlot, and Chardonnay have been grown in Portugal but have had little impact on Portugal's wine industry. Most of Portugal's wine tends to be centered on its wide range of native grapes or those of Spanish origin, such as Touriga Nacional, Alvarinho, and Tinta Roriz. This abundance of grape varieties combined with the various climates and soils means Portugal is capable of producing a wide spectrum of wine styles ranging from the traditional sweeter styles to full-bodied reds to crisp, acidic whites.
INTERESTING FACTS:
The origins of winemaking in Portugal are not clear. The Phoenicians may have brought the first grapes to Portugal, but the Romans also had vineyards there as well.
The appellation system of the Douro Valley region was created about 200 years before France. In 1756, the Douro Valley became the world's first official demarcated wine region.
The Douro Valley is one of the last of the world's major wine regions still pressing large quantities of its grapes by foot. Shallow, open wine-fermenters called lagares are used for this purpose.
The blending of grape varieties is very common in Portugal and each wine region is known for a specific blend.
Adding a spirit such as brandy during the end of the fermentation process makes fortified wine, or Port. The fermentation process is stopped before all the sugar from the grape juice is converted into alcohol. This accounts for its sweet taste.
Portuguese wines are generally labeled by region, and the producer and region are the most prominent features on the label. Listing a blend's grape varieties is not always a priority, but can often be found on the back label.
LEARN MORE:
http://www.winesofportugal.info/pagina.php?codNode=123481&market=2
http://www.decanter.com/people-and-places/wine-articles/523599/portugal-moving-up-in-the-world
http://online.wsj.com/news/articles/SB10001424052748703954004576090002488302210
http://www.travelandleisure.com/articles/uncorking-portugal
http://www.amazon.com/Port-Douro-Richard-Mayson/dp/1906821801/ref=pd_sim_sbs_b_2