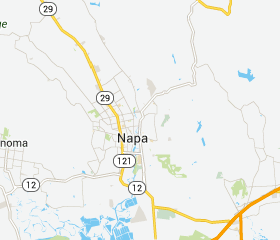 California's Napa Valley is the most famous and prestigious wine-growing region in the United States. Napa Valley is the name of the AVA, or American Viticultural Area, within Napa County. It was established in 1981 and covers over 225,000 acres of land. It is about 30 miles long and five miles wide, located approximately 35 miles north of San Francisco, with the Mayacamas Mountains to the west and the Vaca Mountains to the east. It is home to 45,000 acres of planted vineyards, over 400 wineries, and 815 wine brands.
Napa Valley enjoys a long growing season with a dry Mediterranean climate characterized by warm sunny days and cooler evenings. Despite its relatively small size, Napa Valley boasts a range of various microclimates, soil types, elevations, and weather patterns within the region. These variances affect the quality and taste of the resulting wine produced. Because of this, winemakers take advantage of these distinctions in climate, geology, and weather by planting grapes in the regions that are most suited for that particular varietal. These specific sub-regions have their own boundaries and are actually designated as their own unique appellations. There are 15 appellations, or particular wine-growing regions defined by their own unique climates and soils, recognized within Napa Valley.
Quality wine has been produced in Napa since the 1960s, but it was the 1976 Judgment of Paris that put Napa on the map as one of the world's premier wine-producing regions. The Judgment of Paris was a blind wine-tasting held in Paris with a panel comprised of highly regarded French wine experts. Napa Valley red and white wines beat out its French rivals and solidified Napa Valley's status as a world-class wine producer.
While a number of varietals thrive in the region, Cabernet Sauvignon has become the grape most associated with Napa Valley. It is widely planted across the region with a total of 18,200 acres. For white wine varietals, Chardonnay is the most popular in the region with over 7,300 acres. Other prominent varietals grown in the region include Merlot, Sauvignon Blanc, Pinot Noir, and Zinfandel.
INTERESTING FACTS:
Although extremely well known as a leading wine producing region in California, Napa Valley puts out less than 5% of the state's total wine production.
Napa Valley is only about 1/8 the size of France's Bordeaux wine region.
George C. Yount was an early founding pioneer and settler who was the first person to cultivate grapes in the region in 1838.
The 15 sub-appellations of Napa include Atlas Peak, Calistoga, Chiles Valley District, Diamond Mountain District, Howell Mountain, Los Carneros, Mt. Veeder, Oak Knoll District of Napa Valley, Oakville, Rutherford, St. Helena, Spring Mountain District, Stags Leap District, Yountville, and Wild Horse Valley.
Before grapes, prunes were the largest crop produced in Napa.
The Napa wine industry and related businesses create an economic impact of more than $13 billion each year to the economy of Napa County. The local wine industry generates 46,000 jobs in Napa County and 303,000 nationwide.
LEARN MORE:
http://www.reuters.com/article/2013/12/13/us-travel-napa-idUSBRE9BC06B20131213
http://recipes.howstuffworks.com/food-facts/napa-valley.htm
http://www.travelandleisure.com/articles/insiders-guide-to-napa-valley