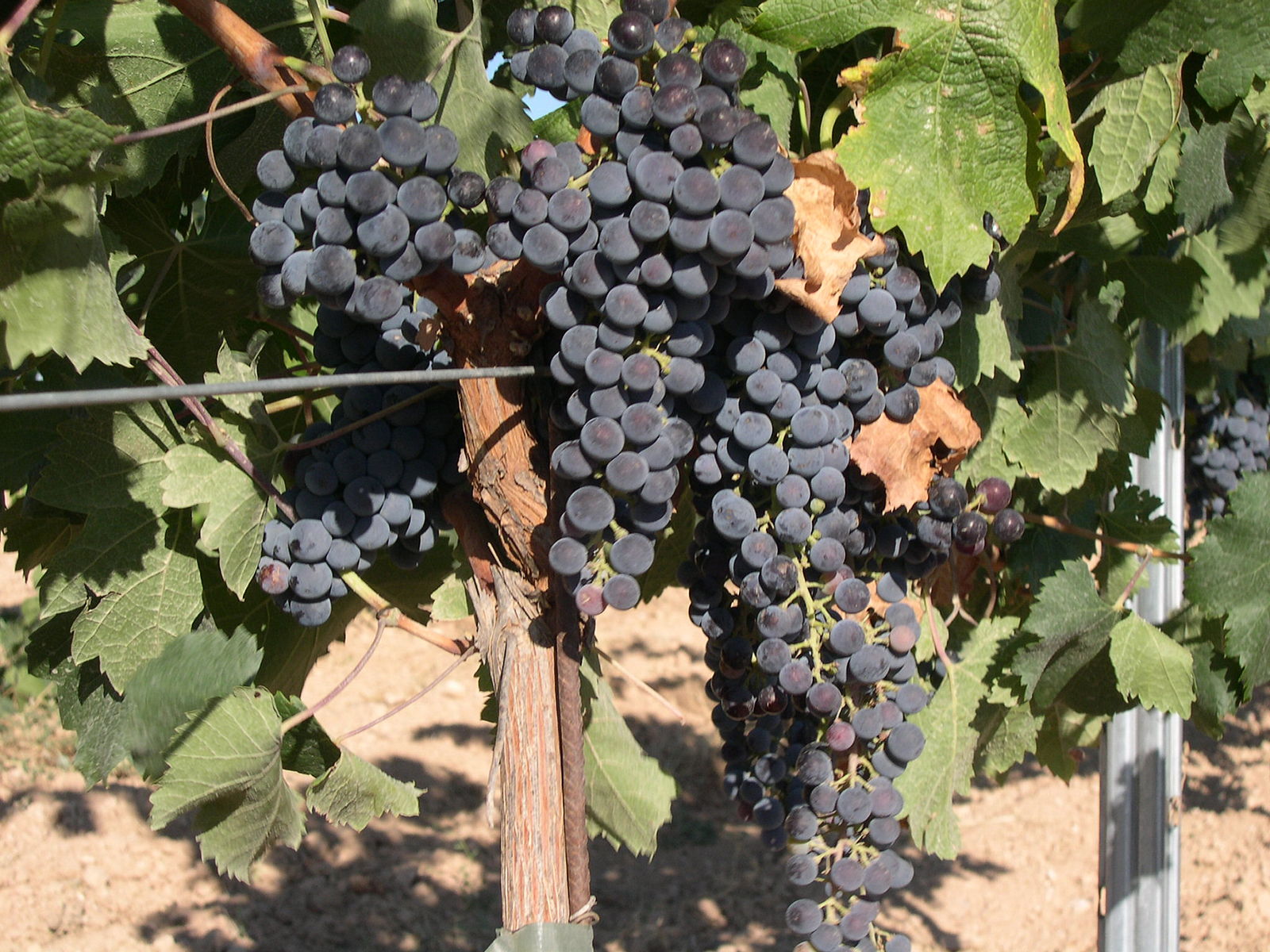 (Pronounced Mare-LOW)

Merlot is one of the most planted and favored red wine grapes, rivaled only by Cabernet Sauvignon. It first originated in Saint-Emilion and Pomerol, but is now grown all over the world. It is the most common red grape variety grown in the Bordeaux region of France, and is also extremely popular in northern parts of Italy and the warmer regions of southern Switzerland. The 1980s and 1990s saw an increase in Merlot cultivation in the United States, primarily in California and Washington. The flexibility, softness, and fresh, ripe fruit characteristics of Merlot make it ideal for varietal wines as well as blending with other red wine grapes.
Typically, wine produced from Merlot grapes is considered smooth, rounded, and easy to drink. It is generally medium-bodied, soft and velvety in texture, with fruity flavors of plum, cherry, blackberry, raspberry, and currant. Earthy notes of pepper, olive, mushroom, and tobacco are often present, as well as herbal notes of tea, thyme, rosemary, sage, and mint. With the influence of oak, Merlot can also take on flavors of cedar, smoke, vanilla, caramel and spice.
Merlot is normally served at room or cellar temperature. It is a food friendly wine whose soft, smooth characteristics allow it to be enjoyed with a wide variety of dishes ranging from fish to red meat. Depending on the style of Merlot chosen, it can pair well with roast meat and chicken, burgers, Italian cuisine, pizza, casseroles, seared or blackened salmon, rich sauces, caramelized roasted vegetables, mushroom based dishes, and salads with red fruits.
When consumed in moderation, Merlot offers potential health benefits, including lowering cholesterol levels, preventing cancer, and decreasing the risk of heart disease and stroke. Resveratrol is a polyphenol compound produced by Merlot grapes when the grapes are converted into wine. It has antioxidant properties known to protect the lining of the blood vessels in the heart and reduce blood clots. Additionally it has been reported to aid in the production of good bacteria in the digestive tract, which may protect against gastrointestinal illnesses. Resveratrol has also been linked to improved mobility and enhanced cognitive functioning in older adults. "http://woman.thenest.com/benefits-merlot-wine-1792.html"
INTERESTING FACTS:
The name Merlot is thought to have derived from merle, meaning blackbird in French. It was likely given that name as either a reference to the dark blue-black color of the grape's skin, or for the blackbird's fondness of the early ripening grapes.
Merlot grown in cooler climates will have notes of blackberry and plum, while Merlot produced in warmer climates will have flavors of fruitcake and chocolate.
In traditional Bordeaux blends, Merlot is included to add softness and smoothness to the blend.
Because of its shape, the Merlot leaf is often said to resemble a monster's face.
Between 1970 and 1975 French authorities banned the planting of Merlot because of problems involving frost and rot that were encountered in the 1950s and 1960s.
One of the most famous and expensive wines in the world, Château Pétrus, is almost exclusively Merlot.