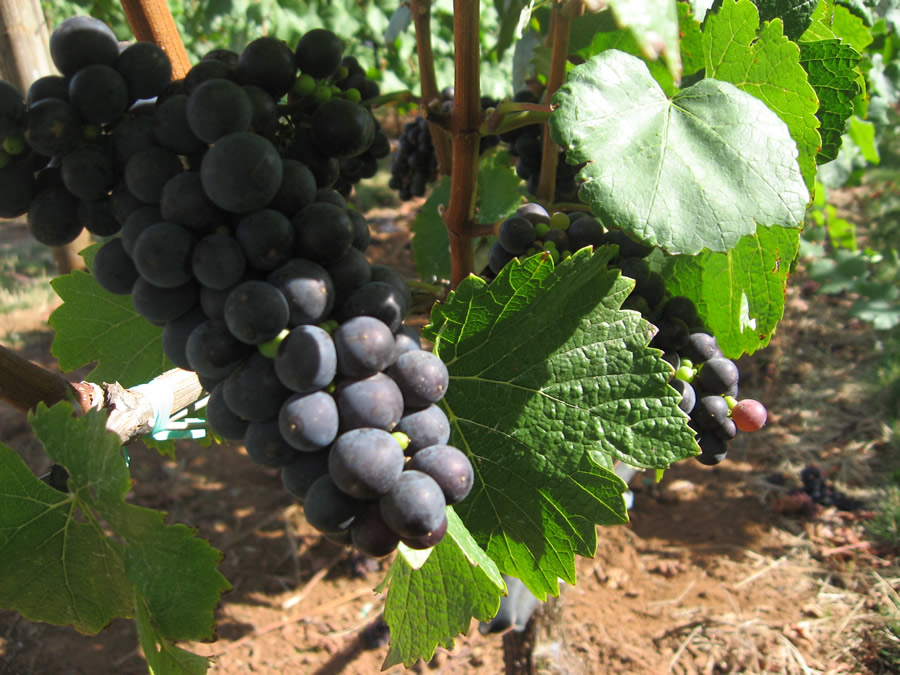 (Pronounced PEE-noh Na-WAHR)

Pinot Noir is one of the most adored and revered red wine grape varietals and it produces some of the finest and most extraordinary wines in the world. The grape is planted in winegrowing regions everywhere, but is largely considered the most prominent red wine grape of Burgundy. Pinot Noir prefers a cooler climate, and thrives in regions such as the Carneros, Central Coast, and Russian River AVAs of California, the Willamette Valley of Oregon, Tasmania and Yarra Valley in Australia, the Martinborough and Marlborough regions of New Zealand, and the Walker Bay area of South Africa.
Winemakers agree Pinot Noir can be a challenging and temperamental varietal to successfully grow and vinify. With its thin skin and late ripening, Pinot Noir is prone to an array of issues, from frost, wind, mildew, and rot to viruses like fanleaf and leafroll. Rough handling in the vineyard and the winery also easily damages the delicate grapes. Pinot Noir is notoriously tough to convert into wine as well. The winemakers' primary issue is trying to extract enough color and flavor from the thin grape skins without extracting too much astringent tannin.
Despite it's formidable challenges, vintners continue to produce Pinot Noir because it is capable of making beautiful, aromatic, decadent wines. The colors range from cherry red to purplish red to even brown, and typical flavors include earth, leather, vanilla, tea, mint, raspberry, strawberry, and plum. The flavors of Pinot Noir can vary depending on the vintage and region where it's grown. Burgundy produces wines that are light and herbaceous, with aromas of mushrooms, leaves, rose, violet, and cherry. Expect lush, big, fruity flavors from California styles, with hints of black cherry, black raspberry, vanilla and clove. A Pinot Noir from Oregon will be similar to the California version, but with more tartness, and a slightly lighter color and texture. New Zealand Pinot Noir also has a lot in common with California Pinot, but tends to have stronger spice and meaty aromas.
When pairing Pinot Noir with food, it's important that it be served correctly. Pinot Noir will change in taste depending on the temperature at which it's served, and is best enjoyed between 55 and 60 degrees Fahrenheit. Pinot Noir goes well with a variety of different types of cuisines. Since it is one of the lighter red wines, it can be served with lighter foods without overpowering them. Being a red wine, it also complements many meat dishes as long as they are not too fatty. Richer seafood like lobster and crab, although typically paired with a white wine, can also be enjoyed with Pinot Noir. Try it with pork, poultry, veal, wild game, salmon, strong fish like anchovies or mackerel, pasta with pesto, sautéed mushrooms, cheese, and chocolate.
INTERESTING FACTS:
Pinot Noir is most commonly praised for it's still, red, varietal wines, but it is also an important component in the production of sparkling white wines, including Champagne.
In the Middle Ages, Benedictine and Cistercian monks began recording and designating specific Burgundy terroirs, building stone walls to distinguish the different areas. Many present day vineyard boundaries are based on these same distinctions.
Pinot Noir can be prone to mutation, and because of its long history there are hundreds of different clones in vineyards around the world. More than 50 are officially recognized in France compared to only 25 of the more extensively planted Cabernet Sauvignon.
Since Pinot Noir is a particularly sensitive grape varietal, it is important to pay close attention to the vintage.
The juice of the Pinot Noir grape is colorless.
Synonyms for Pinot Noir include Pinot Nero, Pinot Negro, Spatburgunder, and Blauburgunder.