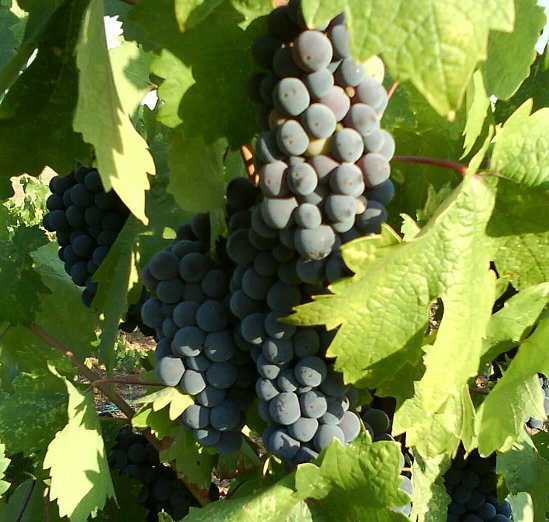 (Pronounced ZIN-fan-dell)

Zinfandel, affectionately nicknamed "Zin," is a dark-skinned red grape variety widely cultivated in the Napa and Sonoma regions of California. It was first thought to have arrived in the New World in the early 19th century via Italy, but is now thought to have originated in Croatia. Regardless, today it is considered uniquely American and is considered a chief grape of California.
Zinfandel has been used to make a variety of styles of wine, ranging from bold and robust red wines to sweeter blush type roses (White Zinfandel). The grape has a very high sugar content that enables it to be fermented into wines with high alcohol content. The style of the wine largely depends on the ripeness of the grapes, the climate and vineyard location, and the winemaking techniques used. Light-bodied Zinfandels are the most popular and are young and fresh with bright, fresh fruit and berry flavors. Medium-bodied styles have more fruit flavors with spicier character and more detectable tannins. Finally, the fuller-bodied wines are richer with deeper color and a greater capacity for aging. They are more concentrated with an underlying pepper or spice flavor and notes of blackberries and raspberries.
Zinfandel is a red wine variety that is best enjoyed in its youth, within 3-5 years of its vintage. It is normally served between 57F and 67F, a bit warmer than refrigerator temperature but slightly cooler than room temperature. When pairing with food, Zinfandel goes well with a variety of meats including lamb, beef, pork, ribs and venison. It also matches well with poultry such as turkey, quail, pheasant, and chicken. Try it with seafood dishes like grilled fish, tuna, fish stews, fish tacos and bouillabaisse. It also complements a number of pasta dishes, ranging from tomato-based dishes to creamier pastas. For cheese pairings, choose aged cheddar, aged Gouda, Asiago and Parmesean.
INTERESTING FACTS:
The Zinfandel varietal is extremely old. It most likely originated in Caucasus in around 6000 B.C., and it was one of the very first grapes to be converted into wine when the winemaking process was created.
In the 1990s, DNA research confirmed that Zinfandel is identical to Italy's Primitivo.
In the 1970s, some Italian producers began labeling their Primitivo wines as Zinfandel, in an attempt to profit on Zinfandel's success on the US market. Now, as Primitivo once again gains popularity in Italy, a number of Californian vineyards are labeling their Zinfandel wines as Primitivo.
Most Primitivo is grown in Puglia, the "heel" of Italy, and it is thought to be the country's 12th most widely cultivated grape varietal.
White Zinfandel wine is made from the red Zinfandel grape. The heavily pigmented grape skins are quickly removed after they are crushed, resulting in a lighter pink/rose color.
Because of its vigorous vines and resistance to disease, there are many Zinfandel vineyards that are 100 or more years old. Zinfandel fans believe these older vines produce the best wines, because the older vineyards yield smaller crops and the grapes tend to ripen more evenly.