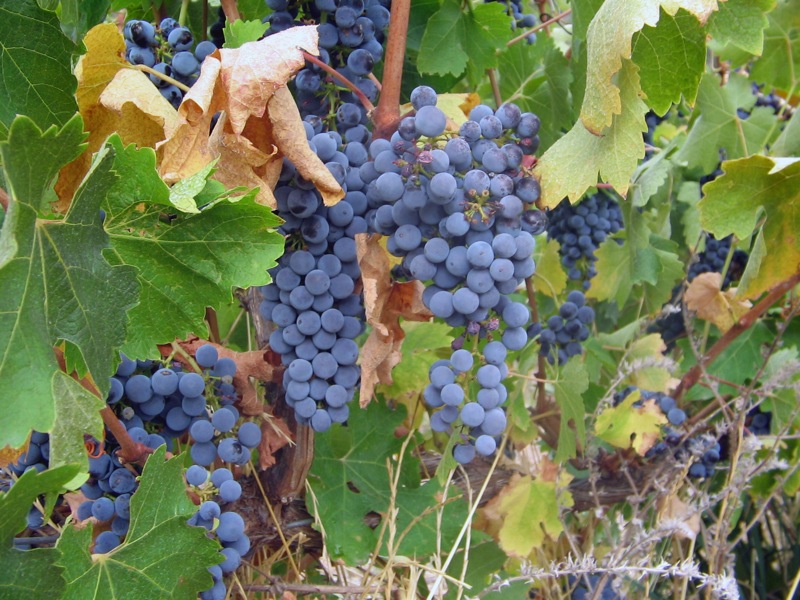 (Pronounced CA-burr-nay SO-vin-yawn)

Cabernet Sauvignon, often referred to as Cab Sav, is one of the most popular and widely recognized red wine grape varieties and is commonly considered the "king" of red grapes. It is planted in virtually every wine-producing region in the world and grows in a vast range of climates and soil types, although it thrives in warm temperatures and deep gravel soils. In addition to it's adaptability, Cabernet Sauvignon is known for it's thick-skinned grapes and resistant, vigorous vines, giving it the ability to retain it's unique characteristics despite the diversity of climates in which it is grown. Additionally, the small dark berries can become heavily concentrated with flavor and aroma that help to make it an ideal grape for winemaking.
Typically Cabernet Sauvignon is a bold, complex and full-bodied red wine with deep, dark colors, high tannins, and high alcohol content. Because Cabernet Sauvignon is grown all over the world in a wide spectrum of climates, it produces a variety of flavors and aromas ranging from blackcurrant, blackberry, cherry, vanilla, pepper, olive, oak, cedar wood, earth, truffle, and tobacco. In Bordeaux and Tuscany it is almost always blended to soften its astringent tannins. The Napa Valley style is dense, purplish black, jammy, with flavors of currants and black cherries.
The concentrated and complex flavors of Cabernet Sauvignon pair well with foods high in protein and fat and tend to overwhelm lighter, more delicate dishes. Try it with steak, lamb, ribs, duck, buffalo, pheasant, mild cheeses, and bitter vegetables like eggplant and arugula. It also pairs well with rich sauces as well as food that is grilled, roasted, charred, or smoked.
Researches have found that wines rich in flavonoids and antioxidants offer many potential health benefits, including reducing the risk of cancer, protecting against cardiovascular disease, and increasing resistance to certain allergens and viruses. Cabernet Sauvignon, along with Petit Syrah and Pinot Noir, contain the highest levels of flavonoids and antioxidants. To reap the maximum health benefits, women should limit consumption to one four ounce serving a day, and men should have no more than two.
INTERESTING FACTS:
Although Cabernet Sauvignon is one of the most prominent grape varieties, it wasn't until the 17th century that it was created when French winemakers accidentally crossed Bordeaux grape varieties Cabernet Franc with Sauvignon Blanc.
Cabernet Sauvignon grows extremely well in California's Napa Valley region. The majority of California's most prized and expensive wines are Cabernet Sauvignons.
The most expensive wine ever sold in the world is Cabernet Sauvignon. An Imperial of 1992 Screaming Eagle Cabernet Sauvignon was sold at auction for $500,000 in the year 2000.
In the 1990s, Merlot began to rival Cabernet Sauvignon in popularity among red grape varietals.
Cabernet Sauvignon wine is commonly used in blends such as Bordeaux (French), Meritage (American), and Super Tuscan (Italian).
Other names for Cabernet Sauvignon include Bouchet, Bouche, Petit-Bouchet, Petit-Cabernet, Petit-Vidure, Vidure, and Sauvignon Rouge.