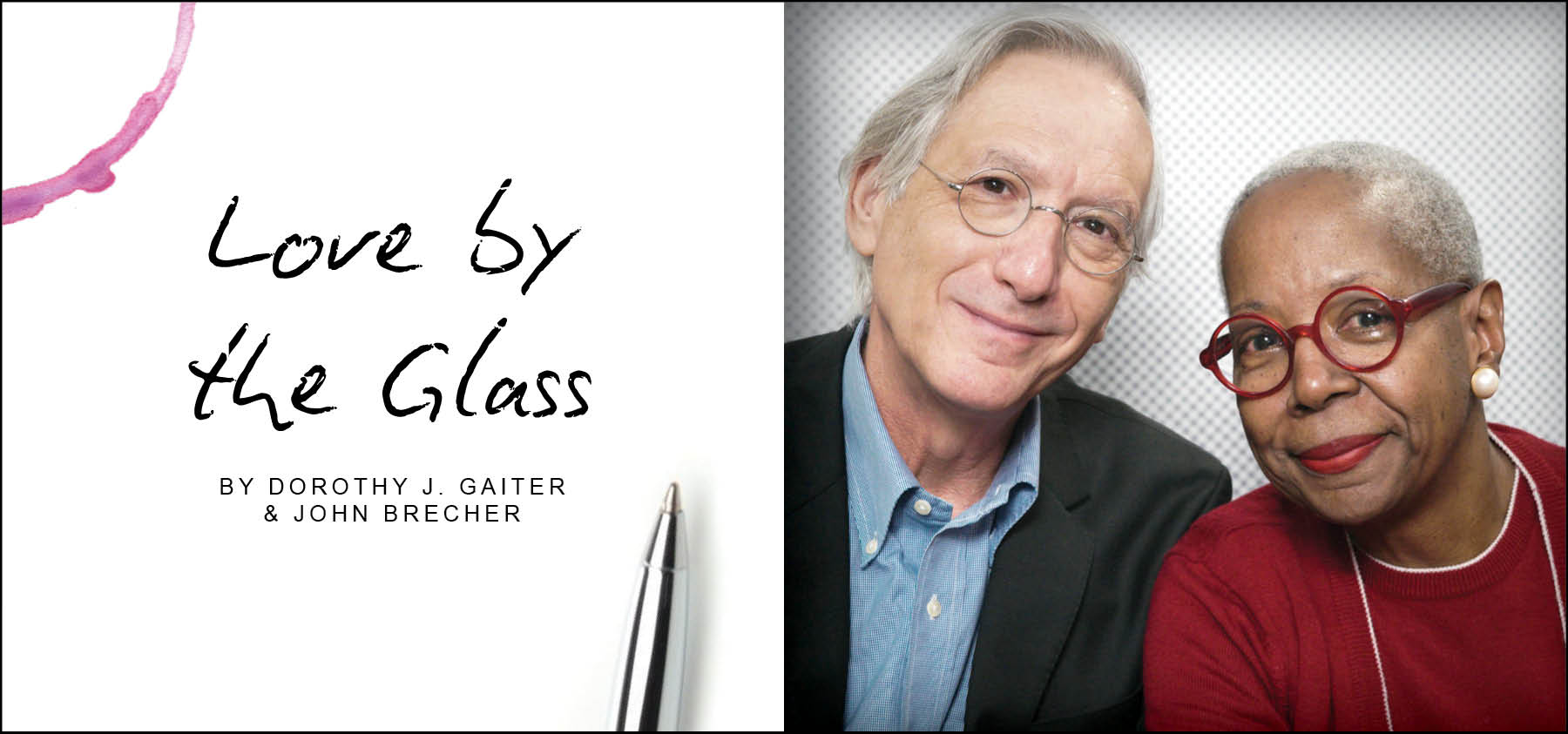 Damilano Barolo 2013 served with pompano baked in salt.
This does not seem like a wine-food pairing made in heaven. But it was. How could this be? And how could Miami Beach be heaven? And why should you spend fairly big bucks on a gutsy red wine during rosé season?
First a little background. We have loved Barolo for many, many years. We've loved Barbaresco, also made from the Nebbiolo grape in the Piedmont region of Italy, almost as long. To us, they are unlike any wine in the world: earthy and real, with a sense of place and great power – so much power that they seem to transport us right to the hills and winding roads of Piedmont.
Back in the 1980s, when we lived in Miami, we found a store called Santino's that sold Barolo and Barbaresco at ridiculously low prices, even for older vintages. That's when we learned how beautifully these wines age. We began to collect them. We became pretty well obsessed.
At the same time, we began visiting an Italian restaurant near our home in Coral Gables called La Bussola. Its owner, Claudio Giordano, was charming, friendly and loved wine. He, too, had a special fondness for Barolo and Barbaresco. At some point, we asked if he'd mind if we brought our own wine and paid corkage. After we'd done that for a while, we asked if we could store some of our wines there for whenever we came.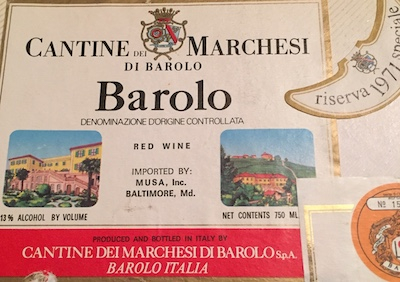 We've heard about restaurants of the rich and famous where the beautiful people leave some of their own wines in a locker. The 21 Club kept the private wine collections of Presidents Kennedy and Nixon, Elizabeth Taylor, Hemingway, Sinatra, Sammy Davis Jr. and Marilyn Monroe, among others. But we had never done this before and haven't done it since. It was wonderful. It's how we had a 1971 Cantine Dei Marchesi di Barolo Riserva Speciale in 1988 (we'd paid $19) about which we wrote: "Big and rich and not even a bit over the hill."
La Bussola was so special to us that when we had our first child, Media -- a preemie – after five years of infertility treatments, the very first time we finally took her out of the house was to La Bussola. We put her in her carrier on the table.
We left Miami in 1990 and lost touch with Claudio, who moved on from La Bussola after a divorce left his ex-wife, Elizabeth, with the restaurant, which she later sold. But with our 40th wedding anniversary coming up, we decided to celebrate in Miami and, on a whim, Googled Claudio. We discovered that he now runs a restaurant called Mare Mio on Espanola Way in Miami Beach, a Spanish-themed row of restaurants and shops near where we planned to stay. We contacted him and made a reservation. He remembered us, and Media's first outing.
We had decided before we left New York that we'd have to have a Barolo at Mare Mio to celebrate our anniversary and so many memories with Claudio. He had two from Damilano, which has been one of our favorite producers for a long time. (Dottie wrote about Damilano in 2014.)
Claudio still has a great wine list, of course. We chose the 2013 Damilano "Cannubi," its flagship wine, which was priced at $160, an anniversary splurge. The Oxford Companion to Wine places the Cannubi vineyard on its short list of Barolo's "finest crus."
Claudio brought the wine out and clearly enjoyed decanting it. We insisted that he share a glass with us and after toasting our friendship, the three of us tasted the wine and, well, wow. There's really nothing to prepare you for the first sip of a good Barolo, no matter how many you've had. The power, the earth, the tannins, the depth and then the endless fruit-acidic finish – each sip, and especially that first one, is like a world in itself. John always talks about a tightly coiled rope; Dottie always mentions the solidity and minerality of bricks.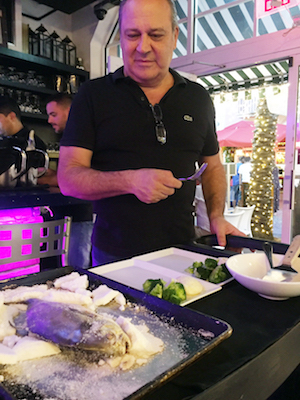 Claudio is a fish expert so he suggested we start by sharing an order of Linguini Frutti di Mare (shrimp, clams and calamari in a roasted tomato sauce with fresh basil) and have as our entrée the whole pompano baked in salt. The spicy tomato sauce in the pasta would naturally sing with the Barolo, we thought, and sing it did. While we're no strangers to reds with fish--our go-to with salmon is Pinot Noir—we weren't sure about the pompano baked in a salt crust, a dish we'd never had. But we trusted Claudio.
(Photo: Claudio Giordano of Mare Mio with the pompano)
Emerging from the kitchen, he cracked the salt crust and filleted the pompano at our table, working like an artist. But how would it match with the Barolo, which we generally think of as a wine that goes well with roasts (Beef Barolo is called that for a reason)? We took a bite and a sip.
We have had only a few absolutely perfect pairings. This was one of them. Usually, when people, including us, talk about pairing food and wine, they discuss the actual flavors and the way they play off each other. In this case, for instance, we might say the sweetness of the fish gave life to the weighty wine while the acidity of the wine added complexity to the fish, like a splash of lemon. But this was different, something more. The Barolo, like all good ones, had an earthy, elemental core; the fish, baked in salt, tasted like the sea, also elemental. Somehow, the two of them spoke to each other, and us, in a very profound, fundamental way –earth and sea, ebony and ivory. It was pretty damn magical.
Claudio had a slightly different interpretation and he knows his stuff. He was born in Alvignano, a small village in Campania, on the Tyrrhenian Sea. His grandfather made wine, so it was always present in his life. "Even when I was a little kid, I loved food and wine. The food was very genuine, the wine was very genuine," he told us when we called him later from New York. Jettisoning his parents' plan for him to study mathematics, he chose instead when he was 14 to focus on the hospitality industry, hotels and restaurants, and never looked back. He worked in hotels in Rome and Venice through his hotel school, and later in Germany, and at the London Hilton as a bartender and waiter, and in Venezuela at the Hotel Inter-Continental. At 21, he opened his first restaurant in Venezuela, he said, and in 1984, he moved to Coral Gables and bought a then one-year old restaurant that was already named La Bussola.
Along the way, he trained his palate for wine, too. "When I was 15, I bought my first bottle of Barolo and to tell the truth, I didn't like it. My palate wasn't prepared for such complex tastes," he said. He travels to wine regions all over the world, including Napa, and winery representatives seek him out to try to get their wines on his list. While we were there, tables were filled with long-time wine-loving customers who have followed him to Mare Mio, which he opened three years ago after owning a well-known restaurant on Miami Beach called Altamare, which he sold and which later closed.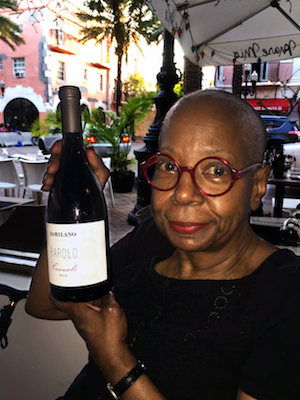 Pompano has firm, white, sweet flesh and because it has ample fat, when it's cooked in certain ways it doesn't need as much oil as other fish. In fact, Claudio used none. Known for serving local fish, he was proud of the moist pompano, telling us the only ingredients in the dish had been the fish, water and salt -- no herbs or extra virgin olive oil that some chefs use. His version, glistening before us, was simply beautiful and delicious and needed no further seasoning. Claudio said he believed the fish paired so well with the Barolo because of the fish's natural oil, which made it, he thinks, a better pairing with Barolo than steak. "Barolo goes well with pretty much everything," he told us at dinner.

(Photo: Dottie with the Damilano Barolo)
Good Barolo and Barbaresco are expensive. But we'd urge you not to make them special-occasion wines. We recently tried the 2014 Barolo and Barbaresco from Pio Cesare, always a reliable name (both about $82 and sent to us by the winery) and they were the kind of wines that would make any meal at home feel like you're at a fancy restaurant. Over the almost 46 years we've known each other, Dottie has preferred Barolo and John Barbaresco, which is often ready to drink sooner than Barolo.
The Pio Cesare Barolo was taut with fruit and marvelous acidity and tannins, a confident wine, with a heady nose of tobacco, leather and violets. Someone told us recently that Barolo stands right up and introduces itself, while Barbaresco always seems to be keeping a secret. That's so much of Barbaresco's charm. This one was also a big wine, but there was a sleekness under the power that we had to stop and think about to really appreciate. As the hours passed, it became softer and fruitier, but it never lost those layers of interest. Yes, $82 is a lot of money, but this is a lot of wine. Wine-searcher.com puts the average price for each at $69.
We generally think of warmer weather as a time for whites, rosés and lighter reds, like better Beaujolais. But as we learned with Claudio at Mare Mio, there's never a bad time for Barolo – even, sometimes, with fish.
Dorothy J. Gaiter and John Brecher conceived and wrote The Wall Street Journal's wine column, "Tastings," from 1998 to 2010. Dorothy and John have been tasting and studying wine since 1973. Dottie has had a distinguished career in journalism as a reporter, editor, columnist and editorial writer at The Miami Herald and The New York Times as well as at The Journal. John was Page One Editor of The Journal, City Editor of The Miami Herald and a senior editor at Bloomberg News. They are well-known from their books and many television appearances, especially on Martha Stewart's show, and as the creators of the annual, international "Open That Bottle Night" celebration of wine and friendship. The first bottle they shared was André Cold Duck. They have two daughters.
Read more from Dorothy J. Gaiter and John Brecher on Grape Collective
Banner by Piers Parlett