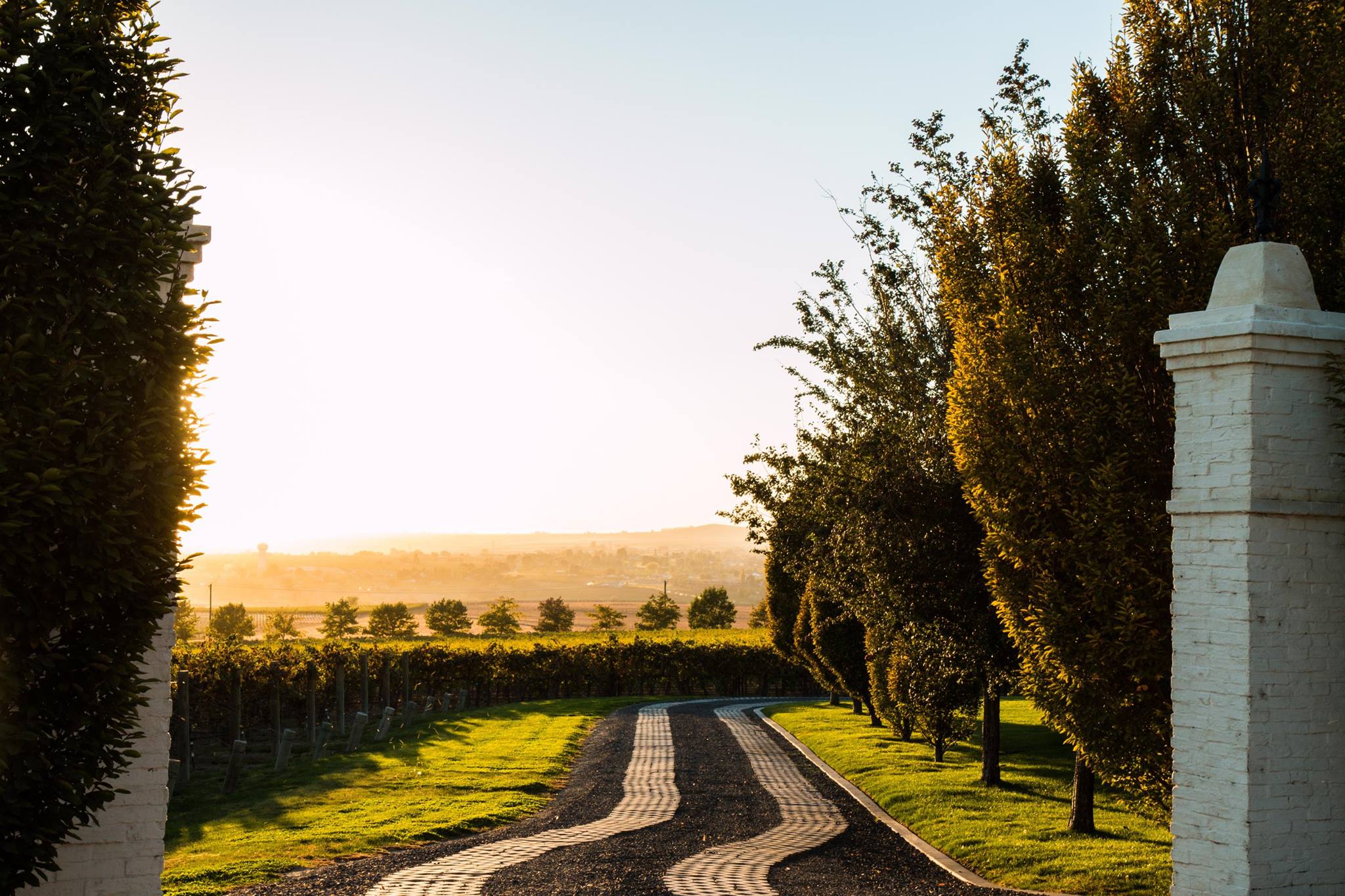 Growing up, Sarah Hedges Goedhart thought that a career in winemaking would be the last thing she would ever want to do as an adult. As the daughter of Tom and Anne-Marie Hedges, pioneers of Washington State's Red Mountain AVA and founders of the acclaimed Hedges Family Estate, Goedhart spent most of her school breaks working in the family vineyards and cellar. During the long hours of physically demanding chores, she learned first-hand how labor-intensive and, at times, tedious the making of wine can be.
(Photo of Sarah Hedges Goedhart with her parents Anne-Marie and Tom Hedges).
An animal lover, Goedhart was planning to attend veterinary school after graduating from the University of San Diego, but the past came calling back to her in the form of foam and bubbles. When her "cellar rat" boyfriend (now husband) talked her into making wine in their tiny studio apartment, it was the process of fermentation that intrigued her and drew her back to her winemaking roots. After a few years working at a winery in Sonoma, Goedhart returned to Hedges Family Estate in 2006 as assistant winemaker. Today, as head winemaker, she joyfully says there is never a dull day.

"I think my favorite part of the job is making a product that brings to life a story," she says. "It's a story about my family, a story about the land, a story about connecting people through a beverage that invokes joy, curiosity, and the never ending search for a wine that there are no words to describe."
Grape Collective caught up with Goedhart by email to learn more about what's happening at Hedges, including the conversion of all the estate vineyards to biodynamics.
Lisa Denning: Your parents were pioneers of the Red Mountain AVA, starting the winery back in 1987. Why did they decide to start a winery and what were they doing before winemaking?
Sarah Hedges Goedhart: It started in 1975, when they met in Guadalajara, Mexico, and married in Paris in 1976, then a first serious job for my father, Tom, working for Castle & Cooke foods, marketing pineapples and bananas for six years. Then a couple years in New Brunswick, Canada growing and exporting seed potatoes around the world. Not our favorite place to live, so we headed back to Washington in early 1986, and started looking for "phase 2" of our lives.
The wine involvement started late that year as a very small company in Kirkland, Washington that would ship produce to Taiwan. When the government of Taiwan privatized import of alcoholic beverages shortly thereafter, the connection in Taiwan decided to be a wine importer instead. One thing led to another, and we were soon shipping wine to Taiwan, the Dominican Republic, Tahiti, and Japan. The French wife (my mother) pushed the importance of terroir, and 50 acres of dirt and sagebrush were purchased on Red Mountain in 1989. About the same time, Sweden's import monopoly came looking for red wine and when they couldn't find bulk in California, I was luckily introduced, and Hedges Cellars became a negotiant brand.


How has the Washington State wine scene evolved since your parents started?
It has evolved quite a bit. There weren't too many wineries back in the 1980s and Washington state was barely heard of in the worldwide wine scene. As the west coast industry started to become recognized, Washington State started creeping up on people's radar. The old marketing slogan was that we were on the same latitude as Bordeaux so we must have good wines. This was on the back labels of Chateau Ste. Michelle products, which is funny because when you look at our climate compared to theirs it's a complete 180. We have since marketed Washington State on its own merits.
As more and more people became exposed to Washington state wine and were happy to try it because of the great prices and outstanding quality, the reputation organically grew. My parents were a huge part of getting Washington State wine to the world because of their contacts and export background. Now we have quite a few wineries (upwards of 1,000) and much more recognition of our AVA's. I did a sales call at a remote grocery store in Japan and the shop owner not only loved Washington state, but was a huge fan of Red Mountain. This is the main change I have seen. Recognition of Washington State wine, its AVA's and specific wine brands vs just trying to get people to understand that we grow grapes in Washington State.
The other big difference is the number of wineries and wine brands. There are a lot! Also, in general the American wine industry has become less about "estate grown and bottled" or "produced and bottled by" and more about "cellared and bottled by" or "vinted and bottled by." Depending on what the back label says, you have no idea where the grapes were grown or in what facility the wine was made. Traceability is disappearing and wine has become more about throwing out new brands to see what sells versus investing in land, growing grapes and producing a high quality product.
This is a big reason why there is so much wine these days. Too many grapes, too many wineries and too many brands that confuse the market and make it tough for small family wineries to compete. Even with all of the changes, I do feel like Washington state has kept a sense of unity. We are all very friendly and open which is a different vibe from when I worked down in the Napa/Sonoma area. It was a bit more secretive down there, winemakers weren't as open to sharing methods. Around here, even with the growth, people are still very much pro-Washington and AVA marketing versus marketing their own brands. A lot of producers even produce wines from different AVA's which is very different from the Bordeaux, Burgundy, Napa model we have seen in the past.

When you were growing up, did you think you would be a part of the family business or was there a time you thought about doing something else?
My parents started the business when I was 6 years old. We had lived in America, South America and Canada while my dad pursued a career in international produce sales. I thought moving to Washington State was just another stopover. Little did I know this is where we would plant roots for a business that would become my parent's life passion. I had a few interests growing up, mainly animals, music and exercise/sports.
My first dream was to become a county singer in Nashville, which didn't get much farther than me being in a band in high school and performing at school assemblies. My next ambition was to become a veterinarian, but I decided a business degree would be a good idea so I ended up getting that first. I went back to school for chemistry to get some prerequisites done for vet school and at that time my boyfriend was working at a winery in Santa Barbara. After growing up in the wine business that was the last thing I wanted to do. I looked at the wine industry as a lot of boring labor, having worked bottling lines and the vineyards during my summers off from school. He got a job as a cellar rat and started getting excited about fermentation, so he brought up the idea of us making our own wine in our little studio apartment.
The winemaker offered us second harvest Pinot Noir from Santa Ynez valley; we picked it by hand and harvested about 200 tons to make our first vintage. We had so much fun and I really enjoyed the fermentation process. Both of us decided that this would be our path
and ended up moving to Sonoma to work at Preston Vineyards in Dry Creek Valley. I was hooked! I started looking at wineries at this integral part of the community. Taking care of the land that you are a steward of, practicing organic and biodynamic farming methods for not only vines, but the landscaping and vegetable garden.
Lou Preston taught me how to bake bread and the art of fermenting sourdough from your own starter. He also inspired a sense of self-reliance, that hard work pays off, and to never stop dreaming or experimenting with what you love. I saw that wine was more than a business, it was a paused moment in time that reflected history, a caring for land and people and a beverage that has brought experiences to the dinner table. The romance sucked me in and I didn't even mind the hard work that went along with it. I could've have stayed there forever and then after talking with my brother, who had started working full-time for my parents in sales and marketing, I decided I could take these concepts and bring them to Hedges — care for the land, crafting a product that brings contemplation to itself and life, bake bread, and create a community around what my parents had built.
So, here I am 15 years later and still loving what I do. As for the future or doing something else, I am not sure. Bread has become a really big part of what I love to do so who knows…perhaps a Red Mountain Bakery might pop up someday.

Your winery is located in the Red Mountain AVA of Washington State. Can you tell us a little bit about Red Mountain in terms of its natural environment?
Red Mountain is one of those special places that was lucky to be hit by the wine bug of the 1970's. The first vines planted started a legacy that continues today. My dad grew up about 15 miles from Red Mountain and so it was a natural fit for our family and also happened to be and still is one of the best AVAs in Washington state.
It felt a bit like coming home, since the Hedges family planted roots in Washington state in the 1800's. One of the hottest, driest, smallest AVA's in Washington, Red Mountain has earned a reputation for growing the most concentrated, interesting, refined, elegant yet powerful wines in Washington state. The climate is dry, getting only about 6 inches of precipitation a year, most of that falling in the winter and not during the growing season. The vines are not only stressed because of very little water, but what little water they get barely makes it to them because of the soil types we have.
There is a lot of sandy loam soil, gravel, and also a dusting of Mt. St. Helens ash. Water likes to pass right through the soil in a hurry barely leaving time for the vines to grab what they need. This soil is also very high in pH due to the high calcium carbonate content. A lack of soil nutrients along with the high pH reduces the vigor of the vines, resulting in significantly smaller berry sizes compared to varietal norms. There is very little pest pressure and disease pressure due to the cold winters and very hot, dry summers.
We are surrounded by a unique landscape that was created by a series of massive floods at the end of the last ice age, called the Missoula floods. Treeless ridges covered in sagebrush and other native plants, sunny skies over 300 days a year, and large river systems create a scenery that is unparalleled in other parts of the world. The sun and south-facing exposure of Red Mountain ripens our grapes even with a relatively short growing season.


Can you tell me about your vineyards and the grapes that grow there?
We have 5 estate vineyards in various areas of Red Mountain. Hedges Estate Vineyard (est. 1990) focuses on Cabernet Sauvignon and Merlot, with some blocks of Cabernet Franc, Syrah, Malbec, Petit Verdot, Souzao, Tinta Cao, and Touriga Nacional. Except for the Cabernet Franc, all of the smaller blocks are head trained vines. Bel' Villa Vineyard (est. 1997) has Cabernet Sauvignon, Merlot, Syrah and Cabernet Franc. Magdalena Vineyard (owned by my brother, est. 2005) is 100% Cabernet Sauvignon, 4 different clones. Les Gosses Vineyard (Les Gosses means the children in French, est. 2007) is our "Rhone" Vineyard, we have 2 clones of Syrah (Joseph Phelps and Tablas Creek clones) and also Marsanne and Viognier. Jolet Vineyard (Julien, Olivier, Lucas, et Trevor is named for the 4 grandkids, planted in 2008) has Cabernet Sauvignon, Merlot, Cabernet Franc, Petit Verdot and Malbec.
The vineyards have their own unique characteristics, and Hedges produces much more powerful and tannic fruit than any of the others. Bel' Villa is a bit softer with an elegance not normally found on Red Mountain. Les Gosses produces Syrah's that offer power and finesse with aromatics reminiscent of the Rhone Valley's hotter sites. Magdalena Vineyard's clonal differences create a beautiful blend of Cabernet Sauvignon that enhances our La Haute Cuvee wine, the top wine of the estate. Jolet provides a rounder, more supple style of Cabernet and Merlot, which enhances our Estate Blend and Estate Cabernet not only on the palate but aromatically as well, it tends to add another layer of interest.
Are all of your vineyards Demeter-certified Biodynamic? Why are some of your wines listed as organic and others are not?
Not yet! Hedges, Magdalena and Les Gosses are all certified. Bel' Villa and Jolet have been in conversion and will be certified this year, 2021.
Why is it important to you and your family to follow biodynamic practices, rather than just organic?
Organic farming is definitely a step in the right direction but we felt that it was still a very reactive way to farm. You have pests, you spray, you have disease, you spray; you are still reacting to things, but in an organic way. Biodynamic felt much more proactive. We feel like we are helping the vineyard survive on its own and promoting an ecosystem that nurtures growth instead of just intruding on nature when the situation requires it.

Your wines are not sent to any publications for review and you don't want them to be scored. Can you tell me more about the reasons for that?
This statement was at one time correct. Early on, our Hedges Cabernet Merlot became a success with the Wine Spectator giving it Best Buy status many years in a row. We also made Red Mountain well known in the trade, and in fact wrote the petition for the AVA to be established in 2001.
Because we focus on sense of place, compatibility with food, and not raw power in a wine, we decided to make our wines more subtle, which isn't great for scoring, i.e. the oaky high alcohol wines tend to score better. So, we discontinued submissions to the major wine publications that focus on scores. And, though we still are philosophically against scoring, the decision was made to accept them as an unfortunate necessity in marketing wines, especially in some key markets and with key retailers. Today, we do allow scoring of our wines in the publications that lean a bit more to our "old world" style.


Can you tell me about your CMS line of Columbia Valley wines? Do you source the grapes? What's the percentage of wine made for CMS, versus the estate wines?
The CMS line is our Columbia Valley line of wines. We do purchase fruit for those, but we also blend in between 25% to 40% Red Mountain. The CMS brand is around 50,000 cases annually and the Hedges Estate Wines are around 10,000 cases annually. It is really fun to see people come into the winery or write us emails about CMS. A lot of people don't realize that we make the wine and because of our presence in Costco with it, it has become a house wine for many people because of the quality and the price.

What do you enjoy most about being a winemaker?
There is never a dull day. From harvest to bottling and everything in between you never have the same day twice. Everything is on the table when you're a winemaker. Equipment to fix, a staff to manage, vines to grow, thousands of spreadsheets and winery accounting, wine dinners, winery events, travel and sales, taking out the trash, etc….we do it all. It's really a job that organizes the chaos, which I enjoy doing. I think my favorite part of the job is making a product that brings to life a story. It's a story about my family, a story about the land, a story about connecting people through a beverage that invokes joy, curiosity, and the never ending search for a wine that there are no words to describe.

What do you find the most challenging?
I think not knowing what you'll get every year is tough. Wine growing is an art and you are never dealt the same starting ingredients, so what worked last year probably won't work this year. You are constantly starting from zero, although the more harvests you do, the more confident you are going in. I have worked 19 harvests both in California and Washington and have learned a little bit every year. These bits of knowledge add up, and with each harvest that comes around you can manage the difficulties and differences a bit better.
I think that's why winemakers have a hard time retiring. You always think that next vintage will be the one to define your career; I'm certainly not done yet. Another challenge is the sales and marketing work. I am a huge introvert and really get my creative energy by being alone. One year I was on the road or doing winery events every week from January to May and I had to manage a crew and do my "regular" job also. I have two kids who also would like their mom around, so balancing all that can be difficult. I do like interacting with people and seeing how our wines affect them and create experiences for them, but as an introvert it can be a bit draining and I think it's hard to get back into that creative space if you are asked to be in the spotlight too much.

What do you like to drink when you're not drinking your own wines?
I am a member of a few wine clubs and I enjoy drinking other wines to see where our quality lines up in the big world of wine. I am not a big drinker in general and unless it's a work event or social event I stick to mainly water and tea. I know, super boring, but being a mom of two and a winemaker I have to be on my game all the time!

Is there anything else you would like to tell me about?

What I'd like to tell to anyone reading this is take the time to search out wine with meaning and a story. It might take a bit longer and cost a few dollars more, but you are really making a big difference for small wineries and family business. Try to find out where your wine is made and by whom, whether it's "produced and bottled by" or just "cellared and bottled by."
I think you'll find that if the wine in your glass has more of a story than just being a brand thrown out by big corporations, you might enjoy that glass of wine just a bit more. There is a history to wine, to grape growing, to being responsible with the land you're farming and also a responsibility to deliver clean wine to people without a lot of additives and "other than grape" stuff.
Read more about Washington State wines on Grape Collective:
Gamay in the Gorge: Washington State's Memaloose Winery
Walla Walla Women Winemakers Challenge the Status Quo
Dunham Cellars: Complex Wines Often Have Complex Stories