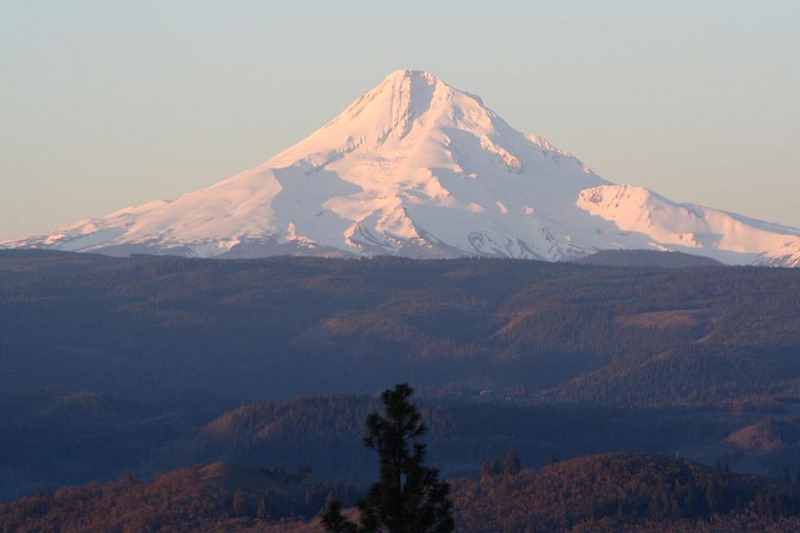 I'm going to hazard a guess that when you think of Gamay, the Pacific Northwest is not the first place that comes to mind. But Brian McCormick, Winemaker at Washington State's Memaloose Winery in the Columbia Gorge AVA, planted the grape back in 2005 and has plans to add even more next year. With a bounty of vines thriving in the Gorge from Albariño to Zinfandel, what motivated him to add Gamay to the mix and how does it compare to its most famous expression in Beaujolais? McCracken responds. (Note: the spectacular views of Mount Hood, as shown above, are one of the benefits of visiting the Colombia Gorge AVA, which includes the border areas of both Washington and Oregon around the Columbia River.)

Since pretty much every grape from A to Z is growing in the Gorge, what is the attraction to Gamay?

It's true that the Gorge offers a generous buffet of grape varieties at present, but that can be correctly spun in a number of different ways. There's some measure of ignorance, a dose of wishful thinking (what if...?), a bland awareness of which wine varieties folks are accustomed to buying from the Northwest, some good luck, and also an amount of real insight. In fact, this is a place with some severe geographical gradients, and (though it muddles our identity as a young AVA) I think we're best off planting wide. It may well turn out that there's a swell spot for almost everything. I'm not sure yet that Gamay is a perfect match in Mosier [Oregon], but we planted it on a bit of cold, blue clay to slow its cycle. And though it's not likely to be my favorite in ripest years (our harvest seasons vary quite dramatically and of course we're not really sure what climate change will actually look like for us), ...I like Gamay's chances.

Do you see the potential to produce something along the lines of a Cru Beaujolais? Or rather a carbonically macerated, fresh, juicy, gulpable type of wine?

I've burned many calories wondering about the road to Cru status or other greatness for wines from a first-generation AVA, and I'm content to leave that concern aside for now. I think it leads people to push too hard in the cellar.

I actually like carbonic maceration quite a lot, and don't find that one can readily distinguish quality levels in Beaujolais according to whether or not this technique has been applied--particularly as the practice always involves a question of degree in its execution. (Not to be a pain in the ass.) On both the questions of greatness and Gamay, I'm really just waiting to see what the Gorge fruit wants to be. I figure: mostly keep fresh oak out of the mix, reject addition of selected yeasts, and wait a few vintages to see where we're heading. (And, not to be contrary, but I'm expecting freshness in great wines too! But—true--not necessarily gulpability. Anyway, I know what you mean.)

Where do you hope to see Gorge Gamay ten, twenty years down the line?

I sometimes go for a while wanting to drink nothing but Gamay, and it is secretly my favorite thing in the cellar. (We only make a barrel or so.) I would be thrilled if we and this area were to excel with this grape. I like its underdog status, and what it represents in the world of wines, and think the Gorge offers real promise.
Hat-tip to Sean Sullivan of Washington Wine Report for getting me curious about Gamay in our neck of the woods.