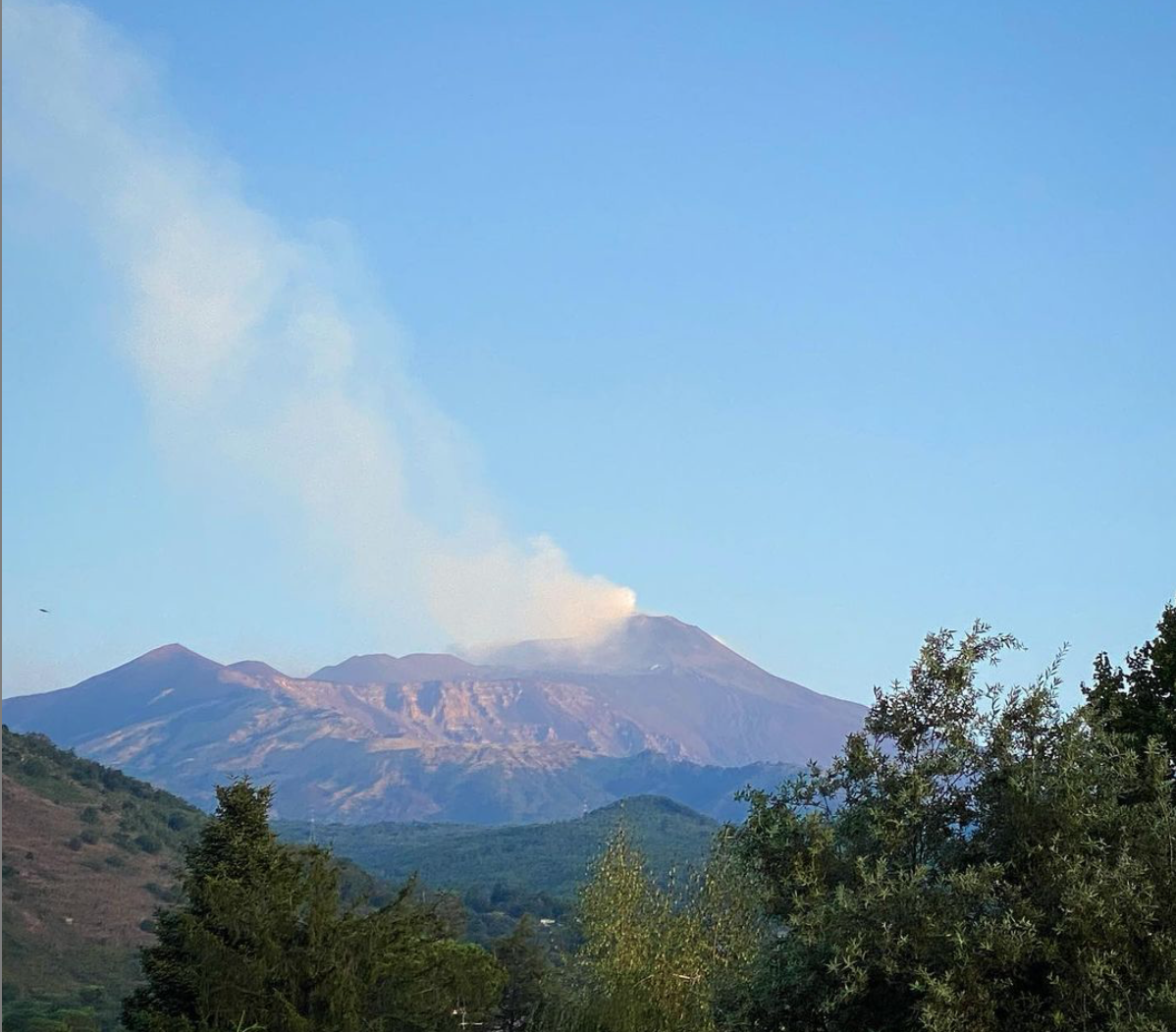 Sicily's Mount Etna is often described as "an island on an island." Standing at over 3,000 meters above sea level, it is one of the largest active volcanoes in Europe. As distinctive as Sicily can be from continental Italy - in culture, climate, and even dialect - Etna and those who till her slopes distinguish themselves even further with their unique and daring viticulture.
Mount Etna is ancient. Locally referred to as Mongibello, it is a product of the subduction of the African plate beneath the European plate hundreds of thousands of years ago. Violent subterranean collisions like these created our earth's topography, opening many mouths and fissures up to its core, and also spawned some of our longest lived legends. For example, Etna is arguably one of the first sites from which the word 'volcano' originates, as Roman mythology suggests it was here that Vulcan, the god of fire, kept his forge. Continuing to spew lava and ash via countless vents that dot its slopes (and continue to open) to this day, it's easy enough to imagine a fiery deity lurking beneath. With such consistent seismic activity, the landscape and subsequent terroir of Etna is constantly changing, making it a thrilling - albeit risky - place to make a living off the land.
The frequency of eruptions has had both advantages and disadvantages on winemaking on Etna. The major advantage, undoubtedly, is the heterogeneity of the soils. Depending on where you are situated on the mountain the ages of the lava flows differ greatly and from flow to flow you'll find disparate pH's and differing levels of iron. Nerello Mascalese, the number one red grape of the region, can be particularly susceptible to soil variations and environment, and to think of Etna as a single terroir would be to underestimate the complexity of its geological history. This helps to account for some of the diversity of styles that can be found across the Etna Rosso DOC, and also for the particular balance that can often be achieved in these wines. New eruptions can be just as beneficial as those that have long since cooled. Sonia Spadaro Mulone, of Santa Maria La Nave, has expressed both gratitude and trepidation about Etna's eruptions. She has praised the ash fall as "free fertilizer" finding that the organic material can be a blessing for more natural farming practices. However, the tremors that can follow such eruptions have wreaked their own havoc, at one time damaging the 400-year-old cellar that sits on her property.
The obvious disadvantage of making wine on a particularly active volcano is the near constant threat of land destruction. Mount Etna's seismic activity is so frequent that the bulk of it doesn't get much notice. Smaller eruptions (referred to as Strombolian activity) particularly concentrated near the Southeast crater towards the summit, rarely threaten the locals and often get reported merely for ash and dust warnings. There was significant activity of this type reported throughout February 2021, offering breathtaking views from many of the mountain's higher elevation vineyards. However, the frequency of this activity can actually be a good sign as it suggests that the subterranean pressure is relieved often and may lessen the threat of more significant eruptions. Many of the most destructive lava events to affect local vineyards were reported in the '80s and '90s. That said, the 21st century hasn't been without its fair share of major lava flows. In 2002 there was a particularly violent eruption on the South flank of the mountain that had residents seeking refuge from the town of Linguaglossa, though no injuries were ultimately reported. While lava flows may not frequently affect vineyard sites, the unpredictability of one of the world's most active volcanoes does make it a perilous place to make wine.
There is, however, an ancient history of winemaking on Etna. Notably first established by the Phoenicians, and it was thought to have been a prestigious wine production zone during the Roman Empire. In modern memory, however, the region has been more of a rising star in Italian viticulture. After a long period of neglect brought on by several economic challenges faced in the area, by the 1980s there were only a handful of commercial producers left on the mountain. Talented winemakers, many of whom came from local agricultural families, have sought to revive those ancient traditions. Dedicating themselves to the area's indigenous grapes and unique terrain, they have been the driving force behind this modern renaissance.
One of the foremost families in Etna's recent viticultural history is the Benanti family. Dr. Giuseppe Benanti, a pharmacist, originally established his estate in 1988 and is largely credited with helping to spark the modern day resurgence of winemaking in the area. After having extensive research done on the soils of the property, he was advised to plant several international varietals. This very common practice has since largely fallen out of fashion, as younger generations have turned their sights more towards Etna's autochthonous grapes as truer expressions on their home turf. The Benanti estate was, however, just as instrumental in this shift.
When Giusseppe's twin sons - Salvino and Antonio - took over the vineyards, they underwent what they've described as a "brutal refocusing" of the day to day operations. Replacing all of their father's international vines with local grapes, stripping down the estate's portfolio from 20 to eight labels, and beginning the painstaking process of delineating variations in microclimate across the many contrade of the mountain. Contrade (plural for contrada) are historically relevant parcels of agricultural land on Etna - until recently this was mainly a locally recognized system which had no official designation or regulation. Antonio Benanti, in particular, has long been championing the establishment of Etna's own official "cru" system. He currently acts as the president of the local consorzio and under his leadership, and his continued support of this contrada system (a movement once spearheaded by the team at Tenuta delle Terre Nere) has allowed the appellation's producers to label their wines with officially designated vineyards and subzones. These efforts have further validated the quality of these particular sights, but also have helped to better highlight the depth and diversity of character that can be found in the wines of Etna.
Many Italian wine regions have a long history of unofficial "cru" systems which are only recently beginning to have a more official status conferred upon them. In Piemonte we saw a major rise in these label designations in the 1980s, around the time when a deep divide between 'modern' and 'traditional' winemakers was being forged. We are starting to see it now in Tuscany, as well, in both Brunello di Montalcino and Chianti Classico. These systems call to mind the crus of Burgundy - estimable vineyard sites, often with several land owners, which can be legally stated on labels to signify pedigree and suggest to the mindful consumer a little extra about what's going on inside the bottle. While there are 133 officially designated contrade on Etna today, as one might expect there are a handful that are widely considered the most prized.
The Etna DOC wraps around the mountain in a backwards "C" shape, almost completely negating the western slope. Most of the best sites for Etna's main red varietal, Nerello Mascalese, can be found between 600-900masl stretching from the north slope of the mountain around the eastern flank, including the contrade of Guardiola, Calderera Sottana, and Feudo di Mezzo to name just a few. Within the eastern municipality of Milo is the only area on the mountain where Etna Bianco Superiore (a white wine DOC with stricter restrictions than that of Etna Bianco) can be made. Here you'll find the contrada Rinazzo, prized for its Carricante, the major white varietal of Etna. The grapes grown here are so special that Benanti's iconic Pietramarina bottling is made from 100% Carricante from this site, forgoing the more traditional practice of blending with Cataratto or other local grapes.
While the threat of eruption always looms over those who chose to make wine on Etna, it is not the only environmental challenge with which they have to contend. Etna's highest vineyards are some of the highest that can be found in all of Italy - comparable to those of the Alpine region of Alto Adige - and are among the highest vineyard sites in all of Europe. Elevations such as these, which can reach well over 1000 meters above sea level, often see snow year round. Even in the warmest years you can expect the climate near the summit to be a far cry from the lower lying vineyards of western and southern Sicily, where the bright Mediterranean sun can make over-ripeness a main harvest concern. At such great heights the diurnal shifts are severe, with ample, warming sun during the day and a bracing chill at night. This encourages exceptional balance in the resulting wines, as the grapes are able to achieve adequate ripeness but also retain their refreshing acidity. So while we expect bigger, more fruit-driven styles from much of Sicily, Etna's wines are distinguishable by their typically leaner and brighter expression.
Working at 1100 meters above sea level on the northwest facing slope of Etna, Spadaro Mulone's team at Santa Maria La Nave brave the drama of these elevations for their spectacular bottling of Grecanico Dorato. Labeled as "Millesulmare" the wine captures a bit of everything that Etna has to offer - the vibrant aromatics are reflective of the mountain air, the rich minerality speaks directly to the volcanic soils, and the faint scent of the sea recalls the breezes which wrap around the mountain's slopes from the Ionian and Tyrrehnian coasts. The grape itself also speaks to Etna's agricultural history. Grecanico Dorato is an ancient varietal, likely having been brought in by the Greeks who settled in and around Randazzo. It is not a grape that we see as a monovarietal from many producers in the area, who typically produce blended whites predominantly of the favored Carricante and Cataratto. This particular parcel of vines is the result of a 15-year-long massale selection that began when old, ungrafted vines were found overrun with brambles. The vineyard La Nave is the home to several pre-phylloxera vines, a testament to the vigor of the varietal, but also a major, distinctive feature of the volcano.
All over Etna you will find patches of gnarly, old vines. The combination of volcanic and sandy soils (as well as the high elevations) found on the mountain proved to largely stave off phylloxera. And though the vine louse did eventually hit the region, it scarcely travelled above 400masl. A similar phenomenon was seen elsewhere in Italy, such as in Campania and even further north in the Soave DOC, where vines on volcanic soils were better able to endure the great wine blight of the latter 1800s, and thus boast many sites where what might be considered "over-mature" vines continue to produce grapes. The advantage of these old vines is their naturally low yields. Vines producing fewer grapes will produce more deeply concentrated grapes, and the abundance of old vines on Etna contribute to the unique power that can be found in these wines.
Salvo Foti is a winemaker who pays tribute to some of his older vines with an Etna Rosso bottling he refers to as "Vinupetra Viti Centaire." The grapes harvested for this label are entirely from vines 100+ years in age. Given that once vines pass a certain level of maturity, their production quantity will decline, and the plot for this bottling covers a mere 0.2 hectares, it is a rare cuvee, but one that shines a spotlight on some of Etna's most unique features. Foti has been instrumental in the burgeoning and continued success of contemporary viticulture on Etna. Longtime winemaker at Benanti, Foti has had his hands in countless projects on the volcano as a consultant and enologist. Sometimes called the '"godfather" of Mount Etna, Foti was influential at Biondi and also helped Alice Bonacorssi launch ValCerasa, successfully ferrying many of Etna's earliest international stars to great acclaim.
After spending years building that network, he saw an opportunity to bring together a group of like-minded growers and producers on Etna and thus his I Vigneri was born. I Vigneri is an association of local viticultural experts who work together over a span of 30 hectares, modelled primarily on the Winemakers Guild of Catania first established in 1435. Their ethos centers around reviving the millenia-old winemaking traditions of Etna, finding and reinvigorating abandoned vineyard sites and teaching others the history and practices of grape growing on the mountain. Foti and his two sons oversee the project as a whole and aid in the winemaking, all of which is carried out with minimal sulfur usage, no fining or filtration, and native yeast fermentations.
I Vigneri is equally committed to preserving traditions as it is to seeing those traditions carried forward. For one example, the vines tended by the estate are trained in the albarello system. The albarello tradition is an ancient vine training system with a long history on Etna that encourages dense plantings of vertically trained vines which develop in three dimensions and it is relied upon by many of the most stalwart producers on the mountain. These vines will develop low to the ground and ultimately resemble the shape of a shrub. Pruning is labor intensive and yields from this system are typically quite low, the result is often a hearty vine with a naturally wind resistant shape well suited to the extreme climatic shifts that can accompany Etna's high altitudes. While traditions like these are integral to I Vigneri's ethos, Salvo Foti's work with the estate's laborers is just as important. In an interview available through his importer, Louis/Dressner, Foti explains, "It is as if I have stopped cultivating the vineyard and started cultivating people." He goes on to say that traditions like those of the albarello training system cannot be kept up without an experienced and competent workforce. Foti wants to take responsibility for adequately educating the workers at I Vigneri - specifically the people who work in the vineyards day-to-day - empowering them with a depth of knowledge and an enveloping community that encourages pride and dignity in their work. The cherished traditions of Etna's viticulture are dependent not just on preservation, but on a sharing of that knowledge in a way that will bolster the next generation of growers.
Efforts from projects like I Vigneri have helped to establish the legitimacy of Etna's contemporary viticulture while grounding it in an inarguably historical context. With this increasing popularity comes increasing visibility, and not just to consumers. Since the early 2000s, eagle eyed investors, winemakers, and enthusiasts have been buying up swaths of vineyard land in the area hoping to capitalize on its growing reputation.
Alberto Graci was building an impressive career in investment banking in Milan when his grandfather passed away in the early 2000s, leaving him a plot of land in central Sicily. This proved to be the catalyst for a major sea change for Graci, who sold the land and purchased a several hectare of vineyards on Etna in what would come to be some of its most prized locations. Take, for example, his plot in Barbabecchi which is home to pre-phylloxera, ungrafted vines that reach upwards of 100 years old and yield incredibly precise and powerful wines. While Etna Rosso is traditionally a blended wine with the lighter, tannic Nerello Mascalese being grounded by the slightly richer local Nerello Cappuccio, Barbabecchi is 100% Nerello Mascalese, displaying a purity and finesse unique to that cru. Graci has more prized holdings in the high elevations of Arcuria, from which he is sourcing a small amount Carricante and Cataratto for what is arguably one of Etna's most elegant whites. At the time of his inaugural vintage in 2004, few winemakers were tapping into Etna's potential, and even fewer were profiting from it. Alberto has not only only managed to grow his own label, but the success of his wines has helped bolster Etna's growing reputation and even caught the eye of one of Italy's most revered winemakers. His newest project is a partnership with Angelo Gaja, a giant of Piedmontese winemaking. Together they started the label 'Idda' with a plot of vines on the southwestern slope of the volcano in 2016.
Gaja may be an outsider on Etna, but as an Italian master is arguably closer to Sicilian culture than some of the foreigners who have been attracted to the steep incline of the volcanoes' vineyards. Take, for example, Frank Cornelissen. Cornelissen is a Belgian native whose penchant for wine started at an early age having grown up the son of a wine broker. A former mountain climber, Etna's altitude and terrain were never a deterrent for him. Starting in 2001, Cornelissen set out to create liquid expressions of the volcanic soil on which his vines grew. He has been fastidious and and at times downright radical in eschewing any type of treatment or intervention in his winemaking (be it chemical, organic, biodynamic, or otherwise) claiming that such practices are merely a "reflection of the inability of man to accept nature as she is and will be." The extremity of his natural approach has arguably softened slightly since the estate's inception, but so too, have the wines. Cornelisson's earliest vintages were intensely mineral and at times austere, and not always as reflective of their origins as he may have intended. Over time, his style has become more refined, allowing for more fruit to be expressed and the wines are not only better for it but also more purely express a sense of place. In the most challenging vintages, Cornelissen has found the value is small additions of sulfur (never more than 30mg/l) when the quality of the grapes has suffered, and occasionally uses copper sulfate in his vineyards, a practice in keeping with the tenets of biodynamics. Still, Frank Cornelissen remains amongst Etna's most idiosyncratic and environmentally conscious producers, and the intensity of his approach has inspired a cult following like almost no other producer on Etna.
Mount Etna is home to a unique and proud history of winemaking. The climate and terrain provide the potential, but it's the commitment and skill of the people who have chosen to harness it that help to distinguish this region from the rest of Sicily and beyond. And these brief portraits only scratch the surface of the world class winemaking that they are doing. The region, at large, has captured the hearts and minds of many in the industry with wines that are often as cerebral as they are soulful. Simply stated, Etna's wines are singular in their identity. Comparisons to other wines of the world rarely get at the heart of what Etna is truly about. The high-toned fruit of lofty elevations, deep minerality of volcanic soils, native grapes which thrive almost no where else in the world, and a reawakening tradition unfolding in our own lifetime - these are the wines which have ensured that Sicily be brought to the table when we talk about the fine wines of Italy. An island on an island, Mount Etna continues to grow higher and higher in both stature and esteem.