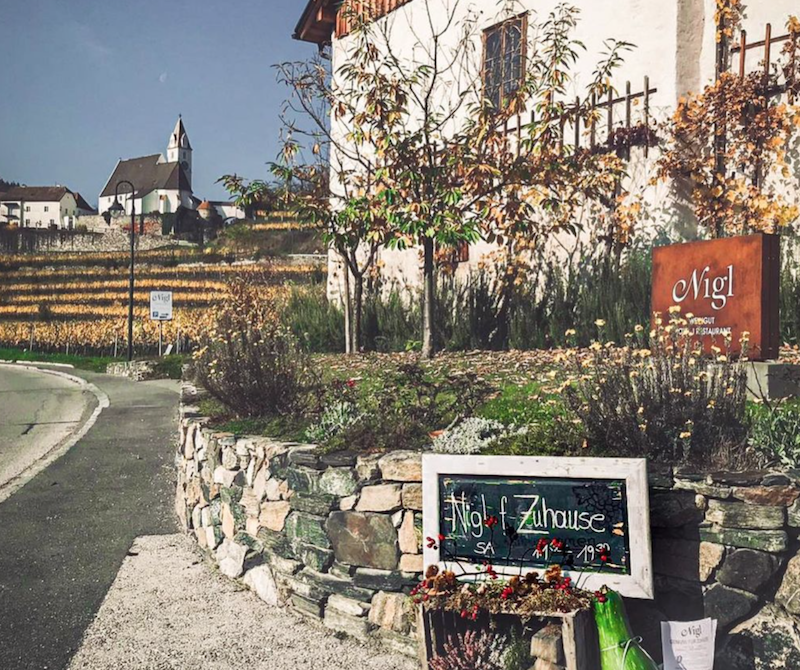 Newly anointed as an appellation in 2007, Kremstal separated from the much larger region of Niederösterreich. Is neighbors are Kamtal and Wachau.
Jancis Robinson says of Kremstal "(it) produces wines of almost as much finesse which tend to cost rather less." It's compared to its neighbors because of climate and soil types and its championing of the great white grape, Grüner Veltliner. Grüner is a spicy, herbaceous, sometimes grassy white. In Kremstal, there are two main types of vineyard sites, those closer to the City of Krems benefit from the alluvial deposits of the Danube, while the slopes show off iconic Loess terraces, which make the vines struggle, bringing out more astringent and grassy whites. Some producers choose to blend sites together to achieve a varied, balanced wine, but Nigl creates balanced wines by hyper-focusing on single vineyard parcels.
"Kremstal is not homogenous" was a direct response from Martin Nigl when I asked about the iconic Loess terraces and the soils in general of Kremstal, reluctant to make any generalizations about the region. This philosophy is clearly echoed in their wines. Each has such a distinct sense of place. The Riesling from the "Piri" vineyard is so distinct, it's like no Riesling you've had. The slight earthy petrol note often found in aged Riesling just barely pokes its nose through, like an incorrigible child wearing his father's dress shoes and necktie.
The Nigl family is just that, a family operation out of Kremstal. Martin Junior sat down for an interview with Grape Collective to discuss his upstart father, the lucky turns his path took, and most importantly, how the land served as stationery for the unravelling of Nigl's story to bring out of Kremstal and to the world a stunning collection of wines.
Jackson Mattek: Martin, your father started the winery?
Martin Nigl: So my father started focusing just on wine, my grandfather also had vineyards, but, he produced just [a] very small amount of wine in general, and at that time it was pretty classic that they had a little bit of land or agriculture, some chickens and cow, and most of the grapes he brought to the co-operative in Krems. And so my father started [in] 1985 just focusing on wine.
So after your dad decided that he wanted to make wine, instead of selling to the co-op, how did that become what Nigl is today?
You know, at that time, our area wasn't that popular for wine growing. No, all the vineyards in Senftenberg were just the later sites, very steep, pretty hard to cultivate. And so my father started pretty small just in the house from my grandmother in the cellar with, I think, 1000 liters [of] Riesling… This was 1985 when he graduated [from] the Federal College of Viticulture and Pomology.
And after that everything was developing pretty slow, because as you maybe know, it was the time of the wine scandal in Austria, but due to that, he wasn't involved into the scandal, so it was pretty good to start growing, or to develop a winery, because the land [wasn't] that expensive and there were also two opportunities at that time, my father had the opportunity to buy vineyards from, two royal families in our area.
In 1995, he was able to buy eight hectares of the best vineyards in Senftenberg, and as you maybe know, the vineyards are pretty small in general. When a family had four kids, the vineyards were divided between them, so they had four even smaller vineyards. And the more royal families had, most of the time, the best vineyards, and also pretty nice vineyards, a little bit bigger and better to work.
And this was 1995, and we also bought an old farming house from the family... which now is a restaurant. This was also very important for [a] winery to develop. This is a once in a lifetime chance; you have to be lucky that something like that is sold.
And when my father started developing the Nigl brand and also developing the winery, he was, four years later, pretty lucky again, because he was able to buy also two very famous vineyards in our area the Goldberg and Zwettl, and the special thing with that is this was nine hectares, but it was all one place. The flatter part was the Zwettl and the steeper slope, the Goldberg. And it's pretty unique that you have something, I don't know how to say this in English. Also we say [German] it's like one shuttle, one place.
So how does the land on your specific vineyards and in Kremstal in general affect the wines? The terraces, the altitude, the steepness. How does that affect what's getting in the bottle?
You know, the Kremstal in general is not so homogeneous, so I think you can divide the Kremstal into two, three sub-areas. You have the part south of
the Danube River, where you mainly have a gravel soil and stuff like that. So you have a more moderate influence on the climate.
Then you have the eastern part of Krems where you mainly have less influence on the wine… less terraces there. Also the ripening there is a little bit earlier, depending on the vintage two to three weeks compared to Senftenberg, there we have more moderate acidity levels, and also more exotic fruit, more this warmer style of the Grüner Vetliner, because the nurse terraces are mainly cultivated with Grüner Vetliner.
In the western part of Senftenberg we have primarily rock soil or schist. Due to that, we have mainly Riesling, or a lot of Riesling. And the flatter part of the slope is always cultivated with Grüner Vetliner, We have a little bit richer soils, and it also works very well for Grüner Vetliner.
In Senftenberg… due to the climate change, the vineyards in Senftenberg are now benefiting. I'm born in 1996 with a difficult vintage in Austria. Pretty cool climate, very high acidity. When I now open my bottle from my birth vintage, when you taste the wine, the acidity is dancing on your tongue.

And now we have a very good ripening, but the acidity is in a very good balance, so we can pick ripe without losing this nice refreshing character, which is in some vintages like '17 or '18, pretty hard when you have vineyards in Krems. So there we see that the ripening is going very fast. The sugar ripening and the acidity is decreasing very fast, so you have to pick very fast.
What is Nigl's philosophy in the cellar when it comes to taking what the land grows to making wine?
I think we have a very minimal way of making wine, we do not do any fining… We try to pick very healthy grapes, so you do not [have to do] anything. The work is done in the vineyard, in our opinion. So normally we start the fermentation not with natural yeasts, we work with a neutral yeast because we think with the neutral yeasts you to get a very precise style of wine.
Sometimes when you work with other yeasts, you sometimes get aromas that you maybe don't want or tastes not from the wine. And we think it's the best way to produce very precise wines and to take pretty less influence on the wine when you work with neutral yeast, so get really the taste from the vineyard, or from the grape variety. We don't normally do not keep the wines so long on the lees. We rack pretty early, so normally after fermentation we rack one or two weeks after the fermentation, because especially in the last years, you get enough power from the vineyard.
And it's important to keep the freshness, and I think when you have too much time on the lees, the whites get kind of a little bit flipped and we really want to keep the freshness. And so we saw, especially with last year's that we preferred breaking a little bit earlier.
The Riesling Piri, I absolutely love. How do you want people to enjoy it, with what food?
I think the Riesling Piri [always works] perfectly when you have Asian cuisine, or sushi. And I think in general have a little bit lighter cuisine, or when you have white meat, it also works very good, but always when you have more of a spicy character, I think Riesling works always very well.
And the Riesling Piri for us is the dry single vineyard Riesling. Piri is an old Austrian word for the steep slopes in Senftenberg, it's mainly from the younger vines... so you always get a nice ripe vineyard peach and I think this works very well with this stuff.
For Nigl and Austrian wine-- what does the future look like?
So I think the cooler sites are getting more and more interesting. We see it in our area, even the vineyards that nobody before was cultivating are now planted. Get going up into the higher altitudes, so we are coming from a little part of the town, Senftenberg called Proidl, it's the flatter part on the top of the vineyards. And normally there was just a south-facing slope, which was cultivated, because early ripening and the altitude wasn't too high and mainly focusing on the middle part of the slope.
And now we're seeing that this higher altitudes are getting more and more interesting, and I think we will see a time where we go more out into the Zwettl, the Zwettl is a lot cooler than our area now, so you're going to an altitude from 500 or 600 meters. And we are now... our higher vineyards are around 400 meters, so it's going more to a cooler climate direction, but in Senftenberg we are now in a very good situation.
So we are getting a nice ripening and we saw it in 2020 again, 2020 was cooler, and Senftenberg also works in this year, so [we] get the nice ripening…. I think these cooler sites are going to be the future, and the higher attitudes. And what's in Senftenberg is also very important, I think, in the future is also the water.
We [saw] it last year...I think water is a resource that will get more into focus in the next years, because in Krems, the people always say you do not need to irrigation, because you have very rich soil that can save a lot of water, but in Senftenberg, we always had to work in the vineyards because we have a very poor soil and due to that, we always had to find a way of cultivation to use or to save water wherever we can.
Austrian wines are sometimes harder for American audiences to get their heads around, so what do you wish they would know or learn about Austrian wines?
I think when you think of Austria in general...I think most of the people are thinking of Grüner Vetliner. I think in general internationally, the biggest success of Austria is the Grüner Vetliner, And I think the special thing about the Grüner Vetliner is that it's a wine that you can nearly pair [with] everything.