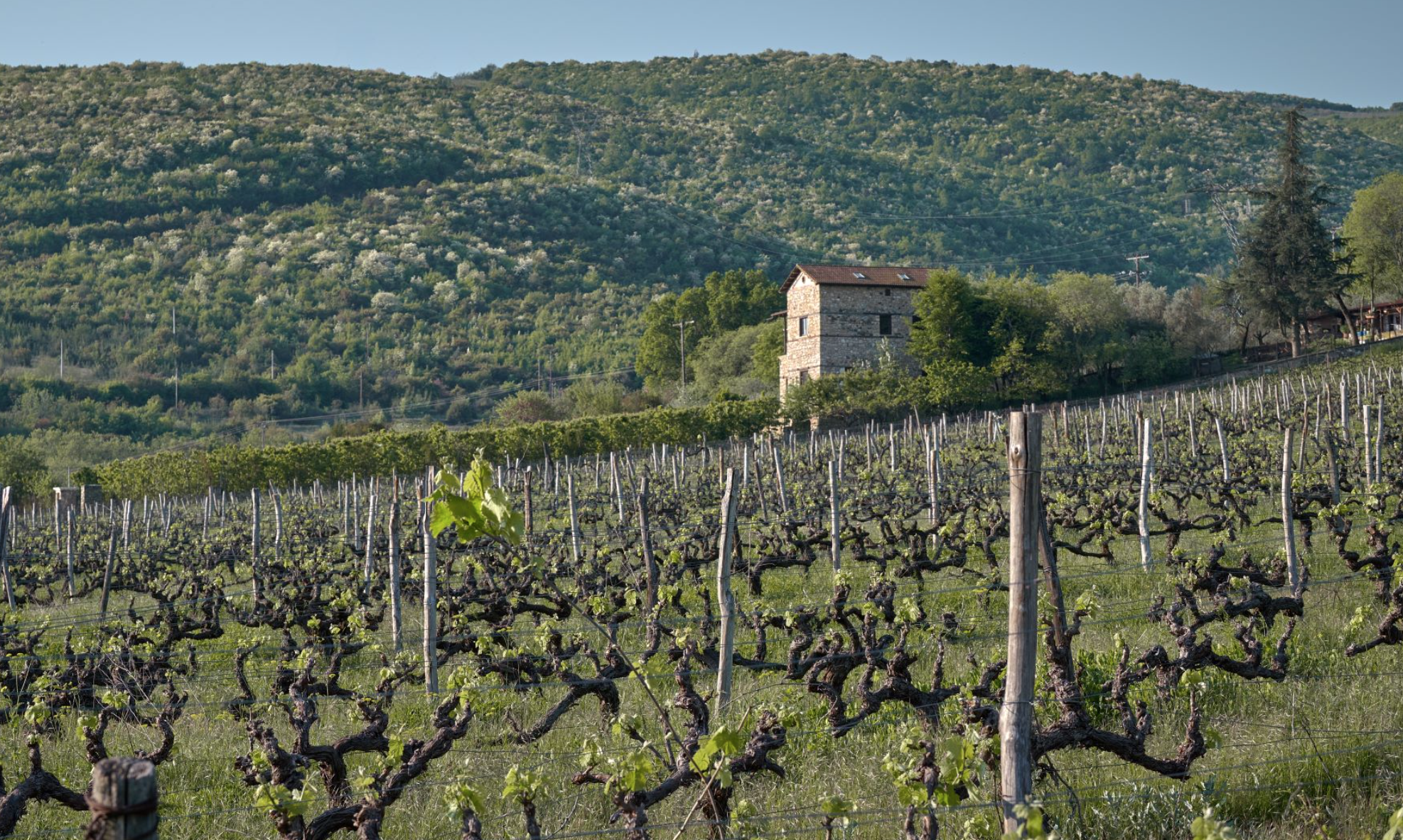 Dionysus was a God whose name was honored by partaking in festivals of revelry, wine, theatre and sex right? A Hedonistic dream... This is the modern interpretation of the Bacchanalian festivals of Greek lore... but in actuality, the Greek aristocratic society favored civil consumption of wine instead of drunken revelry. Wine in ancient Greece was diluted to a lower level of alcohol and supplemented with herbs and other "mix-ins" like tree resin, which still exist in Retsina wines today.
If wines of the past were diluted, then the powerful wines based on Xinomavro grown in Naoussa today are a complete one-eighty. Dense, tannic, and concentrated, Xinomavro is the only grape allowed to be used in wines displaying the Naoussa Appellation of Superior Quality-- the Greek equivalent to the AOC and DOC of France and Italy. In 1971 Naoussa was the first wine growing region in Greece to be granted an Appellation of Superior Quality.
Naoussa lies in the mountainous Macedonia of north-central Greece. This continental interior gets chillier than the sunny Greek islands. The best sites for Xinomavro face south and get much-needed sun for ripening while still benefiting from cool alpine breezes. Other grapes are grown in Naoussa without the Appellation of Superior Quality, as that is just reserved for Xinomavro. Assyrtiko is a white famous for its production on the island of Santorini but results in a unique wine when grown on the mainland in the cooler more mountainous Macedonia.
Xinomavro is a beautiful grape. Even the entry-level bottling form Thymiopoulos Vineyards, the "Young Vines Xinomavro," has a deep, expressive aromatic profile. A tasting note often associated with Xinomavro is tomato leaf, because the wines are so savory yet still lifted and bright.
In the village of Trilofos is the Thymiopoulos winery where winemaker Apostolos Thymiopoulos focuses on making terroir-driven wines expressing their unique origin while praciting organic and biodymanic viticulture. I spoke with Apostolos about the history of the estate and the challenges and gifts of growing Xinomavro in Naoussa.
Jackson: What is the family history of Thymiopoulos? How did you get to where you are today?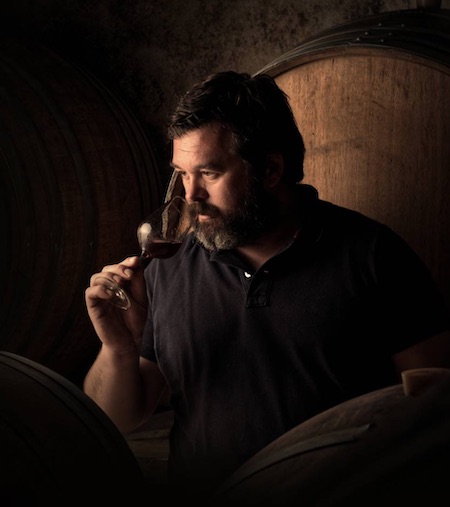 Apostolos Thymiopoulos: My family's growing vines and selling the grapes for years in some traditional wineries here. In 2003, when I finished my studies, I started to produce wine. I started with my my family land. This is four hectares and today we have a 38. All the vines are under organic certification. We started doing biodynamic 2009 and focus to Xinomavro. The main variety is Xinomavro, 90%. We also have some other wines, Assyrtiko.
What did the 2020 vintage look like? Were there any challenges?
2020? Not a difficult vintage. We had time to do the harvest, to pick the grapes. We have some rains, but every year we have rains in Naoussa because we are in the mountains. Sometimes it's nice for varieties like Xinomavro because the water from the rain, they don't become very strong and very dry.
When you decided to start doing biodynamics, what sparked that?
I started to export a lot. I started from Europe and to do the sales, I visited France very often and there I met friends doing biodynamics and I saw that biodynamics is not only marketing. It's very nice for the quality of the grapes.
How does that fit into your personal philosophy of winemaking?
Every year is different. For me, this is very important. Don't produce every year the same wine because it will be boring for the consumer. Every year, the temperatures, the rain, the sun, everything...sometimes hail storms. Unfortunately, we're out in nature, so we can have some problems sometimes. And every year the yeasts don't produce the same aromatic profile. And this is a big beauty for our world, the wine world. So I leave the vines free to give every year the fruit that they want. Also, my family for years has farms with animals, cows to goats to sheep, and it's an ecosystem. The animals give their manure to the vines, the vines give us of course the grapes.
So Xinomavro is 90% of the plantings, you have different bottlings under Xinomavro. What challenges does the grape provide, how do you use it to produce wines of different styles?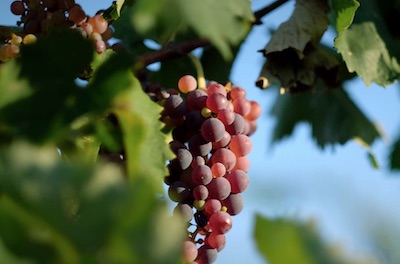 Xinomavro is really very dynamic variety. It's high acid. The name: xino- means sharp and translates in wine with a higher acidity. It's a tannic variety. This is very important to the winemaker, to manage the tannins, to produce very strong and green tannins. If you want to produce good quality grapes with no strong tannins or green seeds, you have to manage the yields of the vines. This is the answer for me. Of course, organic and biodynamic give and save us low quantities. And the low quantities produce good tannins that are very fruity, very good wines.
So, we have vineyards in two villages, Trilofos and Fytia. Trilofos is in about 200 meters and Fytia's 700. You can understand very easily that we pick different fruits of these villages. Very important also is the big differences between the soils. Trilofos is more clay, more heavy soil. This means that the wines produced have more structure, more tannins. From the high altitude with the lower temperature, more humidity, we have more elegant acidity, the tannins are more fine, more thin.
How is the Assyrtiko different in Naoussa than it is from Santorini?
Santorini is really very unique soil. There are only a few places in the world with volcanic soil. The volcanic soil produces very characteristic wines with this minerality and this petrol taste. In Naoussa, the acidity sometimes is higher than Santorini because here we have very high altitude into the forest, the sun is not so strong. It's a variety that gives wines with acidity, not very aromatic. Like Chardonnays, they're growing everywhere.
People say Naoussa is comparable to Barolo. Is that because the Xinomavro grape is compared to Nebbiolo or because the region is similar to Piedmont?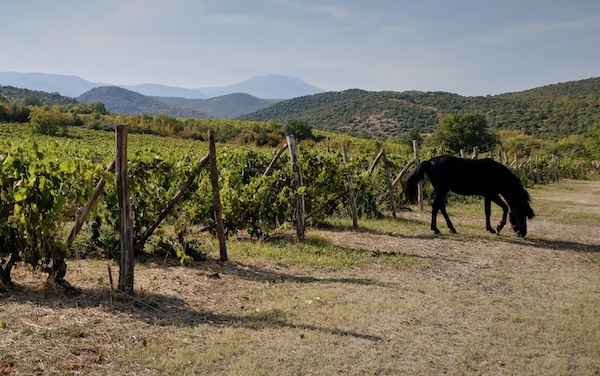 The reason that many people and writers and wine people compare Xinomavro with Nebbiolo, I believe, is the tannic profile. The aromatics are really very different. It's the tannin, because if someone suggests you drink a Nebbiolo wine, first of all, you are afraid of the tannins. The big surprise is when this wine is very nice, beautiful, and delicate. This is the same for Xinomavro. If someone were to offer wine from Xinomavro, traditionally, it was really very difficult to enjoy, especially when the wine was young because of the strong tannins. After phylloxera, the people changed the culture of vinification in Naoussa and planted vineyards with less density of vines. Less density means more grapes per vine. It adds up a big yield.
The big yields are not good for difficult varieties, like the Nebbiolo, like Xinomavro, like Pinot. Today, where the first winery that we planted, replanted again the vineyard with 10,000, 12,000 vines per hectare.
What is the traditional Greek food that matches Xinomavro for pairings? What are the big hefty dishes that you want to pair with this wine?
Here in my area, we produce 70% of beef meat of Greece. We have a different quality of animals, of beef, of cows here. Also, it's a forest area. We have a wild boar, rabbits, and pork. So the people here love meat, and this is a good combination with the tannins of the variety. Also, traditionally in Greek, we use a lot of vegetables, tomatoes, all the vegetables.
What would you like American wine audiences to know about Greek wines that they might not know?
I believe that it's not big risk for someone not to invest, but to buy and try, to discover something not only from Greece but from some other areas. Invest in some bottles for aging to see after some years and not only because the wine will be maybe more expensive, but they can't find these wines after some years.