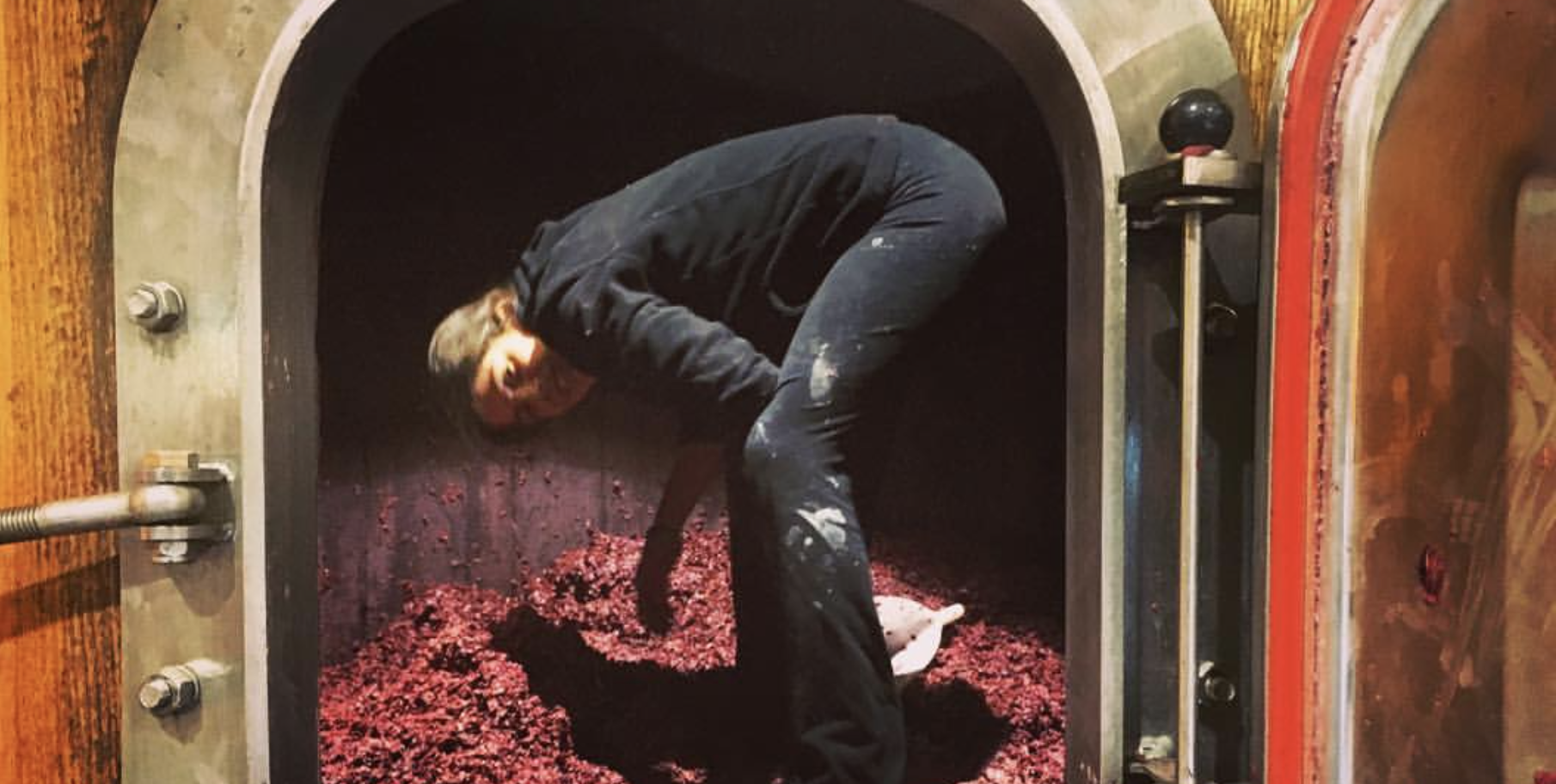 Piedmonte-- or "foot of the mountain." The most beautiful expression of the region's land comes from the Nebbiolo grape which gets its name from the nebbia (fog) that settles over the foothills of the Alps near the borders of France and Switzerland in Northernwestern Italy. Giulia Negri is also personally at the foot of the mountain. She will continue to climb the slopes of what is destined to be an illustrious career as a winemaker in Barolo. She showed me this mountain, both figuratively and physically (well virtually via a Zoom call) from her tasting room at her estate in the Serradenari vineyard of La Morra, Barolo. Giulia, christened "Barolo Girl," took over her family's vineyards with a few wines while still in school in 2011, then took charge of Serradenari in earnest in 2015. Giulia popped on our Zoom call mid-November just after she was able to taste her fresh 2020 Pinot Nero.
Nebbiolo, the real star of the region, is an amazing grape because it provides so many balances and unexpected turns. California Cabs are big bold wines, and you know that from the minute you pour one. When you pour Giulia's 2018 Langhe Nebbiolo it looks simple and pale (almost rosé-esque). But then bam, you don't even have to stick your nose in the glass to start pinpointing classic Nebbiolo floral and earth notes. And the fruit… It's like a warm strawberry pie cooling next to a sauté pan of blooming rosemary and oregano. Then you sip and this warmth suddenly gives way to cool acidic berry flavors. The fruit still lingers even when the tannins take over. The strawberries and cherries seem to grow and rise up through your soft palate while the tannins coat every last surface of your mouth, asking for-- no, craving, a bite of cacio e pepe or a crispy piece of duck breast or mushroom risotto.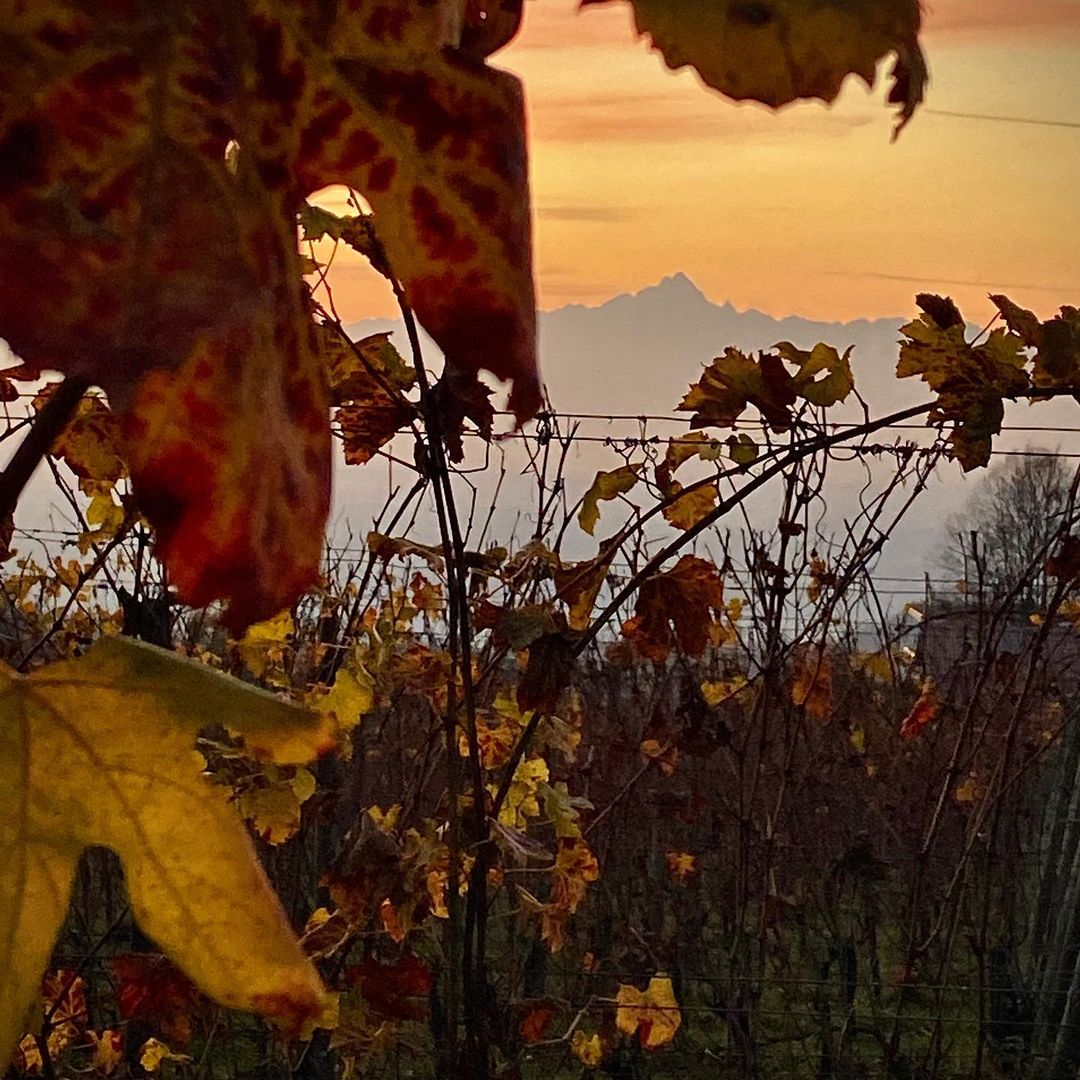 I also sat down with Giulia's La Tartufaia Barolo, and now my only desire is to taste her three Barolos side by side: La Tartufaia, Marrasio, and the eponymous Serradenari. It takes a second for La Tartufaia's aromas to lift out of the glass because they seem deep, complex, more hidden than the younger Nebbiolo. Allspice and candied cherry dominate the nose. And wow, this is what Barolo should taste like. Gripping yet still delicate tannins and a sinus-filling spice punch.
(A view from the Serradenari vineyard)
Giulia Negri is a powerhouse. Young and passionate, she took over her family's vineyards in her early twenties, vinifying wines while still traveling back and forth to Milan where she was in school before taking over with the full vineyard and cellar at her disposal in 2015. Cosmopolitan yet warm, intense yet kind, all of her facets are reflected in her outstanding vintages. Separated by the Atlantic Ocean I could still feel her passion-- radiating from her light-filled tasting room in Barolo to my Brooklyn apartment.
Jackson Mattek: Where are you speaking to me from? What does this time of year look like for you?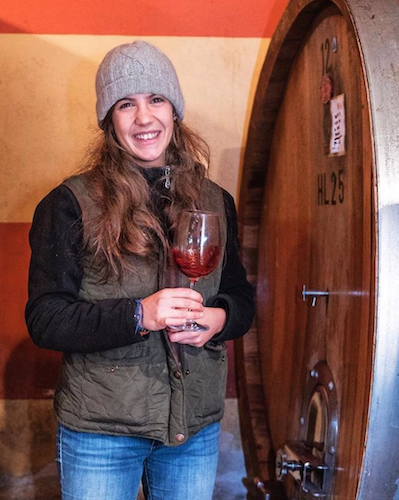 Giulia Negri: I am in my tasting room. I am in the winery. We started unracking two tanks last week. Now we are still waiting. I harvested all of the Barolos the 16th, 17th, 18th and 19th of October so pretty late. So I am now waiting, so we just have Pinot and Chardonnay. They are in malolactic and are pretty nice. The Langhe Nebbiolo and Barbera are ready in tank while the Barolo are still fermenting. But now it is the time of year when everything is calming down. So we have just a few last pumping over to do. I am very happy this year. They will be very nice wines.
So you can't really do an interview with you without talking about the name "Barolo Girl," right? Do you feel any pressure to continue to do new and exciting things and to make your wines that much better?

I've just started-- so yes. The challenges are a lot. As I used to say the best wine I will produce is the wine of next year. Barolo Girl. Not a lot of people know [the name Barolo Girl] is not against Barolo Boys. It's a kind of evolution of it. So with the Barolo Boys, [the debate] was mainly barrique versus barrel. They introduced this kind of innovation. It was only linked to the wood. Why Barolo Girl? On one side to be completely traditional and very respectful of what I think is the best way to take care of the Nebbiolo variety. Then on the other side knowing that you don't know everything. Do not be arrogant. Wherever you go you can learn something. This is the reason why I made a very fast wave from where I started until today. Sometimes when I look back I say I'm happy. I'm proud. But this is just because I've travelled so far. Not having fear to introduce innovation. Not innovation like oh my gosh that's horrible. But even a simple way to clean a tank. This is what it's linked to.
What was your first vintage?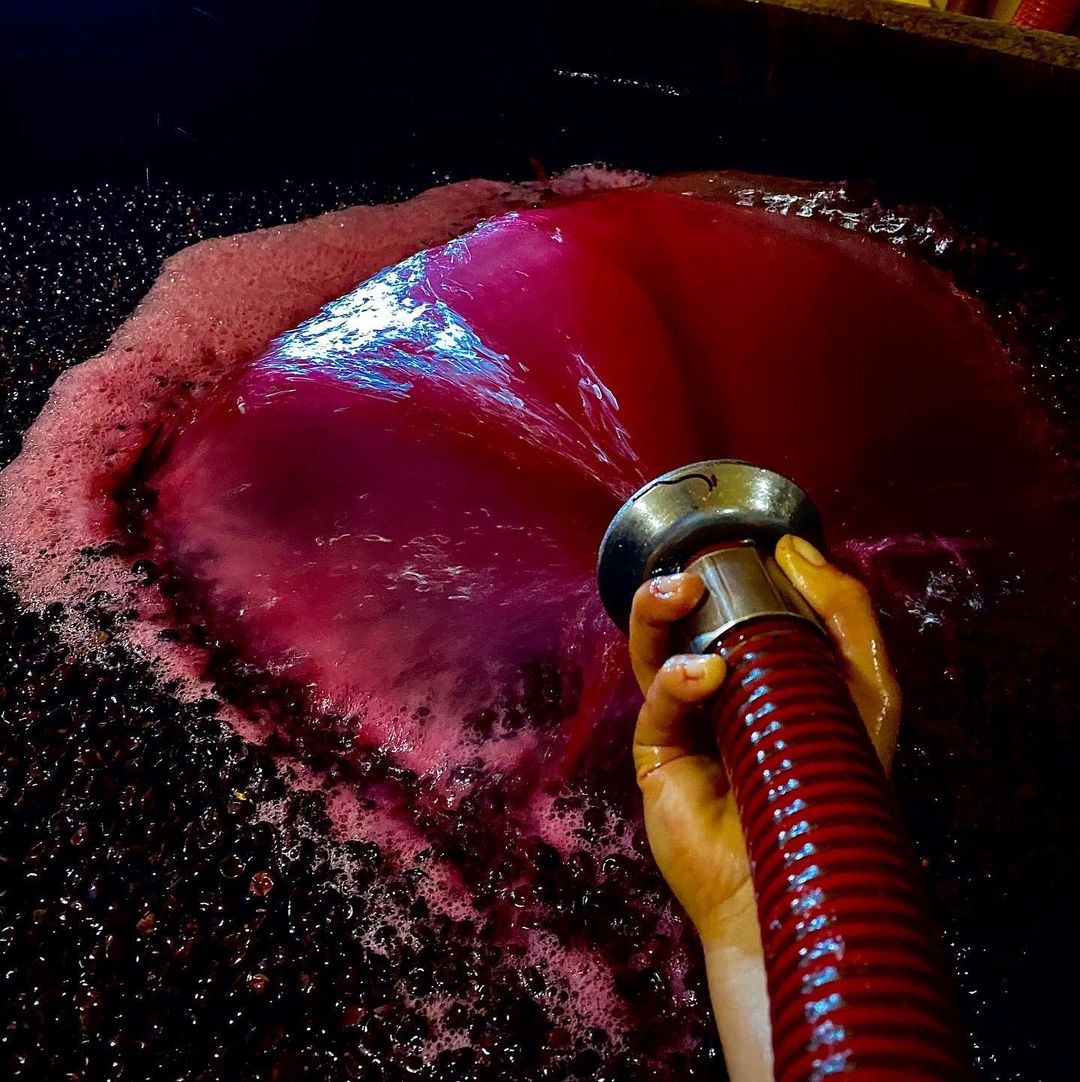 My first vintage was not with all the vineyards at my disposal. Because I started in 2011 making only three wines. I selected three vines from my family estate. I was producing Chardonnay, Pinot Nero, and a Barolo. Then really following everything it was 2013, because I was still studying in Milan. But really the first vintage with everything at my disposal. It was more conscientious. I knew more of where I was. It was 2015. When I started parcelizing my different vineyards. I started making the three different Barolo I'm producing. Also I had a name, so I started following how to reach year by year what I'd like to do. It's been a step by step process.
(Giulia pumping over her Pinor Nero)
Barolo is always compared to Burgundy. How do you see the two regions as being similar, and how do you try to express that in your wines?
They are the same because they are very similar under two points of view, I think. First of all, for the uniqueness of the soil and the fact that you have a monovariety planted on it. It's really the expression of every single soil and every single cru that we have. The other link is the viticulture culture. So it's generation after generation that has been built. Every family was making their own wine.

The second point is Pinot Nero and Nebbiolo are really two terroir varieties. They change completely based on the soil where they are on the terroir. My terroir I say, yes. Yeah, I'll teach you the microclimate, everything. But you have a completely different expression if it's planted on the sand, on the clay, on the limestone.
Would you talk a little bit about your Langhe Nebbiolo? (I had already been sipping on this delight. Giulia poured herself a taste.)
Yes, of course. So we have the 2018. It's my aperitivo for today. So consider that for me, the Langhe Nebbiolo is almost my favorite or my most important wine. When I taste some wines from other producers in Burgundy or everywhere else, you consider the entry-level wines as the one that are worthy to understand. So for me the Langhe Nebbiolos really have a big challenge, because I want on one side to have a wine that is extremely drinkable, very juicy, very fresh that will really express also Serradenari. Really a glug glug wine. A wine that must be opened and finished.
On the other side, I want to really respect the personality of the Nebbiolo variety, which means a structure, which means personality, which means a wine that must be full but not fat, that cleans your mouth. So every year based on the kind of vintage that it is, I vinify a little bit differently. It is one of the only wines on which I make only stainless steel. And then we also have a fermentation that is a little bit shorter. So [it spends] around 20, 25 days on the skin. Its not so short, but compared to Barolo, it is.
So the idea is really to extract the personality of the Nebbiolo, the juiciness and maintain the balance of the acidity, for which it stays all the time high. You have all the fruity [flavors] but also on the other side forest. Then you start understanding what Serradenari can give, because you have in the mouth these tannins that are big but they are not too much. They are not heavy. This stays on the highest part of the mouth and it's close to the acidity. So it stays extremely fresh. And you can imagine even in the Langhe Nebbiolo, You can already understand or imagine that you are in a vineyard, high in altitude with a lot of excursion between night and days. Fresher air, windy. You can see a little bit the vineyard, which is in every wine that I produce. When they ask me, "[What] is your philosophy?" I say, "It's not my philosophy. It's Serradenari that makes the wine and my aim is: I have a duty, that is to bring Serradenari in this glass.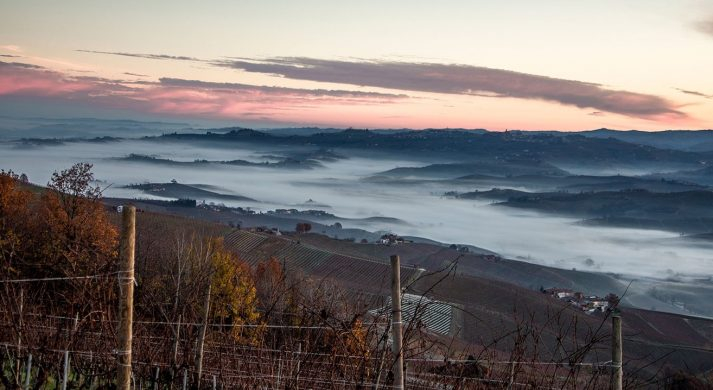 What is the story of Serradenari and the translation of that?
Serradenari means "keep the money" and it comes from the Middle Ages. When there was the black plague, all the people living in the lower villages went to the top, looking for the fresher and healthier air, bringing under their arms the little money that they had. So they worked hard keeping the money under their arms and they arrived to the peak. That is actually where I am. This is why it's the Serradenari. So literally keeps the money. But if we are able to, I will show you why-- there is an amazing sunset.
(Nebbiolo's namesake fog or nebbia over the rolling hills of Piedmonte)
(Giulia picks up her laptop to show me the stunning hills of her vineyards with the Alps and the setting sun behind them.) That's such an amazing view. Wow.
You are really in the highest, highest part, so you can see all the vineyards downhill.
So that's looking west. So La Morra is the westernmost reach of Barolo, right?
It's the western part, and then me, I'm even in the western, western part, because I'm on the other side of La Morra now.
I'm going to pour a little bit of the La Tartufaia Barolo.
The Tartufaia come from my clay soil. So these are two vineyards on which you have a richer soil. More ground between the mother sun and the vines. You have the grapes that are more vigorous, more berries, a little bit thinner skins. La Tartufaia is really the more typical La Morra Barolo

that I produce. So again, it's more on the drinkability side, it's more in the feminine part. It has these tannins that are not a lot but very big. It's the one that is more on the fruity parts. I used to call him like the Barolo by the glass in a positive way, it's the Barolo that is a little bit more approachable at the beginning. It's more welcoming. Then, of course, if you give it a little bit more time, it gains just in power and everything. So it becomes bigger and bigger. But I think it's a very, very nice expression of a La Morra Barolos.
So the other two Barolos you make, how do they progress and compare and contrast?
It really comes from the soil. I make La Tartufaia, as we were saying, from the clay: more vigor, more fruity, more drinkable, more welcoming.
Then we go on the Serradenari. Serradenari is an amphitheater, another parcel that is on the sand. Serradenari is completely on the forest, saltiness, roses, floral. It has a completely other expression of Nebbiolo. It's really... It's amazing to taste them together because it's a vineyard that is like not even 20 meters, but you have two worlds. Serradenari you have definitely more of them [tannins], but they are thinner.
And then we have another parcel that is the Marassio. The Marassio is the highest vineyard that I have, so it's at 536 meters. It's also the highest vineyard all over the appellation of Barolo. It's on the limestone. We have 8.4 of pH, so extremely alkaline, and it's completely different. Consider that it was not a wine that was in my mind to produce since the beginning, because when I started, I was stuck in the old way of thinking of Barolo: that the best cru are the lowest ones in the warmest places where the snow goes away. Because back in time, 30 years ago, it was [like] this, because the Nebbiolo variety has a very long ripening cycle. So it's the first one to bud the last one to be picked. It always needed the warmest places, but now climate is changing, definitely. It's no more an issue to get a ripe grape.
At the beginning, the highest vineyard was not even to be considered for Langhe Nebbiolo. But when I started on tasting it [the Marrasio parcel] it was the first one on which I arrived near to what I was looking for in a Barolo. It is extremely delicate and it seems almost really like a dancer. A classic dancer, and then you have in the mouth is extremely powerful. You're like, "Oh, my God."
It's a little bit... I think that the La Tartufaia and Serradenari are two pieces of the puzzle and in the Marassio you have the image of both of them. Because you have one side that is fruity, another side that [smells completely of] forest, branches, pruning. You have the same smell of the pruning. When you prune all day, you have the smell on the gloves. And then you have the mouth that is like pop. It explodes.. It lasts [a long time on the finish]. And it's a third expression of Nebbiolo, so it's nice.
What about your Pinot Nero and Chardonnay? Is anyone else in the area doing that?
Chardonnay, yes. You can find a lot of Chardonnay from Langhe. Pinot Nero… I think there are around five, six winemakers. A lot of people tried before, but it was in the too-warm spots, so now they are using it for the sparkling. These were [very much a] work in progress. The Chardonnay, since 2016, I'm very happy about. I have a lot of friends in Burgundy. I go to Burgundy very often, and so it helped a lot. I have few coaches and masters that helped me through the years when I was giving up and saying, "It's impossible to produce a Pinot Nero" here!
So the Chardonnay I started in 2016. I'm now fermenting it directly in tonneaux 250 liters that I produced in Burgundy that I toast myself. I go every July to toast all of them and to select the kind of tools that we want. And then it ferments over there, no batonnage. I work a lot in reduction. I love a good reduction. And so that's it. It's a very tiny, tiny production, and I'm very happy about it. Chardonnay from Langhe are generally pretty rich. They are more a warm wine, and it's not really my kind of... I do not drink them a lot. Itasted some old bottles [of my parents old vintages] that were incredibly nice with the acidic very mineral side. And I said, Let's see if it's possible to produce something more in a longterm perspective.
Pinot Noir was a little bit longer and tougher because the Pinot Noir doesn't forgive any kind of mistake that you make in any step of the vinification. So before we were harvesting a little bit too late or together, because I have three different clones. Then we started anticipating the harvest. Then I saw that the three different clones have some ripening period slightly different. So I started on vinifying the three clones separately. I started using the only indigenous yeast because before I was inoculating, but it wasn't inoculating because the Pinot Noir is not a variety from here.
So it was the yeast of the Nebbiolo that were taking advantage of the Pinot Noir. Then I started a few experiments in 2018 and so I'm not putting any more [innoculated yeast], and it changed it completely. At the beginning it was really Burgundian, so more volage, more extraction because they need to extract a little bit more. But then I became aware that [we are in] Langhe, so there are tannins. (laughing) No fear about the about the bones. And so I've started on vinifying a little bit more as [if it were] Barolo. No reduction, only pumping over. The less I decant, the more happy I am.
Since the Langhe Nebbiolo is the introductory wine; for someone that is new to Piedmonte wines, what do you see as the best experience for enjoying it?
The Langhe Nebbiolo for me is perfect for an aperitivo. So [enjoy it] under the sun and with it you can have all the cheese and ham. So the prosciutto, a little bit of tuna or with some taralli, tuna, salame. I'm always, of course, linking it to what we eat over here. But also with some bruschetta. So you can have a lot of fun with the Langhe Nebbiolos in Italy. But for me, it's more an aperitivo wine or like also some pizza. So it's more funky. It's not too serious for me.
When the Barolos are ready, how do you spend your winter? Does your load get a little bit lighter? Are you able to sit back and relax a little bit?
In general, I would now be traveling a lot; visiting all the different markets; and then in January and February, spend about 20 days traveling around the world. This year, I don't know what I will do. I'm very happy the first lockdown was really useful. I was supposed to travel to around 12 different countries in the two months of lockdown that we had here. And then we were stopped...but it was spring. So the vineyard was starting and it allowed us to make a huge work in the vineyards.
Now, we will rest for once. We will start new project. We will start on defining the new project. I will make a new cellar next year. So I'm starting on working on that. And we think of the next project for the five, 10 years. I'm not traveling for the moment. So yeah, we will see when we will be able to travel again.
Yeah, I hope so too. Thank you for talking with us and thank you so much for making these great wines. I had the La Tartufaia Barolo last night with a pork chop in a mushroom sauce, and it was just like-
So good. [Try] the Langhe Nebbiolo also with some fried porcini!