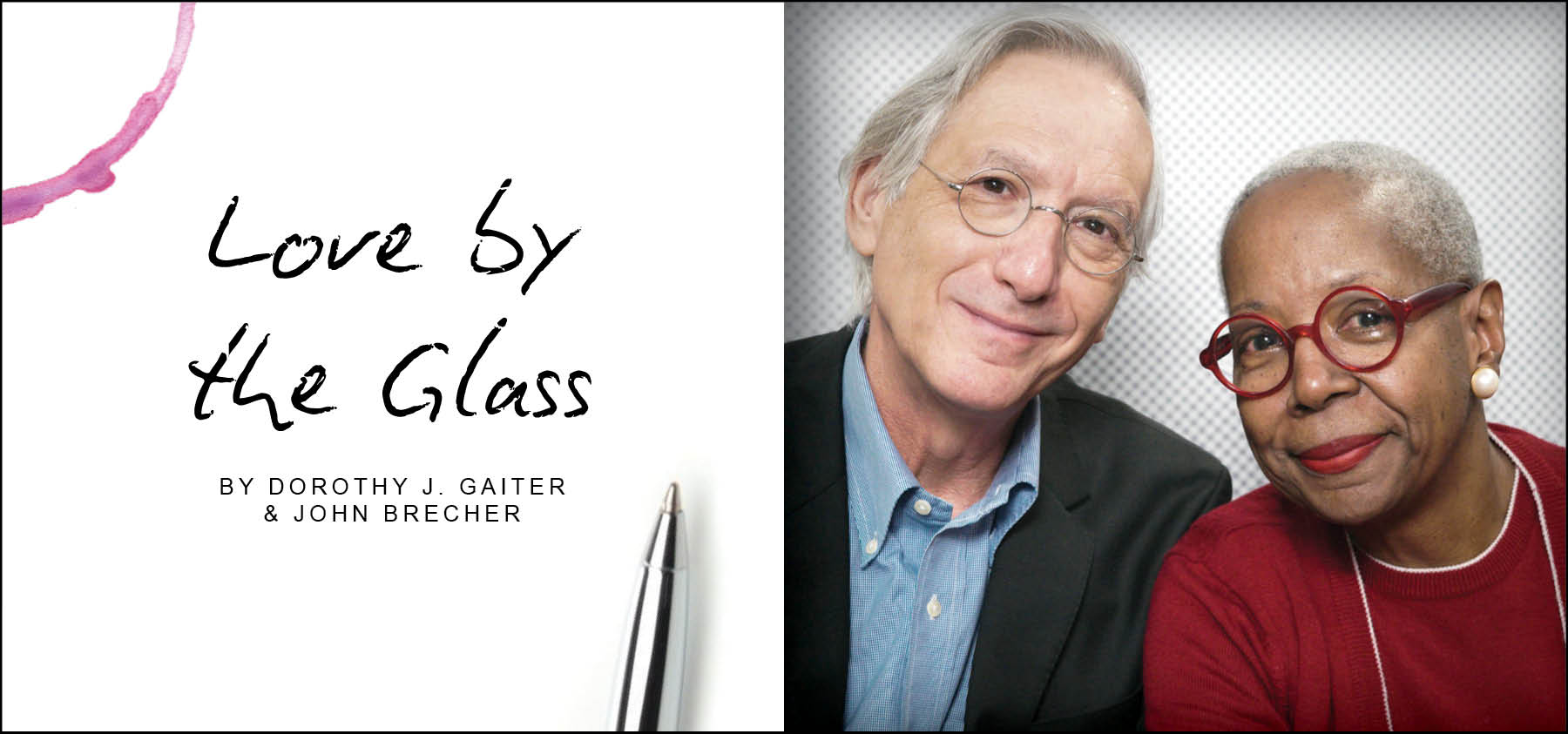 We've heard it over and over during the past year: "Now every night is Open That Bottle Night!" In the midst of such a horrific year, people decided to finally enjoy those bottles of wine that had been just too special to open. If we've learned anything, it's that tomorrow is never guaranteed and every day should be a celebration. Yes, this also was true before the pandemic.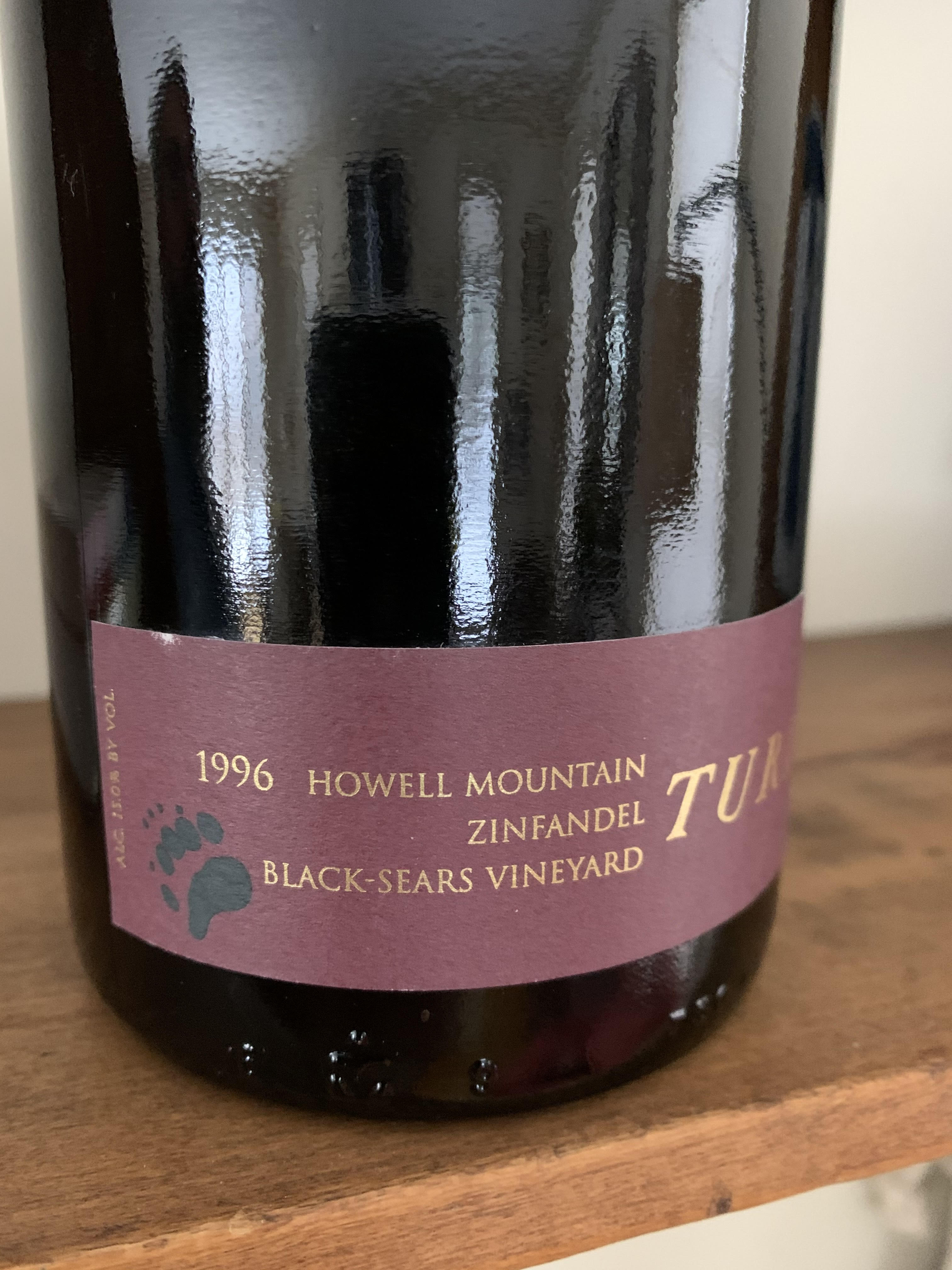 And yet….
And yet we know the truth: So many of us, whether we have one wine in the house or 1,000, still have that one bottle we can't seem to open -- ever. Ask Jim Maiella. Before last year's OTBN, he contacted us to ask if this was a good time to open a Turley Wine Cellars Zinfandel that holds particularly powerful memories of a long-ago dinner in New York City for him and his wife, Gwen.
(Jim and Gwen Maiella will finally open this memory-filled Turley Zinfandel)
Well, it didn't happen. But this year, he is committed: "We now live in Vermont, so it's going to be cold, and we're still in the middle of a pandemic, which doesn't really lend itself to friends coming over to share, but whatever specific form it winds up taking, this is the year. We are going to find the right way to crack that 1996 Turley Black-Sears and enjoy it as if we were sitting at that table in Blue Water Grill, more than 20 years ago!"
When we invented Open That Bottle Night in 1999, there were so many things we could not have imagined and a global pandemic is certainly one of them. Even so, our point was as true then as it is now: Free the memories from those bottles, the ones from weddings, auctions, parents and unforgettable trips. We know it's difficult and that's why we set the last Saturday of February – in this case, Feb. 27 – as a time when all of us, together, can take a deep breath and pop the cork.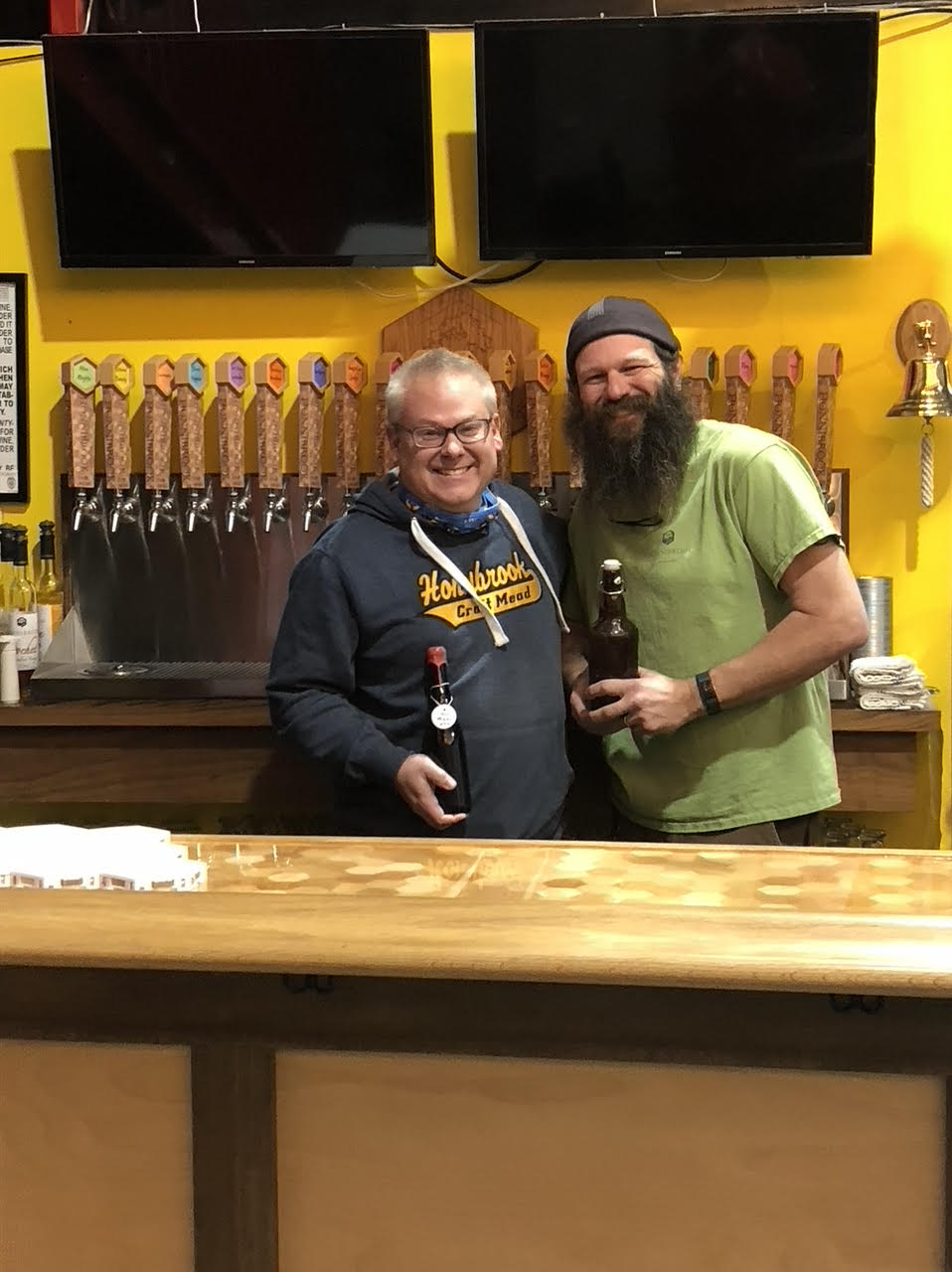 OTBN is celebrated every year in all kinds of ways, from Hammer & Stain studio in Pottstown, Pa., where the owner is urging craftmakers to bring a prized bottle and share it, to Honnibrook Craft Meadery in Castle Rock, Colo., which will celebrate with a pizza truck and about 25 people – as allowed under current health rules. Co-owners Michael Fagan and Daniel Kurtz plan to open some precious bottles of a 2015 cherry melomel, mead made with cherries, that won their first gold medal. They were amateur mead makers then and that helped propel them to opening their meadery two years ago this month. They hope others will come with special bottles and share the stories.
(Michael Fagan, left, and Daniel Kurtz, founders of Honnibrook Craft Meadery, will share an award-winning cherry mead)
"I think it will be pretty special to bring those bottles and tell the story about making the mead, getting into the competition and the results and let people taste it," said Michael, whose "day job" is technology. The meadery hopes to stream live on Instagram and Facebook @honnibrook.
Lyneka Little celebrated OTBN in Paris for the past few years. For a good look at what an OTBN party can be, check out her short video. She began hosting OTBN parties in New York City in 2004 when she worked as our assistant at The Wall Street Journal. At one party, she had more than 90 guests.
"I was able to marry your creation with my own idea of storytelling and connecting people," Lyneka, who now is a social media consultant, wrote us. "In our early 20s, we didn't have memorable bottles of wine but we had stories because everyone living has the ability to tell some type of story. That's why one of the requirements for the OTBN I host is a story. It doesn't have to be true and it can be three words if you want. But sharing a story is a way for people to connect. When everyone tells a story, that's where the true connection comes in. That's the art of storytelling.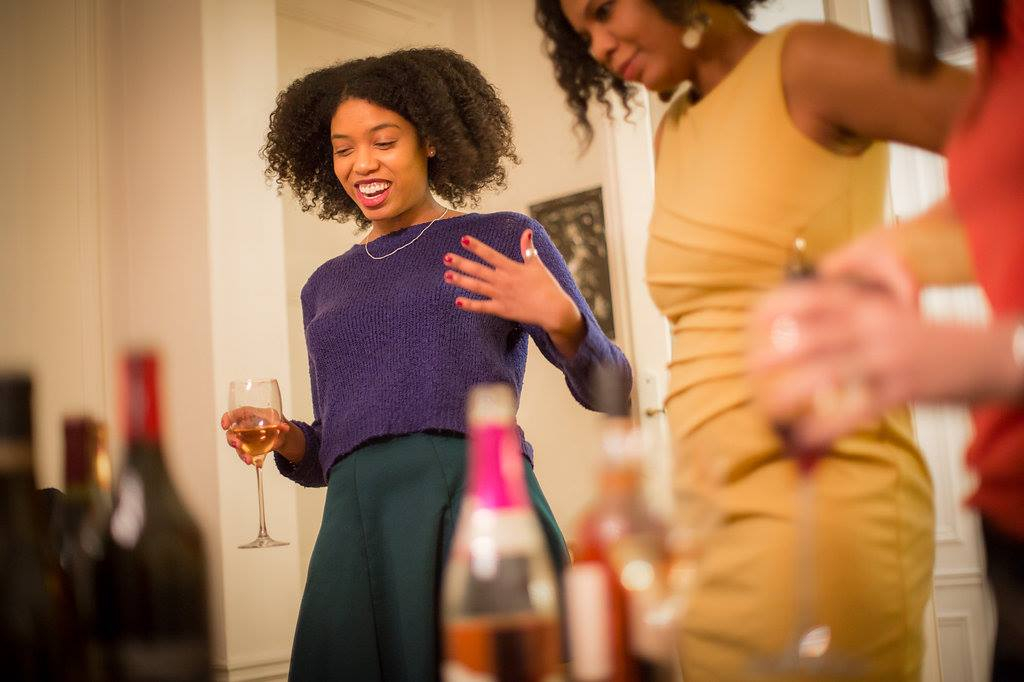 "You don't have to be great orator to tell a story. You do have to be a great listener to hear a story," she wrote us. "So really through listening is how we as people connect."
(OTBN in Paris in 2016 hosted by Lyneka Little, right, who is listening to a story from guest Channel Ausberry. Photograph and video by Jason Lee Wong)
Lyneka would love the Maiellas' story. They were living in New York City, not yet married, when a sommelier friend at the Blue Water Grill – a restaurant with fond memories for us, too – suggested something they had never tried: Turley Zinfandel. "The wine was beyond delicious," wrote Jim, who is in corporate communications. "That was our introduction to red Zinfandel and it was perfect. Easy drinking, high-octane, plenty of fruit but with subtlety and refinement, checked all of our boxes." He spent years trying to find Turley Zinfandel, but it was highly allocated and expensive. There was even a waiting list to get on the winery's mailing list, he said.
And then: "I think I went through a couple of years of mailings before I was offered any wine and in that time Gwen and I got engaged and then married. Early 2001, Gwen is pregnant with our first child, we are still living in the city and our baby furniture is being delivered to our apartment. On the same day the furniture arrives, so does the Turley spring 2001 allocation mailer, which includes our first actual allocation. I think it was two or three bottles and I remember after we got home from work Gwen was obsessing over the furniture and I was engrossed in the tasting notes and the fact that we were finally going to be able to buy some of that incredible wine we'd been introduced to a few years earlier."
They've ordered ever since, sometimes Petite Syrah and Cabernet Sauvignon, but Turley Zinfandel has become their very special house wine. This is their only bottle of the mythic 1996 they shared that long-ago night.
So what will we open? We never know until the last minute. Here are four possibilities, all wines we bought at the source years before we began writing about wine in 1998 and we do understand we should have opened them all a long time ago.
1994 Pugliese Vineyards Merlot Reserve. We used to visit the North Fork of Long Island every summer for the wine, the lobsters and just-picked vegetables and fruits, and the sheer beauty of the place. Pugliese was one of our favorite stops, where matriarch Pat Pugliese ran the tasting room and painted flowers on some of the labels.
1988 Hargrave Vineyard "Le Noirien" Pinot Noir. Hargrave was the first winery on Long Island. We liked the Hargrave Pinot and we loved the story behind this label. The Hargraves thought a Piccaso-esque nude would be a good idea, but that was not allowed on a label back then, so they put a bar over her breasts and sold the wine only at the winery.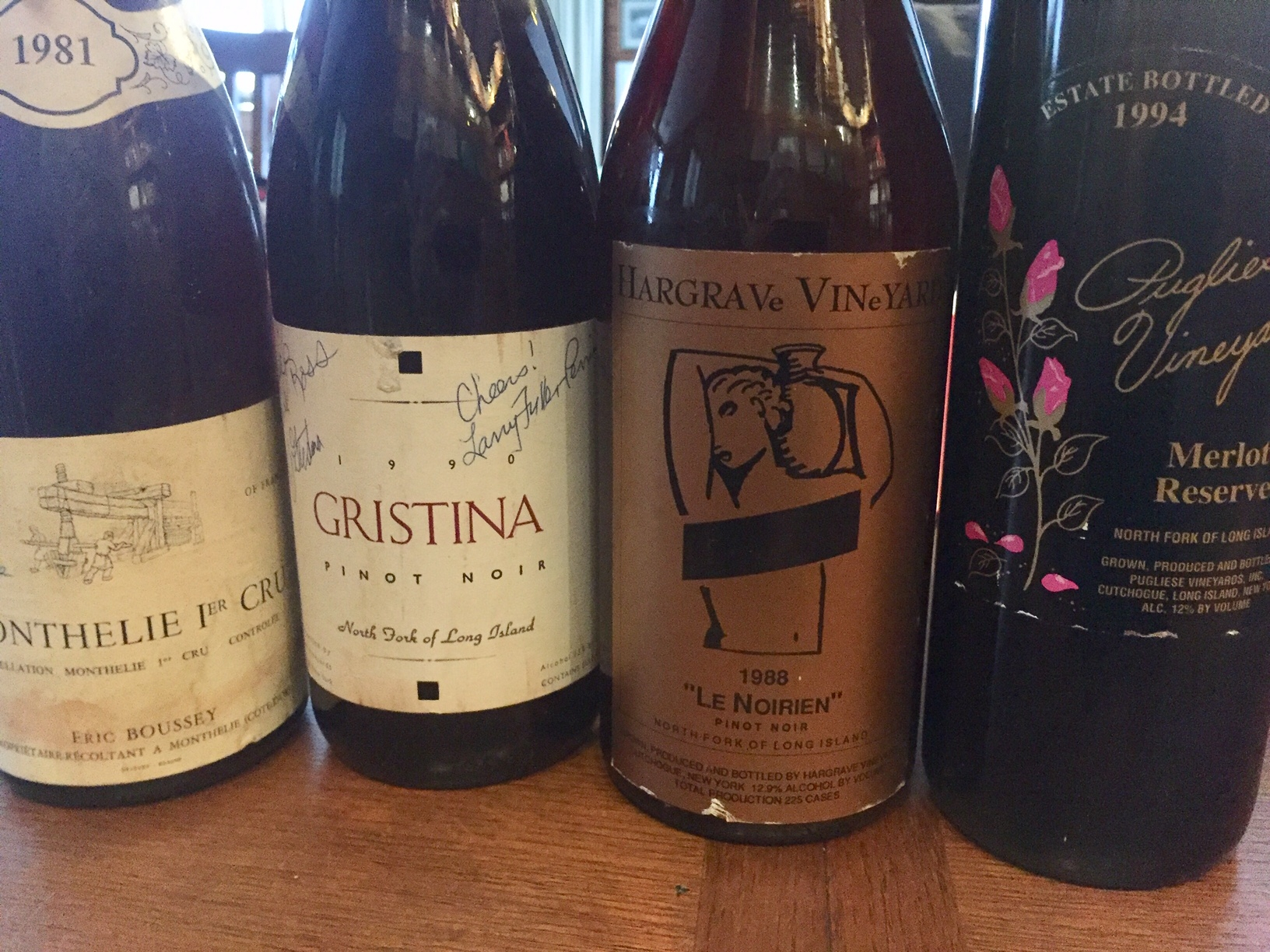 1990 Gristina Vineyards Pinot Noir. We dropped into Gristina on the North Fork and went wild for this Pinot. We asked the winemaker to sign it and expressed excitement. He signed and said, in effect, well, you'll never see it again because the winery's owner didn't like it as much and told me never to make it again. How could we ever open this?
(Our final four OTBN candidates for this year)
The last of our wines, 1981 Eric Boussey Monthelie Premier Cru. During our first trip to France, we dropped in unannounced at this charming little winery, where a lovely young couple poured us their wines and, despite language issues, we had the most marvelous time. Béatrice signed it for us. We've looked at the bottle a thousand times over the years and we always say, "Awwww."
Doesn't that wine – don't all those wines – deserve to be opened and celebrated? Of course they do. And so do yours. If you have plans, let us know in the comments section below or at [email protected]. And, of course, please let us know how your night went after it's over. Celebrate the memories – and make some new ones. Happy OTBN.
Dorothy J. Gaiter and John Brecher conceived and wrote The Wall Street Journal's wine column, "Tastings," from 1998 to 2010. Dorothy and John have been tasting and studying wine since 1973. In 2020, the University of California at Davis added their papers to the Warren Winiarski Wine Writers Collection in its library, which also includes the work of Hugh Johnson and Jancis Robinson. Dottie has had a distinguished career in journalism as a reporter, editor, columnist and editorial writer at The Miami Herald, The New York Times, and at The Journal. John was Page One Editor of The Journal, City Editor of The Miami Herald and a senior editor at Bloomberg News. They are well-known from their books and many television appearances, especially on Martha Stewart's show, and as the creators of the annual, international "Open That Bottle Night" celebration of wine and friendship. The first bottle they shared was André Cold Duck. They have two daughters.
Banner art by Piers Parlett