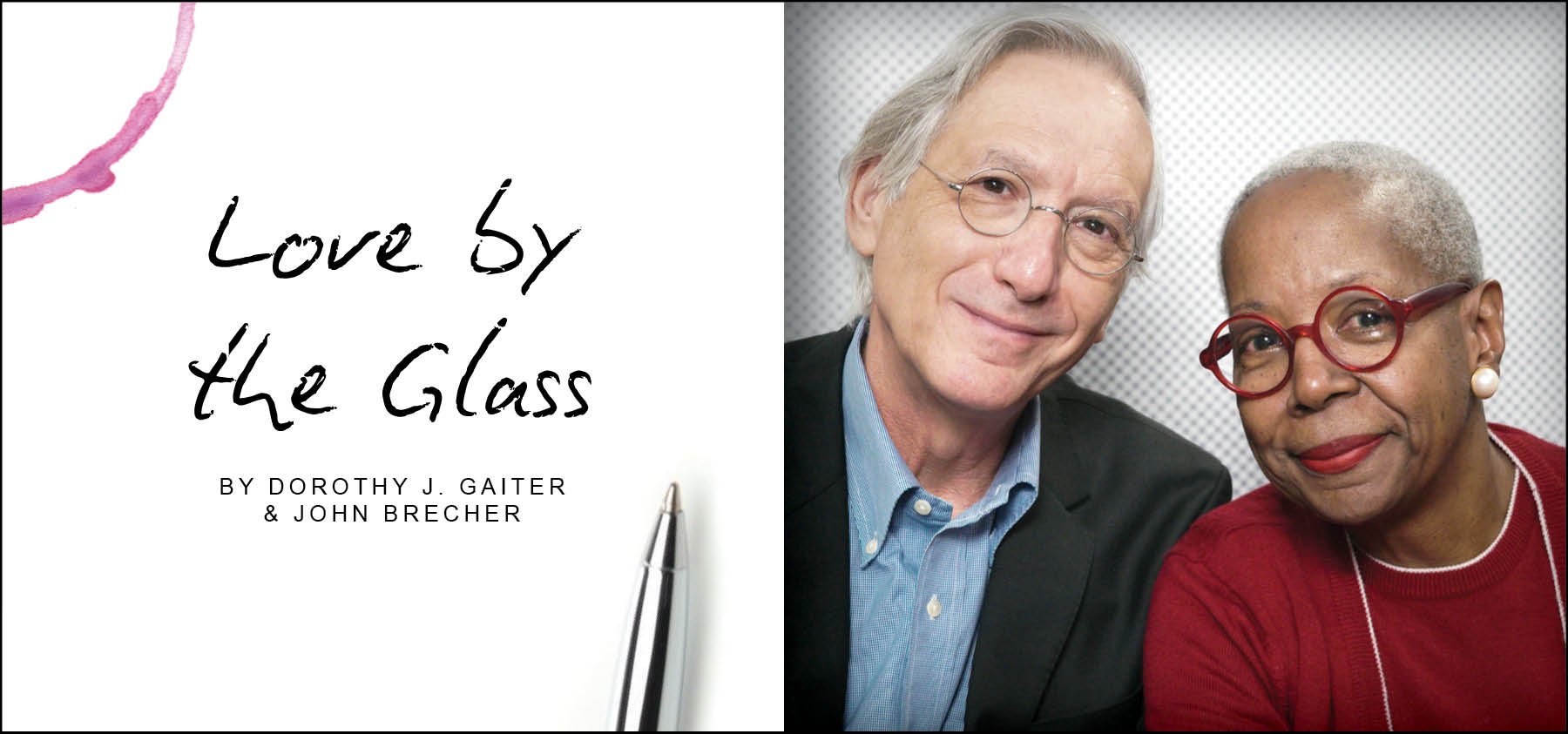 This is the time of year for columns about holiday wine, but most of them are about the liquid inside the bottle. It's also a good moment to step back and give thanks to those who make wine something bigger, something more important than an alcoholic beverage. It's useful to remember, despite the relentless headlines that underscore the opposite, that there are many people – including people in the wine industry -- who respond to the better angels of our nature with acts of courage and generosity and faith.
A few months ago, we wrote about diversity in the wine industry, highlighting existing chasms of race and sometimes race and gender, and efforts to bridge them. Several minority voices in the industry told us about people who had aided them along the way and we thought this season was the right time to contact those helpers and ask them why – and what other people can do.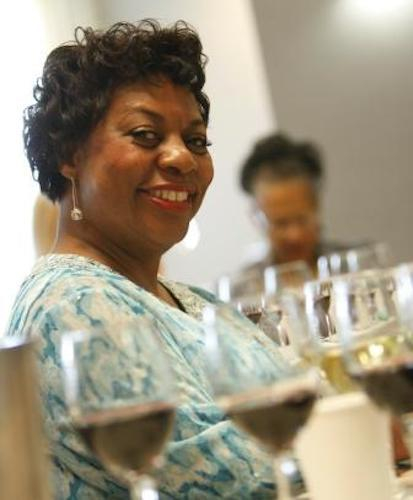 Melody Fuller, a wine, food and travel writer, founded the Oakland Wine Festival in 2015. Years earlier, she had been scarred by the treatment she'd received when visiting some wineries in Napa. Though she encountered a much more welcoming attitude in later years, her earlier mistreatment fueled an idea that became the Oakland festival. It was "the direct result of hours-long conversations with Michael Silacci, winemaker for Opus One; Russ Weis, president of Silverado Vineyards; and K.R. Rombauer III, with Rombauer Vineyards," she wrote us. "I consider these three wise men my three wine-kings as they are also very good and dear friends." Fuller is a black woman; they are all white men.
(Melody Fuller)
We wrote to Silacci and asked why and how he'd helped Fuller.
"When I first met Melody, I found her enthusiasm and passion for wine and the wine world contagious. I learned that she felt shunned and pushed away from a community to which she was strongly drawn," Silacci wrote. "Melody had big dreams for the Oakland Wine Festival and how it would bring winemakers living and working just about an hour away from Oakland together with a community thirsty for greater knowledge about food and wine.
"I shared ideas and suggestions for the inaugural Oakland Wine Festival. She also received excellent advice and support from Russ and K.R. We all wanted her to be successful and to make a significant contribution to her community."
Silacci wrote that he helped "mostly by listening to her, challenging her, counseling and advising her, and supporting her. I participated in the first Festival with an extensive tasting and a seminar. I gave her frank, direct criticism to strengthen the foundation of her Festival and ideas for the next Festival."
What would you say to others to encourage them to help make the wine community more diverse? we asked.
"Share your knowledge and wines with anyone who is interested in viticulture and wine. Meet with the vineyard and cellar workers, many of whom are Hispanic, and share with them the results of their efforts. Encourage them to go to school, if they are interested in taking on greater responsibilities. In (in)formal tastings show people how to expectorate, so they can give each wine an objective and fair shake.
"At wine dinners teach people how to alternate between sips of wine and bites of food in moderation. Share wine with bussers and servers in restaurants," he added. "Pour wine at ethnic and cultural events."
Edward Lee "Mac" McDonald, who founded Vision Cellars in Windsor, Sonoma County, in 1995 with his wife, Lil, has received help along the way. But the support, over generations, from the Wagners of Caymus Vineyards and Wagner Family of Wine has been extraordinary.
McDonald, 76, has a lot of shtick—his overalls, straw hat and down-home phrasing lend an aw-shucks quality that belies an incisive mind. His origin story in wine begins with a bottle of Burgundy when he was 12. He was sitting around his backcountry Texas home with some aristocrats who had just gone hunting with this father, a renowned moonshine maker and hunter, when one of the swells pulled out a bottle of Burgundy. When the moonshine drinkers ridiculed the wine lover, the story goes, he offered McDonald a taste that the boy never forgot. Fast forward several years and McDonald has moved to Oakland after high school and joined Pacific Gas and Electric Co., where he worked for more than three decades while visiting wineries off and on and dabbling in winemaking in his spare time.
One of the wineries McDonald visited in Napa was Caymus, founded by Charles F. Wagner, known as Charlie, and his wife, Lorna Belle Glos Wagner, and their son, Chuck. Their first vintage was 1972. McDonald fell hard for Caymus Cabernet – as did many of us -- and loved that the Wagners, especially Charlie, were open to teaching him about all things wine. Chuck started directing operations at the winery in 1984 and Charlie died in 2002 at the age of 89.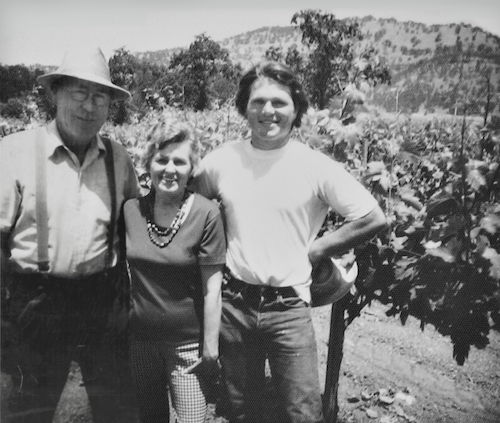 "The Wagner family has been instrumental in assisting us in all facets of the wine business," McDonald, a Pinot Noir specialist, wrote us in an email. The family advised him about what clones grew best in certain types of soil, on sanitation in the vineyard and in the winery, how to market himself and his wine.
(Charlie, Lorna and Chuck Wagner circa 1970)
"They let us sit in on many tastings and conservations about the wine business and introduced us to the movers and shakers in the business," McDonald added. "Most of all, the Wagners assisted us in a big financial way by letting us use a few of their barrels and equipment at no cost and with no strings attached. They helped us locate our first vineyard in Marin County…
"If you want be excellent at anything, don't worry about the nationality or gender," McDonald wrote. "Just find someone who knows more about the business than you do and get with it."
For years, McDonald made Vision's wines at Caymus. Now he makes them at Copper Cane Wine & Provisions in Napa, which was founded by Joe Wagner, Chuck's younger son. Copper Cane is where the younger Wagner, a fifth-generation winemaker, makes several brands of wine from California and Oregon grapes. Gary Pisoni and Gary Franscioni, the owners of Garys' Vineyard in Santa Lucia Highlands, widely known for its stellar Pinot Noir grapes, also helped McDonald and appreciated the wines he made from their grapes.
We had read that Charlie Wagner had said he thought McDonald would be good for the wine industry and we wondered if he was referring to McDonald's race, that he might spur more inclusion in the wine world. With his father gone, we asked Chuck Wagner. "He may have meant that, but I don't know if that was the twist," Wagner told us when we called him. "What we need in our industry is personalities. We don't need stodgy, know-it-all, my-shit-don't-stink, vanity winemakers. What we need are real people so I would say that might have been what my dad thought. I wish he were around to answer that.
"Oftentimes the guy who's making the wines doesn't have the personality set to come out and speak to you. The crossover is a stretch," said Wagner. "And here's Mac. He has a willingness to work and make a go of it, and on the other side has a personality and I think there's not enough of those people around in winemaking. There's a genuine feel about Mac. And his wines are good, of course."
McDonald wrote us that he grew up in a family that always helped others and he continues that tradition. In 2002, McDonald and two other African American winemakers founded the Association of African American Vintners, a resource for winemakers and wine drinkers. He has been known to pour other winemakers' wines at events and help others so much that it was cutting into the time needed for his own business. "We have a saying: All we want folks to do is enjoy wine. It does not have to be our wines, just find wines you enjoy," McDonald wrote.
Some months ago, we read a wonderful post on the website of Brown Estate Vineyards, the only black-owned estate winery in Napa Valley. In 1980, Bassett Brown, a physician from Jamaica, and his wife, Marcela, purchased 450 acres in the Chiles Valley AVA to give their three kids a taste of rural living. They first sold their Zinfandel grapes to wineries. Then, according to The Napa Wine Project, with the encouragement of the Nichelini family, the Browns' vineyard neighbors, the kids, grown up in 1995, decided they should make their own wine from their organically grown grapes. They did, starting in 1996, and now the three siblings run the winery, which makes a variety of wines.
The siblings were our guests at The Wall Street Journal's Open That Bottle Night for vintners in Napa in 2000. And over this past Thanksgiving weekend, we all watched the charming movie "Little" and saw bottles of their wine in a few scenes. Nice!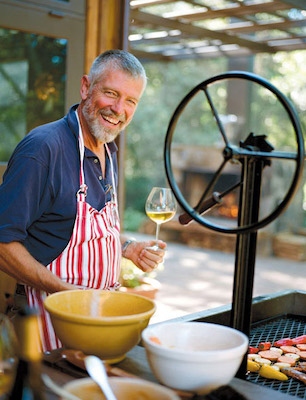 The headline on the blog post was "The Generous Mr. Turley." It recounted how Larry Turley, who they described aptly as "one of Zinfandel's early, iconic champions in California," had tasted their wine at a Zinfandel Advocates & Producers Grand Tasting in San Francisco in 2000, making them feel like they had "arrived." They went on to write that when the New York Times contacted Turley about an article Eric Asimov was writing on Zinfandel in 2002, Turley talked up Brown Estate. "The article, entitled 'Zinfandel Muscles In On The Big Boys,' wound up featuring our portrait along with a tagline review of our wine that stated, simply, 'Elegant, balanced and pure.' With that we officially were 'on the map,'" the post relates.
(Larry Turley)
Turley was born in Tennessee and grew up in Georgia and was an emergency room physician before he started Turley Wine Cellars in 1993. In 1981, while still practicing medicine, he co-founded Frog's Leap Winery, later selling his interest in it. Dottie wrote about the eldest of his four daughters, Christina, and her surprising White Zinfandel years ago. Helen Turley, Larry's sister, is a pioneering maker of some of California's first cult wines, a busy consultant and owner with her husband of the Marcassin Wine Co., a boutique winery on the Sonoma Coast.
We called Larry Turley to ask what had inspired him to do something so generous and sweet for the Brown family.
"Why wouldn't I do that? he replied. "They're a great family, they make great wine and I'm sure it's been an uphill battle. So I felt honored to do that."
We leave you with another quote to take with you into next year and beyond. This one is from Robert F. Kennedy:
"The purpose of life is to contribute in some way to making things better."
Dorothy J. Gaiter and John Brecher conceived and wrote The Wall Street Journal's wine column, "Tastings," from 1998 to 2010. Dorothy and John have been tasting and studying wine since 1973. Dottie has had a distinguished career in journalism as a reporter, editor, columnist and editorial writer at The Miami Herald and The New York Times as well as at The Journal. John was Page One Editor of The Journal, City Editor of The Miami Herald and a senior editor at Bloomberg News. They are well-known from their books and many television appearances, especially on Martha Stewart's show, and as the creators of the annual, international "Open That Bottle Night" celebration of wine and friendship. The first bottle they shared was André Cold Duck. They have two daughters.
Read more from Dorothy J. Gaiter and John Brecher on Grape Collective.
Banner by Piers Parlett