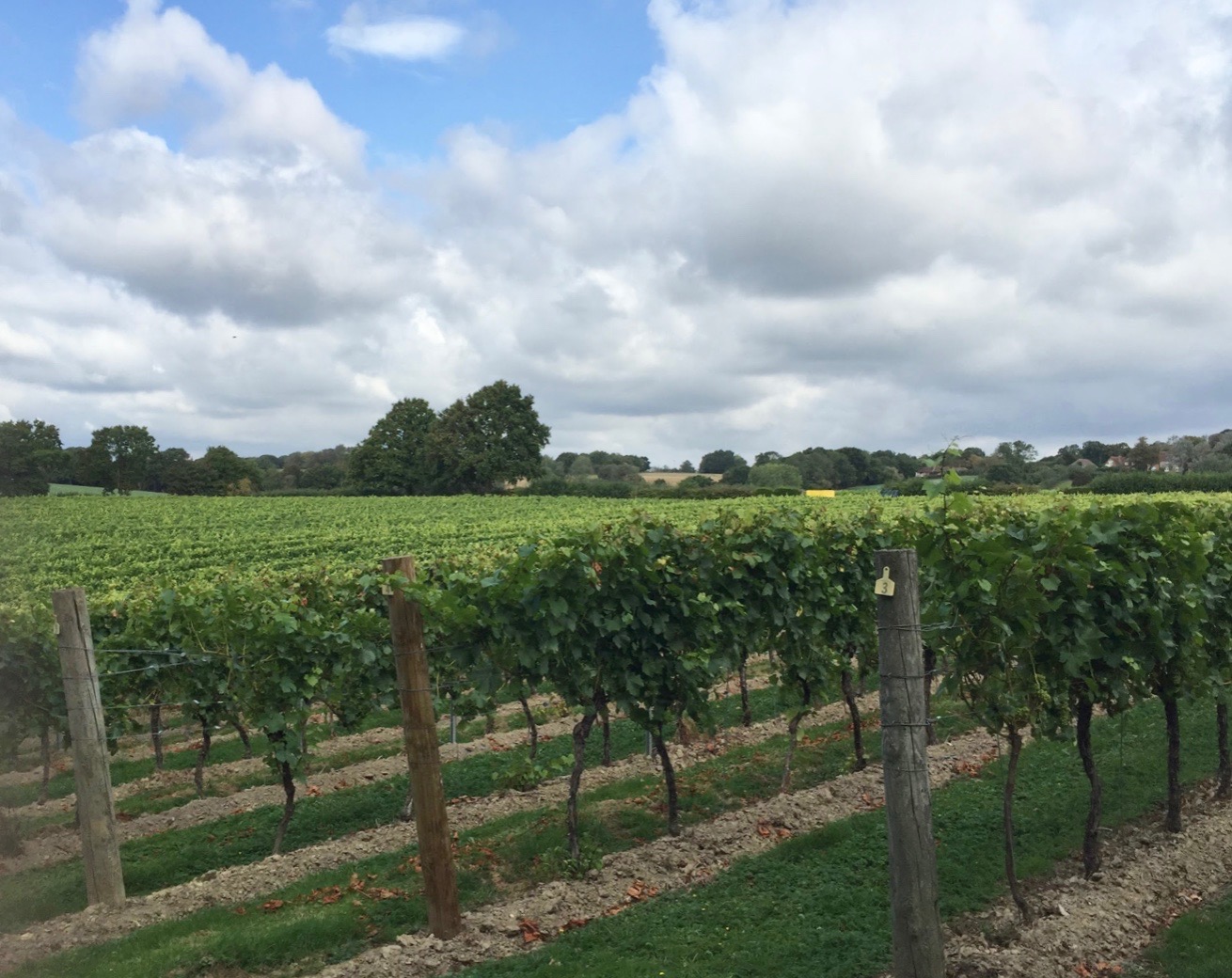 I went to England this summer and decided that this was the year I actually had to visit some English wineries and see English vineyards for myself. I had tasted a few of the wines slipping into the U.S. market and been impressed with the sparklers. I had heard that top-tier Champagne house Taittinger had purchased 150 acres and planted vines. Another top-tier Champagne house, Pommery, had invested in a joint venture with Hattingley Valley, with the first wine due this year. I call both these cases the 'smart money' coming in. Recognizing that the Kimmerigian chalk soil that is the heart of Champagne runs in a band under the English Channel to the UK where, after surfacing as the cliffs of Dover, it continues across southern England, they eyed these fields for future vineyards as climate change reduced the risk of frost. It helped that the price of vineyard land, at around $50,000/acre, was a tiny fraction of the $500,000/acre in Champagne.
Bear in mind that while I refer to English wine there are also producers in other parts of the UK.
Could I visit these wineries? Where were they? And, with 500 commercial wineries now in the UK, which ones should it be? It is in dilemmas like this that Google is your friend. I ran across English Wine Tasting Tours. "I wonder what they do?" I dumbly asked myself. It turned out it was exactly what I was looking for: a one-day tour from London offering visits to three wineries for tastings and tours of the vineyards, lunch, transportation, and a knowledgeable guide. The company is owned by husband and wife team Nicola and Dustin. She is a British recovering BBC employee and he is an expat American who spent more than a decade in northern California wine country before meeting Nicola. He loved the rain so they married and moved to Sussex, a county on England's south coast. Having been involved in the British wine industry for years (and doing tours with this one since they founded it in 2015) he is probably the single most knowledgeable American on the British wine industry.
I signed up for the Kent Cellar Door Tour. With a coupon for my first tour (a 'Vineyard Virgin' if you like) the cost came to around $135. I knew Kent (the county that juts out to France and includes Dover) was a hotbed for wineries and one of those that we would visit, Chapel Down, I knew by reputation (they did the wine at Kate Middleton and Prince William's wedding in 2011. I expect you saw it when you were at the ceremony).
We met up with our fellow winos at the pickup point outside London Bridge Station (a very convenient location starting point). I was the only writer in the group. Most of the rest were young couples or singles with a curiosity for English wine. All 19 of us boarded our mini-coach for a prompt 9am departure to Chapel Down, a two-hour drive. We wound our way through anonymous south east London suburbs until we reached the rolling green fields of Kent. The final few miles was on small roads through villages that they created solely to put on chocolate boxes and Christmas cards. For a lot of the journey Dustin spoke, giving us a background and answering questions. Nicola drove ahead at each stage to prepare the ground for our arrival.
Chapel Down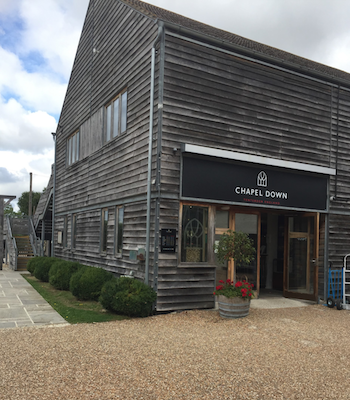 Chapel Down looked the part of a well-established winery. Maybe that was what persuaded U.S. asset manager Blackrock to buy roughly 6% of the stock. There were mature vineyards embracing a large lawn that housed a tasting room, restaurant, a well-stocked wine store and gift shop in the centre.
First we dressed for a tour of the vineyards. It is important that visitors to Europe understand that all the nazis not apprehended at the conclusion of World War II were put in charge of Health and Safety. One consequence is that you have to wear a hi-vis jacket when you walk through a vineyard (you just don't know when a glassy-winged sharpshooter might decide to inject bacteria into your sap, blocking your xylem).
The vineyard, mainly a German grape cross named bacchus, was bearing a lot of fruit. The canopies appeared to be in excellent condition. The soil was a layer of clay on top of chalk. We headed inside for a private group tasting which, I realised, was the largest English wine tasting that I had ever done. Some of the grapes in English winemaking are obscure to American visitors: bacchus, regent, and rondo being examples. However, pinot noir and chardonnay are clearly ascendent. The chardonnay grape shows promise. Undoubtedly, the most appealing are sparkling wines made with the same method used in Champagne. The template is Champagne and the question in critic's minds is 'how close can they get?' The serious players use the same three grapes that dominate Champagne: chardonnay, pinot noir, and pinot meunier. Chapel Down's 'Three Graces' used these three, spent four years on the lees, and came very close to a Champagne döppelganger. Chapel Down is typical of English wine producers in being overwhelmingly a white wine producer in the table wine category. Red grapes are difficult to ripen in the English climate and often used in rosé and sparkling wines.
Hush Heath Estate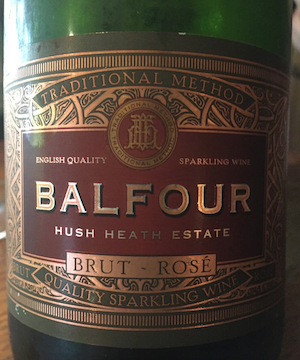 Next, on to Hush Heath Estate, which sells its wines under the Balfour name. The winery is some distance away but luckily they own The Woolpack, a charming pub in the same town as Chapel Down. So we headed there for a first-rate lunch of English country cooking and a tasting of Balfour wines.
Precise winemaking characterizes the wines of Hush Heath. They express a maturity and worldliness that belies the owner's first plantings being so recent (2002). There was a lean 2018 Bacchus that would sub for a sauvignon blanc or dry German wine. But it was the sparkling wine that really blew me away.
A non-vintage extra-dry 'Leslie's Reserve' from 55% pinot noir, 40% chardonnay, and 5% pinot meunier was refreshing and ideal for those who want a hint of sweetness in their sparkling wine.
The 2015 Brut Rosé, a blend of chardonnay (48%), pinot noir (39%) and pinot meunier (13%) was aged 30 months on the lees. It had a lively acidity, red fruit notes in the nose and on the palate, and a commanding body. This wine is served in first class on British Airways.
A 2014 Blanc de Blancs was even more impressive. This 100% chardonnay had a nose of citrus, and citrus and green apple in perfect balance on the palate. Vibrant acidity framed its structure.
It is high praise when I say that the latter two wines could be slotted into a blind tasting of the same types from Champagne and not only not embarrass themselves, but not even be detected as 'ringers', so well have they adopted Champagne's clothes.
Woodchurch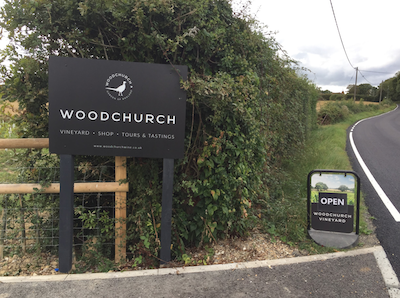 Finally we went to Woodchurch, the youngest of the wineries on the tour (founded in 2009). I was particularly pleased that our tasting was led by founder, Graham Barbour. He brought depth and a perspective to the Woodchurch story that gave us a sense of what they are about. They have a chardonnay and three sparkling wines. All are based around the Champagne trinity of chardonnay, pinot noir, and pinot meunier. The 2015 rosé consisting of 68% pinot noir and 32% pinot meunier was my favorite. At 11g/l sugar it just qualifies as a brut. The nose and palate are marked by red fruit. The grapes were whole bunch pressed and aged for 18 months on the lees. This wine won a gold medal at the 2019 Independent English Wine Awards, a bronze medal at the 2019 International Wine and Spirits Competition, and was highly commended at the 2018 International Wine Challenge.
Conclusion
I thoroughly enjoyed my day in the Kent countryside. It was an educational but fun introduction to English wine. We had ample time to ask questions of the wineries and the personal approach of Graham Barbour at Woodchurch was especially welcome. English Wine Tasting Tours were efficient, knowledgeable, and friendly. They offer several different wine tours and can do private tours for individuals, couples or groups. This one day expedition was just what I wanted but I suspect that I will be signing up for their other tours in the future.
---------
More on English wineries on Grape Collective here