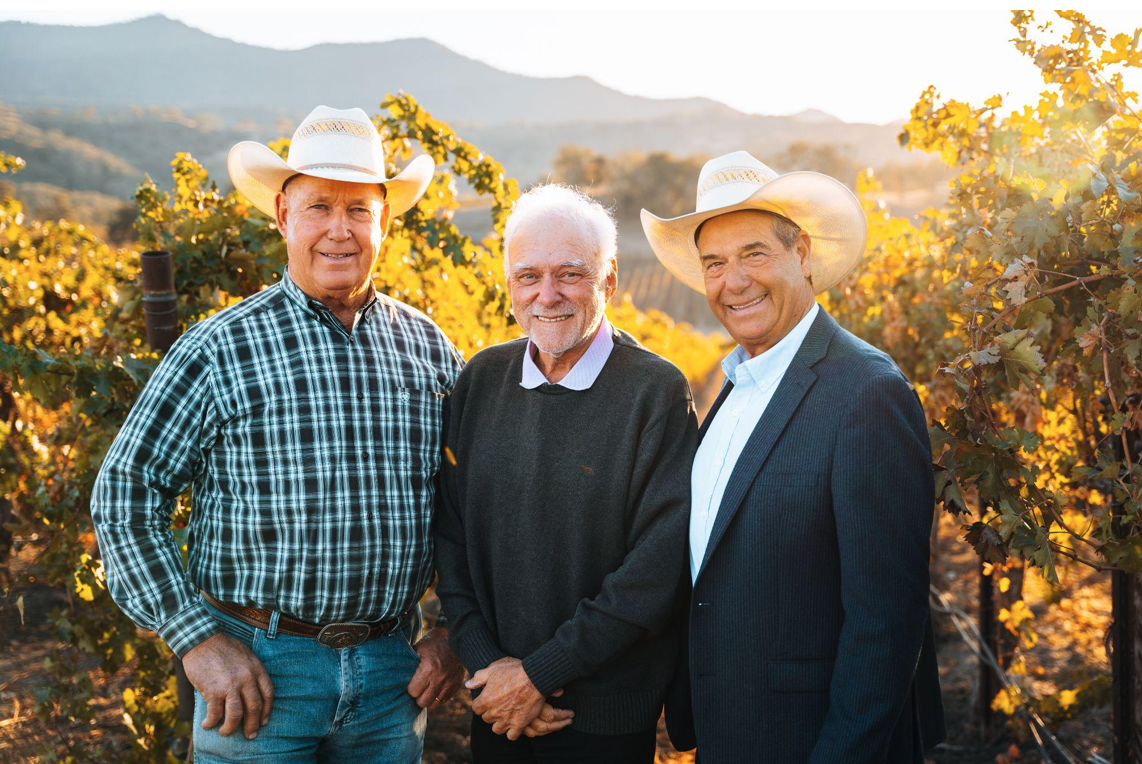 I met with Doug Filipponi and Karl Wittstrom, representing two of the three families that own Ancient Peaks (Rob Rossi is the other third) at their tasting room in Santa Margarita. In terms of who does what: if something needs doing, they all do it, explains Doug. Their Santa Margarita Ranch is 14,000 acres, out of which 1,000 are currently planted to vines, with additional acres available to plant. On much of the remainder they still run an active cattle ranch.
(Photo above: Karl Wittstrom, Rob Rossi and Doug Filipponi. Their three families own Ancient Peaks Winery.)
The Santa Margarita Ranch AVA was approved by the TTB in 2014 and encompasses approximately 18,300 acres. It is the southernmost sub-AVA of Paso Robles and physically separate from all the other sub-AVAs. There are other growers, but to date Ancient Peaks is still a "Monopole" in terms of wineries. They grow about 15 different grape varieties and use 100% estate fruit in almost all Ancient Peaks wines (there is one exception in the current lineup). Any remaining fruit is sold to other winemakers. Winemaking is handled by winemaker Stewart Cameron and Mike Sinor, the founding winemaker and one of the most respected members of his profession on the Central Coast of California.
Doug and Karl took me through a selection of their wines. This is one of the best ways to learn about the viticulture and viniculture of a winegrower. Every success, every problem, and every idiosyncrasy is somehow tied up in a bottle. Tasting and talking is how to disentangle them.
TASTING HIGHLIGHTS
The Chardonnay 2021 ($20) opens like a New World chardonnay with bountiful tropical fruit of pineapple and mango. On the palate it shows a sound phenolic backbone and flavors of citrus.
Paso Robles is often regarded as too hot for chardonnay, however the Ancient Peaks principals selected cool areas for the vines, with success. Chardonnay is the most successful white grape on the other side of the adjacent Santa Lucia Mountains in the San Luis Obispo Coast AVA, where cool Pacific breezes keep temperatures low (Edna Valley is the coolest AVA in the state). Santa Margarita cannot match that, but it does manage to warm up later than other Paso Robles sub-AVAs, being cool until 10am, and it cools off earlier in the afternoon as breezes come over from the coast. Diurnal swings can be 50 degrees or more. This results in it being 7-10 degrees cooler than Paso Robles downtown.
These temperature effects will prove to be important later in the tasting when we move on to reds. As one consequence Karl notes that they don't get the big fruity flavors of other areas.
The 2021 Sauvignon Blanc, Paso Robles ($18) does incorporate some grapes from outside the ranch, to add complexity, while remaining 100% Sauvignon. It is very fruity, with gooseberry, grapefruit, and guava notes in the nose while retaining the high acid crispiness that makes this grape so food-friendly. The technical notes attribute this vibrancy to the marine influences on the climate (the Pacific Ocean is only about 14 miles away).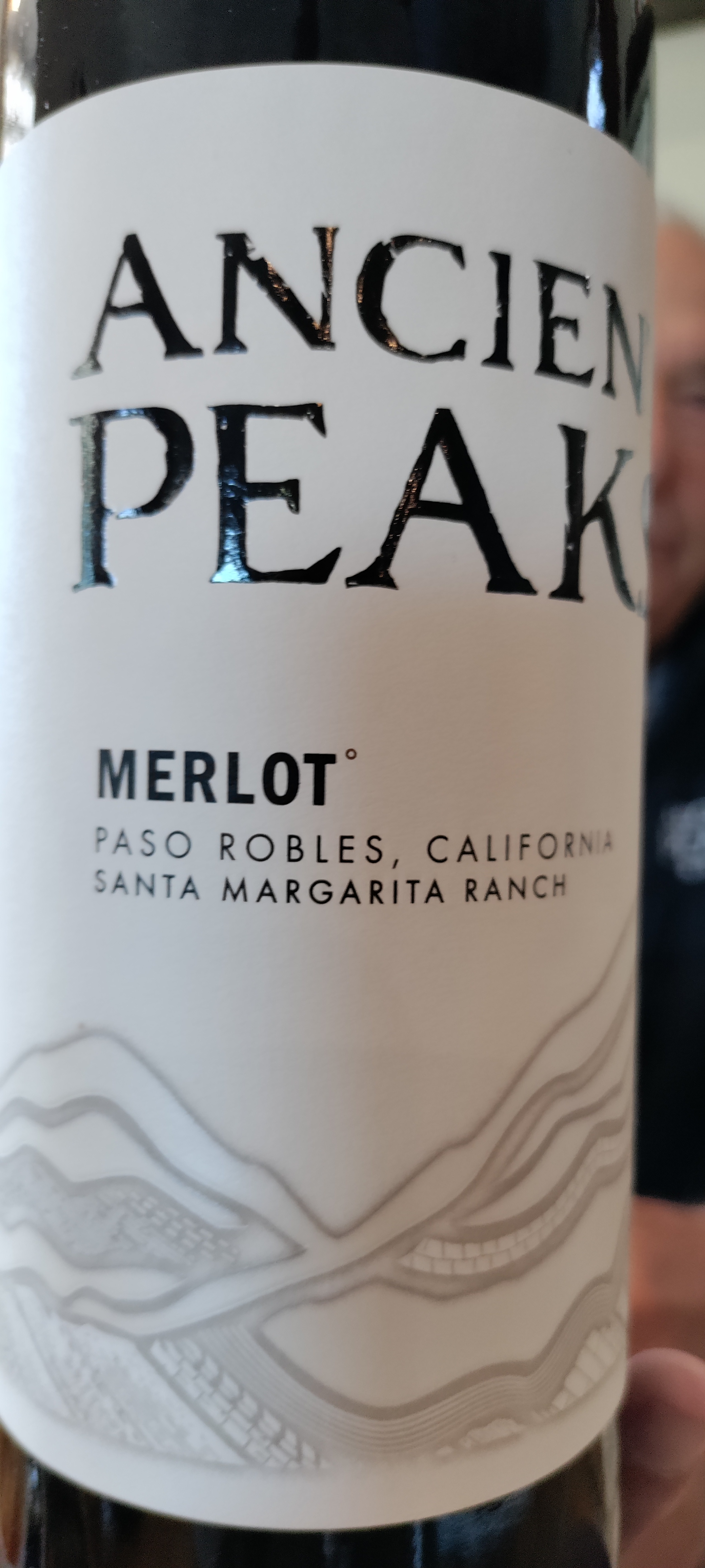 Next we go on to a suite of red wines that represent a tribute to the success of Bordeaux blend reds in Santa Margarita. First is the 2020 Merlot ($22) I hope it wasn't just my vulnerability to this being the first red wine of the tasting that made it my favorite to drink now. Others may ascend higher, but this was a complex, accessible, balanced wine with a bit of cedar and a hint of spice that made it profoundly interesting.
The 2020 Cabernet Sauvignon ($25) shows an impressive nose of blackberry fruit, sage, and tobacco leaf. Flavors of blackberry, mocha, sage and eucalyptus. As suggested earlier, it is not overly ripe or massively fruity in the mouth. Underpinning the other side of its terroir was the soil it was grown in. Santa Margarita Ranch shows a variety of soil types and the cabernet sauvignon grape is grown in at least four. Ancient sea bed rich in fossils providing a calcareous component, rocky alluvium, volcanic, and granite complex. Separately, there is also a clay component.
The ancient sea bed terroir looms largest in the Oyster Ridge wine, grown in a singular block of the ranch richest in sea fossils. The 2019 Oyster Ridge ($60) blend is 72% cabernet sauvignon, 11% cabernet franc, 9% petite verdot, 6% merlot, and 2% malbec. Something of a tête de cuvée for the winery, select lots of wine made from these grapes are used to make the final blend.
The 2019 Cabernet Franc (75%)/Merlot (25%) ($50) is a winery-only bottle, reflecting the emerging nature of the interest in cabernet franc. It has all the fight peppery notes and cabernet structure, so keep an eye out for this in distribution or order direct, online.
The 2018 Petit Verdot (80%)/Malbec (20%) ($60) reflects the elevation of petit verdot to first-class variety status. A bit-part blender in Bordeaux, it is primarily to California's credit that it can stand distinctively on its own. This wine is an inky monster with an aroma of black cherry and boysenberry, and a palate of wood and forest floor notes amid the fruits, French oak, grippy tannins, firm acidity and a pleasing finish. The wine was aged in 50% new French barrels for 23 months. A winery-only wine so order direct, online.
An impressive lineup, and remarkably good value compared with Napa, yet comparable in quality.
THE MONDAVI CONNECTION
Any taster of Ancient Peaks wines will be quickly convinced of the quality of the Santa Margarita Ranch terroir, but probably not be aware that they were beaten to the punch by Robert Mondavi and his sons, who investigated the area in the late 1990s. Their findings led them to lease 775 acres and plant grapes over the 2000-2002 period. The collapse of Robert Mondavi Winery and the purchase of its assets precluded seeing results from them, but acquirer Constellation Brands sold the lease back to Ancient Peaks in 2005. On examination of the vineyards, Ancient Peaks found that the Mondavis had been very astute, producing fabulous grapes.
ORGANIC vs. BIODYNAMIC vs. SUSTAINABLE GRAPE GROWING
Doug and Karl respect any winegrowers' right to pursue organic or biodynamic farming, but they have chosen sustainable agriculture as their model and incorporated Ancient Peaks as SIP Certified. They looked at the alternatives and found inconsistencies, like compost requiring 100 truck journeys for their vineyards, whereas liquid seaweed fertilizer required one. Seaweed is a natural extract and provides a better final product, is easier to source, and better controlled. The ultimate objective, they felt, was the long-term viability of the vineyards, land, customers, and families dedicated to winegrowing and a sustainable philosophy best embodied that.
ON WINE SALES
Doug and Karl are concerned about the growth of the fine wine market in the United States. While the $15-$25 per bottle segment continues to grow, the rate is small (less than 5% a year), and cocktails and seltzer continue to snip at wines' heels.
ON WINE WRITERS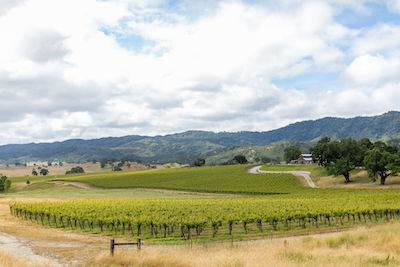 I gave Doug and Karl a chance to tell me what wine writers are doing wrong. They would like, on the one hand, more detailed articles. The subject matter of much writing is too general. They also want wine writers in the popular press to avoid technical terminology. Winemakers and writers may sweat about volatile acidity but don't describe it in technical terms to the interested wine enthusiast. Fair comment -- I am guilty of that.
ON PASO ROBLES FUTURE
Land prices, a key determinant of future acreage, are still modest in Paso Robles. At the high end, Doug and Karl have just heard of a sale at higher than an imputed $100k/acre. High, but compare with Napa at $250k+/acre (with some sales in places like Pritchard Hill at an imputed $1m+/acre).
THE TAKEAWAY
Ancient Peaks is making excellent wines, many of which are distributed nationally. They represent a leader in Paso Robles and show how the area's cabernet sauvignon and related grapes are showcasing the area's potential.