This article looks at the viticultural and enological practices at a specific winery - Tolosa, in the Edna Valley AVA in San Luis Obispo (SLO) County of California. It is heavily based on in-person interviews at the property over several hours with the winemaker, Frederic Delivert, and Collette Van Gerwen-Smith, marketing manager. Before this visit to the AVA I freely admit that I was pretty much tabula rasa regarding winegrowing there. I had tasted wines from Edna Valley Vineyard (a Gallo property) and Chamisal Vineyards. I knew that the AVA was in the California Central Coast. But many fundamental facts were missing (for example, Edna Valley is the coolest AVA in California).
The AVA
The Edna Valley AVA runs east-west from the Pacific Ocean to the Santa Lucia Highlands. Paso Robles lies to the north and Arroyo Grande and the Santa Maria Valley to the south. All of the AVA is at most five miles from the ocean. Fog forms at night and can rest on the vineyards most of the morning, burning off between 10am and noon. Hence the unofficial descriptor 'coastal wines'. Most of the AVA lies below 350 feet elevation, so these are not mountain vineyards. Rather, the topography is one of rolling hills. Despite its compact area there are over 60 recorded soil types, making for terroir differences that can surprise the palate. The fact that it is the coolest AVA in the state, classified as Region One on the Winkler-Amarind scale, makes for long growing seasons with harvests extending into November. Pinot noir is king among grape varieties. Chardonnay is excellent as well, and in a style that belies the California norm of big, lush, tropical fruit. Other varieties are small in plantings, mainly due to commercial considerations, but syrah, sauvignon blanc, albarino, and grenache are the most widely found.
The Winery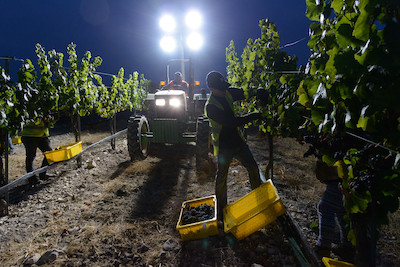 Tolosa was founded in 1998 by Robin Baggett as the culmination of a journey of discovery that began with him purchasing 728 acres for a cattle ranch. He named it Edna Ranch. He discovered that grapes were more profitable and nowadays the estate grows 500 acres of vines over six vineyards of Edna Ranch as well as making wine from purchased fruit.
(Tolosa harvest, photo courtesy Tolosa)
Tolosa sources most of its grapes (80-85%) from its estate vineyards (in fact, about 75% of the estate grapes are sold to other producers). Wines are marketed in three tiers. The highest volume tier has ''1772' in the name, designating the year that the Mission San Luis Obispo de Tolosa was founded (the friars at that mission planted the first vineyards). These wines sell to the wine club and in the tasting room. One step up are the single vineyard wines. At the pinnacle is 'Primera', a proprietary tête de cuvée.
The Winemaker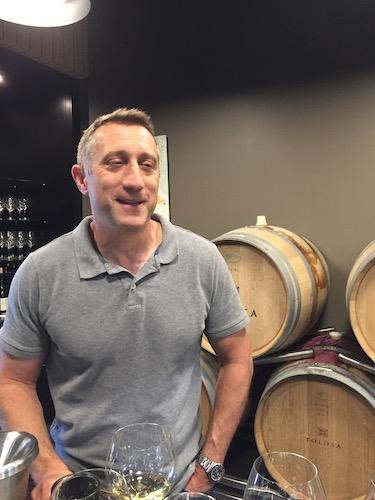 Frederic Delivert came to Tolosa in 2017. When I met him in the third week of August 2019 he was on his third harvest there. He was born in Clermont-Ferrand and went to school in southwest France. After earning his degree at the École Supérieure d'Agriculture de Purpan in Toulouse he made wine in France. His time in the U.S. began in 1991 with a stint at Alexander Valley Vineyards, followed by time at Far Niente in 1995. In 1997 he moved to Newton Vineyards and at the end of that harvest moved back to Far Niente. He took a position at Duckhorn Vineyards at a time when it was a veritable skunkworks of winemaking talent: Tom Rinaldi was head winemaker, Mark Beringer winemaker, and Tony Biagi assistant winemaker. Biagi later moved to Plumpjack and hired him as Assistant Winemaker at the time that the Cade brand was being created. He was the Assistant winemaker for the first vintage.
(Winemaker Frederic Delivert)
His first role as a head winemaker came at Martin Estate, a small boutique Rutherford property opposite Frog's Leap founded by Greg Martin. When Tolosa looked for a head winemaker in 2017 Delivert took the position. It might seem odd that a man steeped in cabernet sauvignon and the trappings of Napa Valley should now be making wine in the central coast in an AVA and winery that is inseparable from pinot noir. The truth is that Delivert likes pinot noir.
Through The Vineyards With Gun And Camera
Edna Ranch is actually 6 vineyards, each named after one of the Italian-Swiss families that came to the area to dairy farm. We boarded an SUV for the nickel tour. The winery and tasting room are surrounded by Monighetti, where several blocks of pinot noir are planted. The vines were post-veraison and he has just done a green drop (vendange verte). Progress is three weeks behind 2018 in a mild growing season characterized by lots of rain (normal annual rainfall in Edna Valley is 20 inches/year). Some of the vines are covered with shade cloth on the 'afternoon' side in an experiment being conducted in association with CalPoly. At issue is whether it will increase yields by protecting vines from the direct afternoon sun. In Oakville, on north-south rows, Frederic had to pick the afternoon side a week earlier than the morning side. Plus, half of each cluster was raisiny. It is too early in the experiment to know the final results. I ask what shade cloth achieves that canopy management cannot and Frederic explains that it is consistency.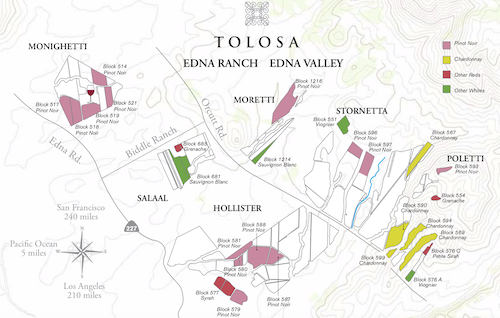 The next vineyard is Salaal Ranch. An oddity in that it is part sauvignon blanc, part grenache. Frederic likes sauvignon blanc a lot. Grenache, on the other hand, is something of a problem child in the cool climate "It takes its sweet time to get ripe" he says. This is valley floor growing on very fertile soil so he drops the "wings" of each cluster and one third of the cluster just after fruit set, or the fruit would never get ripe. He is a big believer in sauvignon blanc in rich heavy soil, even to the point of uttering the heretical belief that some cabernet sauvignon in Napa should be uprooted to make room for it.
Down the road and a right turn brings us to Moretti Canyon Vineyard. This vineyard contains sauvignon blanc and pinot noir (clones 115 and 2A) growing on vertical trellising. It is set on rolling hills and this embellishes the fact that these rows are exceedingly long, too long for easy harvesting. This vineyard is soon to be replanted, at which time spacing will be changed from 10x6 to 8x4 feet. Generally, white varieties and pinot noir work well. Syrah and grenache are pushing a little. The original planting was about 1/3 chardonnay, 2/3 pinot noir.
We pass by the next vineyard, Stornetta, which is planted with viognier and pinot noir.
This brings us to Poletti Vineyard. This is a cool spot. It is great for white varieties so chardonnay is predominant. Some vines are own-rooted. It is Tolosa's premier chardonnay block and features the tepusquet clone. Long rows start with petite sirah, then become pinot gris, then viognier. The 96 (Dijon) clone accounts for some of the chardonnay. Syrah is in replanting. Frederic notes that it was noted winemaker John Alban who put syrah on the map in Edna Valley. This appears to be one of the hillier sites at Edna Ranch but the highest altitude is only about 320 feet.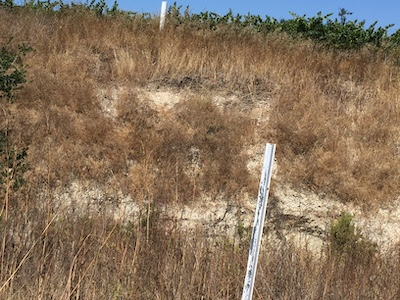 Finally we drive through Hollister Vineyard. This is a pinot noir dominant area that uses the Pommard clone.On east-facing sections pinot clone 828 is grown. The soil here is predominantly sand with a limestone slab at the top of the hill. Tolosa is steadily removing syrah from this site.
(A cross section of Tolosa soil)
I try to get a handle on what "Edna Valley" pinot noir tastes like by asking Frederic to compare its pinot with that from the Santa Lucia Highlands AVA. He says that SLH pinot is more savoury, softer, and more sexy than Edna Valley which is red fruit, orange rind, more acid and more minerality.
I ask about the absence of cabernet sauvignon. On this issue he thinks that it would simply not get ripe in the cool climate. By way of illustration: Bud break is in March. His last pick in 2018 was November 12th (harvest started Aug. 23rd). The picking order was pinot noir rose->pinot noir->chardonnay->viognier->sauvignon blanc->2 week break->2 weeks petite sirah->syrah->grenache.
He refers to his objectives for pinot noir being elegant, powerful wines. They will be 23-24 brix at harvest. During ripening he samples, regarding anything above 21 brix as being "in the red zone". At that point he samples based much more on flavor.
What about non-varietal differences between Napa and Edna Valley. He notes the mildew pressure and the necessity to spray in Edna Valley. They even get botrytis fairly reliably.
That leads naturally onto the question of organic viticulture. Tolosa is not organic, although Frederic emphasizes their focus on sustainability. The climate would lead purely organic methods to place too much stress on the ecology that they would actually harm the environment. A case in point is the retreat from organic farming in Bordeaux in the face of the damage caused by excessive use of copper sulphate to fight downy mildew.
Challenges come in a mix. There is no hail problem to speak of. Frost in low-lying areas is a problem. Deer come down from the hills when the latter are dry. Ground squirrels are common. Coyotes eat irrigation lines on occasion. Birds are choosy, going for pinot noir and chardonnay while syrah and grenache do not even need to be netted (maybe they are full after all the pinot noir and chardonnay, remarks Frederic ironically).
The Wines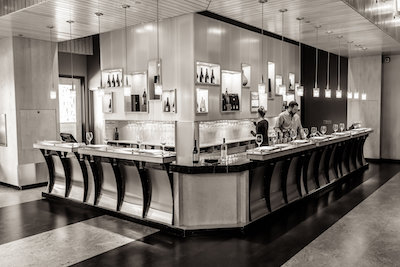 We move into the winery for an impromptu tasting of Tolosa wines from both the estate vineyards and purchased fruit.
(Tolosa tasting room, photo courtesy Tolosa)
2018 Sauvignon Blanc, Edna Ranch, Edna Valley
I have to mention this estate sauvignon blanc, not just because it is a well-made wine in its own right, but also because of Frederic's aforementioned penchant for the grape. Because of that I would expect future vintages that will become increasingly refined as his tenure in Edna Valley lengthens.This example is lean, racy, not Loire but also not the insipid semi-sweet examples of sauvignon blanc that dot the New World landscape. It would be ideal with seafood.
2017 Chardonnay, Bien Nacido, Santa Maria Valley. Santa Maria is one of the central coast transverse valleys (like Edna Valley). Very cool, populated with old vines that take time to ripen. Always the last chardonnay to ripen (2018 harvest finished on October 23rd). Tasting notes: Tropical fruit in nose, full malolactic fermentation, cream soda sweetness on the palate, powerful flavors in the mouth. Aged in 25% new oak, medium toast (Delivert explains that he is not seeking toast notes). 2018 harvest was cooler than 2017. 2017 had a Labor Day heat spike. At the Edna Ranch Estate he believes it reached 100 degrees and sauvignon blanc brix went from 23 to 26. A massive effort meant taking in 35% of the harvest each day. 2018 was a little cooler and a little behind. 2019 may push that.
The pronounced racy acidity reminds me of the Brewer-Clifton chardonnays that I tasted in March of this year at a Kendall Jackson portfolio tasting. Frederic thinks that maybe 2019 will see a chardonnay produced with no malolactic fermentation.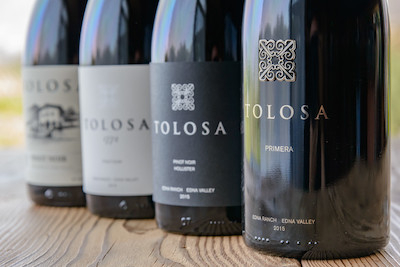 2017 Chardonnay, Poletti Vineyard. Main clone is the tempesque clone. Shy, delicate nose. Pineapple. High acidity. Distinctive. Would be great with seafood.
(Tolosa wines, photo courtesy Tolosa)
We move on to pinot noir. Frederic ruminates on methods and style. He does not do whole cluster fermentation, partly because he is relatively new to making pinot noir and partly because he is not sure that the stems would be sufficiently lignified. He does not want to just do stem inclusion. He experimented with 8% whole cluster fermentation in one batch and will continue to experiment in the future. He remarks that use of the method is eclectic. For example, in a lecture at World of Pinot Noir, Maison Latour said that they do not use whole cluster fermentation. He does not do punch downs, but does do pump overs. He uses an air pump for gentleness as it screens out all but juice. Note that quantities of each are tiny (250-300 cases of each wine).
Regarding comparisons with Burgundy, Delivert is a fan of Gevrey Chambertin but bristles at direct comparisons, which he sees as naive. "Is Burgundy just five miles from the ocean?", "Does Edna Valley have severe frost in Spring and hail in Summer?". "Sure we both have limestone, calcareous soil, and the same grape, but that's it."
2017 Pinot Noir, 'Hollister Vineyard', Edna Valley.
The flat part of Hollister is in sand. The top part is on a limestone slab.He conducted three picks. Usually mid-section is ready first, then the top, finally the bottom about a week after.
Tasting notes: It is very European. You need to 'pull the fruit out of it into your mouth'. It is Tolosa's most popular single vineyard wine. It has a bright acidic backbone (3.34 pH), and 14.2% alcohol. He has to pick ripe to prevent wine being too tight, so high are the acids.
2018 Pinot Noir 'El Coro Vineyard', Petaluma Gap. Pinot Noir.
Frederic sees this new AVA as an exciting area. Grapes grown in the windier areas have thicker and more deeply pigmented skins. This should contribute to structure. In this case it does and the overall fruit definition suggests that this area is one to watch.
2018 Pinot Noir 'Apex Vineyard', Santa Lucia Highlands.
Savory flavors, more structure. Black tea. This wine tasted out much as Delivert said was typical of Santa Lucia Highlands pinot noir. Likely it was from grapes planted in soil with more clay than is typical in San Luis Obispo.
2017 Pinot Noir 'Primera', Edna Valley.
The proprietary name 'Primera' designates Tolosa's tête de cuvée. An attempt to make the best pinot noir of the vintage. The foundation is cherry-picked barrels. The appearance is delicate, translucent. This belies a complex power in the mouth. In 2017 block 593 in the Poletti Vineyard figured prominently. It features the Pommard clone looking like a dark rosé, but formidable in the mouth. The nose is forest floor, floral, and meaty. Tannins bathe the palate, but they are grippy, not harsh. There is enough structure for considerable ageing. Flavors explode. It is red fruit, "Lots of red fruit." says Frederic. Bring on the Peking Duck.
Conclusions
Tolosa has flown under the radar for too long. Maybe literally, as you turn into the driveway via the main gate you can count the rivets on the jets landing at SBP, whose runway is virtually over the road. It stands as a compelling example of SLO Coast pinot noir and chardonnay, and as a leader in earning first-tier status for sauvignon blanc in Edna Valley. Wines are best obtained direct from the winery website and I recommend you try them, and visit if you travel to the beautiful San Luis Obispo region.
-------------------------------------------------------------------------------------------------------------------------
Tolosa provided the samples tasted in the research. My accommodation and flight costs were paid by the "SLO Coast Wine Collective"