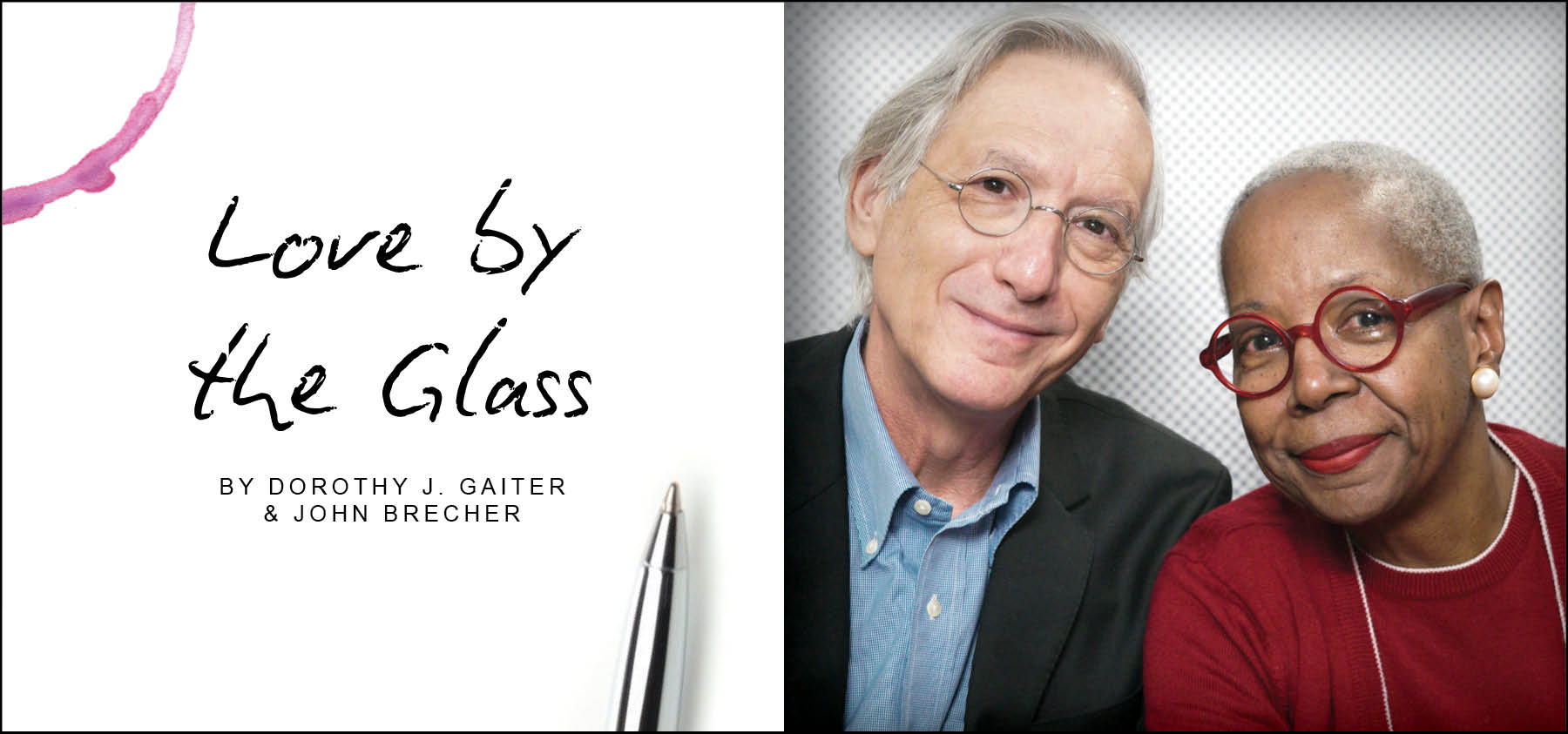 "We purchased this bottle on our honeymoon in Campania in 2017. We'd been saving it, who knows what for, and last night was the perfect excuse to drink it. What we loved most was remembering the winding driveway, the spectacular ocean views from a vineyard on a cliff, and the kindness of winemakers. We pulled out our honeymoon album and laughed about how young and well-rested we were. We dreamed about bringing Bea to Italy, to France to … anywhere."
--Jaimie and Caleb Mackey, owners of The Assembly restaurant in Eagle, Colo., on their bottle of San Giovanni Castellabate. Their daughter, Bea, is 18 months old.
"Open That Bottle Night 2020 was the last in-person gathering we had. We hesitated about shifting the meet-up online. A Zoom OTBN might honor the tradition, which is important to us, but it wouldn't be the same. In the end we decided to move ahead and see what would happen. And I am glad we did. Wine brings people together – that's one of its superpowers."
--Mike Veseth, author of The Wine Economist. He and his wife, Sue, and their "merry band of regulars" are long-time OTBN cork-poppers in Tacoma, Wash. The Veseths opened a Keush Origins Brut from Armenia.
"Covid has robbed me of taste and smell but OTBN is about memories more than what is actually in the bottle or glass. We have enjoyed so many trips to Healdsburg, Calif., and love Dry Creek Valley wines so we celebrated last night with a bottle of Seghesio Zinfandel. Two decades+ of memories."
--Scott Jagodzinski, Phoenix, Ariz.
Given the state of the world, we never would have guessed this, but Open That Bottle Night 2021 reached new heights, celebrated by wine stores from Massachusetts to Singapore, by wineries from Australia to Tuscany and by shut-in-for-too-long people from Jamaica to Sonoma.
We created OTBN in 1999 for a simple reason: Too many of us, whether we keep one bottle in the house or a whole cellar, have that one that's always too precious to open. Amid so much uncertainty and loss that have thrown into sharper relief how deeply we care about each other and the once taken-for-granted little things, many of those bottles were finally opened over the past year. But certainly not all of them.
On OTBN 2021, some wine lovers opened two special bottles, an admirable act of hope and gratitude. Ellen and Mark Agro of Mendon, Mass., made braised short ribs to pair with a long-held 1999 Paul Jaboulet Aîné Hermitage "La Chapelle." Ellen wrote: "This bottle was at a perfect drinking age but could have gone longer in the basement."
She added: "We decided to open our half bottle of 1998 Château d'Yquem Sauternes. We had our first taste of this wine at a dinner in Boston at Maison Robert. …This was nectar of the gods! So many years later, it is still a sexy, sweet indulgence. We enjoyed the wine with some Great Hill blue cheese. The creamy tang of the cheese was the perfect complement to the rich wine. It was a delicious night, one that was much needed after these long months of Covid."
(Ellen and Mark Agro of Mendon, Mass., opened a 1999 Paul Jaboulet Aîné Hermitage)
In Trentino-Alto Adige, Italy, the folks at Colterenzio Schreckbichl winery told us they opened "a LOT of wines. To mention one: Chardonnay Formigar 2007 of Colterenzio Winery." We asked how it was and they responded with one of our favorite tasting notes: "Great!!!!" In Sonoma, some third-generation members of Pedroncelli Winery opened their own 2009 Bench Vineyards Merlot and a 1987 Estrella River Paso Robles Muscat Canelli. Julie Pedroncelli St. John wrote of the Merlot: "A nice core of cherry/berry with softened tannins, acidity still vibrant."
And this about the Muscat Canelli: "It had leaked but amazingly it was delicious: caramel popcorn, nutty, honeyed. 4.2% residual sugar. This wine was the last one from our stash of wines from a 1990 trip through Paso Robles shortly after we were married."
In our OTBN advance column, we wrote that Jim and Gwen Maiella of Dorset, Vt., planned to open a 1996 Turley Wine Cellars Zinfandel they first had during a memorable night years ago in New York City. To celebrate this year, they had a couple of friends over and, socially distanced around a fire outside, opened a 2018 Turley Ueberroth Vineyard Zinfandel to have side-by-side with the '96. The younger wine was, Jim wrote, "obviously much deeper/darker in color, with more fruit." And the'96 was "still delicious. More translucent than a younger Zin, it almost looked like a Pinot in the glass, and the fruit and lushness had definitely thinned out over the years, but there was some really nice depth and softness."
(Julie Pedroncelli St. John and her husband, Ed, shared this 1987 Estrella River Muscat Canelli bought on a 1990 trip to Paso Robles)
When wine writer Natalie MacLean interviewed us before OTBN, she said she was torn between a 1966 Port and a 2004 Mission Hill "Oculus" red blend from the Okanagan Valley of British Columbia. The red was her last bottle from a case she and her ex-husband split when they divorced about eight years ago. "I could pair it with burning old love letters or something," she told us, and we said that was a fine idea.
After OTBN, she wrote: "I went with your suggestion of the Mission Hill Oculus 2004, and it was magnificent! It paired beautifully with both my new love (Miles) and old love (and burning certain letters :). All through had a smoldering, smoky element."
(By the way, thanks to our live-streamed discussion with Natalie, we learned many people have "divorce wines" that they really don't want to keep and really don't want to open. Interesting conundrum.)
So what did we open? We ultimately couldn't decide between two so we had both. Dottie made her famous brisket, in John's Grandma Helen's pot. We had miserable weather all day and then, just as we sat down to start our celebration, the clouds cleared and we had a beautiful OTBN sunset.
(Third generation Julie Pedroncelli St. John, of Pedroncelli Vineyards in Sonoma, opened a bottle of their 2009 Merlot)
We started with a 1981 Monthélie Premier Cru from Eric Boussey. This was from our first trip to Burgundy in 1983. We dropped in on the tiny winery unannounced, had a lovely time with a couple of young people who were working there and one of them, Béatrice, signed it for us. Not only that, this is the last bottle we have that has what we call Miami dust on it. When we lived there, we had a lovely cellar and brought the wines to New York with us in 1990. Over the years, we've drunk all of them – except that one. It felt like our life together was in that bottle. We'd taken that trip, in part, to try to conceive a child. We wanted delicious wines coursing through our veins at the moment of conception. We had a fine time trying, but became parents years later.
The Monthélie was never a big wine and, of course, we should have opened it long ago. The fill was a bit low and there was sediment along the side from having been laid down for so many years. The cork was challenging but came out mostly whole and the wine was miraculous:
"Amazing experience. Light color. Nose of old Burgundy, with mushrooms, earth, dried fruit. The kind of nose that announces this is a wine with history -- ephemeral and elegant. Very light taste but quite sound, with acidity that even now we'd call racy. A hint of strawberries and rhubarb. Long, dusty finish. Very relaxed tannins. After an hour it actually gets richer, with more body. And somewhat sweeter fruit. Beautiful."
Our second wine was from a different period of our lives, after we had Media and Zoë in 1989 and 1990. When they were little, we used to go every summer to the North Fork of Long Island for a week or two. Even then, they didn't enjoy going to wineries, but the people at Pugliese Vineyards
were always so sweet to them and, critically, they had a pond with ducks. We loved the energy and integrity of the winery and its Reserve Merlot from 1994 always reminds us of those days. We could never open it – until now.
(Béatrice, who was cleaning tanks with a young man at the winery, signed this for us in 1983)
We wrote: "Still filled with fruit, so much so that it tended toward rich. Blackberries and blueberries, good acidity. Some herbs, especially with air, and more and more like fine American Merlot, with ripe, friendly fruit. It has some power, but is mostly just charming. Happy wine."
When our now-grown daughters asked what we had for OTBN, we told them we had a Merlot from a winery in Long Island – the one with the ducks. They remembered right away.
OTBN is about memories and people, here and gone, not about the pedigree of the bottle or even its age. Scott and Jackie Jagodzinski didn't have a wine cache with them in Phoenix (they spend half the year in Minnesota) so they bought their Seghesio Zinfandel at Costco for less than $20. Scott wrote that it reminded them of some of their favorite times in Dry Creek Valley:
"The memories -- the flights, the rental cars, the hotels, the winery tours, the tastings, the restaurants, with friends and many times just Jackie and me. Thinking about staying at Hotel Healdsburg, Milliken Creek Inn, Harmon Guest House, h2 Hotel, the Fairmont near the town of Sonoma, all bring a smile to my face and sometimes a lump in my throat.
"I have to try harder now when I drink wine but in losing taste and smell (I hope temporarily) you slow down, have more intention, and think about what is in the glass. I realized that I haven't always done that in the past. It makes me think we all should do that...at every meal...even if just for a moment, to appreciate what we have, what we have experienced, and what the future holds. OTBN is a once-a-year communal evening but there is no reason we can't all do this every time we enjoy a glass of wine."
Here's to your health, Scott. We couldn't have said that better. Here's to everyone.
Dorothy J. Gaiter and John Brecher conceived and wrote The Wall Street Journal's wine column, "Tastings," from 1998 to 2010. Dorothy and John have been tasting and studying wine since 1973. In 2020, the University of California at Davis added their papers to the Warren Winiarski Wine Writers Collection in its library, which also includes the work of Hugh Johnson and Jancis Robinson. Dottie has had a distinguished career in journalism as a reporter, editor, columnist and editorial writer at The Miami Herald, The New York Times, and at The Journal. John was Page One Editor of The Journal, City Editor of The Miami Herald and a senior editor at Bloomberg News. They are well-known from their books and many television appearances, especially on Martha Stewart's show, and as the creators of the annual, international "Open That Bottle Night" celebration of wine and friendship. The first bottle they shared was André Cold Duck. They have two daughters.
Banner art by Piers Parlett