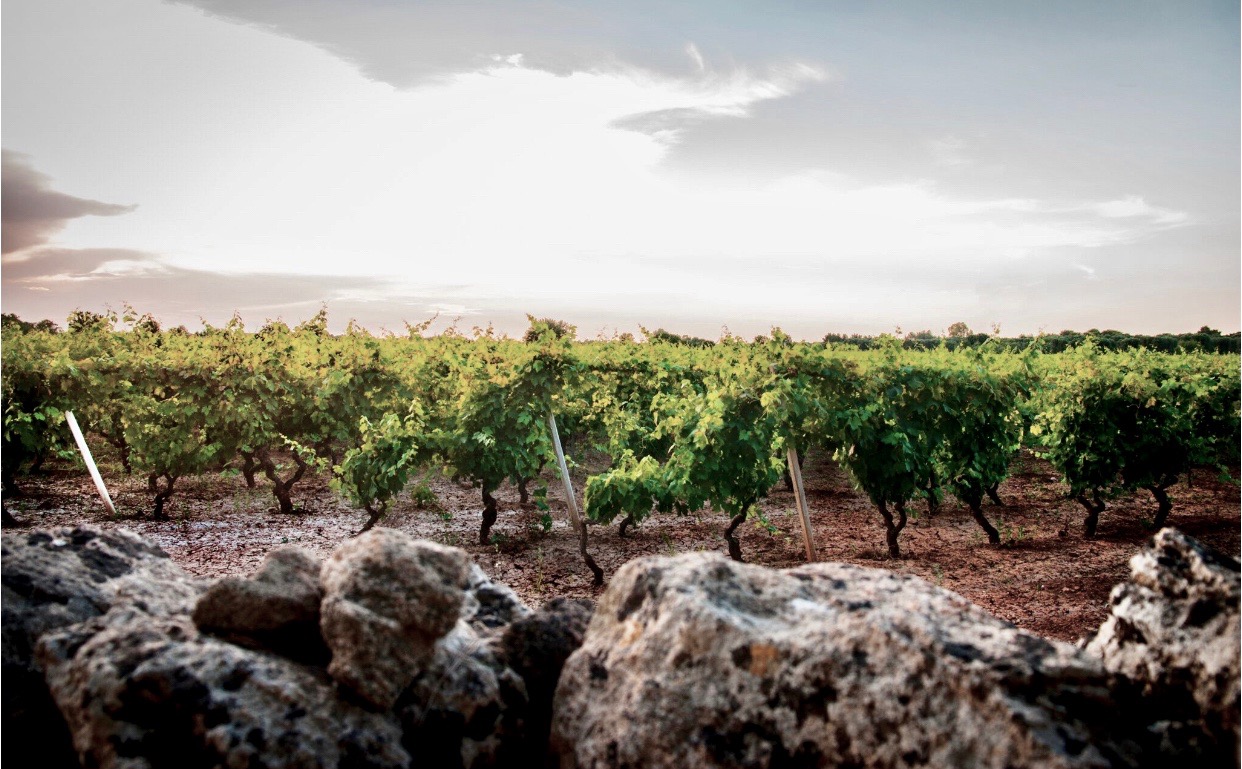 Cantine San Marzano is a cooperative winery located in Puglia, the long and narrow region at the heel of Italy's boot. The winery is in the center of the Primitivo di Manduria DOC, considered the finest area for growing the Primitivo grape. Cantine San Marzano was founded in 1962 by 19 winemakers who believed that there would be strength in unity. Today the cooperative has 1200 members and is one of the most well-known wineries of the region.

Grape Collective sat down with Mauro di Maggio, San Marzano's Managing Director and President of the Primitivo di Manduria consortium. Di Maggio, whose father had been a part of the cooperative, told us about Puglia's winemaking renaissance and how the best wines are yet to come.
Lisa Denning: What's your background and how did you get into wine?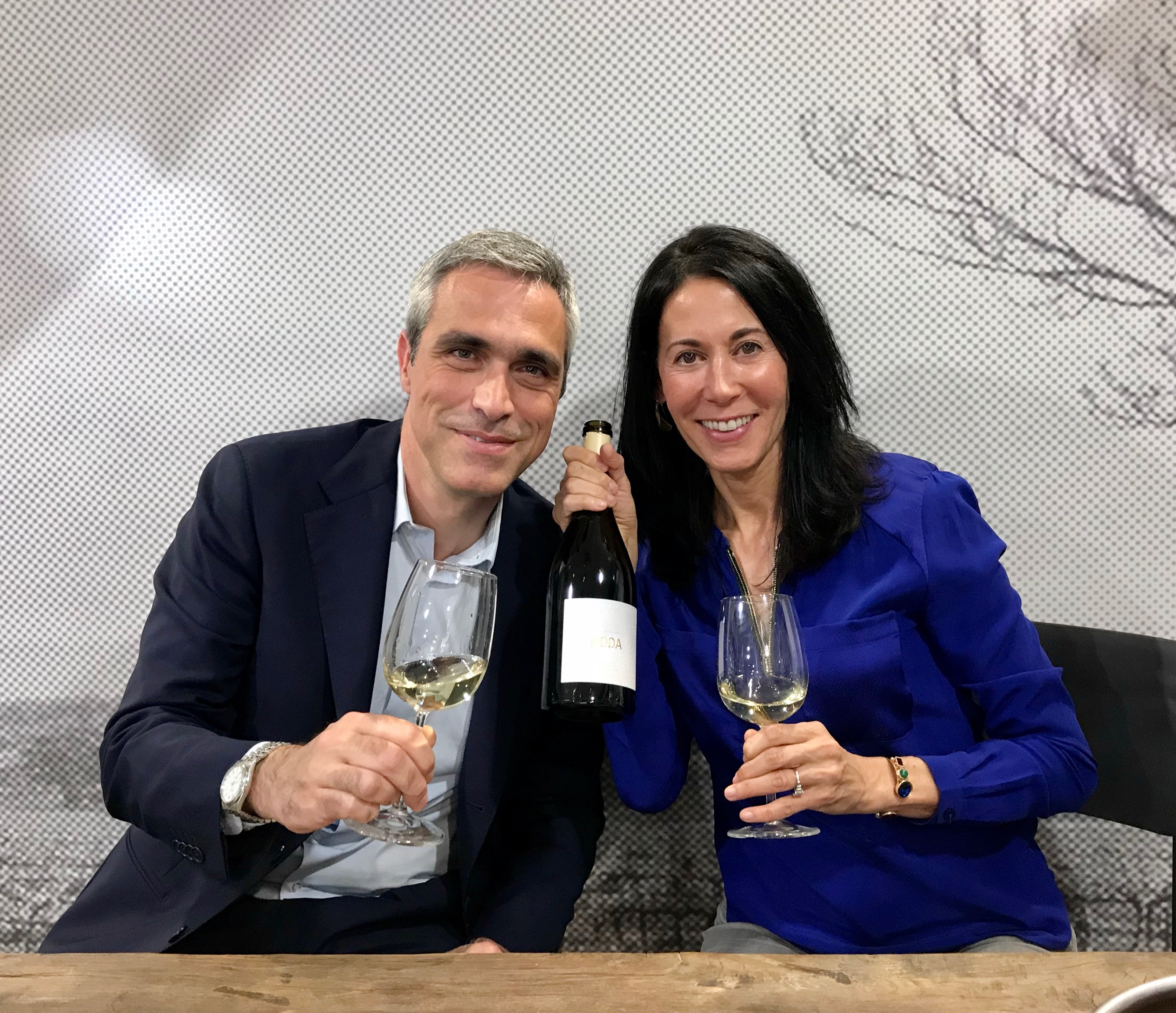 Mauro di Maggio: I am a child of the region, Puglia. I was born there. When I went to University, I studied commercial law, but when I got my Masters Degree I realized I didn't like being a lawyer. I had studied wine marketing at OIV, the international organization for wine management. I did a month in UC Davis too, many years ago, and then I started working in the wine business, in Champagne, in the marketing department of Champagne goods. I had also worked in Belgium for an importer and distributor of wines. But soon after, I went back to my family job, my family destiny. My father and my grandfather were already involved in viticulture, vine growing, and winemaking. My father had always been very passionate about grape varieties from Puglia so he always collected old grape varieties.
Above photo: Mauro Di Maggio at Grape Collective with Lisa Denning

In 2003, I joined the San Marzano winery. My father was already part of it and I was very lucky, because I grew up together with the winery professionally and I had the chance to observe and participate in the story of my region. In my region, wine has a long history, but in terms of the perception of the final consumer, Puglia is very recent. So I've been there since the beginning of this new renaissance of Puglia wines in the market, and San Marzano is now the leader of this region. So in the last 15, 20 years, many things have been done in Puglia, and Puglia's very well distributed all over the world in many, many markets.

Our viticulture history is very old. We were a colony of the Greeks and they brought us viticulture. Some scientists say viticulture was already there. It's a long story, but in recent years, we've brought Puglia wines worldwide.

Tell me a little about the history of the winery.
San Marzano winery was founded in 1962. The winery lies in the center of the the heel of the boot. Puglia is very short and thin, only 300-400 kilometers long. It's a strip of land in the southeastern region of Italy between two cities and the Adriatic Sea, which means we are in front of Greece and the Ionian Gulf.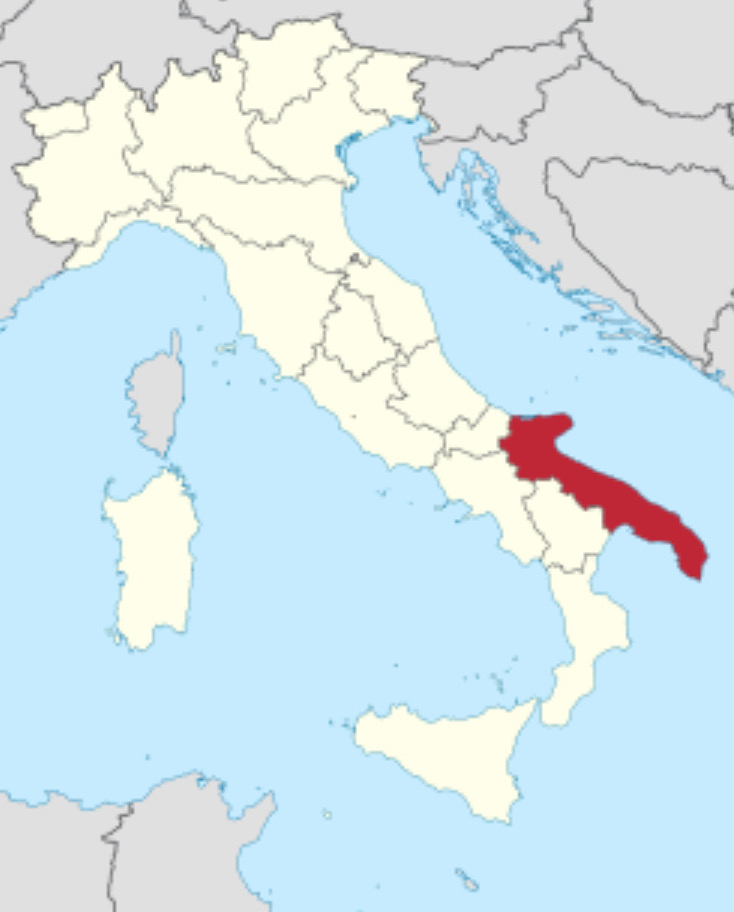 San Marzano is in the Southern part of Puglia (in red on map), called Salento, which is the most renowned area and the best part in terms of quality of wine. And the Primitivo di Manduria DOC is in the Western part of Salento. San Marzano is the name of the company, but it's the name of the village too. And it lies in the center of the Primitivo di Manduria DOC. At the moment, Primitivo di Manduria is the noble wine of Puglia.

San Marzano was founded more than 50 years ago. There were 19 vine growers who decided to work together in order to give value to the grapes, to make wine together, to market it together. The project has been growing and, in 1982, we named a new president, Francesco Cavallo, who has been the leader of this success for San Marzano. We have launched Primitivo in a new modern way of winemaking and it has become a standard for this new renaissance for Puglian wines.

And how is Primitivo different, when you say "a new, modern way?"
What I mean is that Primitivo is an indigenous grape variety for us. Our fathers, our grandfathers used to cultivate it and make wine with it. And we've decided to respect the tradition, so we are focused on our old grapes, but we wanted to, in terms of philosophy, winemaking and viticulture focuse on keeping the fruit of Primitivo to make very clean wines. You know, Primitivo is very big boy with a strong body, with a lot of sugar, which means big alcohol. You need to look for the balance, which has not been done a lot in the past. I mean you need freshness, you need acidity, you need sweet tannins to balance this big presence of alcohol, color, and concentration. These are the wines from our region, and you still have a big structure, but the goal in our winemaking is always to keep the integrity of the fruit.

This is what we mean by changing a bit, the rules in the Primitivo winemaking. We make a wine which is quite sensitive to the tastes of the international consumer. We work with barrels too, with French and Californian both, but still we want the oaky part to be just a part of the mix. We want the fruit to be on stage. The first, the main thing is the fruit.

And would you say that's the philosophy across the board with all of your varieties?
Yes, our main varieties are Primitivo and Negroamaro. We also have others. Italy is known for having a very rich heritage of wide grape varieties. And for us it's very important to have the cleanliness in the fruit in every wine, white wines, rose wines, red wines. This is our most important goal in winemaking, our signature.

Can you explain how how a cooperative works on a day-to-day basis?
Viticulture is very traditional in our region, which means that everyone is part of a family that has a piece of land and they make wine and olive oil. So, a cooperative means putting together many small vine growers and you give them technical direction in terms of agronomical management and then you make wine together. In terms of management and the quality of the wine, the cooperative, our San Marzano winery is the best performance tool for Primitivo, because the average property is very small.

The average vine grower is more than 60 years old and very often has another main job. So they don't always have the competencies, or the size to manage their vines and winemaking in a professional way. So to bring them together and to give them a technical direction is the best way to produce Primitivo, but for other grapes, it's different. For Primitivo, the situation is very peculiar, because the best Primitivo grapes are made by old vineyards which are very often owned by old vine growers with small properties. So San Marzano's strength is to manage these old and small vine growers.
How many different growers do you have?
More than 1200, so I have a lot of bosses.

So do you take the grapes and you blend them?
Yes. We have, in our range of products, blended wines from different parcels and we also have 'cru.' It depends on the project. For sure the top wines are from a single vineyard.

Can you tell me a little bit about the terroir of your vineyards and the grapes that you grow?
Puglia is known to be a region of big red wines and we don't have a lot of rainfall during the year so all our practices in the field aim to keep the water we have in the fields. If you're lucky to have some water, you can use irrigation. But for example, last year when we were in August, the water was finished, in every vineyard. Normally when you speak with northern wineries, they always see irrigation as a problem for us. When it's the time before harvest and you have more than 45 degrees Celsius though, you need water because the vines are struggling, so it's different.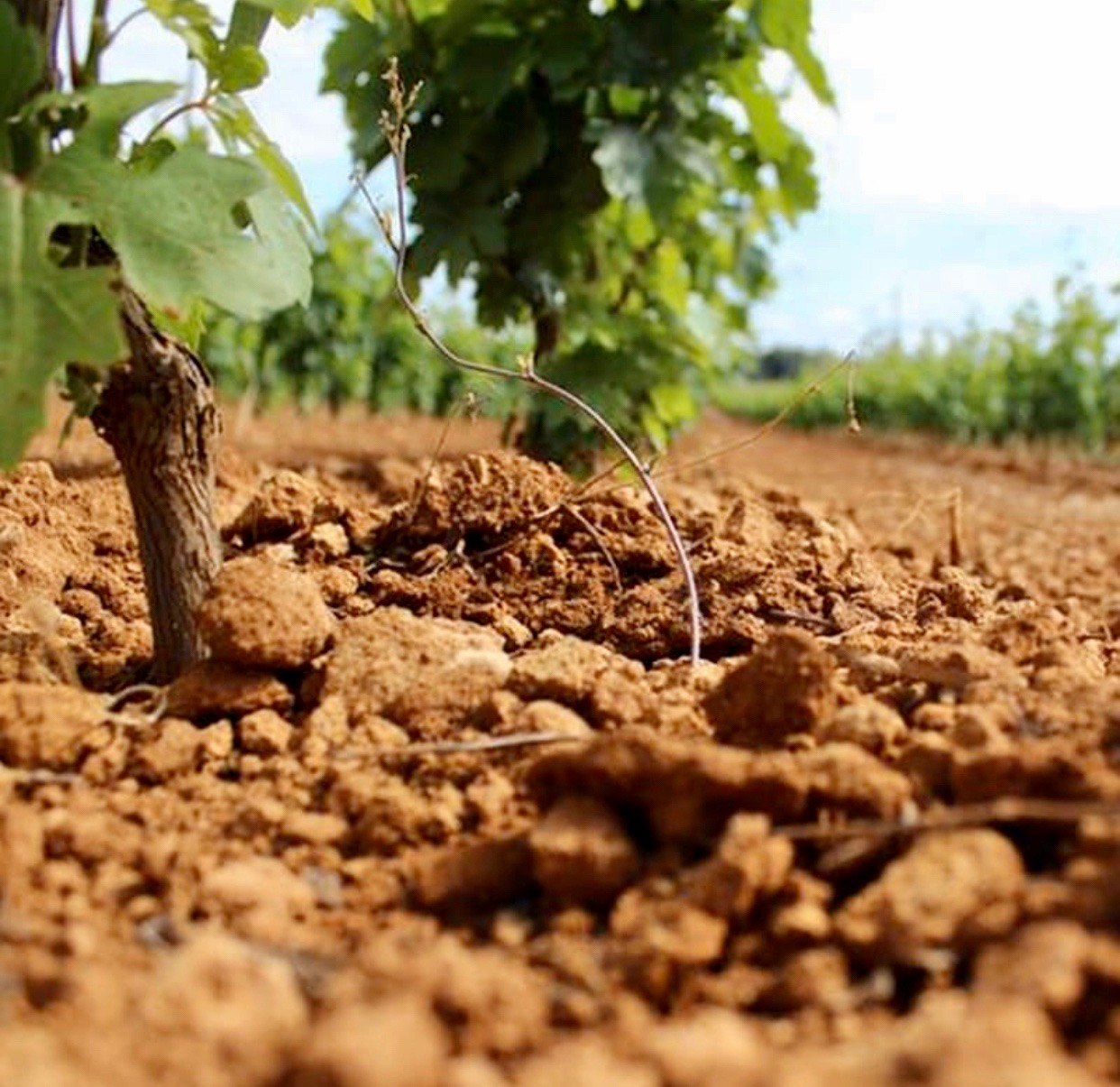 Normally we have, especially for reds, a thin layer of soil, red soil, which is very poor in organic substances, just iron. Then there's an underground of calcareous rock, which emerges from time to time. And that's why you see stone walls, stone houses. This comes from the fact that in the past, to plant the vineyard we had to rake the ground because the soil is very thin. So you know, to let the roots go into the soil, we had to dig all this rock and take the stones out. So this is why we used to use the stone to make homes.
Photo: Old Primitivo vines in red, iron-rich soil.
The oldest vines grow through lanes of calcareous rock, more or less. Even if you don't have rainfall, and even if you have a small difference of temperature between night and day, the integrity of the aromas comes from the calcareous rock, because it keeps the roots cool. So it helps the vine, the roots to breathe at night, almost. That's what helps our Primitivo.

That's why even if you have the best Primitivos, if it has a big structure, big alcohol, it still shows a very nice fruit. It comes from this. The calcareous rock is very important in the quality of our viticulture.

Concerning the white wines, we prefer at San Marzano to deal with a different soil. For white grapes we prefer yellow soils with more clay that preserve the aromas better, the complexity of the grapes better.

Tell me a little bit more about the viticulture. Do any of the vineyards farm using organic or biodynamic methods?
Yes. Puglia is very lucky. Agriculture is very important in our economy because it's a land where every fruit is good, so the same goes for the grapes. In terms of viticulture, the best quality comes from bush vineyards, the system is based on this little tree, so it's not possible to go through the vineyards with machines. This is not done for all of our production, for but for the top wines. For these bush vines, you need manual labor in the vineyards. You cannot have it in very big, big fields, but you can have these small parts which are managed by families which are proud of their vineyard and farm it as if it were a garden.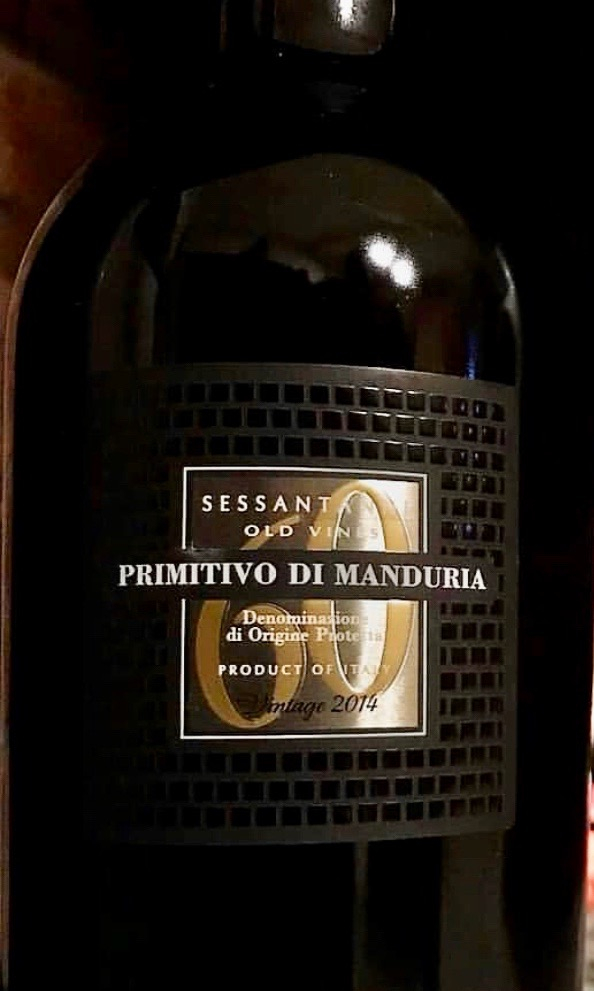 This is why Primitivo is so peculiar and this is why you have this big concentration and big quality. For example, our flagship is a Primitivo di Manduria called Sessantanni. Sessantanni means 60 years, and it's because the age of the vines are more than 60 years old. This is very important. The main factors of our viticulture is trying to preserve the quantity of water and set this. We are very lucky that we can very easily cultivate in a sustainable way because there's not a lot of water, no rot. For example, we have a center where we can receive our guests. And on that property we cultivate old abandoned wine varieties. This is where we experiment. We follow organic sustainable agriculture there.
Another thing we do, in terms of viticulture, we believe it's very important to map out all our vineyards and we follow digital farming. So, our agronomist can give direction to all our vine growers in terms of practices, in terms of pruning and everything. It's a complex system and we need a very meticulous, very careful the management of it all. We have observed that there are more or less five different areas in our estates, so we have a station to take the humidity of the soil, the humidity of leaves, the wind in five different points, which can give us direction, signs to interpret and to give direction to the vine growers of the different areas. It's funny, the most difficult thing sometimes is to communicate to the growers, to send emails to people who are 70 years old, it's been difficult, but this is our job. If we can communicate, we can succeed.

Concerning the renaissance in the past 20-30 years in Puglia's winemaking, what do you foresee in the future as far as the marketing of the wines and getting people to know how the quality of the wine has increased?
The renaissance means that there is a change of scenario in Puglia. Twenty years ago Puglia stopped being a top wine producing region but we found, with the direction of a few smart men, the way to have our place back on the stage, at the attention of the final consumer.

And so I think in terms of marketing, as Puglian producers at San Marzano, we must take advantage of this moment. Puglia has the attention of the market worldwide and we are focusing on improving our winemaking and viticulture and the best wines are yet to come. We just, after all these years in bulk producing, now we are following the taste of the consumer. We are understanding more and more, which are the best varieties and which are the best areas to produce them.

It's nothing new, but it takes time to make it better and better. So I think what I suggest is to observe and keep on tasting Puglia wines and San Marzano wines because they are for sure improving. All the new wines we are launching are just single vineyards, and in the past it was just blended wines. Why? Because now people are ready to understand and are curious to know about the diversity of the different expressions of varieties. So there's a lot of things to do, I think, for Puglian wines.

Puglia is known to be a region of red wines. What percentage of Puglia wines are red?
80 to 85%. It's Primitivo, Negroamaro, Aglianico, and Nero di Troia. At the moment, the most important wine in Puglia is Primitivo, but Negroamaro has been the king of the region for many decades in all the DOCs of southern part of Salento, especially in Salice Salentino that has 80-85% Negroamaro planted and 15-20% Malvasia Nera. Negroamaro ripens after Primitivo and it has a more classical structure in terms of acidity and tannins and this is the reason why traditional wine drinkers normally prefer Negroamaro wines. Our wines have a nice appeal and can be drunk on their own or they are very good with spicy dishes and other foods.

Malvasia Nera has always been a complementary blending grape with Negroamaro. It has a lighter structure, light aromas. We make a 100% Malvasia, which is unusual in Puglia.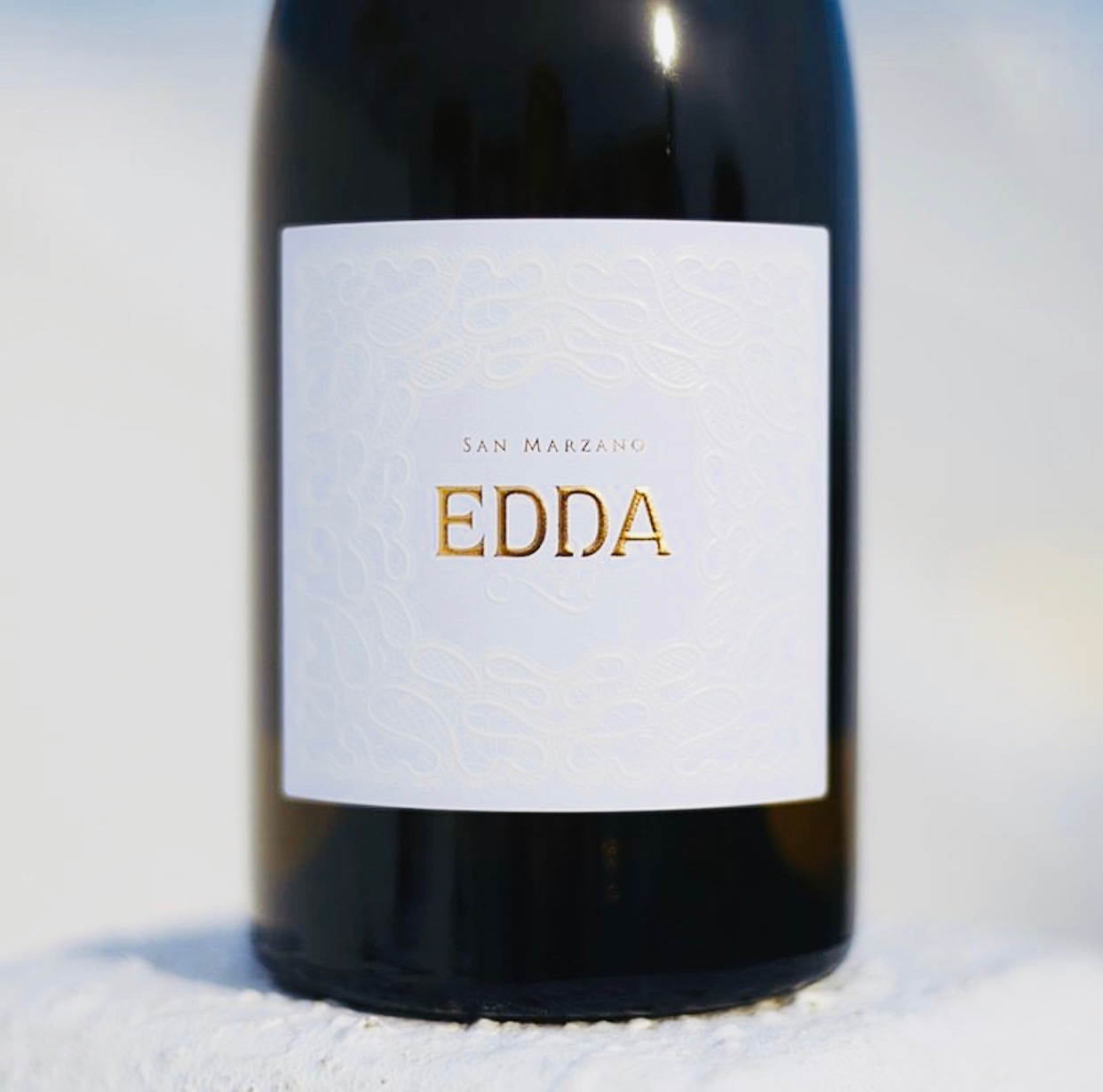 Do you make white wine?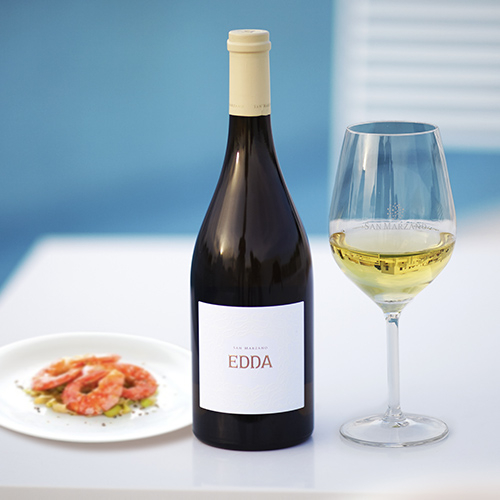 After many years of success, it was important for us to show something new, so we challenged ourselves to find a way for a good white wine from Puglia, because in Puglia there weren't many examples for good white wines.

We chose, in the mix, a big base of Chardonnay for a white wine. At first it was 85%, but now it's 60% because we wanted to use indigenous varieties, to follow my father's idea of using native varieties that could do well, like moscatello selvatico, and minutino, cousins of the moscato. In our area, the moscato varieties expresses less fruity notes, but more herbal notes. The first vintage of this wine was 2014. The wine is called "Edda" which means "she" in the local dialect and it is dedicated to women, to their elegance.

What are some classic or local traditional dishes that go well with your wines?
In Puglia the cuisine is based normally on seafood and vegetables. So for our wines, even if they are big reds, they have soft tannins, which gives us the chance of having unusual pairings. I'll give you one traditional, classical pairing and another one which is a bit funky. Traditionally Primitivo would go with lamb, we cook it in terracota tagines, like in northern Africa. You put it into the fire with tomato sauce and mediterranean herbs. This is very traditional and it goes with Primitivo. Another one which is quite strange comes from Taranto, the biggest town near San Marzano, and it's the hometown for mussels. We have small, very savory mussels, and because the mussels are the main dish in Taranto, and Primitivo, the main wine, very often they are matched together. It's a bit of an extreme pairing but because of Primitivo's soft tannins and residual sweetness, if you have these muscles in a peppery, spicy sauce, it goes very well with seafood too.