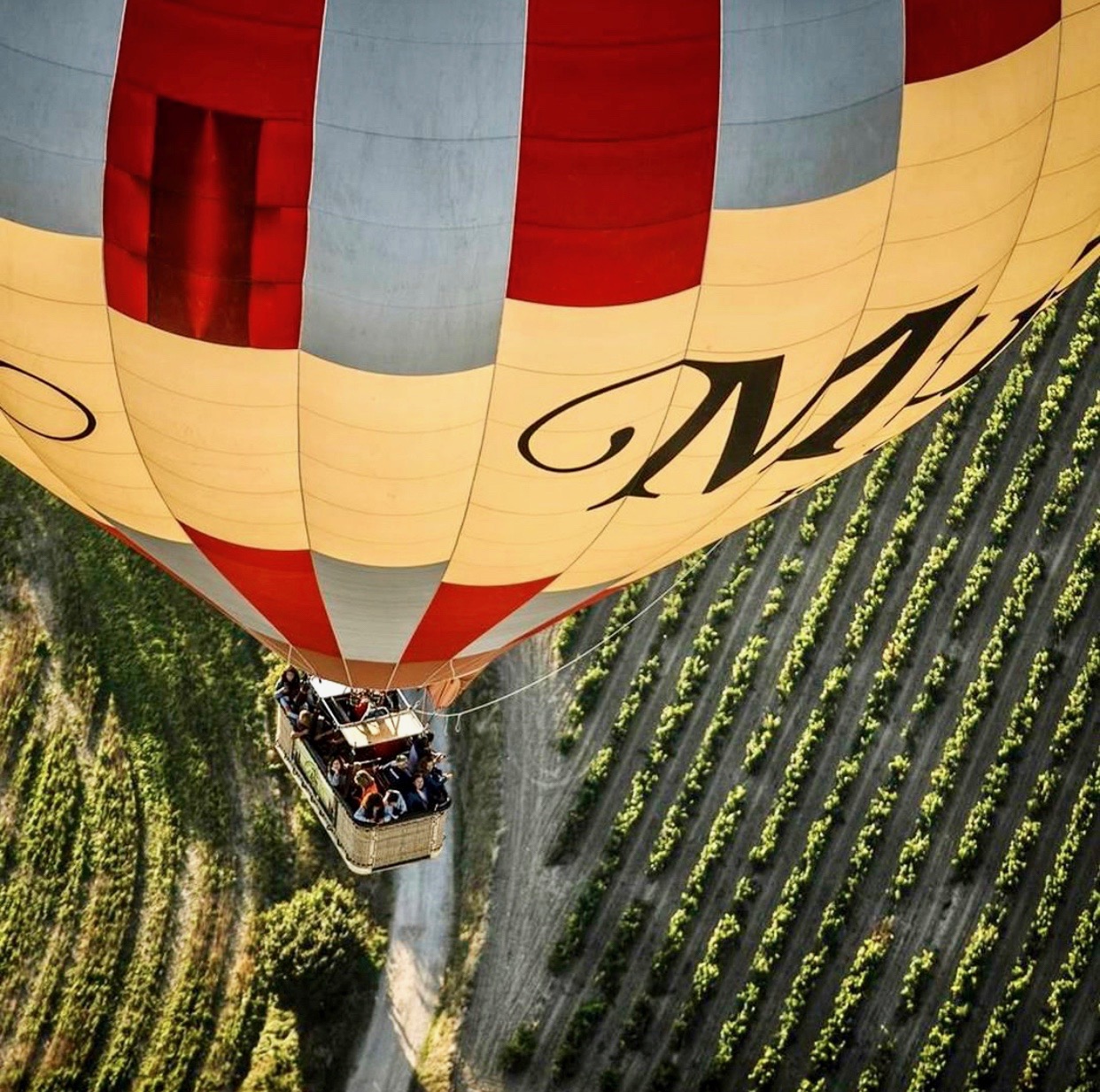 "Rioja," says Miguel Angel de Gregorio, "is one of the five best viticultural areas in the world, along with Bordeaux, Burgundy, Alsace, and Piedmont." De Gregorio, the exuberant owner and winemaker of Rioja's Finca Allende winery, hails from a long line of winemakers, and while he may have a hometown bias, there's no doubt that Rioja is one of the world's great wine-producing regions.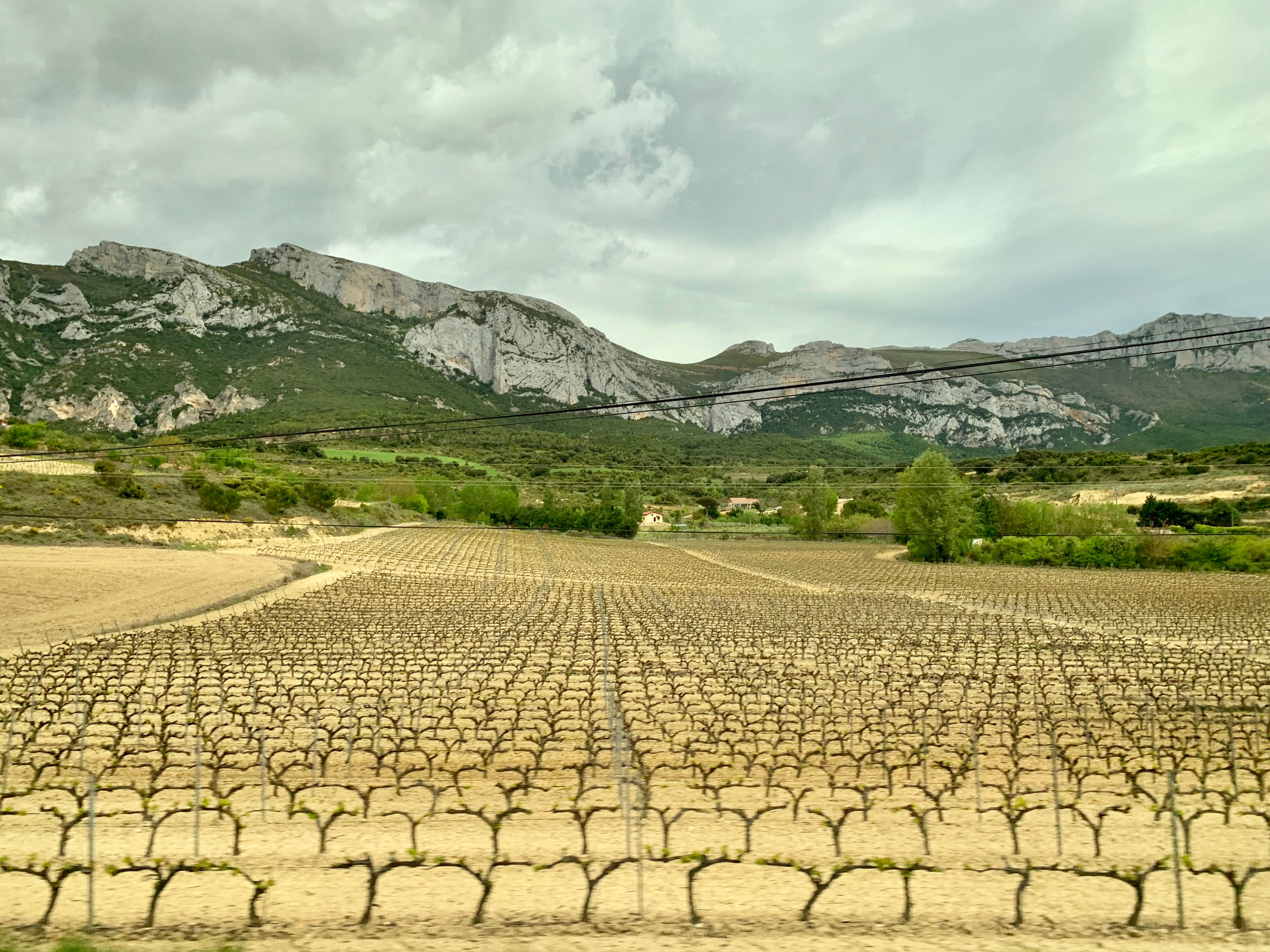 Known for tempranillo-based red wines, Rioja, in the north of Spain, is the first region to have been awarded, in 1991, the country's highest 'denomination of qualified origin' (DOCa). Its sprawling, vineyard-dotted land is divided into three winemaking zones that straddle the Upper Ebro river: Rioja Alta, Rioja Alavesa, and Rioja Baja (now Rioja Orientale), each with its own distinct personality. The wide variety of microclimates, elevations, soils, and grapes, along with individualized vineyard and cellar practices, contribute to Rioja's many styles of wine, ranging from young, fruity reds, fresh juicy whites to more complex, barrel-aged red and white wines.
Photo: Vineyards in Rioja Alavesa at the foot of the Sierra de Cantabria mountain range.
With its natural beauty, cultural heritage, and wines to suit all tastes, it's no surprise that wine lovers worldwide have put Rioja at the top of their 'must-visit' lists. Located an easy one to two hour drive from the famous Basque cities of Bilbao and San Sebastian, Rioja's 600-plus wineries, scattered throughout scenic rolling green hills, are an integral part the cultural and physical landscape. "When we talk about tourism in La Rioja, we are mostly talking about wine tourism," says Leonor González Menorca, Director of Economic Development for La Rioja's Department of Culture and Tourism. "Wine is part of our culture and essential to tourism development." Visitors of all types, not only serious wine aficionados, can enjoy winery experiences that revolve around whatever interests them: culture, local traditions, nature and ecotourism, gastronomy, local art and architecture, beautiful villages, and, of course, wine tasting.
Miguel Angel de Gregorio, Finca Allende, Rioja, Spain

This wasn't always the case. In Europe, wine tourism (oenotourism) — vacations that focus on learning about wine — is a relatively recent phenomenon. "I remember as a kid, when the word oenotourism did not exist," says Eduardo Muga, 3rd generation at Rioja's renowned Muga Winery, "and seeing my uncle Isací­n standing outside the winery, inviting visitors for a tour and to share a glass of wine with him." Muga says that only a few bodegas (wineries) had an open door policy back then but that over the last 10 to 15 years, wine tourism in Rioja has increased significantly and visitors come from all over the world. "We are selling more than just a beverage," says Muga. "Behind every bottle of wine is a story, a landscape, a culture, and a way of life that needs to be communicated."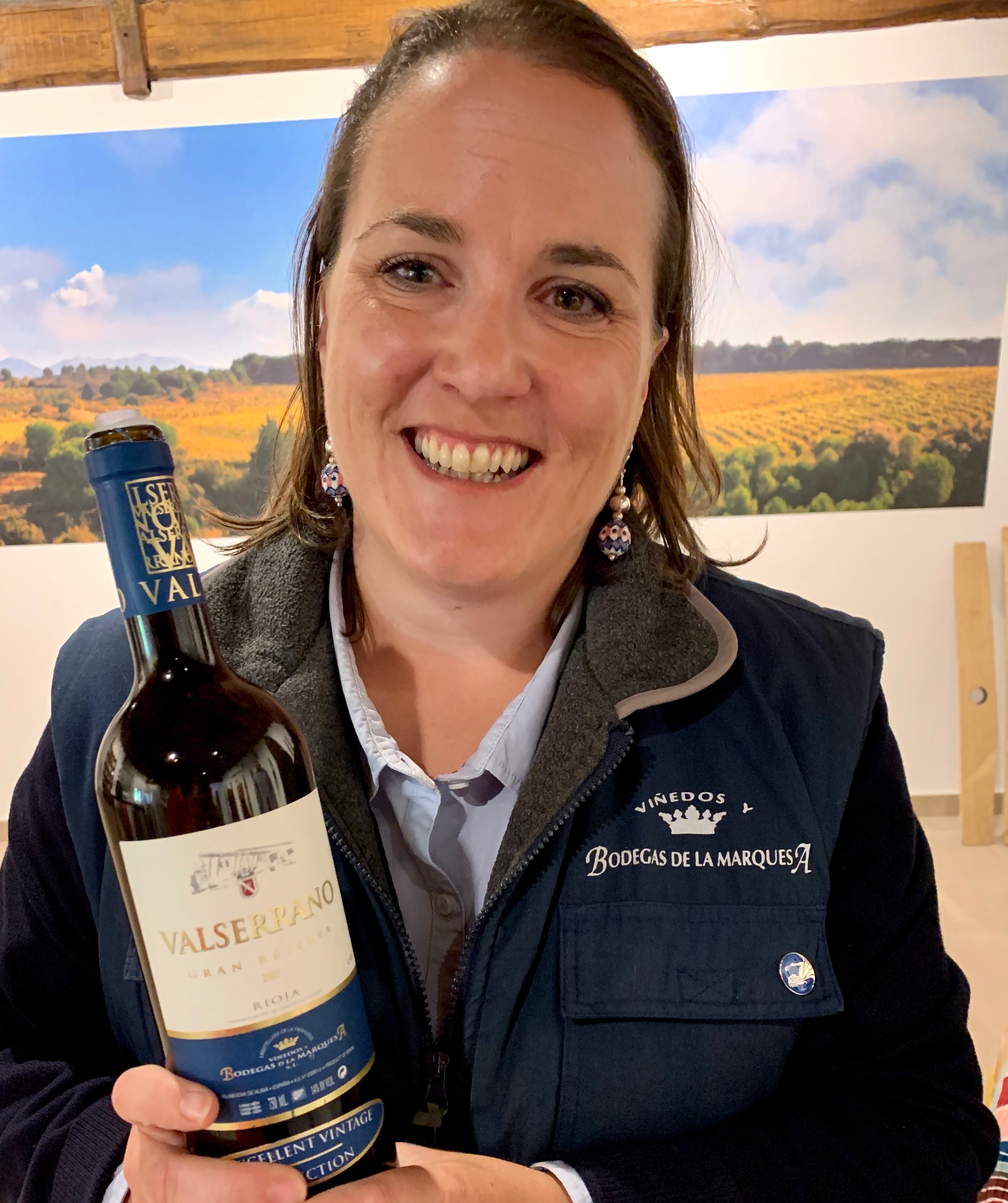 Marí­a de Simón Baranda (photo at left), 5th generation of family-owned Viñedos y Bodegas de la Marquesa also recalled childhood memories from her village of Villabuena. "It was completely crowded on the weekends," she says. "But the people were mainly from Basque country, La Rioja and Navarra and they usually spent just the day and visited only one winery." Simón Baranda credits government agencies like the DOCa Rioja and the Rioja wine tourism routes, as well as the wineries, for helping make the region known to the world. Like Muga, she notes that the big change during the past few decades is that Rioja has started to receive a lot of international tourists. "The wineries have invested in many new facilities for wine tourism," says Simón Baranda, "and instead of just spending the day they stay in the area an average of 3 days."

Rioja is now the number one Spanish wine destination with over 810,000 people visiting wineries each year and wine lovers in Rioja have endless opportunities to explore the region. The day can begin at sunrise with spectacular views of Rioja's stunning scenery from a hot air balloon, followed by a quiet picnic lunch in the vineyards and an afternoon museum visit. In the evening, more choices abound: dining at wineries with vineyard views, feasting at Michelin-starred restaurants, or simply strolling with friends from one casual tapas bar to the next in the vibrant city of Logroño. And the next day, the itinerary can be completely different: segway tours, wine tasting classes, visits to architecturally striking avant-garde wineries, you name it, the possibilities are endless! There are even wineries that offer special playgroups for children so parents can relax at a cellar tour. And don't worry, after all that activity, there's plenty of time for a late afternoon siesta — no one eats dinner before 9 PM in Rioja!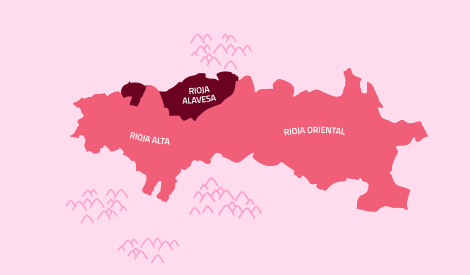 TOP WINERY EXPERIENCES IN RIOJA
Below is a sampling of wineries by subregion that offer unique experiences for visitors. Remember to book ahead, as most are by appointment only. To learn more about the 200 wineries in Rioja that welcome tourists, visit the Rioja Wine website.

RIOJA ALTA
This subregion is in the western section with soils of clay, iron-rich limestone, and areas of alluvial deposits. Due to the high elevation and influence of the Atlantic Ocean, the temperatures are cooler here and many of Rioja's greatest wines come from this area.
The historic Barrio de la Estación (neighborhood of the train station) is located in Rioja Alta's largest town, Haro. Here you will find many wineries that were established over 100 years ago when French winemakers arrived looking for, and finding, an alternative source of quality grapes since the phylloxera epidemic had decimated their vineyards.
La Rioja Alta
Founded in 1890, this renowned winery includes over 400 hectares of estate-owned vineyards located in the best terroir of Rioja. The Rioja Alta wines are known for their pure and elegant expression of the tempranillo grape. To book a tour and tasting at this famous winery in the town of Haro, visir RiojaAlta.com.
Interview with Julio Saenz winemaker at La Rioja Alta
R. López de Heredia
Founded in 1877, the winery stands out for its dedication to preserving the previous generations' traditional methods of winemaking. Their world-renowned wines are made from grapes grown in the most exceptional vineyards of Rioja Alta: Viña Tondonia, Viña Cubillo, Viña Bosconia, and Viña Zaconia. Visitors have always been welcome at R. Lopez de Heredia's architecturally stunning winery (photo at left), a veritable 'cathedral to wine,' Contact [email protected] to schedule their 2 hour tour and tasting.
Maria Jose Lopez de Heredia interviewed by Grape Collective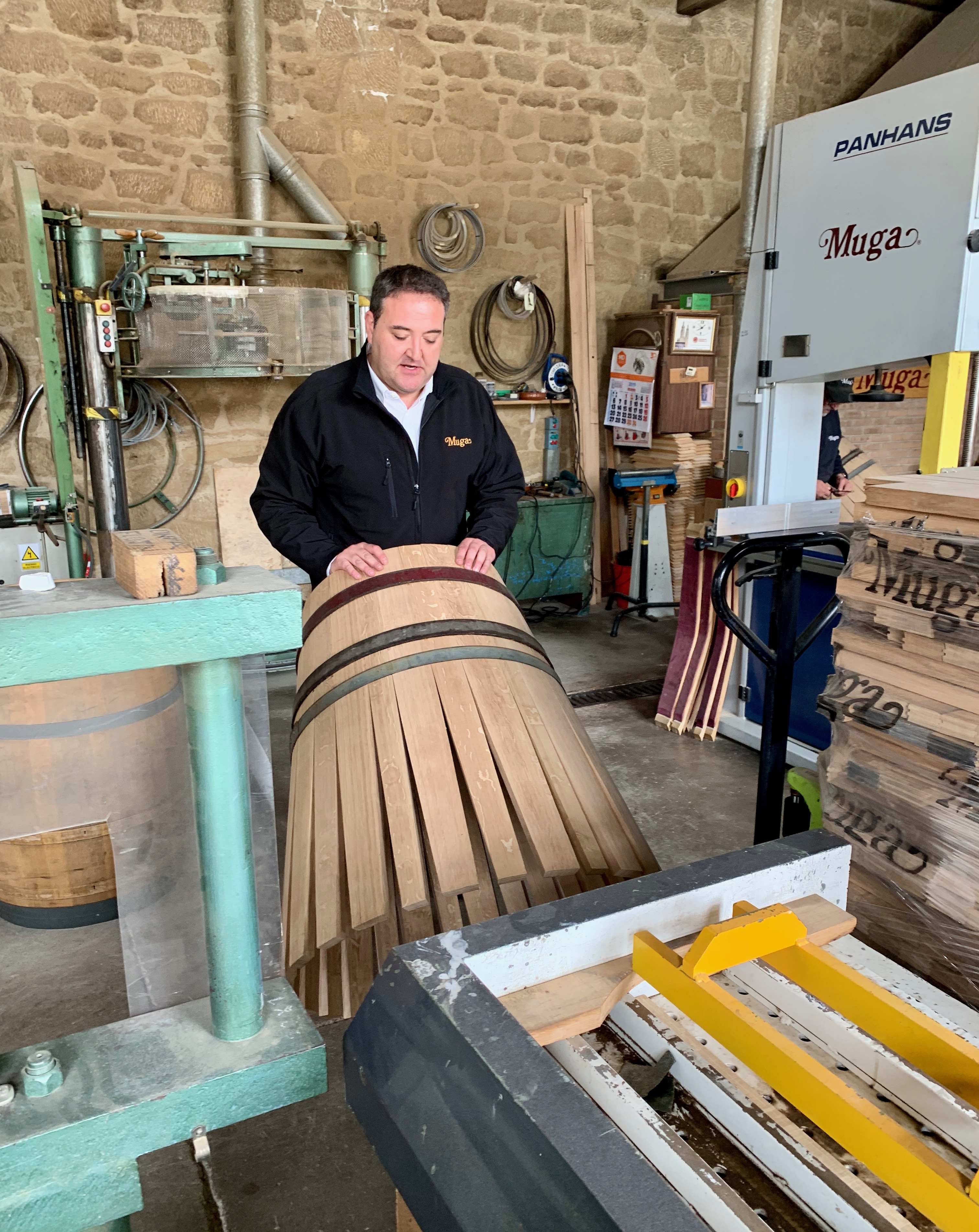 Bodegas Muga
Located in Haro since 1932, this family-owned winery isn't one of the oldest bodegas in the Barrio de la Estación, yet it is one of the most prestigious and well-known for its high quality wines. For adventurous visitors, Eduardo Muga recommends a hot air balloon ride during which "you can enjoy the beautiful landscape of Rioja from up in the air with a glass of wine." The winery offers several tours and tasting classes. The vineyard tour can be done by Segway, followed by an aperitif amidst the vines. Learn more at BodegasMuga.com.
Photo: Isaac Muga Palacin expaining the different types of barrels, made exclusively at the winery.
Bodegas LAN
The winery's stunning property now includes a beautifully redesigned hospitality space where two unique visitor experiences are offered. LAN in Three Letters is the main experience with a 90 minute tour and tasting that is built around the LAN name and its winemaking philosophy. LAN in Barrel is for those who decide to visit at the last minute and want to spend a shorter time at the winery, and offers a unique look into how oak barrel aging affects the flavors of wine. The LAN Bar is a great stop for those wanting to just taste and buy wines. Visit the LAN website for more information.
Bodegas Bilbainas
Bodegas Bilbainas, built in the late 19th century, is the oldest producer in the area with the largest underground cellars in Rioja, covering over 11,000 square feet (photo at right). The winery produces some of the most prestigious wines of Rioja including the iconic Viña Pomal. Bilbainas offers a tour that's perfect for history buffs explaining production methods used over 100 years ago. Don't miss the unique white and red wine ice cream tasting, paired with Viña Pomal wines, or the delicious food and wine pairings that include ham, sheep cheese, smoked sardines, and mini brownies. Email [email protected] for more information.

Marqués de Riscal
The architecture dominates the landscape at Marqués de Riscal with the impressive Frank Gehry designed hotel and a visit to their 'City of Wine' is a walk through the history of Rioja.
Interview with Cristina Perez of Marqués de Riscal, home to a colorful Frank Gehry hotel.

CVNE (Compania Vinicola del Norte de España)
This family-owned winery, founded in 1879 and located in the Barrio de la Estación of Haro, offers parents time to relax during tours and wine tastings while their children are busy at playgroups and workshops. The activities, for ages 3 to 12, revolve around the world of wine through storytelling, creativity, food, games, and music. Another CVNE-owned winery, Viña Real, a stunning architectural jewel, offers children's activities as well. Visit the CVNE website to learn more about visits.

Hacienda El Ternero
Hacienda El Ternero dates back to 1077, a time when it belonged to the Santa Maria de Herrera Monastery. A visit to the spectacular vineyards can be by foot, segway or e-bike, followed by a picnic of traditional Rioja dishes. The winery offers classes on how to make cocktails with wine. Groups of 10 or more can dine in El Ternero's restaurant with gorgeous vineyard views. Contact [email protected] for more information.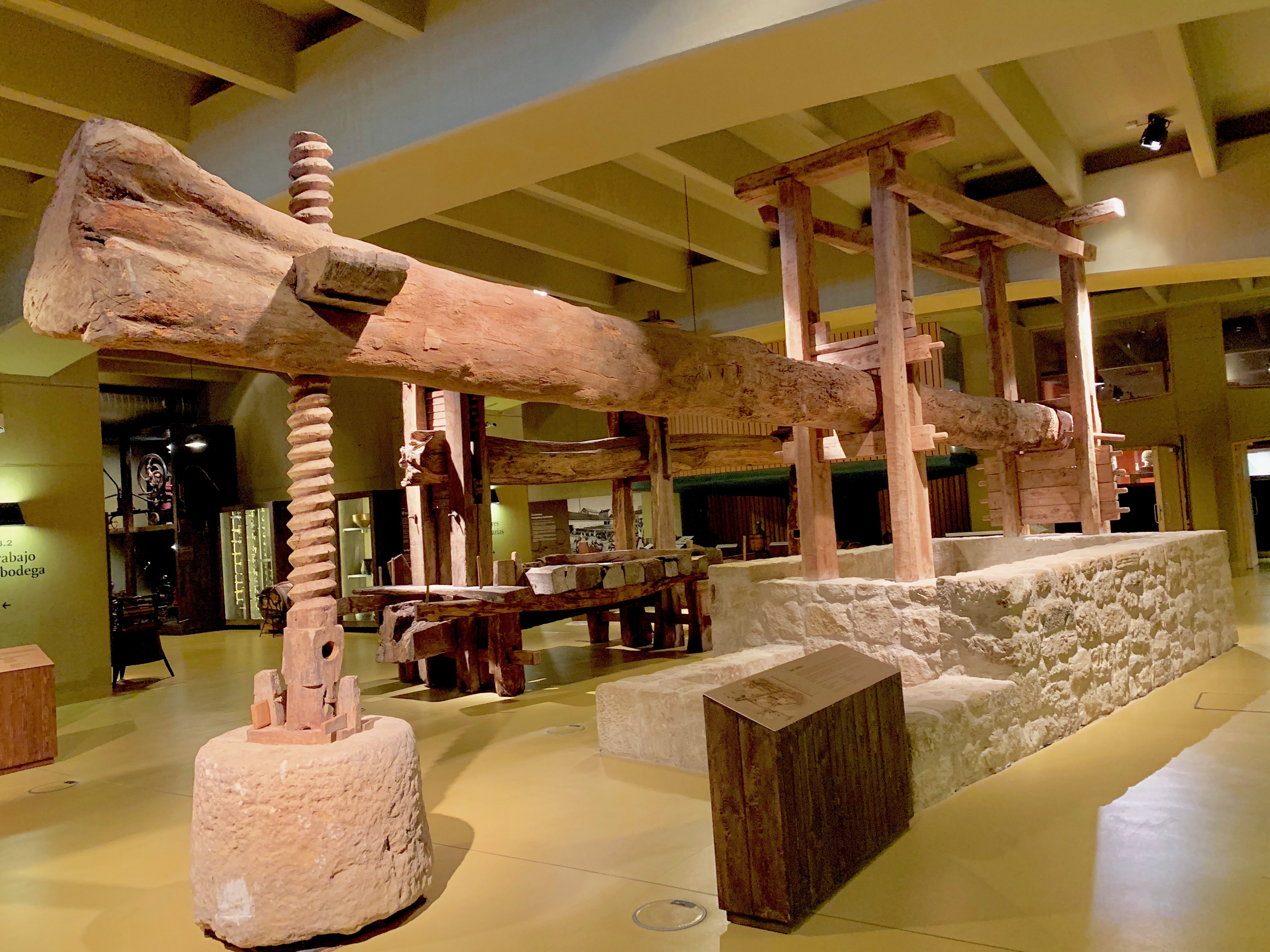 Vivanco Winery and Museum
Located in Briones, the winery is a fourth generation estate that houses the 'must-see' Vivanco Museum of Wine Culture. Its huge collection of ancient and modern winemaking equipment (photo at left) includes an incredible selection of corkscrews and bottles. The beautiful artwork includes paintings by David Hockney and Andy Warhol. Allow at least two hours to take it all in, either on your own or with a guide. Afterwards, enjoy a wine tasting paired with a selection of tapas or a full lunch menu. The winery holds workshops each Saturday for children to experience the culture of wine. For further information, visit the Vivanco website.

Miguel Merino
Tucked away beneath the hilltop village of Briones, one of the most beautiful cities in Rioja, this small estate is making some of the most elegant wines of Rioja. The winery's personalized visits are, as stated on their website, "neither professional guides nor scripted visits; we show you our winery." Vineyard tours and tastings by appointment only. Contact [email protected] to book a visit.

RIOJA ALAVESA
This subregion in the northern section of Rioja has low-yielding vineyards of clay and chalky limestone soils. Like Rioja Alta, the highly elevated terraced vineyards have an Atlantic maritime influence and produce excellent, full-bodied, high acid wines.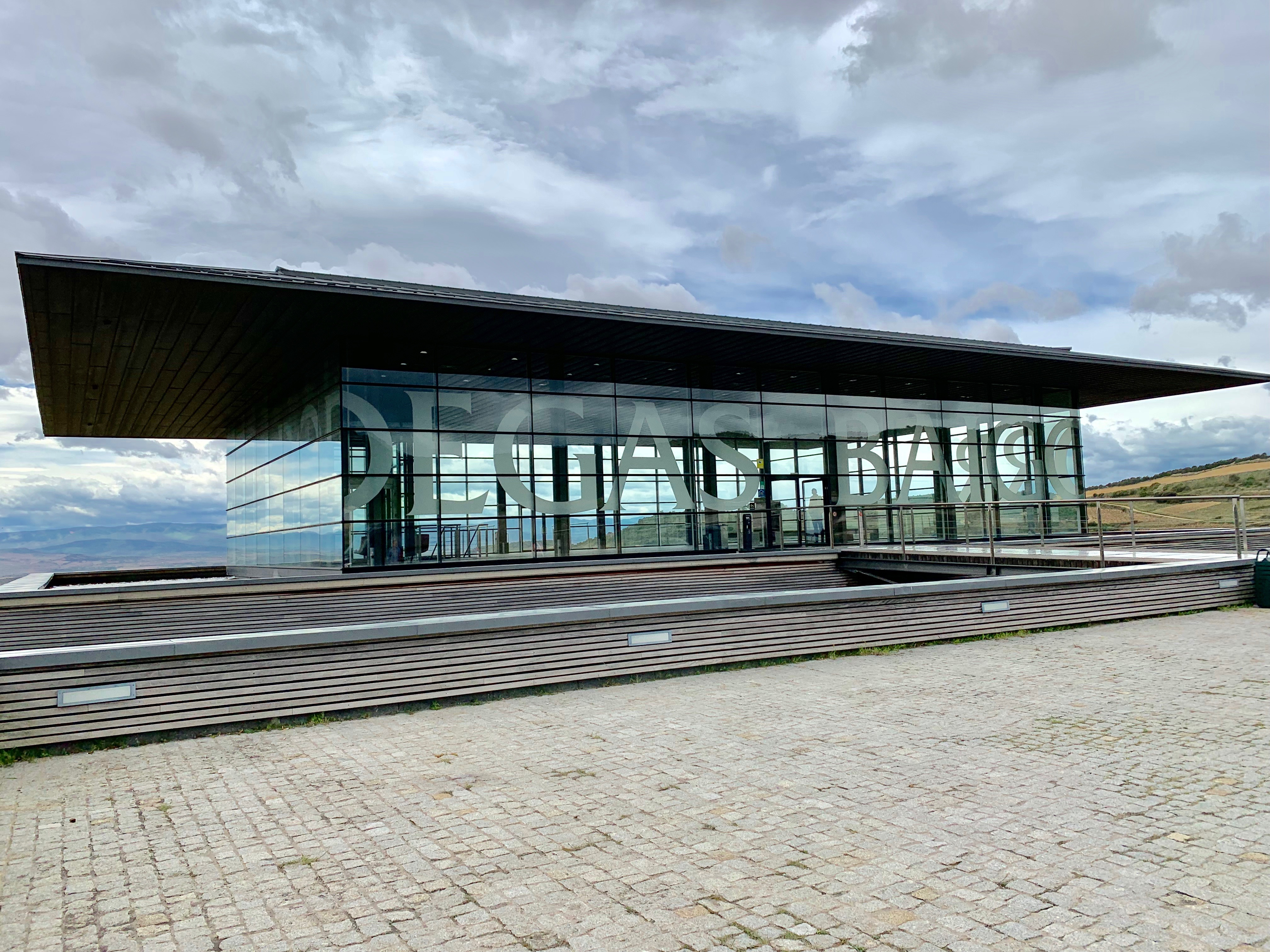 Baigorri
This ultra-modern, seven story, gravity-fed winery (photo at right) sits atop a hill at the foot of the Sierra de Cantabria mountains and has spectacular view of the vineyards and the village of Samaniego. The 90 minute tour digs deep into the technology and philosophy of their winemaking. The tour and wine pairing lunch (50 euros) in an airy, light-filled dining room with views of the vineyards and cellars is one of the best values in all of Rioja. Request a booking online.

Bodegas de la Marquesa -Valserrano
In addition to offering several private wine tours and tastings, the winery is a part of the Villabuena Wine Tour, a 'Best of Wine Tourism 2019' winner. Together with the Viura Hotel and 11 other wineries, this experience takes visitors on a tour of renaissance houses and noble palaces built between 1600 and 1800. During the tour, guests will visit three wineries to taste their best wines, and ends with a guided tasting in the Viura Hotel's wine cellar. Visit the winery's wine tourism page online.

Bodegas Muriel
Founded in 1982, the cellars are in the quaint, historic village of Elciego, an area known to have some of the best terroir in Rioja. "Bodegas Muriel offers a unique visit to a unique cellar," says Javier Murua, owner of the winery. "The original family who owned it had been making wine since the 17th century. There are three buildings connected by a mile long underground cellar, filled with bottles of historic vintages — the oldest dating to 1892." Visit Bodegas Muriel's website for more information.

RIOJA BAJA
This subregion, recently renamed Rioja Orientale, is in the southeastern section of Rioja, where the elevation is lower and the sandy soils are a mix of iron-rich clay, alluvial deposits, and limestone. The climate here is drier and warmer than the other two subregions and the resulting wines tend to be ripe and powerful.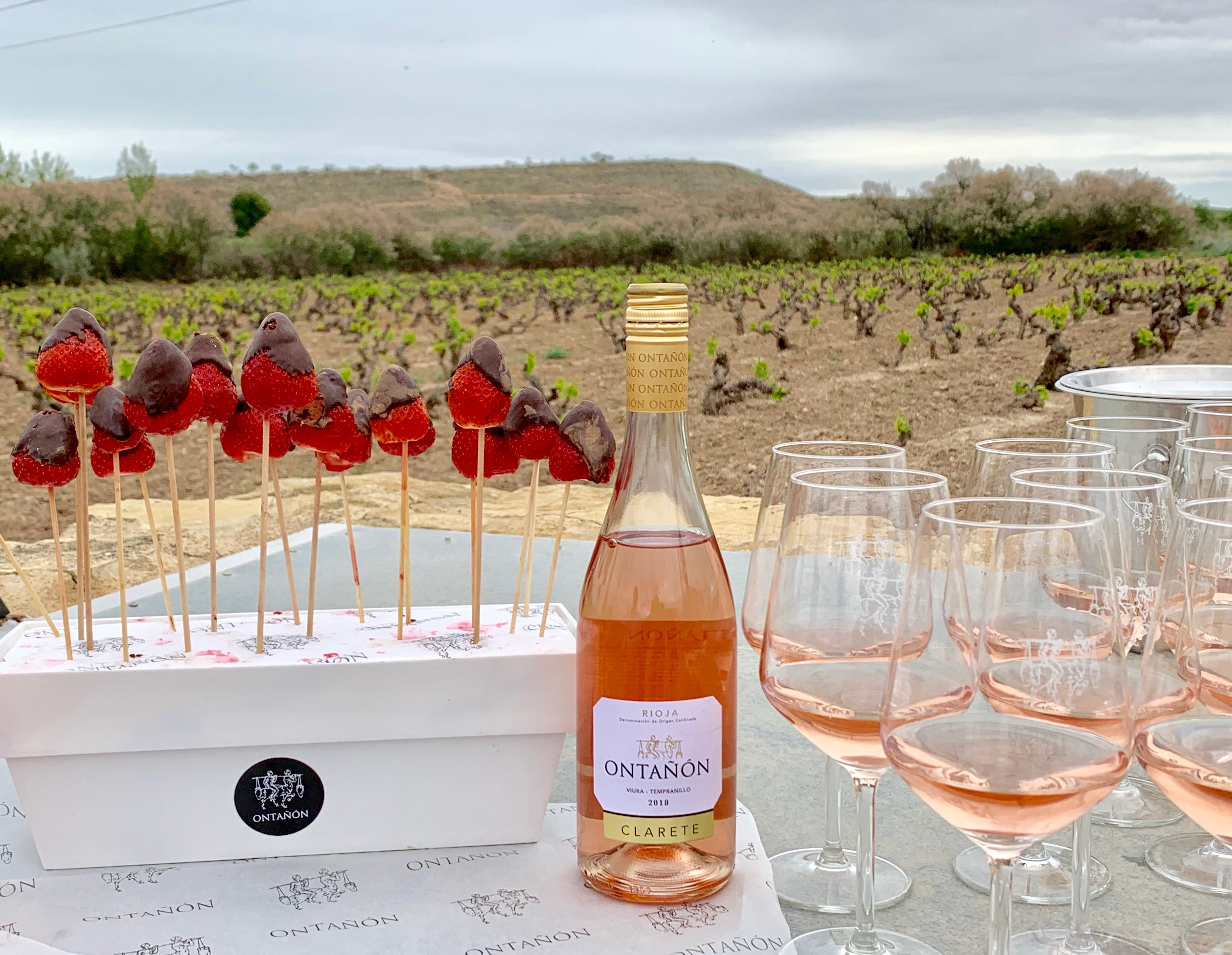 Bodegas Ontanon
This multi-generational, family-owned contemporary winery sits high in the Sierra Yerga Mountains outside of the township of Quel, one of Rioja's outstanding winemaking centers for three centuries. The winery is filled with light, its history told through stained glass, painting and sculpture. There are wine tastings and activities offered in the vineyards (photo at right), as well as unique private VIP experiences. Visit ontanon.es to arrange a visit.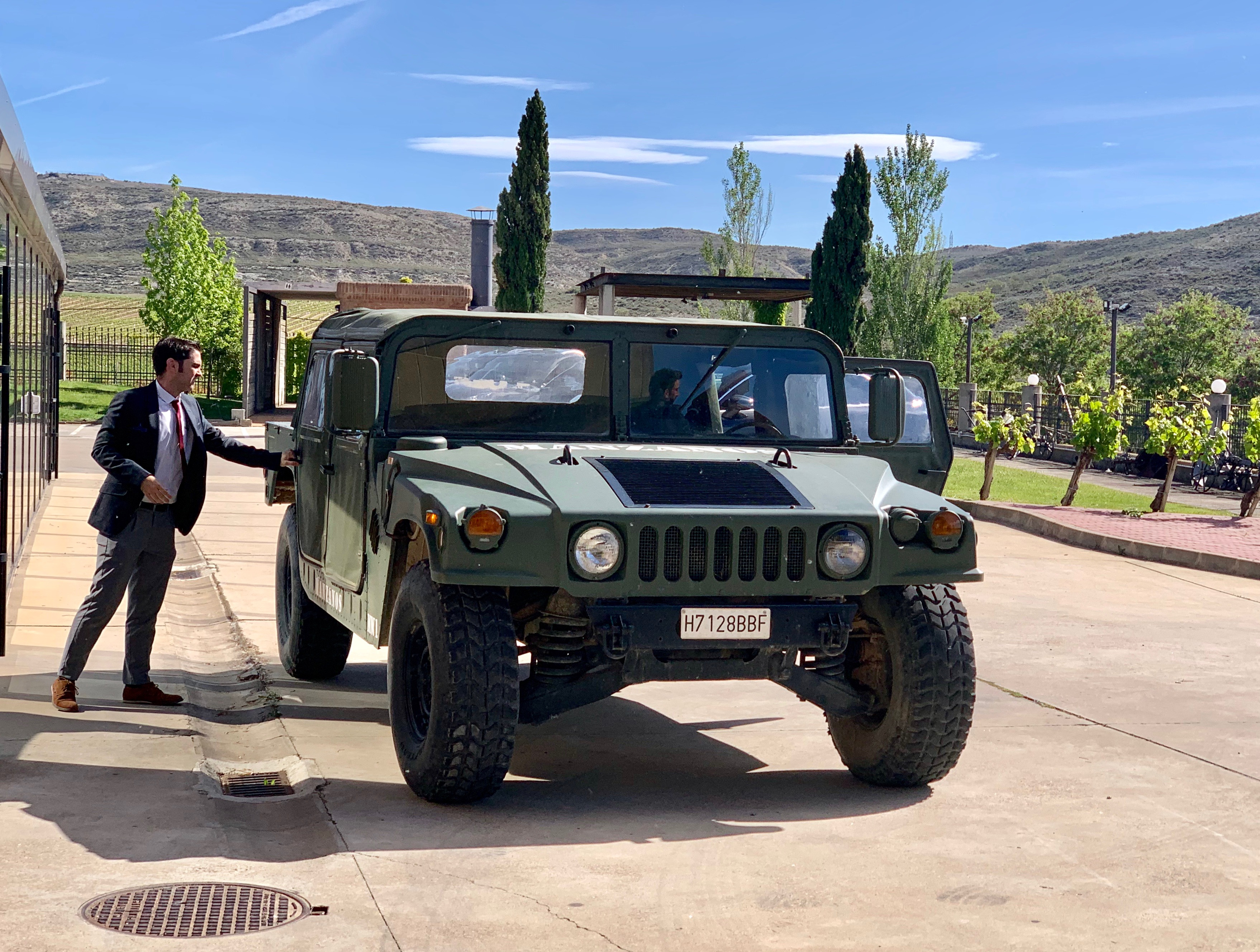 Bodegas Manzanos
Ruben Quintana, Director of Enotourism at this contemporary winery in the town of Azagra, recommends "a tour throughout the scenic vineyards on board a military hummer, during which visitors can learn about the terroir, climate, varieties, and more." After the vineyard adventure, book a meal in the Barrel Balcony, a space in the winery dedicated to locally-produced and seasonal cuisine, with spectacular views of the barrel room. Visit the Manzanos wine tourism page for more information on many unique experiences.



Related articles on Grape Collective:
Interview with Miguel Ángel de Gregorio, Finca Allende, Rioja, Spain, by Christopher Barnes

It's a French Barrel. No, It's an American Barrel. It's Both! A Rioja Story, by Dorothy Gaiter and John Brecher.

La Rioja Alta: Rich History, Rich Wine and Our Third-Day Surprise, by Dorothy Gaiter

Rioja: At The Crossroads of Ancient and Modern, by Kristen Bieler
See related videos on Rioja here.

Read more on food in Rioja by Lisa Denning at The Wine Chef: On The Tapas Trail in Logroño, Rioja.