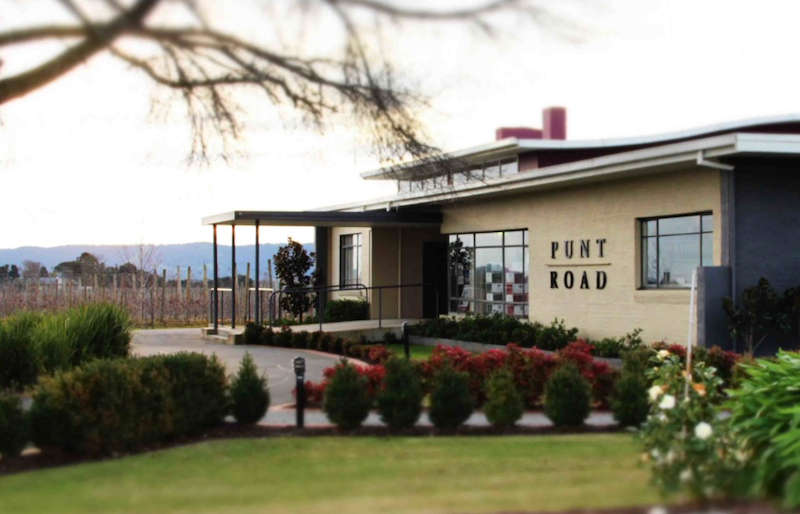 Pop culture depictions of Australia tend to emphasize the heat. The great southern continent brings to mind movies like Priscilla, Queen of the Desert and Kangaroo Jack. My impeccable taste in film notwithstanding, these movies show the hot, dry desert of the continental interior; but Australia is almost as large as the mainland United States, and its climate varies just as widely. The city of Darwin in the tropical north is closer to Jakarta, Indonesia than Perth, Melbourne, or Sydney. The very southern tip of Tasmania is at the same comparative latitude as the Pyrenees Mountains at -43 degrees. In the Old World in the Northern Hemisphere, the sunnier latitudes between 36 and 43 degrees yield amazing wines-- think Rioja and Priorat in Spain, Puglia and Sicily in Italy, and Duoro in Portugal; but you would never describe any of those regions as having a cool climate. The Yarra Valley in the historic wine-growing state of Victoria is commonly seen as a "cool climate" wine region.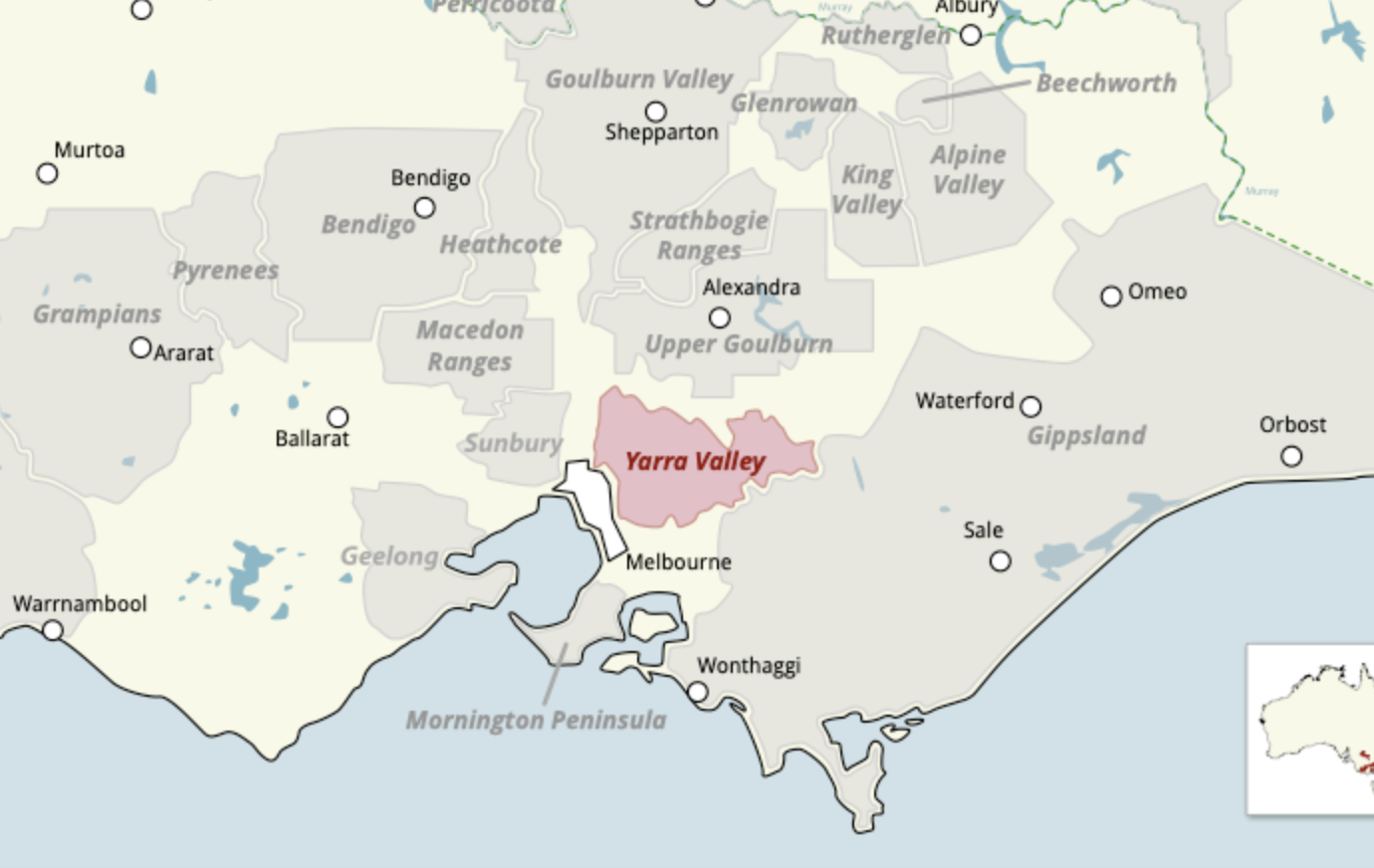 Australia is not Europe and climate is not only dependent on latitude. Climate and microclimates are impacted by more than just how much sun hits the surface of the earth. James Halliday, famous Australian wine critic and winemaker points out that Yarra Valley has various meso and micro-climates and that only very recently have winemakers really dug into the science behind climate and grape matching. In general, Chardonnay and Pinot Noir thrive in the Yarra Valley-- not because the Yarra Valley has the exact same conditions as Burgundy; rather, it was relatively cooler than the rest of Australia and Victoria, so wine pioneers planted vines they thought would work there, Burgundian varietals, and they happened to really thrive. Only within the past 30 years have winemakers really begun to look into why that is the case and use that newfound knowledge to improve viticulture, like introducing novel varietals like Gamay, another Burgundian varietal that thrives in Beaujolais in the south of Burgundy.

Image generated using Wine Maps Pro (http://www.winemapsapp.co.uk). Copyright © Jon Lord (© OpenStreetMap contributors).
Victoria is Australia's oldest wine growing region. William, James, and Donald Ryrie planted the first vines in Yarra Valley in 1838. The growth really took off and in 1889 a Yarra Valley wine from Yering Station won a grand prix at the Paris Exhibition. Unfortunately economic decline and a change in preferences for Australian "sticky" fortified sweet wines pushed out dry table wine production by the 1920s. The new wave began in 1963 with Watirna estate and kept growing. Today 80 estates in the Yarra Valley produce some of the most elegant Australian wines. I sat down (and logged on Zoom) with Tim Shand of Punt Road to talk cool climate, Australian wine misconceptions, and the past and future of this historic and lauded region.
Jackson Mattek: Where are you speaking to me from today?
Tim Shand: Just from the tasting room in the winery. So Coldstream, it's about an hour's drive east of Melbourne.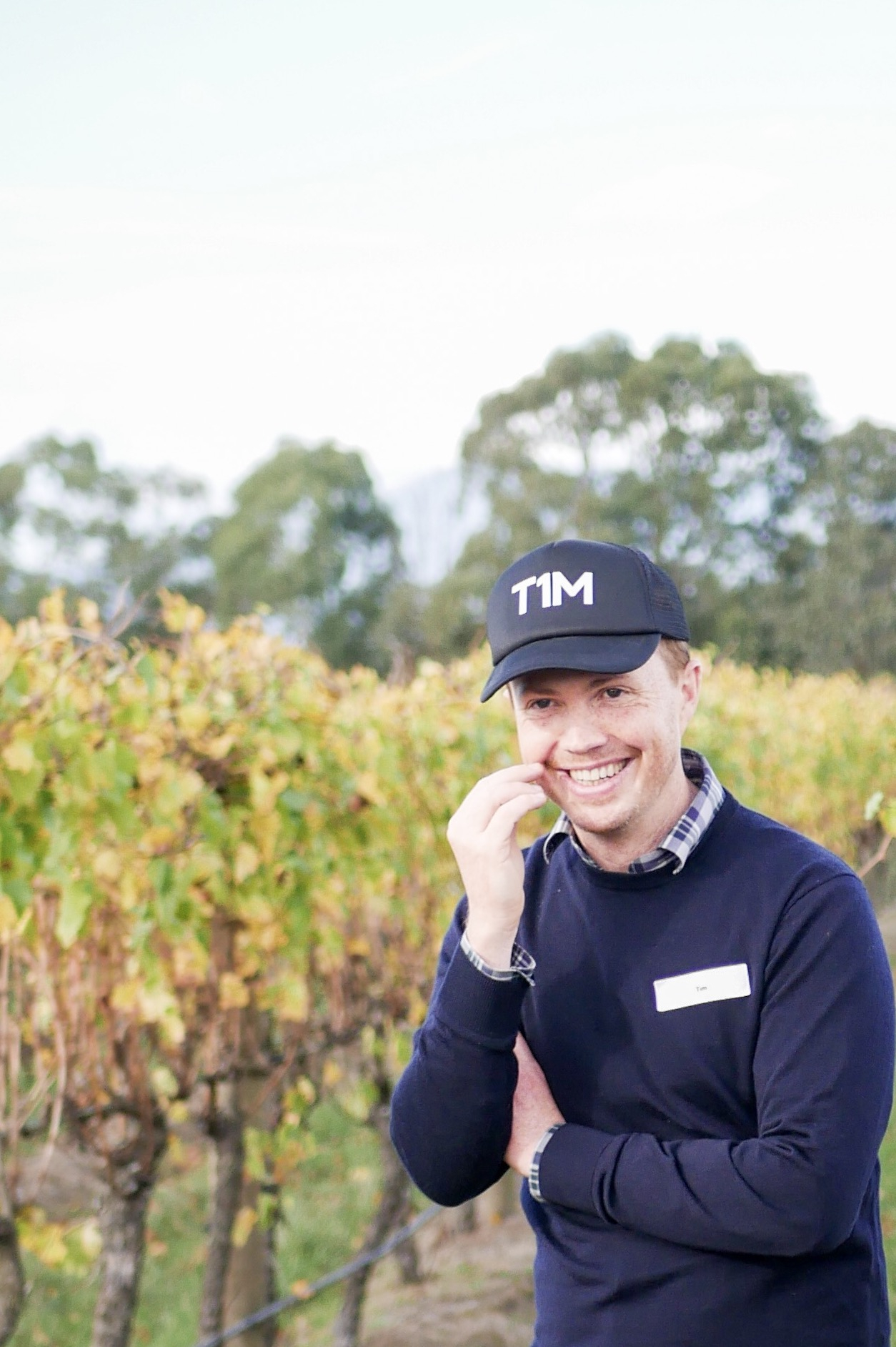 Obviously you're on the reverse schedule of us here in the Northern Hemisphere. What's happening to the vines? What's happening in the vineyards right now (late November)?
Right now we're just in a really lovely period of weather that coincided with flowering and fruit set. So we get bud burst here in late August, and then depending on the season, we get flowering in early November. And then hopefully that turns into fruits, right about now, which it has. And yeah, we just hope for some really lovely weather, lovely, warm, clear weather for that process so that the caps don't stick to the flowers and stop the bunches from forming properly. From here, we get bunch closure just before Christmas, and then we come back and we might have started to see some veraison in the first couple of weeks of January. And then we start harvesting late February, early March.
When talking to Americans about Australian wine, there's a disconnect. What do you think is the biggest misconception the American wine audience has about Australian wine?
I would say for better or worse, it's a more complex and sophisticated scenario than possibly they had in their head. Obviously we have all the time and inclination to explore the complexity and variety of Australian wines; but understandably in a market like the US where you're taking wine in from all over the world, it's tempting to just pigeonhole Australia as maybe it's a Barossa Shiraz or maybe it's a cheap and cheerful soft red, but the truth is more complex. But I guess it's all the better for it. The continental Australia is almost the same size as continental US. So you could imagine the variation of soil, and climate, and growing conditions for wine when you literally go from the tropics in Darwin, which is much closer to Jakarta than any other capital city in Australia, right down to Tasmania, where parts of it are cooler than New Zealand. So everything in between.
People always talk about Yarra Valley as a cool climate region. So how cool are we talking? Are you dealing with frosts? Are you dealing with not ripening?
That's a really good question. It might be the rest of that time taken up by answering that one (laughs). What I find here, as opposed to Tasmania, is it can actually be quite variable. And anyone who has lived in Melbourne or surrounds will tell you it's notorious in Australia for having the most unpredictable weather. I don't know if the saying came from here but people say if you don't like the weather in Melbourne, just wait 20 minutes. Inevitably in a day we can have everything. So we can have vintages here that are as warm as the Southern Rhône where Shiraz (Syrah) can perform really well. I've had vintages here that [in heat degree days] would compare to Champagne when we barely got Pinot Noir right. Obviously the overall trend is to a warmer climate, as with everywhere. What we hang our hats on is the nighttime temperatures. If we can get that nice, cool edge to the night, we find we can retain acidity and even if our day is quite warm, as long as it gets down to six or eight degrees Celsius at night, then we still maintain freshness and, I guess what you look for in a cool climate wine, which is that energy.
You do a Gamay. Are other people in Yarra doing that or is that unique to you?
That's where we're at. That exact topic of what the weather and what the climate is going to do over the next couple of years. And we're quite devoted to Pinot Noir. Pinot Noir [is] 60% of the plantings of the Yarra Valley, and you do have to have a little bit of insurance and Gamay seems like an obvious next step in the warmer side. So for us, as the hills and slopes that face westwards or northwest that cop all of that really late afternoon sun, you probably wouldn't be planting Pinot Noir there anymore. And Gamay would seem to make sense, not just because it will cope with that heat and maintain acidity, but because you'll be producing a wine that your customers are already kind of familiar with. If they're into Pinot Noir, it's not so different to Gamay, of course.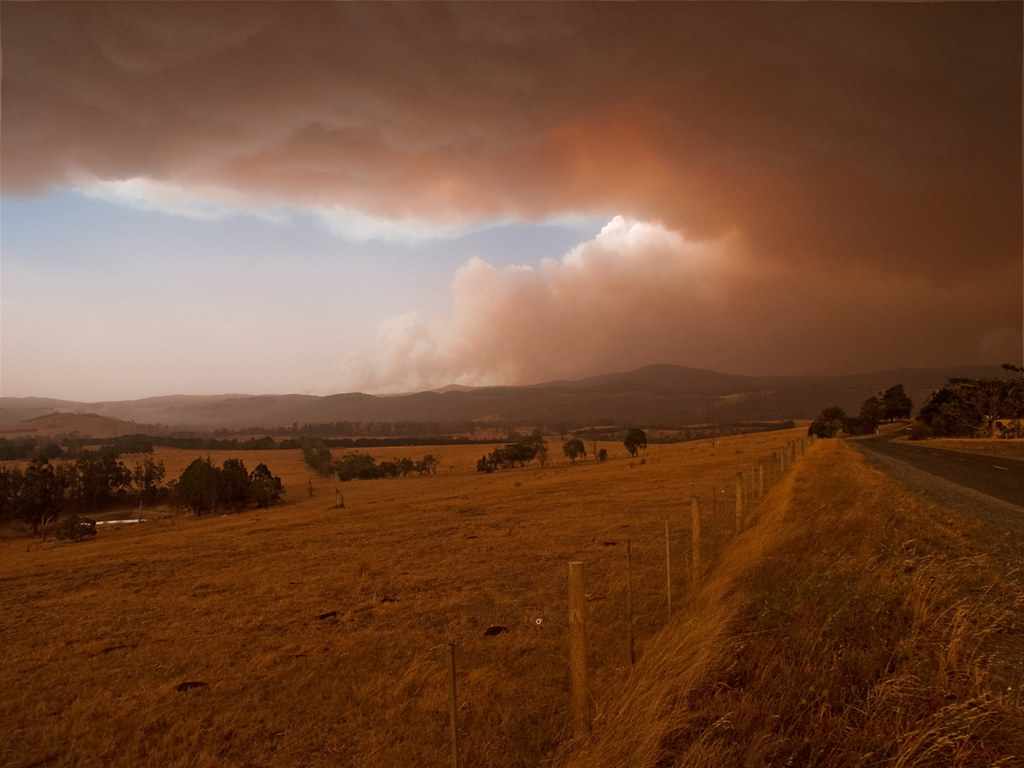 What is the history of Yarra Valley and Punt Road?
So there are two histories. There's ancient history, which is... Well, not so ancient probably if you go to European wineries that you come across. But where we are, about an hour east of Melbourne, is the first place that grapes were grown in Victoria. That's our state: Victoria. They were planted in the late 1850s. Victoria, and this part of Australia, had a Halcyon period where we had a really big gold rush. Victoria was actually the largest net importer of Champagne in the 19th century, or the late 19th century. People were drinking European style table wines, so 11 to 13% alcohol, dry, savory. And it would've been a colder climate back then. It would have been quite a difficult place to grow grapes with the technology that they had. So from 1860 to just before World War 1, they were making the full range of what you would call cool climate varieties. [They exported] to the UK, a little bit went to the US.
(Yarra Valley during the "Black Saturday" Bushfires of 2009)
And then what happened, I don't know if it was World War 1 brought it on or everyone just needed to drink something a bit stronger. And that's when the Australian wine industry really pivoted towards ports and sherries, and that's where a lot of the Barossa and McLaren Vale stuff comes from today, is vineyards that were planted to make really strong fortified wines. And now of course, they make fantastic 150-year-old vine Grenache and Shiraz. And the Yarra Valley, no one could make sense of it in terms of growing grapes. Nobody wanted to drink those savory elegant wines, and actually, just after World War 1, it went completely back to dairy. So it was cheese and milk.
Yarra Valley started up again in the late sixties. Basically the local medical doctors had obviously got an awareness of the wines people would drink in Europe and thought that this will be an ideal climate to grow those wines. So Mount Mary, Yeringberg, and Sybil Estate. And so that's when viticulture started up again in the Yarra Valley and we came in about 15 years after that. So our vineyard was founded 1987 and that was the more commercial way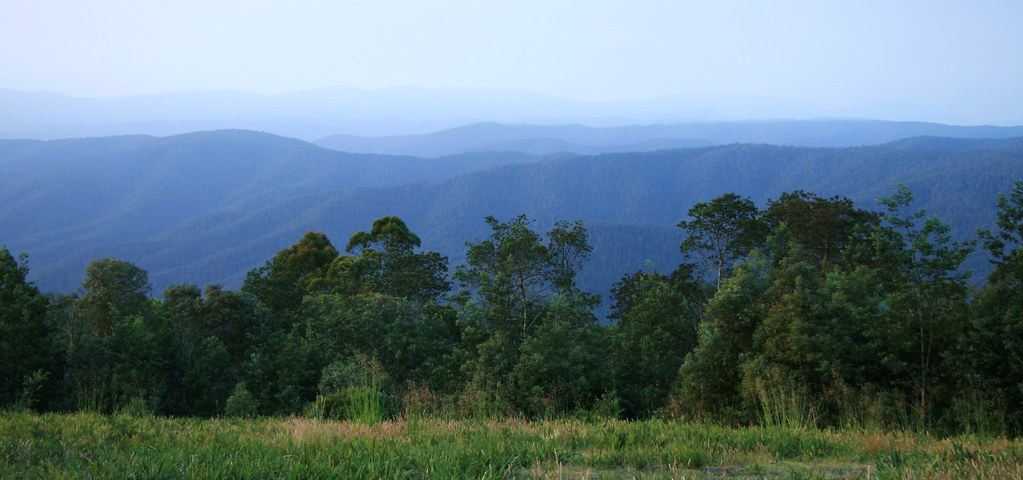 of planting. So that was Coldstream Hills, Chandon, Constellation or what was then the Hardy Wine Company, and ourselves with decent sized vineyards. We've got 107 acres of vineyard here. So we've got, I think, the biggest single vineyard site in the Yarra Valley. So yeah, for us, the history goes back to 1862 with a bullet, 1987 in terms of our vineyard.
(The steep hills of the Upper Yarra)
Do you have either a favorite wine or a wine that you drank and realized, "This is what I want to do. This is my life?"
I traveled a lot when I left... Well, I got kicked out of uni. I was doing an arts degree and I did that classic: spend far too much time in the tavern and far too little time in my first year of university actually studying. And so I got pretty much kicked out of uni, and went and traveled. I had some family in Zimbabwe and ended up in South Africa, and I tasted a Pinotage at some vineyard there and was chatting to the winemaker and realized you could not only drink wines like this, you could make a living making wines like this. And so, yeah, weirdly enough a Pinotage in South Africa was my Eureka moment on wine.
Your Chardonnay: you do about half malolactic. Do you think those tastes are changing? Do people expect something from Australian Chardonnay and how does your philosophy fit into that?
This is the big discussion around Chardonnay in Australia. We really staked our claim with these. Very fruit-forward, bigger body, malo was part of that but a very overt malolactic fermentation character whether it's popcorn or butterscotch or whatever. Obviously a lot of oak. So there was a style of Australian Chardonnay that people really loved. They were very, very seductive wines. And then we evolved too far. Australians, we're a bunch of naval gazers. We've got this massive cultural cringe here so we're always thinking, "Oh, who's doing it better?" And, "What should we do?" And we run off and do that for a bit and then we find our natural balance.
So we all went off and tried to make Chablis wine for a while, and it just got silly. They were just really tart, really acidic wines that needed 10 years under the screwcap cap to be even drinkable. So I like to think in the last couple of years, we've found a nice, happy medium from cooler climate. So rangings like this, where you can pick at fruit ripeness. You're tasting, for us, the stone fruit character, yellow peach, yellow nectarine. In Tasmania it might be more citrus. It might be a more lemon or a lime character; but you've got to have that fruit flavor for me.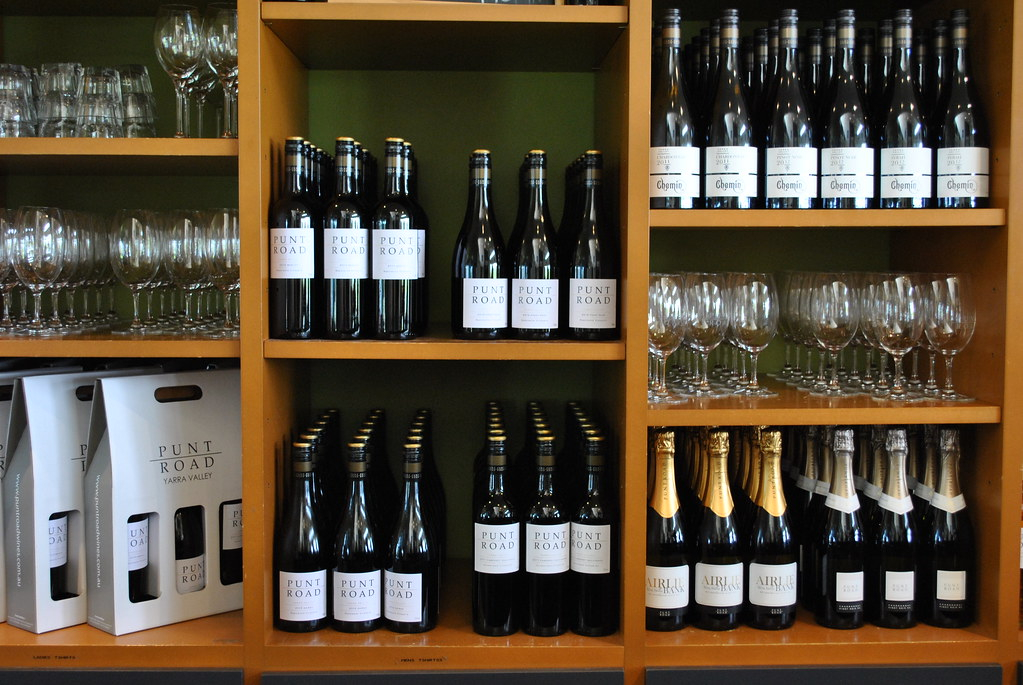 And hopefully the acidity is still there by the time we pick it. And then using larger oak. So not the barriques to really get that oak impact. Larger oak which integrates better with pretty gentle fruit flavors. And then malo-- not all [of the wine goes through malolactic fermentation]. Whether or not is a vintage by vintage decision. To me it's not about the flavors of malolactic. We try to put the most neutral bacteria strain we can get our hands on and we are just looking to ameliorate the acid so that it's a lovely soft acid rather than a hard acid you can see, obviously, from malic acid. So it's purely stylistic. It's not looking for any flavors of malo.
Let's say an American never had Australian wine outside of the bigger brands, which one of your wines would you want to put forward as the thing to change their mind?
I think it would be our Airlie Bank Cabernet Franc, which might sound a bit crazy because Cabernet Franc is a geek wine variety here, I suppose. Like all the somms love Cab Franc. But we've made it almost like a Beaujolais Nouveau. So really a lot of whole bunch, a lot of carbonic maceration. So you get this lovely hit of sweet Cabernet Franc: blackberry, and dark red fruits. But then there's all these lovely... I don't want to say vegetal but it is a little bit leguminous. It's Cabernet Franc which is a really distinctive flavor that even a novice could pick up. So it's a really nice balance. Not too much oak, it's all old puncheons, it goes into only for a few months, we release it really young.
I find everyone in wine, whether they just starting to drink or they've been drinking for years, everyone responds to really transparent, really pure fruit flavors. We're trained to come out and look for ripe fruit on the vine or on the tree. So everyone can quite evocatively respond to that without necessarily knowing a lot about why. But the wine can still be profound if it's well grown, if it's well made. It's not cheap and cheerful. It's actually got some profundity into it, completely approachable. So that'd be it for me.