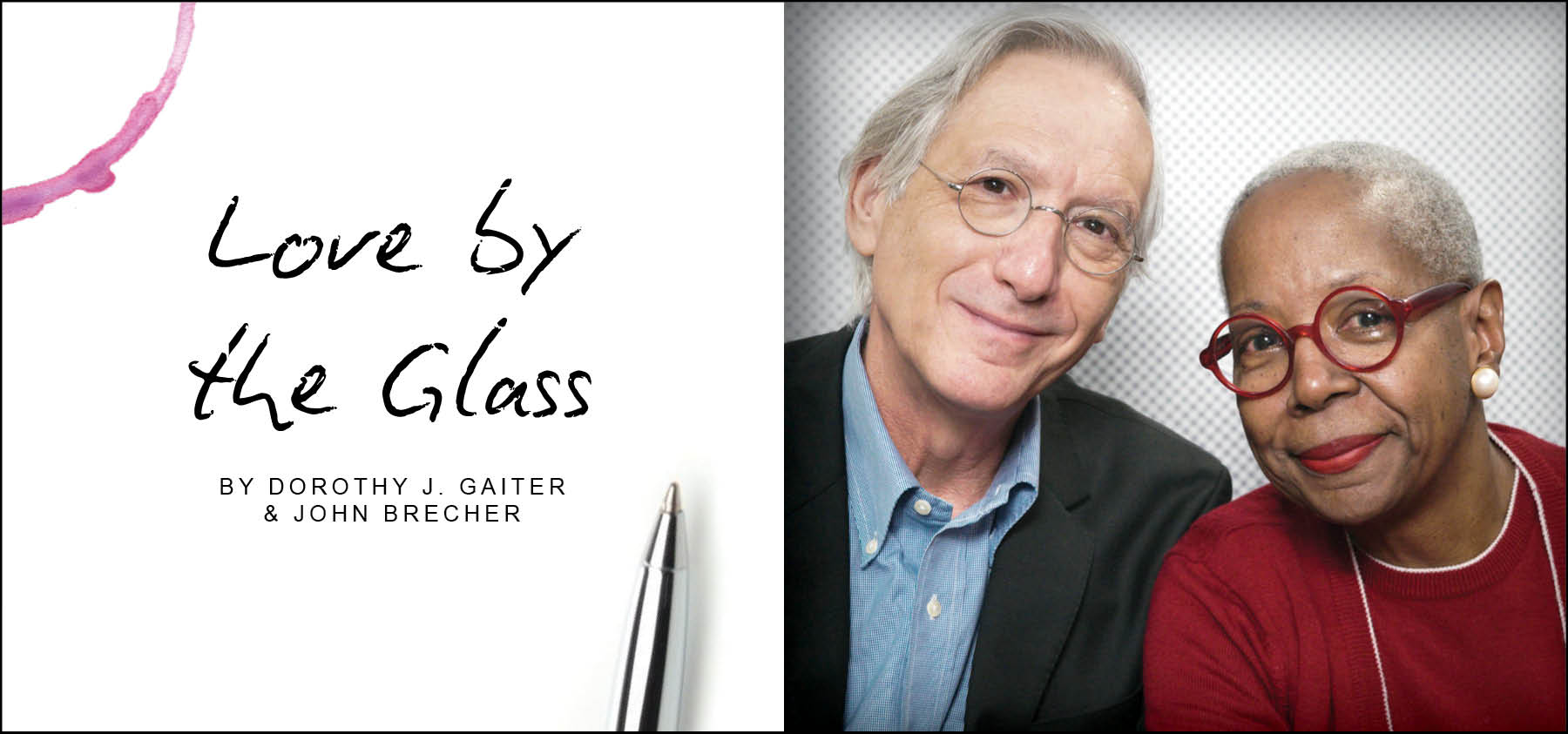 Sometimes the pull of things is so strong that it cannot be resisted, like the moon's influence on tides. From what Cristina Scarpellini says, when she first set foot on a one-hectare vineyard on the vertiginous Alpine slopes of the Valtellina Valley in Italy's Lombardy region next to Switzerland, she knew she was meant to be there. At the time, she was a lawyer in a prosperous firm in Milan that drew up contracts for projects like airports, road networks, and, serendipitously, a project involving wineries.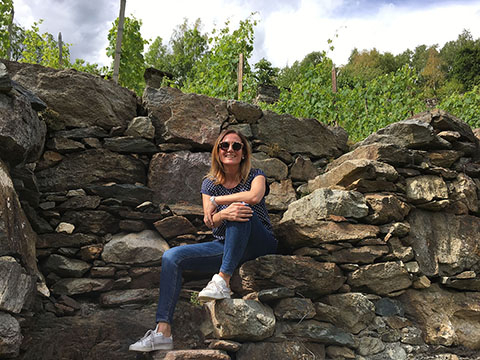 Today, she and her husband's 6,700-case winery, Tenuta Scerscé, is part of the renaissance of the little-known Valtellina wine region. It all started when, in 2008, a winery-development client asked Scarpellini if she might be interested in renting a hectare (2.5 acres) in Bianzone in the upper Valtellina area. Valtellina is one of the wine world's most extreme and challenging locations. The terraced vineyards there face south, basking in uncommon amounts of sunlight in the valley that runs east to west. Soaring above the winding Adda River, the vineyards are so steep that in most properties tasks must be done by hand, as they have been for more than 1,000 years.
"Sometimes things happen in life that no one can predict. I strongly believe in coincidences," Scarpellini, 45, wrote in response to our question about the former client's rental offer. "Together with my husband we said yes and so my adventure began. What initially was for a hobby is now my job, but I understood almost immediately that the future for me would be viticulture. I am passionate about it." In 2018 she and her husband started building a new winery in Tirano, in eastern Valtellina.
While the topography of the tiny, 2,100-acre, vertical viticulture region alone would be daunting, the most prominent grape of the sandy loam and granite-rich region is not for the faint of heart, either. It is late-ripening, thin-skinned, often difficult Nebbiolo, the grape of Barolo and Barbaresco. In Valtellina it is known as Chiavennasca and there are several clones of it. Some researchers believe Nebbiolo may have taken root in Valtellina before it arrived in Piedmont. It is the only grape Tenuta Scerscé utilizes and all of its wines are 100% Chiavennasca. In 2017, Scarpellini hired well-respected viticulturist and Tuscan-wine specialist Attilio Pagli as her oenologist consultant.
The winery sent us three of its wines: 2018 Rosso di Valtellina "Nettare" Nebbiolo DOC, $28; 2016 Valtellina Superiore "Essenza" Nebbiolo DOCG, $40; and 2016 Sforzato di Valtellina "Infinito" Nebbiolo DOCG, $60. Each was markedly different from the other, yet clearly members of the same family. The Rosso di Valtellina, all stainless steel and concrete fermented and aged, had a buoyant freshness that reminded us – the sense of it, not its tastes -- of a friendly Beaujolais. The Valtellina Superiore, with its honored DOCG status, threw us for a loop. It was fermented in stainless steel and aged in used oak for two years. In discussing it, we mentioned Swiss reds and German Spätburgunder because it had a pure fruit and earth Pinot Noir quality. Contradictions everywhere. Exciting. "Not as ephemeral as German Pinot. It has more muscularity, but that muscularity is under a surprisingly light package. So it's easy to drink and yet always stands tall," we wrote in our notes.
The Sforzato DOCG was made with late-harvested grapes that were dried, raisined, the way Amarone is made, which concentrates the sugars. "The sfursat method gave this a bit more body and length, but not too much. It had the same general tastes as the first two—they didn't lose their fundamental character along the way. Really outstanding and fascinating wines," our notes read.
They were unlike any Nebbiolo we had ever had, with a light-colored, elegant angularity, tension and a cherry-berry tartness that was so startling and enjoyable that we ordered more online. They had varying expressions of the rose, violet and dried-fruit scents that are familiar from more traditional Nebbiolo, but there was a lightning strike kind of clarity there, too. The winery released three new Chiavennasca wines in December, including one named after Scarpellini because the grapes come from the first vineyard the couple purchased, but they have not yet hit the U.S. (All are represented in the U.S. by Dalla Terra Winery Direct, a direct importer and agent of family-owned, estate wineries in Italy.)
"Honestly, I never thought of cultivating a different vine. Perhaps a white variety at our high altitude, because in my opinion it could be very interesting. But not Chardonnay or any other international variety.
"I must say that we have always worked in purity and all wines are 100% Chiavennasca. This is my philosophy now.
"I like to think of my wines as being recognizable for their stylistic rigor, freshness, cleanliness, verticality, elegance," she wrote. "We always look to tradition, without disdaining new technologies."
The region's wines for a long time were sold primarily in Switzerland through an arrangement between the governments of Italy and Switzerland that required Swiss importers to buy a specified amount of wines from Valtellina, according to "Vino Italiano, the Regional Wines of Italy," by Joseph Bastianich and David Lynch. After that arrangement expired in the 1980s, the wine industry there went into a downward spiral and about 80 percent of the high-altitude vineyards were ripped out.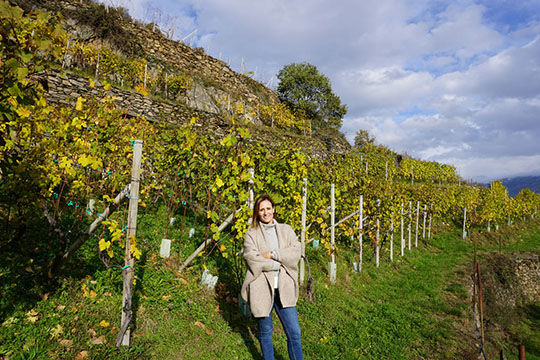 "There was a difficult moment but then we recovered very, very well," Scarpellini wrote. "I would say that the greater the awareness of having an excellent grape variety like Nebbiolo, the greater the commitment. The quantities have not increased, but the quality has. The new generations, including myself, have brought news and excitement but also capacity, respect for the territory, great quality and the future."
An intense, studious woman, Scarpellini was unafraid of the steep learning curve of making wine in such a difficult though stunningly beautiful place. She had written her research thesis in civil law at the University of Paris Sorbonne, Panthéon Assas II, which some consider the best law school in France. Her legal work took her to the Middle East and Africa. "I went to Syria when Damascus was still intact," she wrote us.
"I am a woman, wife, and mother of two beautiful children. I like to travel and meet new people, new worlds, new cultures. I am quite curious and also a little rigorous. I am fascinated by Oriental medicine because it is holistic. Looking at man in all his entirety is not part of Western culture. It is very fascinating," she wrote. "Also in the relationship with nature you learn to look at everything. The limit is human, but the gaze always helps us to go deeper." Not surprisingly, she and her team farm sustainably and organically.
There are now about 40 producers in Valtellina, including pioneers like Nino Negri, which was founded in 1897, and other well-known producers like Sandro Fay, Aldo Rainoldi and ARPEPE (Arturo Pelizzati-Perego), whose fifth-generation members helped obtain recognition of the area from UNESCO, which named it a World Heritage site, with special attention accorded its stone walls, fragile structures.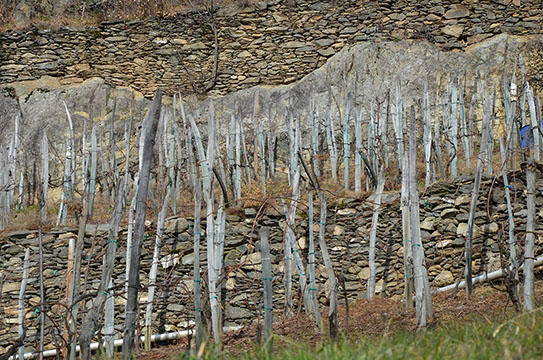 Like others in the new generation she referred to, Scarpellini has brought new energy and resources, building on what the first, deep-rooted visionaries charted. For example, Scarpellini has served as president of a local foundation established to care for the stone walls.
The Valtellina DOCG Superiore viticulture region, one of two with that highest designation DOCG (the other is Sforzato di Valtellina DOCG) consists of five sub-zones or villages: Valgella, Sassella, Grumello, Inferno and Maroggia. There are strict rules for how these dry red wines are made and aged. Of the 17 acres she farms, Tenuta Scerscé owns seven in Teglio (Valgella) and rents the other 10 in Triano, Sassella and Inferno.
From what we've read about the region and learned from Scarpellini, the Chiavennasca grape met its match in the region's ruggedly determined people, who over centuries learned to make the best use of the region's altitude and soils and the vines' exposure to the sun and breezes to achieve the ripeness they require.
"From the beginning I stepped into the Valtellina with patience and respect, taking care of this fascinating yet fragile territory. This work represents continuous research to me, where a doubt is always a question, where respect, dedication and attention to detail are the starting point, always.
"It is a very fascinating world," Scarpellini wrote. "In addition to the fact that temperamentally I am a person who goes all the way when starting a business, I have learned to depend on something. In this work it is not you who commands, but nature. We are all not used to this. We think we can do it all by ourselves. Here, on the other hand, one learns to depend and also to follow the unexpected. A new way of living the everyday too, don't you think?"
Indeed it is.
Dorothy J. Gaiter and John Brecher conceived and wrote The Wall Street Journal's wine column, "Tastings," from 1998 to 2010. Dorothy and John have been tasting and studying wine since 1973. In 2020, the University of California at Davis added their papers to the Warren Winiarski Wine Writers Collection in its library, which also includes the work of Hugh Johnson and Jancis Robinson. Dottie has had a distinguished career in journalism as a reporter, editor, columnist and editorial writer at The Miami Herald, The New York Times, and at The Journal. John was Page One Editor of The Journal, City Editor of The Miami Herald and a senior editor at Bloomberg News. They are well-known from their books and many television appearances, especially on Martha Stewart's show, and as the creators of the annual, international "Open That Bottle Night" celebration of wine and friendship. The first bottle they shared was André Cold Duck. They have two daughters.
Banner art by Piers Parlett