Lyle Railsback had the dream job. He was the National Portfolio Manager for Kermit Lynch Wine Merchant, one of the pioneering importers of French and Italian wine. His job was to advocate for some of the world's most interesting wineries and passionate vignerons. For many of us who have fallen for wine, Kermit Lynch's Adventures on the Wine Route was an important step in understanding the poetic beauty and nuance of small artisan wineries. In his job, Railsback walked in the footsteps of the fabled wine route, meeting, tasting and most importantly helping to find an audience for these artisan vignerons. Not many people get their dream job and I expect fewer still walk away from it especially for the uncertainly of becoming an entrepreneur.

Grape Collective talked with Railsback about his life on the wine route and his transition to becoming an entrepreneur starting a new wine label with his brother Eric.
Grape Collective: Lyle, tell us about your new project, Railsback Frères. How did it get off the ground?

Lyle Railsback: We just bottled our sixth vintage of rosé, the project began in 2015 solely as a rosé project. We made three tons of rosé from Santa Barbara County working with Mourvedre, Cinsault, and Grenache, inspired by Domaine Tempier and Lulu Peyraud. We call our rosé Rascasse, which is a scorpionfish. Lulu, who passed away last year at the ripe age of 102, used to tell us that Rascasse was the key ingredient for bouillabaisse. So it's kind of an homage to her. It's also a bit of a play on words because the scorpionfish is kind of a trash fish that doesn't have much of a market, at least in America.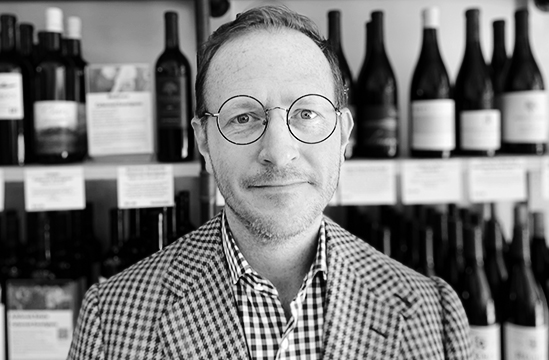 So for our wine project we were going to Santa Barbara County where most of the vineyards are growing Pinot Noir and Chardonnay. It's much more expensive. We were kind of finding leftovers like Carignan and Cinsault and Vermentinu and grapes that don't get a lot of press. Our Railsback Frères project has been focused on Mediterranean varietals inspired by the 12 years I spent working for Kermit, and our time in Bandol and Provence and Corsica. So yeah, it started from three tons of fruit and now we're up to... We did 2,700 cases of Railsback Frères with the 2020 harvest. So now it's becoming more of a full-time thing.

And you worked for Kermit Lynch, how did you get that job? What was it like for the time you worked with him?

Super lucky, I guess, it's just, kind of who you know, rather than what you know. I was working in retail in Portland, Oregon, and also restaurants simultaneously, I was working seven days a week and just obsessed with wine. Started buying lots of Kermit Lynch wine, I got to know Bruce Neyers who was Kermit's national sales manager for 26 years. Bruce then got me a job. I was moving to Washington DC for a girl and Bruce got me a job working for Winebow selling wine on the street, and I really fell in love with that, and sort of seeing wine in a new way and just sort of stayed in touch with him. Eventually, Bruce created a job for me at Kermit. In 2008, I started working for Kermit and it was the thrill of my life. It was this amazing... Just what a portfolio of vignerons in both France and Italy. I learned so much from it. We started doing this project, like I said, six years ago, and as it's changed and morphed, now someone has to sell the wine.

What are some of your great memories of working with Kermit and his amazing producers?

I mean, it's really like, where do you start? Every year we would do a big trip to France and Italy, two weeks, two and a half weeks in January and another two weeks in March. We would traverse the entire country of France in two and a half weeks. It's walking vineyards with Raveneau, being in the cellar of Vieux Télégraphe with Daniel Brunier... I mean, countless memories, Kermit has over 200 producers, some of the best French and Italian wines on the planet.

So just getting to know those guys, getting to learn... I think, quickly, my favorite wines became the Rhône. So we make Syrah, Railsback Frères, really inspired by our time with Thierry Allemand and August Clape. Just making Syrah with this kind of high-toned aromatics is really what we're going for. But yeah, I think some of the memories of Corsica too, one time in Collioure, our grower in Collioure had paid a diver to go bring up sea urchins, and they had a whole box of sea urchins. So he stood there and shucked the sea urchins and drank Collioure Blanc and it was... I mean, little stuff like that that you don't even think of. People obviously think of the big names like Raveneau, Jean-François Coche, and Roulot, which of course are incredible. But I think sometimes the more off-the-beaten path treasures are just as special as the big names.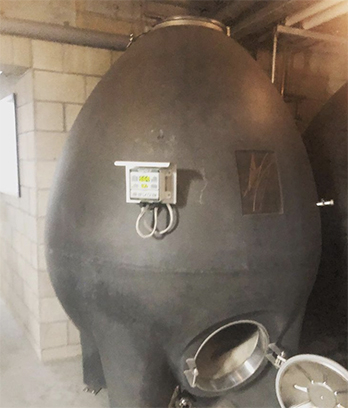 What are some of the off-the-beaten path regions that you sort of fell in love with working for Kermit, that people wouldn't necessarily think about when they walk into the wine store?

Yes, I think Corsica is at the top of the list. Kermit's pretty obsessed. He has nine producers on the Island of Corsica and such a range. I mean, you think, you know Vermentinu is a pretty salty, fresh, Mediterranean white, when you taste Vermentinu on Corsica, like it's a whole other level. Some of those wines that Arena, Abbatucci, and Canarelli are making, it's almost like Premier Cru white Burgundy on the island or something. That's definitely something that inspired us. Another favorite place of mine in France is French Catalonia. So Collioure, Banyuls, that area just right on the border of France going towards Barcelona. Super inspiring, amazing place. That's very much off-the-beaten path.

What are some of the producers there that you...

Kermit has a grower there called La Tour Vieille, who's in Collioure and Banyuls. The wines are stunning and they're under $30 a bottle. Really, treasures. I mean, it's kind of like discovering Bandol 30 years ago, before everyone else discovered it. Yes. That's definitely one.

So you had this fantastic job with Kermit, you get to meet who's who of the greatest winemakers in the world, and then you had this decision, like "I'm going to leave and start my own business." How did you go about doing that? How was that decision? How did you come to that decision?

It was a gradual thing. It wasn't like I woke up one day and said, "I'm going to leave the job of my life." I think Kermit was an experience of a lifetime for me. I think, as we grew, Railsback Frères, it turned into something more than we thought it would be. At the beginning, we just did it for fun. We thought we'd make some rosé, and if we didn't, if we couldn't sell it, we would just drink it all ourselves. It was really good. We sold out of it, and kept making more and more. The project got to be big enough where it's like... Now it's a full-time job. That happened at the same time Kermit sold 25% of the company and my role there shifted a bit. It was kind of perfect timing for me to really step out and do my own thing.

Talk a little bit about the varietals that you work with. I mean, people go into a wine shop, they ask for a Cabernet, ask for Sauvignon Blanc, Pinot Noir, but Vermentinu is kind of not the first word that usually rolls off of a wine customer's lips. How do you build a new business on the back of some of these more esoteric varietals?

Yes. I think that I was that customer. I was the guy going into the wine shop asking for Cabernet and Chardonnay, not too long ago. We came from a family that didn't drink. Wine was this sort of exotic luxury thing that I got into, cooking in high school and college. So, I got into wine sort of via cooking. I think like most people, you don't really know where to start and it's super intimidating. You look at a shop and there's thousands of choices and it's really daunting. But I think as you learn more, you realize that some of the best treasures are things that you've never heard of.

Working for Kermit, I got to know stuff in Corsica; grapes like Sciaccarellu, grapes like Bourboulenc in Provence. My brother and I actually brought some cuttings from Domaine Tempier of Bourboulenc to Santa Barbara County and had some repropagated there.

We're working in the future doing even more obscure things. We have Counoise this year. We have Clairette. So even more obscure than Vermentinu. And a major thing I learned from Kermit was if you want value, you have to look where no one else is looking. And that's what Kermit did in Provence in the '70s. Obviously that's changed, but I think there's still so much value to be had even in California, Santa Barbara County, Santa Ynez, this is an incredible wine-growing region. It's also a place that allows you to have longer hang time, achieve wines with lower alcohol, more finesse, better acidity, more freshness.

That's kind of what we're doing. We have Syrah, we have Grenache, but we also have some more obscure, lesser known things just because we think they're fun and they need to be championed and obviously hand-sold, one bottle at a time.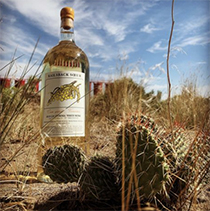 Talk a little bit about the viticulture. You don't own your own vineyards. You're working with growers. How does that relationship start and how do you maintain your vision on the wines? Because as everybody always says, the wine starts in the vineyard and that's such a big piece of it.

Totally. Yes. For vineyard management, we work with Coastal, which is kind of like the David Abreu of the Central Coast. Incredible vineyard management, meticulous. They do different kinds of farming depending on the client. We work with them to find what we think are the best sites. In one case, we've gotten a producer to change their farming to organics just for our project.

Other than that, we work with Bien Nacido, which is really one of the best vineyards we think in California for Syrah. They're an organic vineyard that was planted in the '70s. The part of the vineyard we're working with, the Z block, was expanded in the '90s. It's a really steep parcel, really great place for Syrah.

We are contracting because we came from nothing. We don't have the funds to own our own vineyards and contracting fruit allows us the same amount of control as if we had our own vineyards. We get to decide when things are picked, how the fruit set is, choosing the lower yields, et cetera, choosing the harvest, in some cases, weeks earlier than other people in the same vineyard, you're still making wines with lower alcohol than other people around us. It's a way to have the control, but without having to have a huge capital outlay and have to bring on investment in that way.

How about the winemaking?

Yes, our winemaker's awesome. It's a guy from South Africa named Dieter Cronje. He's the winemaker at Presqu'ile, who's a partner with us. His assistant Mike Chase really does a lot of work for us. The guys are super awesome, they really get our vision. We go several times a year and work with them to make sure we're on the same page with how much whole cluster, how we want to make things vis a vis, non-fining, non-filtering, et cetera.

Then a consultant winemaker at Presqu'ile is Jeremy Seysses from Domain Dujac. My brother worked to harvest at Dujac in Burgundy, and he got Jeremy to come on as a consultant. So I really like the team at Presqu'ile, couldn't be better. We're definitely not there doing day-to-day stuff. My focus is more on selling the wines and traveling to do that, but the people there on the ground are doing amazing stuff and they have a similar philosophy to us.

Talk a little bit about the terroir in Santa Barbara as a whole.

Yes. It's a very diverse place. The Santa Barbara County is a transverse valley. It's an east to west valley. By having that, you have fresh breezes from the Pacific that really keep things cool. You have a bigger diurnal shift. The temperature between night and day is larger than other places. So you think about how far south Santa Barbara is, this is closer to LA than it is Napa, but it's a much colder wine-growing region because of that transverse valley. Because of the valley going east to west, the diversity is pretty crazy.

If you're closer to the coast, you can grow cool climate varietals, things like Pinot Noir, Chardonnay, Syrah. As you move inland, for every mile you travel inland, things are 10 degrees warmer. The closer you get inland where we're working with things that are more Mediterranean varietals, Grenache, Cinsault, Counoise, Clairette, Vermentinu, things that can work closer to the equator, but still have this sensation of freshness and balance.

That's really the climate. Then as far as the geology, the geography, it's an extremely diverse patchwork of different soil types. We're working with vineyards that are on marine sedimentary loam that have fossils and rocks. We have other vineyards that are on just pure sand and look like the beach like Colares in Portugal. Then we have some with the amphitheater with limestone. It's really like... Just a crazy diversity. Almost reminds you a little bit of Alsace, where in the same vineyard you can have 20 different kinds of soil types in one place. So we love what that has to offer in Santa Barbara.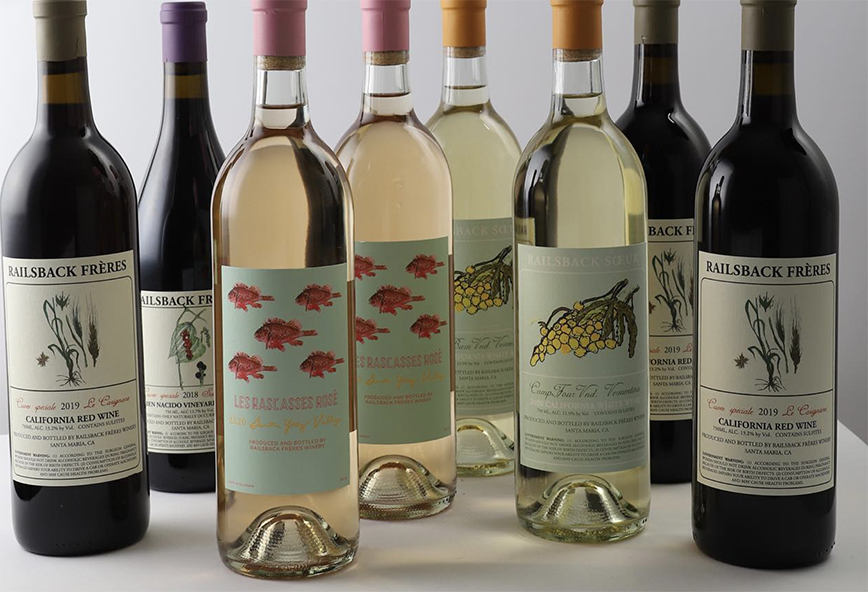 Talk about some of your wines.

We really just started making wines that we want to drink, and based on our experiences traveling. It's definitely stuff that people may not have heard of, but we love Vermentinu. We're going to be investing in really expanding that. We're going to have three single vineyard bottlings of Vermentinu that we're releasing later this year. Vermentinu is the main grape on the island of Corsica, the main grape on the island of Sardinia. It's all along the Italian Riviera. It's high in phenols, so has incredible aromatics, incredible complexity, this kind of sensation of bitterness in the mouth, this oily texture.

We're making white wine and rosé aged in wood. It's neutral wood, of course. We don't want to taste wood, but we want to have an exchange with oxygen by aging our wines in neutral wood. So for rosé, we do six months in neutral wood. We only use native wild yeast for fermentation. We never inoculate anything. It's the same for Vermentinu where we're doing fermentations in cement eggs. The shape of the eggs naturally stirs the lees, and gives you this sort of micro-battonage and this kind of texture in white wine that we think is really amazing. By having lower alcohol, by having better texture and malo. These are wines that you can have at the table and they go with a wide range of things. That's kind of what we're thinking.

And the rosé?

Rosé is, mostly, it's a blend of equal parts Mourvedre and Grenache, picked at 20-Brix and Cinsault picked at 22-Brix. We're harvesting quite early for rosé. We want to have lower alcohol, fresher style rosé. Everything with rosé is also done in wood, like I mentioned. So it's rosé aged in wood Burgundy barrels. It goes through a full malolactic fermentation in six months. It's going towards this idea of what Domaine Tempier was doing in the '70s, kind of. Rosé as more of a serious wine, but still lower in alcohol, easy to drink, refreshing. Not something everyone is doing with rosé, but we're making it like a real one.

You're also doing a Cabernet Sauvignon project.

Yes. Because of the diversity and climate, like I mentioned, for Santa Barbara, some of the sites for Cabernet Sauvignon are really great. We made a little private label for a Michelin star restaurant in New York for Cabernet Sauvignon, Merlot-Cabernet Franc. It turned out really well so we expanded it. In 2020, we made a thousand cases worth of Cabernet. We're going to be releasing it in July. It's going to be called Roman Ceremony just because it's a fun name. We wanted to keep Railsback Frères really about Mediterranean varietals. We think Cabernet has a good future there.

My brother opened RN74 with Raj Parr, and we've both had the chance to taste older Napa wines from the '50s and '60s, back when the wines had 12.5 alcohol. So our idea is kind of going back to that old style. Harvesting earlier, we want to have between 12.5 and 13.5 alcohol. We're only using neutral wood. We don't want to taste wood in the line. We want to taste Cabernet. We want to taste the place. We want to taste Santa Barbara County without being too green. Obviously finding that balance is important.
And Counoise?

Yes. We think it's the most exciting thing we're doing. We found a little Counoise at this new vineyard called Nolan Ranch. It was cuttings of Counoise brought over by Beaucastel for Tablas Creek. We asked Daniel Brunier from Vieux Télégraphe and Daniel Ravier from Domaine Tempier what they thought we should do with it, because we had never worked with Counoise. They both said that they hadn't worked with it either. So Daniel Ravier asked Château Pradeaux and Daniel Brunier asked Beaucastel, and they both got back to us and said, "This is the grape of the future, especially in a warming climate, a warming planet. It's a grape that retains good acidity, it has incredible aromatics. We should do it whole cluster." So we took their advice and we did, so we'll we'll release a 2020 Counoise in June. We think it's maybe one of the most exciting things we've done.