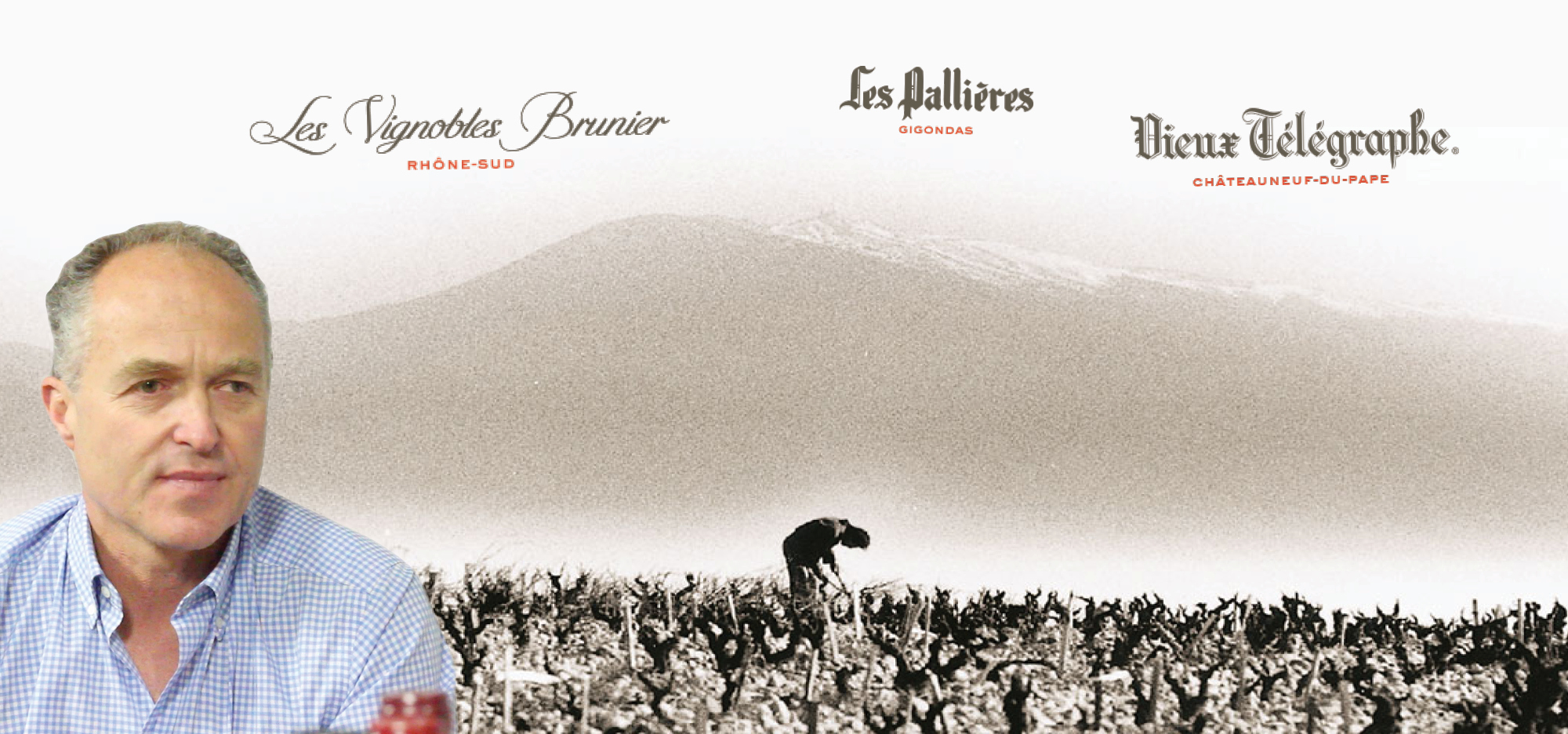 Châteauneuf-du-Pape, one of the most renowned appellations of the southern part of the Rhône Valley, is practically synonymous with Domaine du Vieux Télégraphe. Established by the Brunier family, the estate has been a fixture in the Plateau La Crau for over a hundred years and is known for producing wines that reflect the unique terroir of the region.
The history of Domaine du Vieux Télégraphe dates back to 1898 when Hippolyte Brunier, a self-sufficient farmer who lived off the land, maintained a small parcel of vines to make his own wines. His vineyard was less than a hectare in size and was situated on a rocky plateau known as La Crau. At the time most viewed this part of Châteauneuf-du-Pape as unfavorable. With its barren, rocky terrain, exposure to the elements it was not considered an ideal place for grape growing.
We talk to Daniel Brunier (below right) about the challenges of making wine in La Crau, the dynamics of a family business, and his relationship with importer Kermit Lynch.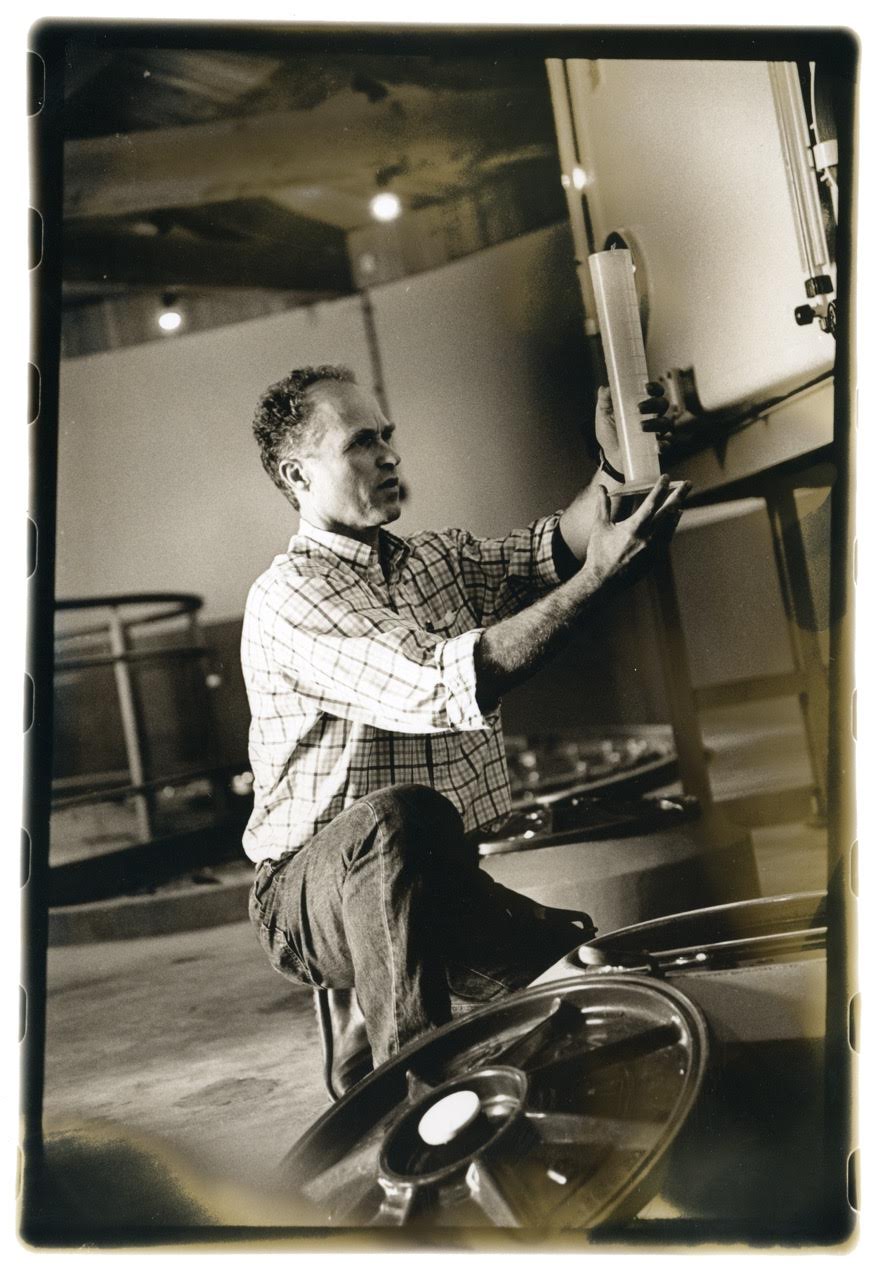 Christopher Barnes: Tell us about the history of your estate. Your family has been making wine in Châteauneuf for a very long time.
Daniel Brunier: Yes, our history began in 1891, I think. We have documents from this period. Andre Brunier, my great- great-grandfather, bought some land on La Crau and gave the land to his son, Hippolyte Brunier. He was the first winemaker, and together with his son Jules, they began to make wine on this part of La Crau. The winery was in a small village close to Châteauneuf-du-Pape in the southeast part, called Bédarrides, a part of the five villages which comprise the operation of Châteauneuf-du-Pape. You have Bédarrides in the southeast, Courthézon in the northeast, Orange in the northwest, Sorgues in the southwest and then in the middle we have Châteauneuf-du-Pape of course.
Things began slowly until after the second world war when my father arrived. During the war nothing happened, the vineyard was maintained but there was only a very small production of wine. At that time, my grandfather and his brother were fighting a bit so it was a bad period at Vieux Télégraphe. My father arrived really at the end of the '40s and he re-built everything and he really made Vieux Télégraphe what it is today. That means a single vineyard about 50 hectares on the Plateau La Crau around the house, which was built by his father on the Plateau La Crau and then another 20 hectares, which are on the slope of La Crau in the part which is facing south.
We arrived with my brother Frederic in 1980 and we took over the domain. My brother is an eonologist. I did some studies in business but nothing in wine, I'm sorry. I made the wine mainly by intuition. Since that day we have worked together and last year Nicolas, my brother's son, joined us. This year on January 16, my son Edouard entered the company, so now we are four. The sixth generation is on his way. That's the story.
How is it working with family? Not all families get along. Has your family been compatible in terms of running the business together?
Honestly, it was different during different generations. As I told you, the two brothers were fighting back in the day. We are happy that my father was a good person to bring unity to Vieux Télégraphe. We were lucky my brother and I are different in terms of character, in terms of patience. Since the '80s, he is mostly in charge of the vineyards. 100% of the vineyards are under his charge. Since 1986, Vieux Télégraphe is somewhere around 95 or 96 hectares in Châteauneuf-du-Pape, which is big in terms of vineyard size. We own another 25 hectares in Gigondas in partnership with Kermit since 1998. Something like 15 hectares in the Ventoux area, where we do Pigeoulet, we do Mégaphone. We have a partnership in Massaya where we grow about 50 hectares of vines.
It's a lot of work regarding the vineyard. We don't buy a grape. We don't buy a liter. That's our philosophy. We are growers. We are not merchants. We are lucky to be very complementary, in terms of our character, our background, our patience, so I'm more involved with the administrative side, cellars, winemaking also. We have worked 30 years together like this, and we hope our two boys will have the same attitude, in the same way.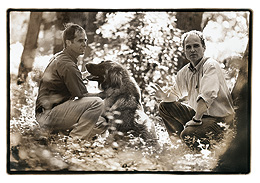 (Photo: L to R Frédéric & Daniel Brunier)
How did the family get involved with your importer Kermit Lynch? There are some wonderful passages in his book about meeting the family and dealing with issues of filtration or not filtration.
That's right. Kermit is always reflecting on fining, not fining, filtration. Honestly, he helped us to go in the direction we have chosen because you know when you're by yourself and you have to make a decision and you don't know the feedback of the market, it's quite difficult. Sometimes you make decisions which are not good ones just because the market asks you to make the decision. It's not a good decision. So, we were very lucky to meet Kermit somewhere around the early 1970s. My father was the first connection with Kermit. My father worked with us five years. That's it. Then he retired. That means in 1985 or '86, he was retired.
He built the business with Kermit in terms of his relationship with Kermit. Of course, we quickly took over and we are very friendly with Kermit. He's not a partner, he's a friend. I was in a Berkeley meeting last week, and we spent a day together. It's really a special relationship we have. We began to work with him when we imported the '78. That was the first vintage really imported in the US with Kermit. Of course that was at the beginning of the '80s, 1980. Then we worked during the years and we were not exclusive.
We had some direct imports on the East Coast. He became our exclusive agent around 1990. It's a very long-lasting relationship with him without any clouds. I mean, the business is growing every year since that date. It's still very strong. We taste really the same. That helps a lot. In '98, that means some years after having done the first shipping with him, we asked him to invest with us at our Gigondas operation, and he said, "Yes, but I want to be 50/50." The worst association you can be, you can do. We said yes, because he was playing, but we like to play.
We joined together in 1998 to buy Domaine la Palliere, which is a kind of a huge domaine about 130 hectares in one block, one plot, on the north end of the Gigondas operation in the direction of Sables in a cold place Lanseur. It's a huge and very specific microclimate. Among these 150 hectares, we have 25 hectares of vines in the middle of the woods, from 200 to 400 meters above the sea level, facing northwest, with pine trees, oak trees, olive trees, and cherry trees. It's a very specific place. We bought this place for the soil, the ambiance, the terroir, and the microclimate.
Then we rebuilt the house. We rebuilt the winery, rebuilt the vineyard. We rebuilt everything. Now we have been partners for 15 years, a bit more than 15 years, and we have had the same relationship since the beginning. That means we just stay together, and we say, "Okay, that could be better in that way. We should try to do something like this, and et cetera," but always very well-educated first. He respects a lot the producers and the winemakers, so that makes things very easy for me. I do the vinification myself at Pallieres. He's really a great partner.
When you started with him, some of your wines were being filtered and some were unfiltered. Is that correct?
When we started with him it was the beginning of the '80s and everything was filtered.
Everything was filtered.
Yeah, because you know in 1979, we began to do filtration. 1979, it's a very clear memory for me because that was my beginning. At this time, up in England, Switzerland, the US, all these markets which are still very strong for us, and of course the French market was developing. With these four markets, we still do 85% of our business still today, which is a very important thing. These markets were quite demanding on very precise wine and the filtration was quite an obligation at this time in terms of risk. We were not strong enough in our heads to say, "Okay, we don't care about taking risks." No, we cared about taking risks because we were just beginning with that kind of big quantity of bottles in the market.
Kermit arrived and said, "Okay, let's try a non-filtration wine." We did experimentation from this time until '84, experimentation every year. We compared the wines. Every year, we compared the wines. Every year, the wines which were not filtered were better blind. In 1984, we decided to stop the filtration for Kermit. We knew that the risk was relative, very small, two years of aging in wood. Racking every three months. Bottling was the last racking and then we did not bottle the one which was over the kind of ..., I don't know the name in English.
That was the real beginning. Then, the results were good, et cetera, and then it turned out after maybe two, three years we did not do filtration for everyone. Everyone was very happy, because you know Lynch is someone, but you have a Lynch in every country. I mean, this philosophy of natural wine. He is not an extremist. He's just likes to have all the taste of the wine. All the taste of the soil. All the taste of the place where you make your wine or you grow your grapes. You have people like this around the world. We are fortunate to deal with these kind of people around the world, and that's great.
We found people who when we have a kind of deposit in our bottles, they don't care. They just explain to their customers that it's natural wine. We don't do filtration. We don't do fining. We don't use a selected yeast. We don't use selected bacteria. We don't use anything, so it's very natural wine. Of course it has a result. It has a consequence on the wine and also on the aging potential. On the lees, on the deposit, but you have to accept this.
A couple of years ago, Eric Asimov, the New York Times wine critic, did a piece on Châteauneuf-du-Pape and he was critical about the high alcohol levels in some of the wines, and he was, I guess suggesting that some of the winemakers may have been making wines to chase scores and making these big kind of fruit bombs that they thought would appeal to someone like Robert Parker. Is that something that you've seen in the region?
Of course. It's true. Though, in your question there are two questions. First question is, is the Châteauneuf-du-Pape red richer than it was? Is it natural or is it marketing-wise? If we take the Vieux Télégraphe example, which is not a good example, but it's one of them. In 1962, it was explained to us that the average percentage of alcohol done in 2000 hectoliters, an average Vieux Télégraphe, was 16.2. It's just to give you and idea of where we are coming from. The Grenache is not ripe at 13% alcohol. Grenache of Vieux Télégraphe on the Plateau La Crau is ripe at 15% alcohol. That's a reality. For 13 years we have been doing experimentation on this for our generation. Our father did his experimentations also. It's a reality. So, no, the Vieux Télégraphe will not be one day at 13% alcohol. It's still from the beginning 15, it will stay 15 just because for us the grapes are ripe at this level.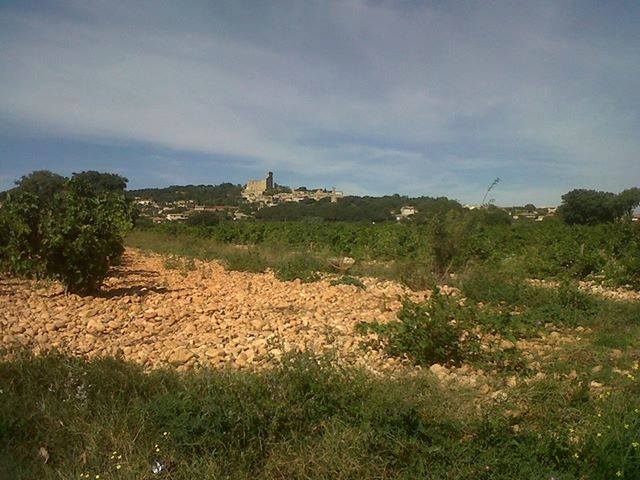 What about climate change?
Yeah, there is a change in the maturity process. The grapes arrive at this percentage of maturity, at this complete maturity process about 15 days before they did at the end of the '70s, beginning of '80s, so it's not a long time. It's a generation, a working generation. We wean about an average of 15 days off the maturity process. We shortened the cycle of vegetation; it's shorter by about 15 days than it was some years ago. That's certainly a consequence of the global warming. Today we cannot say the maturity is not complete because I think we achieve great maturity. I think 15 days is not a big deal, but it's an evolution. We don't know what will happen in the future with this. Why do we do this 15 days earlier than we used to? It's just to respect this kind of balance we have, to respect this kind of level of alcohol in the wine, this kind of personality of what Vieux Télégraphe is.
We arrive at the second question. Why are people in Châteauneuf-du-Pape increasing the percentage of alcohol or concentration. It's because now the climate is changing. It was the fifteenth of October 30 years ago. Now it's the end of September. Though it's a bit less risky and they do this just because climate is good, just because it goes, and just because they are asked by the journalists to make fruit bombs. There is no other response to this. Yes, some terroir needs to be worked in the winery to be good. That's it.
Do you feel that the trend in journalism is changing and the focus on the fruit bombs is less prevalent now?
Yes. People say, "Oh, I like fine wine. I like your wine, it's delicate, et cetera." That's here. Then when it's here and you taste 10 wines from Châteauneuf-du-Pape and you have nine fruit bombs and a delicate elegant Châteauneuf-du-Pape in the middle, the result on the notes is very classic. You never get a high score if you do a delicate wine. I don't know why a special cuvee can be more delicate than a traditional cuvee. We don't do special cuvee. We do classical La Crau, but people who make special cuvees, they all make them with more sugar content, more alcohol content, more wood content, more concentration, more color, more big bottles, more things, more longer corks. Something happened in this evolution which is very, very difficult to turn back. People have written and have done some explanations and the high scores are for the high concentrated wines. Now it's complicated to do something different. We don't have bad scores with the Vieux Télégraphe. We don't have high scores. We have normal scores, but we are happy with this. We are not looking for something different.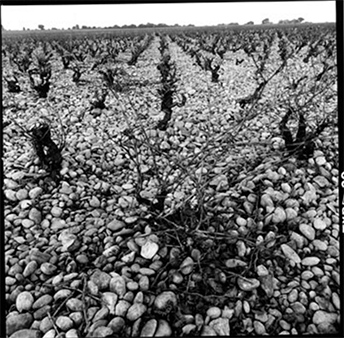 In his book, Kermit Lynch described your wines as tasting like they've been filtered through stones. You have some very special vineyards that you're making your wine from. Talk about the terroir.
The terroir is called La Crau. It's a plateau which is one of the highest points in Châteauneuf-du-Pape. Here we are somewhere around 130 meters above sea level, so it's not a big altitude. It's the highest point in Châteauneuf. We have three plateaus at that altitude. You have La Crau in the southeast, which is quite big.These three plateaus are about the same altitude, with about the same geological structure.
It's huge in terms of density of stones. On the surface, you have 100% stones. Rolling stones that are kind of a bread color, round, rolled by glaciers, by the sea, by the Rhône River over millions of years. They are 100% on the surface because when we plow the vines, they have go through the stones and the rain cleans the stones, and then you have only the stones on the surface. When you go through the first meter, it's a blend of sand, clay, decomposition of vegetation, and also 70% stones, which is huge. Then, under this layer, we have soil with roots that can find the food. You have clay, very dense and very red in color or it could be yellow clay, orange clay even deeper, but in this clay we also have 70% stones. That means if you go three meters deep under the Plateau La Crau, you meet stones 70% of the time.
The roots, to go down through three meters of stones, take eight years. It's really, really, really, back roads to get to humidity, to moisture, because on the clay, on the two first meters lower than this first layer of soil, we have about a year of water in storage. About 400 millimeters, it's half a year of rain. It's really a great reserve. That means in years like 2003 where it didn't rain from April to September, on the Plateau La Crau, it was green as if it was irrigated, but it's not of course. All of our terroir, all of our vineyards are not irrigated. It's dry farming. We really think that the terroir has to be dry to be called terroir. Dry farm I mean. That's La Crau. I understand when Kermit says it's like the wine has been filtered through the stones. It's just because you feel it's kind of finessed, its kind of ...
Minerality.
Minerality. Its kind of saltiness. You feel the sea, which was there millions of years ago. You feel this if you don't do too much work in the winery. If you work too much in the winery, you kill it maybe. That's what happens when you build fruit bombs. You build fruit, but forest fruit is boring. Fruit is heavy, so to keep this kind of balance, kind of lightness, kind of saltiness, rocky taste, to avoid the fruit, the solution is to do nothing in the winery and work outside, but you have to believe in your soil.
Importer Kermit Lynch speaking about Domaine du Vieux Télégraphe
Other than becoming unfiltered, how has your winemaking changed over the years?
Of course it has changed, but the general philosophy is the same since, we can say since 1979. When we arrived in 1979, our father decided to build a new winery, as a kind of present for the next generation. It was not thought of like this, because it was needed in the company, but it was a present for us, and the winery was built on the gravity process. That means the grapes arrived by gravity. No pump, no tube, but a screw to push the grapes outside of the rolling conveyor.
Today, we have the same gravity process but no screw, no pump, no tube. That means only vibration, rolling carpet, boom tank. This is for us the same process in every winery of ours, like we did La Roquete, like we did in Gigondas, no tube, no pump, no screw. Just to be able to vinify the old Grenache without being destemmed, and to do this, it's impossible to go through a tube. It's impossible to go through a pump, and if it doesn't go through a screw, it's great.
I think we can say since the real beginning, if you take the 1978 for example, the wines we make today are more refined, more elegant, with the same richness, the same 15% alcohol, the same fruit, the same aromas, the same personality, but the tannins are much more refined. It doesn't mean they will not age as a '78 ages, because I'm convinced they will age in the same way, but the wines are much more refined. It's first of all the result of this kind of respect for the grapes. Respect for the fruit, which is better and better. Also, it's a result of all that we have learned in the vineyard, because the vineyard is very important. We didn't change too much in the winery in terms of the wine vinification, grape vinification.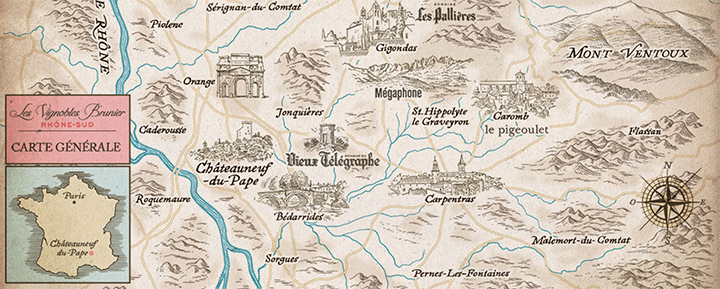 Other than Châteauneuf-du-Pape, do you have some other estates? We talked a little bit about the Gigondas estate. Talk about Pigeuolet. I mean, that was an acquisition.
Yes, that was an acquisition in '98. We bought a vineyard in Ventoux and we built this Pigeuolet blend, which is a blend of 18 Grenache, Syrah, Cinsault and Carignan, which is forbidden in Châteauneuf-du-Pape and Gigondas. For us, it's a house wine. It's a wine to drink on an everyday basis, and the Pigeuolet is really based off our philosophy. I think it has a touch of elegance for a wine that is 12 or 13 bucks a bottle, and this kind of drinkability is so important for us. So important for us. Thanks to the Italian winemakers, they still keep this kind of drinkability. They all stay fresh.
You drink a bottle of Pigeuolet easily, and that's really what wine means in France. Wine is to be consumed, not to just be tasted, and that is kind of very Frenchy wine, just to be enjoyed with simple food and a it's a bit fresh for the summertime, and that's it. That's really the philosophy of what we like too. The Ventoux area is very positive for this kind of wine, because the climate is quite different than the center of the valley. You have this kind of fresh air coming down from the Mont Monteux, its altitude is a bit higher, and you have this exposition which is positive for freshness, positive for minerality, for lightness, which is sometimes a negative word but not in my mouth.
You also have a partnership in Lebanon. That's a unique situation.
Yes, not unique, but it's a situation. It could be unique, yes. That was the same year, 1998, we met with one of the actual partners, Sami Ghosn, one of the two brothers who manages the company today. There is Sami Ghosn and his brother Ramzi, and we met with Sami. He came to us and said, "I need someone from the Rhône Valley to help me build the winery in Lebanon." Okay. "Someone told me that I have to come to you." Okay, that's a good idea. We talked and we became close very quickly, very quickly. It's quite rare sometimes when you meet people like this on the planet and you don't know why he becomes your friend. He became my friend and my brother's friend very quickly. We decided to be part of the train and to build the winery.
He already had vines in Bekaa Valley before we were partners, and then we arrived and we created the wine activity, the wine business. I think it's a good business. It was an extraordinary human adventure just because you discover another country, discover another culture, other food, other perspectives in front of the wine. You discover such a lot of things when you meet people like this. We are not very far from our home. It's three hours flying from the south of France. It's nothing, one hour time change, three hours from Marseilles, so it's nothing. We are at home, but it's the other side of the Mediterranean. The climate is not very far, but everything is different. You can imagine a country in this kind of economic, political, and social situation which is very, very difficult. Let's say they have other problems and other questions than our daily questions.
When you arrive there, and you say, "Why don't you take this bottle, this plastic bottle downstairs and just put it in the garbage place." Okay. They have other problems. They try to stay alive. They try to maintain their business in this kind of very, very hard area in terms of war, in terms of refugees, in terms of invasion. They were invaded many times during their life. They are young. Younger than me, and have been invaded by different people, different countries. It's a great partnership.
How are the wines?
Good, not great. We are making a lot of progress since we began. Now we know where we want to grow vines, where we will plant for the future. We know because at the beginning, you don't know. You buy grapes everywhere. You experiment and you say, "Ah, that's no good. Ah, that's fine." You have an experimentation a year, so it's a long process. Now we know our favorite area to grow vines. Year after year, our wines are more salty, more mineral, more fine, more refined, and I think now that we have a range of sweet red wines, the Columbiet, Terraz de Balbec, and Capest, that means we are going east of Bekaa Valley on the border of Syria, on the piedmont of Mont Liban, and Antillebont, the two places, but not in the center of the valley.
We do a dry farming over there too. It's very terroir, but it took a long time to achieve this. It took a long time and in my personal view, we still have too young vines. The vines are too young. The average vines are somewhere around 25 or 30 years old. They are still too young to really create something deep and complex, so it will happen one day, but it might take some years.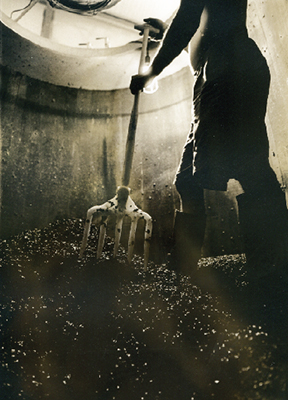 How does the blend in your Châteauneuf-du-Pape change from year to year?
Honestly, it didn't change too much. If we look from 1980 to now, we have increased the proportion of wood. We are now somewhere around 18, a bit more than 15% of Mourvèdre. That's what we did, no increase in Syrah. Syrah, it's still somewhere around 12, 14, 15%, depending on the year, and the Grenache, it's something like 60, 65%. We are very Grenache-oriented in La Crau, you know? It's really a place that is paradise for Grenache, just because it's dry, windy, stony, and places like that are quite rare. Grenache is not at home everywhere. It can give you fruit, but to give you personality in terms of minerality, in terms of depth, in terms of saltiness, it's quite rare on the planet.
We still have some Cinsault, which is not a great grape, but when it's old, when they produce somewhere around 25 to 30 hectoliters per hectare, it's very fine, very elegant and it's good to be in the blend. In the Vieux Télégraphe blend, we always have about 4% white Clairette, which is co-blended. It's a fill blend. We have this very old Grenache on the La Crau, and this Clairette in the middle of the Grenache, and we pick them together, because the big quality of the Clairette is it's ripe when the Grenache is ripe. The Clairette is fully ripe at 12.8, 12.5, 13, and at the same time the Grenache is 15, so that's great. You pick them together. You do a co-fermentation, and the Clairette brings a kind of finesse, a kind of honey, it's kind of delicate, a kind of femininity. Also it reduces the alcohol content naturally, and that's good. This kind of percentage of Clairette, which is blended into the fill, we'll still maintain it.
That means we replace some grapes on old vines some years, not every year, we replace with Clairette, and then one day we will recover this kind of old Clairette in the middle of the old Grenache, because for us Grenache is good from its 40th anniversary to a hundred years, that's the best time of its life. To get to this age on the Vieux Télégraphe blend, the average age for Grenache grapes is 70 years old. Some of them are more than 100 years old from the real beginning of the Vieux Télégraphe. It's a great heritage.