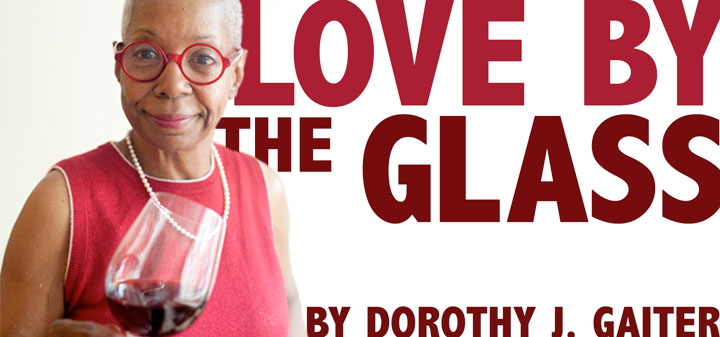 Toward the end of a perfect day just recently, John excused himself and disappeared in the direction of our wine cellar, saying, "I'm going to get something special."
He emerged with a half bottle of a dessert wine. It was Dunham Cellars 2009 Late Harvest Riesling, Lewis Estate Vineyard. Dunham is a pioneering winery in Walla Walla, Washington, that's celebrating its 20th year in business.
Now, don't stop reading because I've written the words "dessert wine." This isn't a column about that amazing bottle of heavenly, apricot-like nectar, at least not about it in the usual sense.
It's that while sipping that dessert wine, it occurred to me that over 42 years of drinking wine together, John and I had purchased more wines from Dunham Cellars than from any other winery in the world. There's magic in some bottles, even love and prescience. Ever since last year, when Eric Dunham, the man who made most of those wines, took his own life at 44, I've known that I'd have to write about him and the winery some day and it might be hard. Still, I wouldn't have guessed that what would prompt me to write would be their dessert wine. It was Dunham's Syrah that we feel so hard for years ago.
In fact, in our very last Tastings column in The Wall Street Journal, one of the three best wines of 2009, earning our highest accolade, Delicious!, which means they were both exciting and tasty, was Dunham Cellars Syrah 2004, Columbia Valley. We had written of it, "Big yet lean, perfectly balanced, with rich fruit, lemony acidity and tightly controlled, edgy tastes, with a great finish of minerals. Intellectual yet brawny, walking every line without a misstep." In 2004 and 2006, for two broad blind tastings of American Syrah, our favorites were the 2001 and 2002 from Dunham.
Since we became wine writers in 1998, Eric is the only winemaker we've expressly sought out to shake his hand. He was at a public tasting of wines from Washington State, an open and sweet smiling face above a plaid shirt. He was shy, giving all of the credit to his fruit.
When the New York Institute of Technology honored us at an awards dinner and wine auction, we purchased a case of the 2004 Syrah to be auctioned. Over almost a dozen years of writing our WSJ column and tasting about 12,000 wines, only 13 wines had rated Delicious! Eric sold us a case and signed each bottle and we added our signatures and included signed copies of two of our books. We'd never donated a case of wine before then or since.
I won't pretend to have known Eric, but I've always thought that you can taste some important aspects of the winemaker in the fine wines they make. His were confident, true and generous, the fruit speaking from gentle handling. He was also a talented painter and chef. In fact, the dessert wine's label is one of his paintings.
Which brings me to the mystery that sometimes surrounds wine. Eric and his sister had been raised by their single father, Michael, who was from Walla Walla. In 1982, Michael married Joanne Buckley. They were friends with some of the area's pioneering winemakers like Rick Small of Woodward Canyon and Gary Figgins of Leonetti Cellar. So as the obituary from Herring Groseclose Funeral Home recounted, "there were no ordinary wines helping Eric develop his young palate."
According to family lore, it was impossible for Michael to keep Eric's hands off his wine. "When Mike figured out that Eric was sneaking into his cellar, he put a lock on the door. When he found the door was locked, Eric removed the hinges from the outside of the door," the obituary continued. "There was no stopping Eric's interest in wine, and in the early stages of the Washington State wine industry, his father eagerly promoted his passion and suggested an internship was a good start."
Internships followed, but it was after Eric was hired as assistant winemaker at L'Ecole Nº 41 in Walla Walla Valley that he made his first Dunham Cellars Cabernet Sauvignon, in 1995. Wine Enthusiast Magazine called the 1995 one of the finest wines made in Washington. It and the next vintage were so successful that the Dunhams opened their own winery in a hangar near the Walla Walla airport in time to release the 1997 Cabernet. The wines are made with fruit from vineyards in the Walla Walla, Yakima and Columbia valleys.
In 2004, they took on investors who enabled the business to expand and afford more modern and efficient equipment. In December 2007, it was decided that Eric could use some help, and the family advertised for a winemaker. Daniel Wampfler, a young science-minded assistant winemaker at Ste. Michelle Wine Estates, had recently been blown away by Eric's 2004 Cabernet and saw the ad.
"Mike answered the phone and I asked him if Eric was OK. I wondered why they were advertising for a winemaker. Mike said Eric was fine, they were just expanding and needed some help," Wampfler told me on a trip to New York a few months ago.
"So I was trying to put the phone down and Mike was asking me questions like who are you? I was happy where I was but Mike kept at me, asking me to send my resume. I told him that I'd get it to him, but hoped he'd forget about it. But he didn't. He told me he had to have it in two days because he was going on a trip."
The rest, as they say, is history.
"I don't know if it's possible to adopt one's self into a family, but if it were, Eric was a new brother and Mike a natural second father. Eric and I hit it off instantly," Wampfler told me. Eric handed him the keys the following month on his first day in January 2008. From then on, the wines were made by Wampfler who also, he said, "finished" – "blended, selected the barrels, filtered and bottled -- the longer barrel-aged 2006 and '07's." From then, Eric focused on carrying the Dunham flag around the country, although his name remained on labels with Wampfler's, which was added to some 2009s, like the dessert wine we had.
On May 18, 2013, Mike died of cancer. On Oct. 23, 2014, authorities found Eric's body in a hotel in Cannon Beach, Oregon. He left a wife and a son, who was then only 2.
"The largest challenge is to take it to the next level and be respectful of the style that Dunham created for itself," Wampfler told me as we tasted wines made by him and those made by Eric. He wanted to know if I could taste the continuity in them and of course I could. The common heritage is unmistakable, focused wines of uncommon clarity and elegance. We enjoyed the 2011 Cabernet Sauvignon on Open That Bottle Night. Dunham Cellars also makes Trutina, a Bordeaux-style blend, Three Legged Red, a table wine named after an injured dog Eric rescued years ago, and the "Shirley Mays" Chardonnay, named after Eric's grandmother. A portion of the sales from that goes to fight breast cancer. In 2005 Eric and actor and Yakima resident Kyle MacLachlan began making Pursued by Bear Cabernet Sauvignon and in 2008, to mark MacLachlan's son's birth, they began making Baby Bear Syrah.
To prepare to write this column, John and I opened the 2004 Syrah that we loved so much. How was it faring? Oh my. It was still Delicious! and still young. So we opened the 2006 Syrah that we had also put down. Both wines are bursting with ripe fruit and elegance, which is a rare combination. The 2006, especially, had an underlay of minerals that gave it a very special sense of place and made it great with food.
"It won't be until some of the 2013s we are bottling this summer that the back label changes to reflect only my name. A little beguiling, I suppose, but I was humbled to have my name on the label alongside Eric in the first place," Wampfler told me.
I wonder what Michael Dunham heard in Wampfler's voice over the phone.
Dorothy J. Gaiter conceived and wrote The Wall Street Journal's wine column, "Tastings," from 1998 to 2010 with her husband, John Brecher. She has been tasting and studying wine since 1973. She has had a distinguished career in journalism as a reporter, editor, columnist and editorial writer at The Miami Herald and The New York Times as well as at The Journal.
As of publication Dunham Cellars is available at 67 Wines in Manhattan.