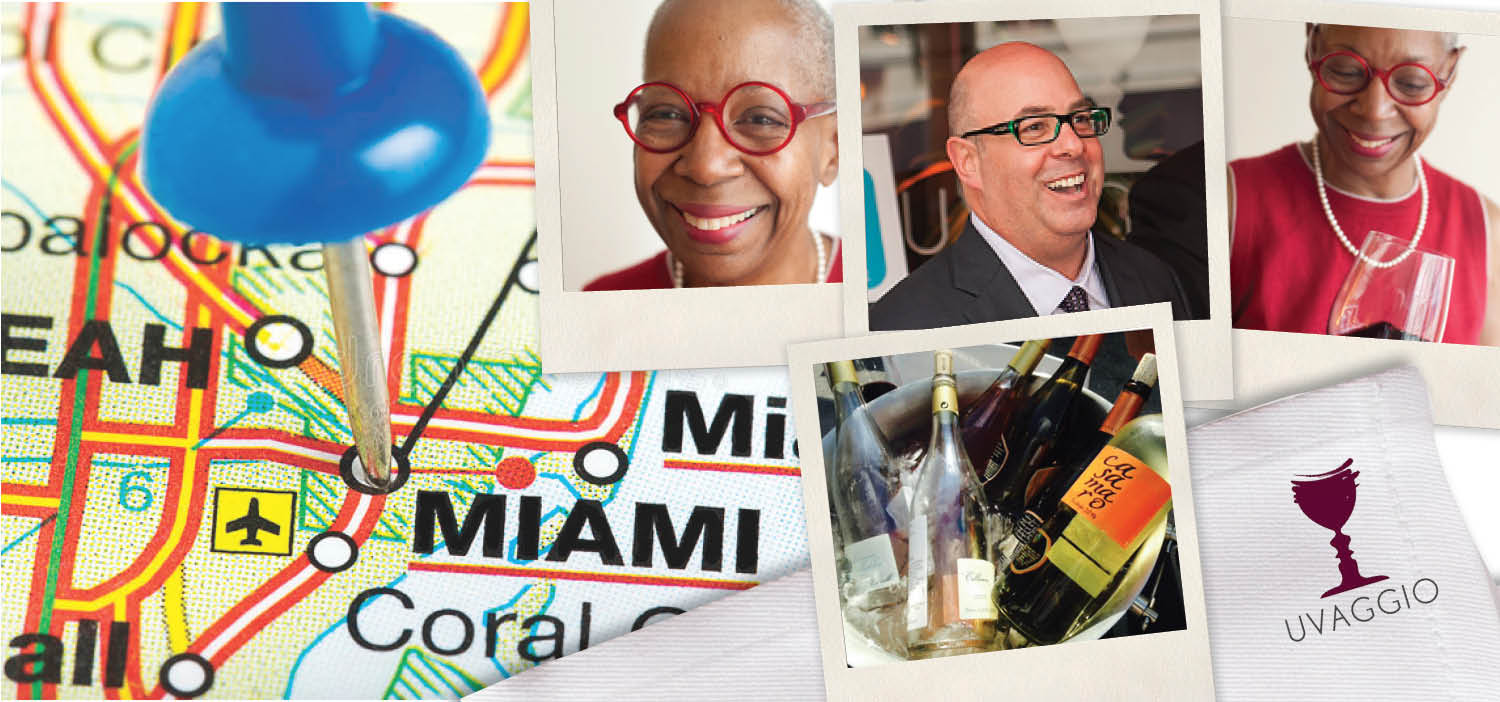 Imagine a wine bar concept conceived by a passionate-about-wine human resources veteran whose business partner is a veteran wine and food professional with a fairly wide zany streak. That describes Uvaggio Wine Bar, located on a street called Miracle Mile in downtown Coral Gables, a tony suburb outside Miami.
We stumbled across Uvaggio, which opened four years ago, last month during our regular pilgrimage to our old stomping ground.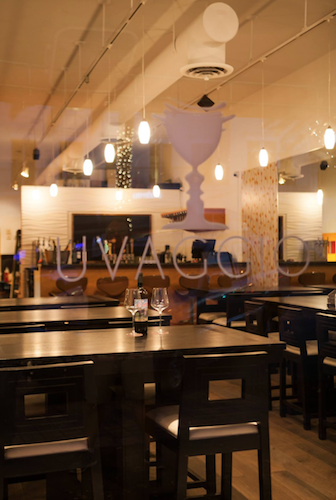 We met at 9 a.m. on June 4, 1973, in the old Miami Herald newsroom along Biscayne Bay. Well, during our visit last month, the latest nor'easter hit and we had the good fortune to have our flight back to New York City canceled. Woohoo! That gave us extra days to find wonderful places to eat besides Joe's Stone Crab, Strada in the Grove and Wynwood Kitchen & Bar, all delightful.
(Photo, left: Uvaaggio wine bar)
Now Uvaggio, with its eclectic and engaging wine list and tasty creative dishes, is a must-do for future visits (http://uvaggiowine.com ). It has 125 globe-spanning and unusual wines by the bottle, 30 to 40 by the glass (6 ounces) or by the taste (3 ounces) and Coravin specials, which are rotating rare, pricey wines, like Quilceda Creek Winery Cabernet Sauvignon, that are accessed using the Coravin device. Among the humorous headings on the wine list is this: "Wines by the glass, from the Coravin…Cora Who? Is that the lady from Iron Chef?" Then what follows is a description of the wine delivery system.
The wine list is part of the menu so everyone gets to see it and it won't be handed to you by anyone wearing a bowtie and an attitude, founder Craig DeWald, 54, told me when I called him after we had returned to Manhattan. "We didn't want to have a book where one person got the list. This is more democratic. You should come in and have fun with the wine. You don't have to be a somm or have a special education to enjoy them. All of them have descriptions. We're here to talk about them with passion, but the list sells the wines."
We had not told him or the sommelier, Amanda Joffee, 27, who was working with him the night of our visit, that we wrote about wine. They perceived us as we fundamentally are: wine lovers.
"You are why we do this. You're excited about wine, you love to try new things," DeWald told me. DeWald was for 26 years a human resources executive with American Express, an expert on leadership development and employee engagement. Born in Buffalo, N.Y., he grew up in California and spent a lot of time in wine country enjoying good food and wine. Those passions continued when he lived in several states and countries for American Express, especially during his five years in London. From there, he was able to easily visit wine regions in Italy, Spain and France.
"As much as I fell in love with wine, I fell in love with the process, the stories that are behind the bottle," he told me. "I got such a personal view of wine and the industry, which is why I enjoy having the winemakers here. It brings to life what's in that bottle."
DeWald said he has certain parameters for the wines he features. "They tend to be smaller-production, farmer wines. The idea is that the same person out in the vineyard is also overseeing the winemaking," he explained. "Many are natural and biodynamic. We pick winemakers who care about the vineyards and we know many of the winemakers."
When American Express proposed that he leave Miami and move to New York, he decided to stay in Miami and be a part of its exciting, growing wine and food scene.
The wine list was composed primarily by Heath Porter, DeWald's managing partner.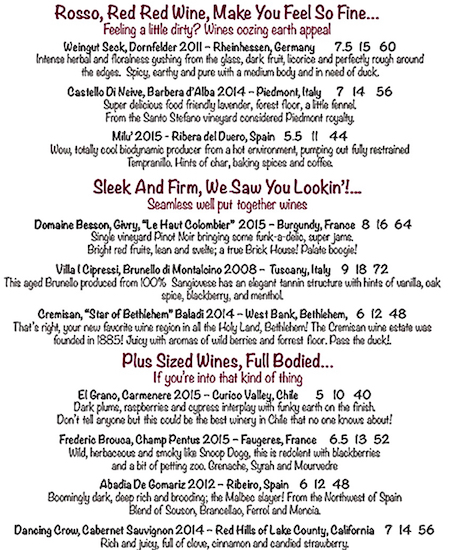 Porter has more than 20 years experience in the food and beverage industry and is an advanced-level sommelier who has worked in 5 Star and 5 Diamond resorts, according to DeWald. Porter is the one with the zany streak. The evening of our visit, he was at the partners' other enterprise, No Name Chinese, which opened last year and has a more New World-focused wine list, DeWald said.
(Photo, right: A sampling of Uvaggio's wine list)
At Uvaggio, under the wine list heading, "'Sleek And Firm, We Saw You Lookin,' Seamless, well put together wines,'" we got a $6 taste of the elegant, plums and red berries and mineral-rich 2014 Cremisan "Star of Bethlehem" Baladi, West Bank, Bethlehem. The grape is the indigenous Baladi. My colleague Kristen Bieler recently wrote about Cremsian Winery here.
Under "Rosso, Red Red Wine, Make You Feel So Fine…Feeling a little dirty? Wines oozing earth appeal," we had a $7.50 taste of the 2011 Weingut Seck, Dornfelder, Rheinhessen, Germany. It was inky and pure, with blueberries, blackberries, rosemary, and wet stones.
The section, "Aaawwww, You Brought Flowers And Perfume…wonderfully fragrant wines that pack a bouquet" led us to a $6.50 taste of the stunningly bright, lime, peaches, pineapples and minerally 2014 Saumur from Domaine Guiberteau, Loire Valley, France. The wine list describes it this way, so we had to try it: "Chenin Blanc bursting with tangerine, apple chutney and white river rocks on the palate. Dry, crisp and one of the most gangsta houses around." DeWald said that it was a "wine-geek favorite" and it was so lovely and true that we can't imagine who wouldn't love it.
When we first sat down at the bar and looked at the wine list together, before moving to a communal table, we noticed that the list had a Chenin Blanc from Sula Vineyards, northeast of Mumbai, India. We told DeWald and Joffee that we hadn't seen a Sula in years. After DeWald brought the Guiberteau over and saw our reaction—wow!—he gave us a taste of the Sula. Such a sweet and meaningful gesture. They were fun to taste side by side.
After scanning the headline, '"Plus Sized Wines, Full Bodied…if you're into that kind of thing,'" we chose a $7 taste of the 2014 Dancing Crow Cabernet from Red Hills, Lake County, California. This blend of 86% Red Hills Cabernet, 9% Mendocino County Merlot and 5% Napa Valley Petite Sirah was a simple joy. Red cherries, eucalyptus, licorice, chocolate and nice acidity.
With these wines we had a thoughtful cheese plate, salt cod croquetas with Remoulade and a plate of roasted cauliflower with pistachio nuts, turmeric, dates and pomegranate molasses, all satisfying with the different wines.
Uvaggio's first chef, Bret Pelaggi, a Top Chef New Orleans television show contestant who has since left, created most of the current menu offerings.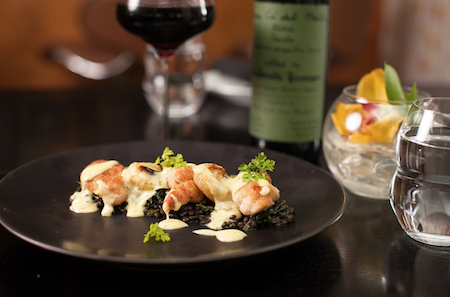 DeWald said the pairings were developed through a process he calls "tasting backwards." First, he and Porter and the chef taste the wines and write down the flavors, scents and textures they sussed out of them. Then, with those characteristics in mind, the chef creates dishes that complement the wine's profile.
(Photo, left: A beautifully presented plate at Uvaggio)
Some of the herbs and vegetables are from the wine bar's organic garden at Pinecrest Elementary School, where the students, teachers and parents are involved. Whether it's teaching children about growing food, exposing adults to different wines or making sure his staff "understand the bottles," education is an important component at Uvaggio, DeWald told me.
Uvaggio works hard to live up to its name, which means "blend" in Italian, he said. The goblet in the logo, he points out, is actually the heads of two people facing each other. "Part of living in Europe, I fell in love with the idea of the café, where people come together, where there's a sense of community," DeWald said. "It's different than going to a bar in the U.S. We don't have a TV in the corner."
For an hour every Saturday afternoon, the wine bar holds tastings of six wines with a different theme each week, for $30 a person, RSVP required. There are also happy hours, blind tasting challenges where correct answers can earn wine and dinner deals. Joffee said it's not unusual to have people come in who are preparing for sommelier certification tests or chefs who want to hone their tasting skills. Any winners? "Not many," DeWald said.
It also has wine club memberships and week-long tours of wine regions, so far inCalifornia, Italy, and Spain. They're going to Champagne this year.
The Somm Slams sound like a hoot. Uvaggio invites a sommelier and a chef from another restaurant and Uvaggio's chef, Ali Meneses, and the other restaurant's chef put together a menu.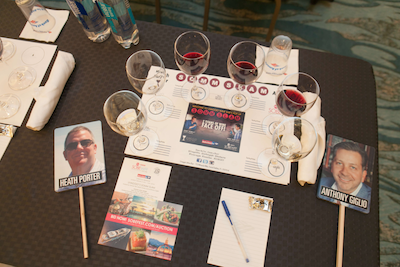 The sommeliers choose three wines, one to go with each of the three courses in the contest, which excludes the starting buffet and dessert. After the sommeliers explain their choices, which were based solely on the ingredients, preparation and flavor profile—they don't taste the dishes before the contest-- diners who have paid $75 for the tasting menu vote for the sommelier who did the best pairings.
(Photo, right: Scene from a Somm Slam)
"There's a lot of trash talk, like the WWF [World Wrestling Federation]. They can pick the song they come out with. It's very theatrical," DeWald said. "We were thinking, how do you have a wine dinner that is more than sitting down and having wine and dinner? How can we have fun? We get a lot of Twitter messages from somms asking to be invited to challenge."
We found Uvaggio charming and inviting in its intent on engaging wine lovers in many ways, but what we loved most about it was its wine list and smart yet casual approach to wine appreciation. Although we had done some research on wine-centric restaurants before flying to Miami, we had not known about Uvaggio.
As we strolled along the beautifully spruced-up sidewalks, street improvements and attractive landscaping along Miracle Mile in Coral Gables, which I covered as a cub reporter in 1973 and where our first daughter was born, we heard a musician with an electric guitar playing some serious blues across the street from us, playing for the patrons of a restaurant. I can't remember the song now. John's disapproving look while I was singing along chased it right out of my head! But two guys standing near us saw us look across the street at the musician and one of them, while playing air guitar, said, "They've got great wine, too. I know I sound like the Chamber of Commerce, but they do."
That place was Uvaggio and the guitar player is Joel Ferro, also known as Ferromiami.
As the weather warms and you travel, look for experiences with wine that will add dimensions to your trip. In Uvaggio, we felt as though we'd finally found the wine bar we've been seeking for a long time. A good wine bar is a human-focused endeavor, with wine the resource at the center that coaxes people to the table and then to some faraway place called Pleasure.
Dorothy J. Gaiter conceived and wrote The Wall Street Journal's wine column, "Tastings," from 1998 to 2010 with her husband, John Brecher. She has been tasting and studying wine since 1973. She has had a distinguished career in journalism as a reporter, editor, columnist and editorial writer at The Miami Herald and The New York Times as well as at The Journal. Dottie and John are well-known from their many television appearances, especially on Martha Stewart's show, and as the creators of the annual "Open That Bottle Night" celebration of wine and friendship. The first bottle they shared was André Cold Duck.
Read more of Dorothy J. Gaiter on Grape Collective.
Banner by Piers Parlett