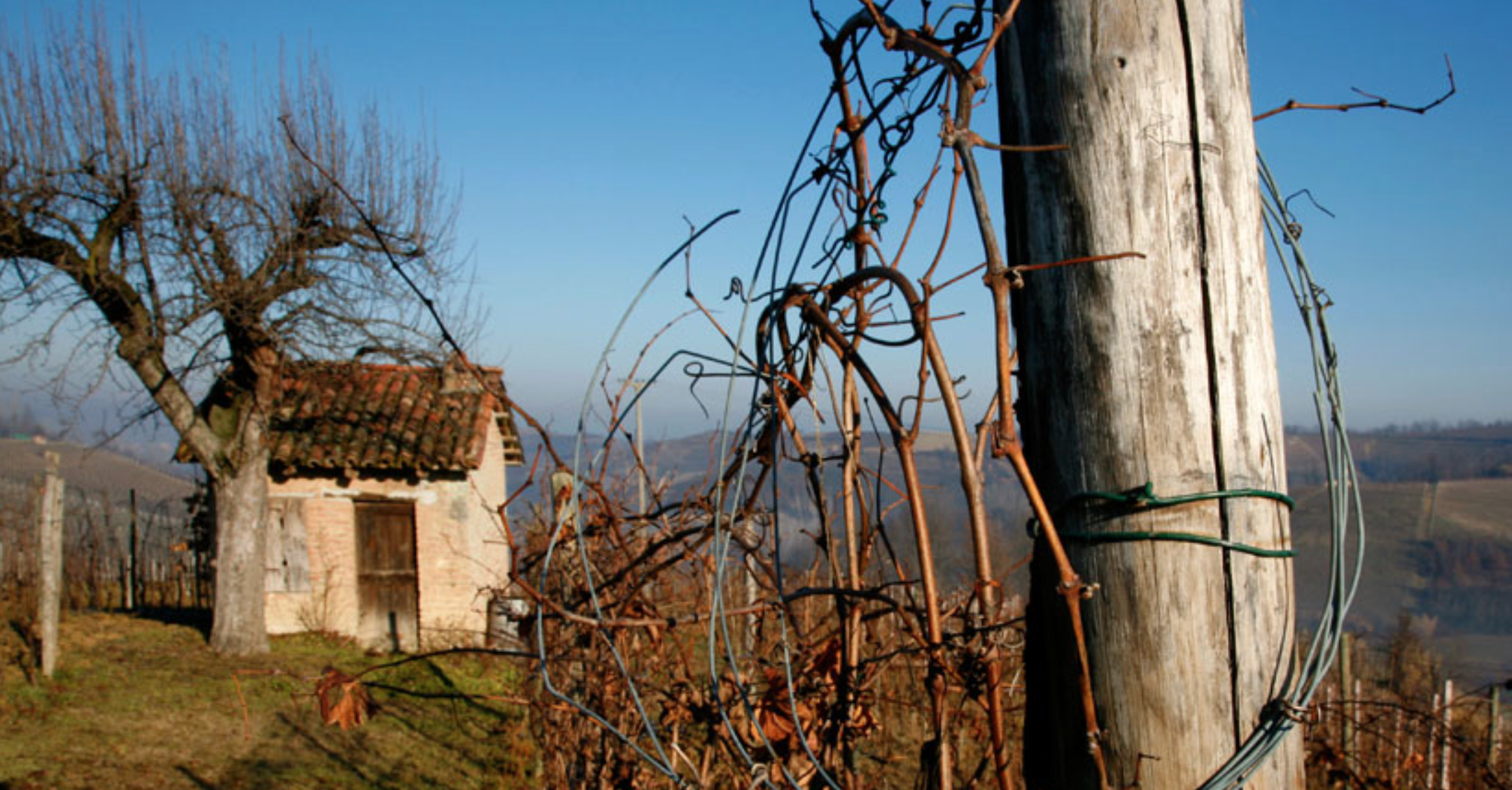 The timeless, fog-shrouded hills of Italy's Piedmont are dotted with legendary vineyards and are known for the magnificent wines they produce. They are not, however, noted for much organic or biodynamic viticulture. Annette Hilberg and her husband Michelangelo Pasquero are on a mission to change this. Recently, Hilberg visited Grape Collective in New York for a conversation about her decades-long study of nature's lessons and what this imparts to the Hilberg-Pasquero wines.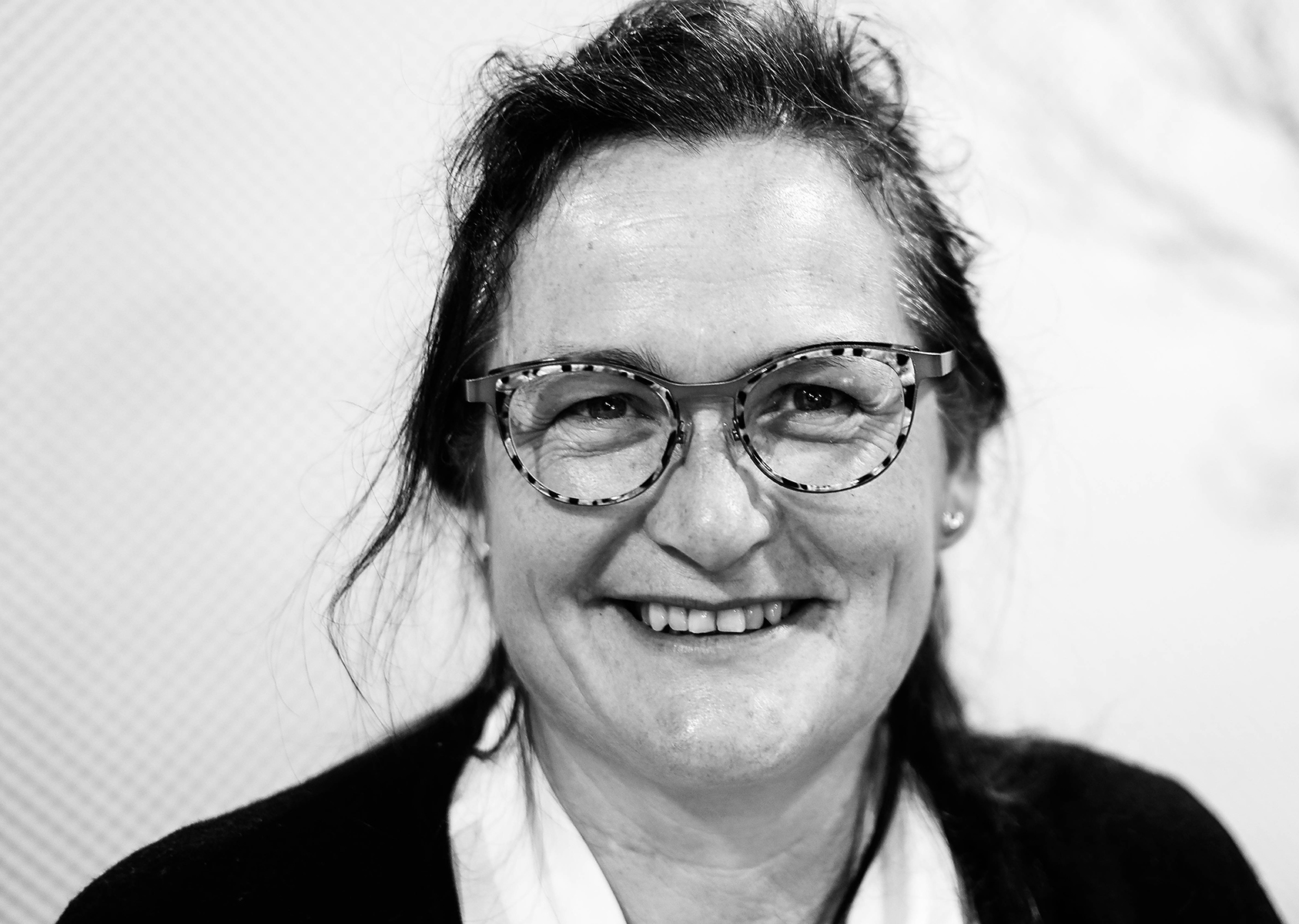 Thirty-six years ago, Hilberg left her home in southern Germany, where she worked as a nurse, to, as she says, "try something different" over the Alps. In Piedmont, she met Michelangelo Pasquero, then a doctoral student in plant pathology at the University of Turin. Hilberg says what brought them together was a shared respect for nature and a desire to work with, not against, its regenerative energy: "our goal has always been our communion point."
(Photo, left: Annette Hilberg of Hilberg-Pasquero)
Pasquero is the third generation of his family to farm 8 hectares (20 acres) on a small hilltop in Bricco Gatti, Roero. Their land has always been devoted to mixed agriculture, including wine grapes, to sustain the family. Pasquero's great-grandfather made the first vintage in 1915, but only in 1993 did the Hilberg-Pasqueros begin bottling the wines, and a few years later started selling them in local enoteca. It wasn't long before their Nebbiolos and Barberas were winning accolades from Gambero Rosso and Tre Bicchieri.
Hilberg and Pasquero are the four hands behind everything that happens on the estate. The couple have three grown children, but none are interested in taking over just yet. "You are still too young to retire!," Hilberg says they have told her. She hopes that after they go their own way in the wider world, they may return to the family's vines if it feels meaningful to them. But she wants them to keep their minds open to the practices they grew up with on the farm: "Please, don't study enology!," she tells them, laughing at the irony.
Foundational to understanding the work and wines of Hilberg-Pasquero is their philosophy of bioergodinamica. "Bio" for life, "ergo" for human work in and understanding of the vines, and "dinamica" for energy. Hilberg says the most crucial element of this philosophy is "attention to the tiny details, taking responsibility, being open to the lessons nature teaches you."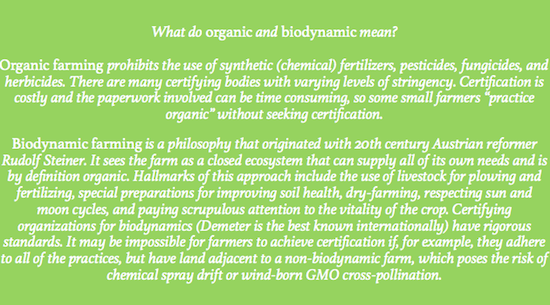 This is an ethos we hear more and more in winemaking these days, but when the Hilberg-Pasqueros started out, they were the lone voice for it in the Piedmont. They were the first certified organic producer in the region. It's especially important to recognize this effort because Piedmont, with its damp climate and the delicacy of its signature Nebbiolo grape, is generally perceived as an area inimical to chemical-free viticulture.
Over time, however, the Hilberg-Pasqueros have been troubled by the bureaucracy of the certification process — the way they felt it validated conformity of paperwork over vitality in the vines. "If the inspector came and the paper he needed to see was not on the barrel, then he refused to give the certification," Hilberg points out, "In a big winery, you can hire someone who has just one job: to make sure the paper is always on the barrel. But in a small one, like ours, the paper might fall to the floor, and what then? Does that mean we are not working in harmony with nature?," Hilberg laughs in a way that shows no malice, only bafflement at anything that does not align with nature's dictates.
With just two people running the entire estate, the Hilberg-Pasqueros don't send their grapes out to a lab for analysis, which is yet another certification requirement. "We taste the grapes to know when they are ripe, and we know that they have been grown organically. We don't need a lab to tell us this." Hilberg also believes different certifiers have different standards, resulting in confusion for growers and consumers.
So, 12 years ago, she and her husband conceived the bioergodinamica philosophy, slowly hewing closer to the ideals they learned from Pasquero's grandfather. "When I first moved to the area, he said to me, 'Listen to the birds. Do you hear them? They are telling you in half an hour it will rain.' I heard nothing. But in time, I learned to hear them and understand. He taught me that it is only normal to work in this way, that we must respect nature and all its energy that humans should not destroy."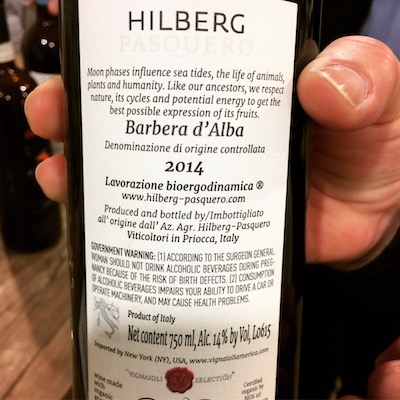 It is a manifesto as radical as it is simple. And eventually it put the Hilberg-Pasqueros at odds with what Hilberg calls the "delusions" of certification. In 2016, they left the certification program and began labelling their wines with the bioergodinamica designation.
(Photo, left: "Lavorazione bioergodinamica" designation)
Now they encourage a generation of younger vignaioli to work as they do: close to nature, in tune with the cycles of the moon and sun, without chemical inputs, shunning even copper and sulfites wherever possible. Piedmontese biodynamics is "more widespread than we know," Hilberg asserts. Decades ago, most growers in the Roero region sold their grapes to big producers. But now, with more young people looking to bottle their own wines, there are more reasons for them to farm thoughtfully. The Hilberg-Pasqueros invite all to use bioergodinamica as way of identifying the practices and philosophy that go into the wine. Hilberg believes that "taking responsibility, not getting a certificate, is what makes the wines good. Your lifestyle cannot be certified." She also firmly believes this is a communal effort. "You must help one another to decide to grow organically. Small producers need to find extra resources to get certified and sometimes this they don't have."
Like Barolo and Barbaresco, Roero is a land of Nebbiolo and Barbera, albeit grown at slightly lower elevations and in sandier soils. To understand Roero's terroir in the context of its famous neighbor, Hilberg explains her region as "the beach to Barolo's seabed."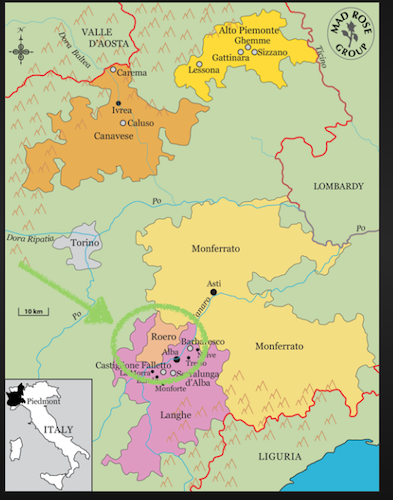 An ancient inland sea once covered all of Piedmont. While Barolo's soils tend to limestone and clay, Roero's are sandier, with more marl, a crumbly mix of clay and limestone. Fossilized marine life turns up now and then on Hilberg-Pasquero's land, incongruous reminders of the region's distant geologic past. She says her diverse soils require "almost personalized treatment, down to the vine and row." Hilberg's understanding of her terroir encompasses "the entire microclimate: the sun, the rainfall, the temperatures, the winds and how the soil is answering to all of this."
(Map, right: Roero is tucked into some of the most famous vineyard land in the world)
Climate change is bringing viticultural challenges to Roero, as it is everywhere. But Hilberg takes these with characteristic acceptance: "In 2003, 2007 — the most difficult [hot] years — we learned the importance of communication. Not just with what grandfather did long ago, but with our southern Italian friends. How do they handle such conditions?" Planting more north-facing slopes is one obvious answer, and in wet vintages, green harvest (the practice of dropping fruit before ripening to channel the vine's energies into higher quality, smaller yields) another.
Of all the native Italian varieties Hilberg cultivates, she believes Nebbiolo is the one that "tells you most clearly what is under its feet." She believes that in Barolo the dense soils force Nebbiolo vines to dig deeper, to take more time to express terroir. Consequently, the wines take longer to reveal themselves. But in Roero, the lighter, sandier soils yield correspondingly more open-knit, earlier-drinking wines. "We are in Roero. We must not be a copy of Barolo. It makes no sense," Hilberg notes. Wine lovers will be rewarded for seeking out Roero Nebbiolo both for its lighter, more approachable style and its more accessible price,
In the 1990s, many Piedmontese producers abandoned the traditional practice of aging their Nebbiolos in large, old oak botti and swung hard to small, new 225 liter barrique. The fashion for using new oak to soften Nebbiolo's notoriously stubborn tannins and to make them more palatable to influential critics who favored this style has faded in many places, but Hilberg-Pasquero remains a defender. Hilberg explains: "Nebbiolo tannins are very strong and complex. If you put them together with sweet oak tannins, you get a good balance. Roero Nebbiolo will never be a heavy one. It's not an old king, it's a young man." But, she notes, "You have to be very careful: The Nebbiolo grapes you choose must be from old stock, of good character. Only then can you use new oak."
Roero is also the home to a range of native Italian and specifically Piedmontese grapes. The white Arneis is its flagship, but red Barbera and Brachetto thrive here, too. The Hilberg-Pasqueros' "Vareij," local patois for "variety," is an earthy, ethereal Brachetto-Barbera blend very much worth getting to know both as a distinct expression of this particular part of the Piedmont and the couple's infectious joie de vivre.
Barbera is a workhorse grape grown all over Italy, but it finds some of its best expression in cooler climates, where its characteristic acidity and earthiness come to the fore. Barbera is thought to be native to the Monferrato hills of Piedmont, where it was long the most planted red variety, prized for its vigor and adaptability. Hilberg notes that Barbera is can be something of an "untamed horse" and this high-spiritedness comes through in the Vareij.
Brachetto is, along with Ruché, one of Piedmont's outstanding aromatic red varieties. The wines it gives are a speciality less of Roero, than of nearby Asti Aqui, where it now has a DOC for sweet, sometimes sparkling reds. In Roero, both still and sparkling wines are made from it, some sweet, some dry, the latter a sort of "red Prosecco," as Italian wine scholar Ian D'Agata thinks of it.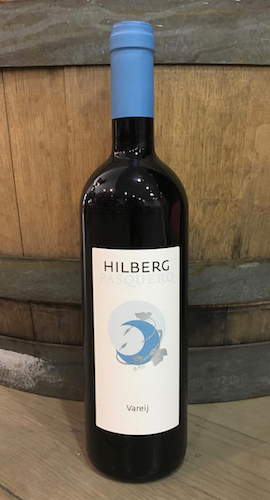 Vareij is one of just a handful of dry Brachetto wines made in the area. The current release (2014) is 75% Brachetto, 25% Barbera, a blend that Hilberg says was worked out over a long process of trial and error. Brachetto is naturally high in floral aromatics and low in acidity. Finding the right blending partner for these characteristics was a challenge. Hilberg says they tried other grapes such as Bonarda and Dolcetto, but none gave the freshness and earthiness of Barbera.
(Photo, left: Vareij, local patois for "variety")
The problem for this co-fermented blend is that Barbera and Brachetto typically ripen two weeks apart. The solution has been to plant the Brachetto on more north-facing slopes, delaying ripening, and to harvest the Barbera just a bit earlier than usual. Each year the blend shifts slightly in response to the vintage. "You must know your year," Hilberg says.
The blend ferments on the skins in open-topped vats for five to six days, then is pressed off in a traditional hand press. The wine spends a year in stainless steel and three months in bottle. It is ruby red in the glass, with high-toned notes of geranium and rose, wild strawberries, red currants, cinnamon, clove, tobacco, and wet spring earth. The wine is meant to be drunk within a year or two of release to capture its vivacity and freshness. It's best served slightly chilled and paired with a selection of nuts, salume, and cheeses. Hilberg notes its greatest charm is that "you must not have a meditation hour to appreciate it." Rather, uncork it with kindred spirits and embrace life as the Hilberg-Pasqueros do.
Sources:
Vino Italiano: The Regional Wines of Italy, J. Bastianich and D. Lynch, 2005
Native Wine Grapes of Italy, Ian D'Agata, 2014
Oxford Companion to Wine, J. Robinson and J. Harding, 2015