There's a saying that opportunity often comes disguised in the form of misfortune. Or, "there's a silver lining in every cloud" — expressions of hope and optimism that even when something bad happens, some good can come out of it. Take volcanoes. During a major volcanic eruption, sulphuric gases, heavy clouds of ash and hot molten lava spew out and cover the land below, destroying whole cities and killing most everyone in its path within a matter of hours. Interestingly enough, many civilizations throughout history have settled close to these deadly geological phenomenons. Why? Because the volcanic deposits, while extremely destructive in the short-term, evolve into rich agricultural soils that provide essential nutrients to plants and crops. What this means for winemakers is the ability to make very interesting and delicious wines.
Campania, a region in southern Italy where Naples is located, has a long history of volcanic activity. Here you will find the "Campanian volcanic arc" a string of active, dormant, and extinct volcanoes, including the infamous Mount Vesuvius whose eruption wiped out the entire town of Pompeii nearly two thousand years ago. The region surrounding this arc of volcanoes is now planted with many vines, fruits and vegetables. The fertile soils of Campania are probably the most important aspect of its 'terroir,' the unique environment of a place where crops are grown.
Feudi di San Gregorio winery was established in 1986 in a tiny village in Campania's Irpinia region, near Mount Vesuvius. The high-altitude, hillside vineyards have warm days and cool nights; perfect conditions to ripen grapes while maintaining fresh acidity. The winery uses indigenous grape varieties — Aglianico for its reds and Fiano, Greco and Falanghina for the whites. These aromatic wines of great complexity and minerality prove that there is beauty to be found in the ashes of destruction.
Grape Collective caught up with Antonio Capaldo, president of Feudi di San Gregorio, to talk about the great potential of Campania's wines.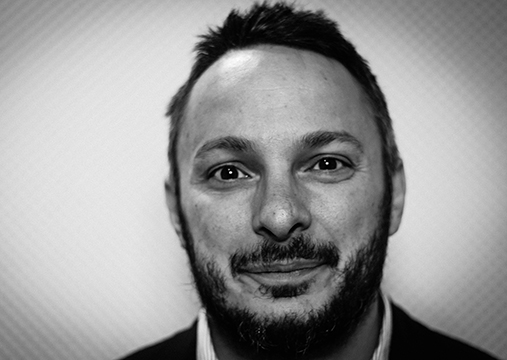 Lisa Denning: Can you tell us the history of Feudi di San Gregorio?
Antonio Capaldo: We started 31 years ago in 1986. My family began making wine because the area was devastated by a terrible earthquake in 1980, and it was my father's and my uncle's way to invest back in the home area. We started very small with approximately 30 hectares and the focus was on native varietals, which was also a way to bring more authenticity to this area for its wines — to put Campania in the picture for the quality of the wines.
At one time, I think the wines from our area were lacking quality. There was a gray period for Italian wines, especially for southern Italian wines, and we grew significantly over time. That's why we're here today to talk about the wines. It means that we've had a good journey.
Who started the winery?
My dad, my aunt, my uncle, and some others. All southern Italian families are relatively big and my dad had 11 brothers and sisters. It was a big start with several of the brothers and sisters involved. Over time, the ownership was a little bit reduced, and now it's just my dad and myself.
But it was a big family story which is always the case in Italian wine, but helps translate authentic values of the founding family into the winemaking. Because at the end of the day, it's true that behind the wineries, there is the technical expertise, of course, but it's also the style and values and image that you want to transmit. And in this case, it was very emotional because of the starting ignition which was this earthquake and the devastation. We now look back without any sadness because it was a long time ago. But it was a very tough time and this was why there was a big, big, big emotional drive behind the winery.
Your aunt and uncle who were instrumental in the founding of the winery are no longer involved. Can you tell us a little bit more about that and why they left?
They left in the beginning of 2000, and it was quite a long process. They started our winery but eventually it didn't work out, they are now involved in other wineries, not in our area. But they were, of course, critical in making the winery what it is today. I am personally in a very good relationship with them.
What do you mean when you say that it didn't work out?
The story is pretty simple: my dad had to invest heavily at the end of the 90s to give Feudi the financial means to survive and grow. At the end of this process, my dad took an 80% stake in the winery. As a result, the balance was difficult since my uncle and my aunt continued to manage the winery as if it were theirs, while my dad was pushing for a more transparent management. At the end the situation collapsed.
Tell us about your own personal journey to winemaking.
I was born in '77, so I was very young when the earthquake came, and I was still young when the winery was created. I grew up in Rome. I studied economics, so I'm more involved with overseeing the management of the company. I joined the winery as Executive Chairman in 2009. Before that, I traveled around the world, working mostly in management consulting. So I don't have the typical kind of background for somebody who is in wine. But I was always enjoyed drinking wine, which I think is what helps me understand the wine world. You need to be curious about wine to drink it. My background in wine is more sommelier than winemaker. I took all my sommelier classes in Italy and I got so many certifications, so I'm more a drinker than producer in that sense. But this helps me a lot to shape the style of my wines.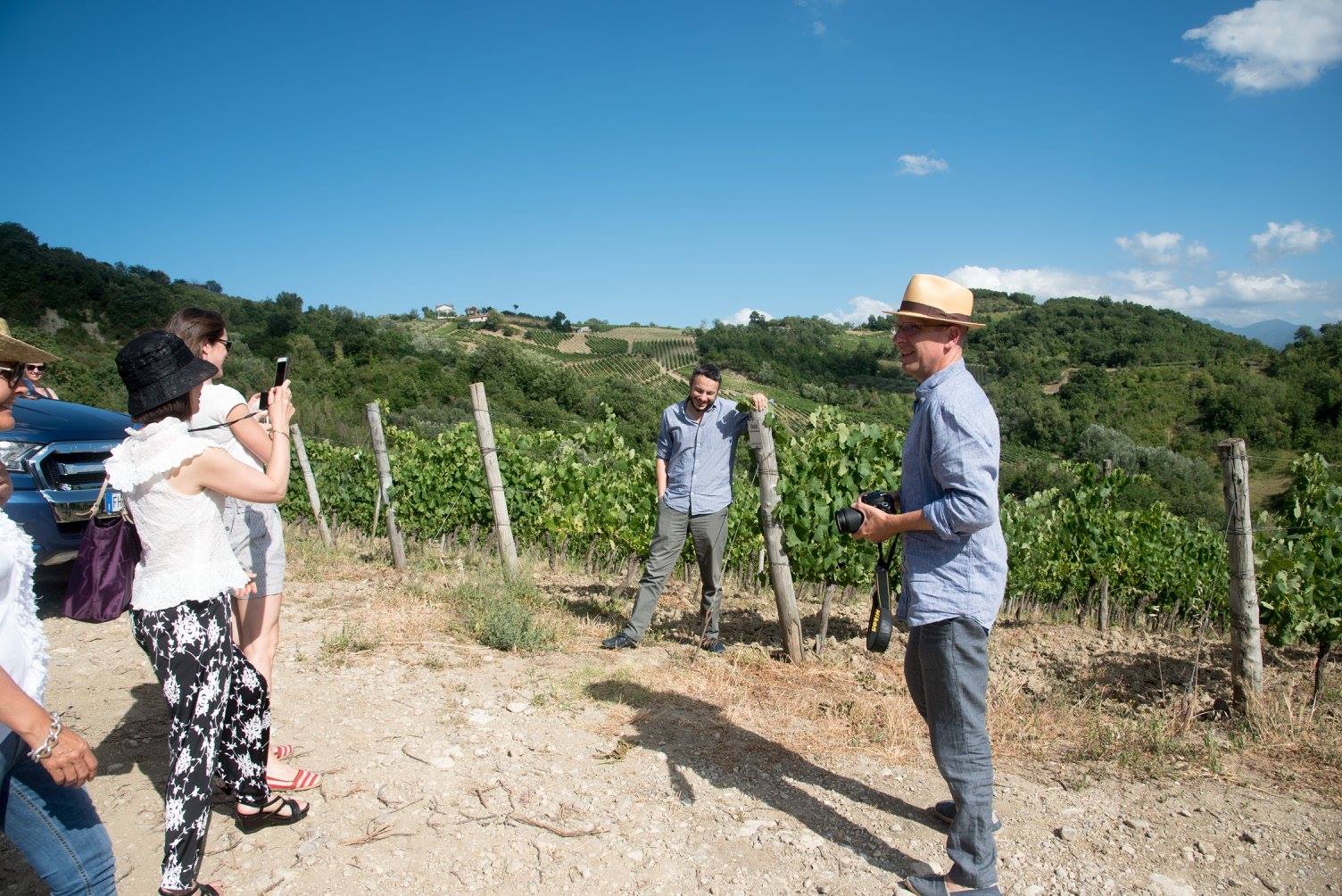 I understand you were working with McKinsey, a prestigious consulting company. You were made partner and then the very next day you quit. Is that true?
It's true. Yes, paradoxically, I really wanted to make partner very quickly so that I could quit. In a way, this was a very interesting and very challenging period of my life. I learned a lot of things and I worked a lot. But my idea since the beginning was, "I want to bring this back to something that's mine." The winery was the idea. To go back there was the idea. So at the end of the day, I wanted to complete the journey.
And in these big, international firms, there are basically two careers — one, to bring you to partner and that means convincing, of course, your clients, but mostly the people you work with, that you are up to it. And then there's the second period that starts at that point when you make partner, and it's convincing your client that what you're proposing is worthwhile. And this second period I didn't do. I wanted to finish the first step, and I was happy I could do it in 2009 and 20 days later, I was at the winery. It was very weird for my colleagues, because it's unusual.
Yes, that's an interesting journey. Tell us about the terroir where your vineyards are located.
Terroir is a wonderful French word. It's not meaningful for every wine area, but actually, for ours, it's particularly meaningful. So terroir for me means a combination of climate, soil, men, and varietals. Our terroir is mostly made of volcanic soils, which is quite unique in the world and helps to bring minerality to the wines. It also helps in expressing the great personality from the varietals. Second are the indigenous varietals, which, by the way, there are four indigenous varietals, three whites, one red. It's one of the few areas in Italy that enjoys both white and red of high quality with 3 DOCGs. So we have very unique indigenous varietals.
Climate is weird, because we expect the south of Italy to be super sunny and appropriate for making big heavy wines, like beach wines or sea wines. In reality, we have an area that has over 200 days of rain per year. It's the rainiest area of Italy because it's enclosed by mountains 40 kilometers inland from Naples, so actually the clouds stop and stay in that area. So we have our lucky clouds all the time. And when it's sunny in Naples, it's raining where we are. These 220 days of rain we had last year, you don't want to live there, but for wines, it's great. So you have this combination of climate that is very appropriate with a big temperature gap. You have a lot of rain, volcanic soils, indigenous varietals and you still have the first element of what I believe the French are teaching as being the terroir — you have man.
We still have a lot of farmers. We have some of them employed and some growers we have long-term contracts with. The area never had intense viticulture so you don't see vines in every kind of exposure in every kind of area. Today we still have so many fragmented and small properties where the exposure is always right, where the vine belongs exactly where it should belong. Then in other areas we have hazelnuts, we have olive trees and vegetables. And our 300 hectares are divided into over 800 parcels so the average parcel is very small, which makes our harvest complicated and management of the vineyards complicated, but it's excellent for having as many options as possible in the cellar and in the winery where you have to make the wine. I believe it's a great terroir and I hope everybody will have a chance to see it because it's a little bit off the map. It's not a winery that everyone knows, but it's a wine area that has, I believe, a great potential.
And while we enjoy a long history of viticulture, our varietals go back to the Greeks in origin, in terms of winemaking, it's relatively new. When we started in '86, we were the sixth winery to transform the grapes into wine. Now there are 140 producers. So it means this area is having a great learning curve also, and that's why I say that I see great potential because we still have a lot to improve, to learn, to work together to fix the standards. I believe that the wines are great already, but I also believe we can still improve.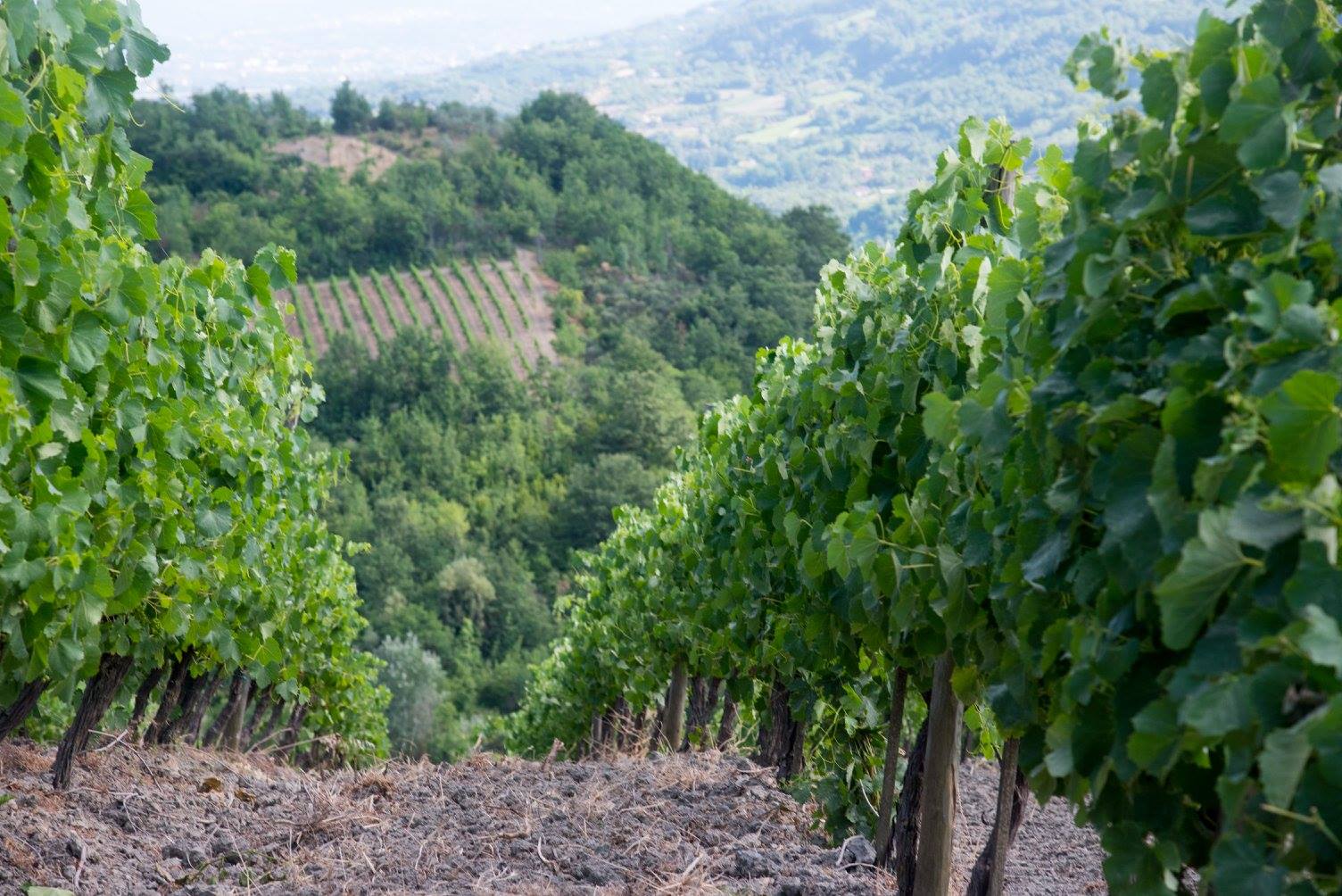 What are the characteristics of your volcanic soils?
All our soils are of volcanic origin, but they're quite different from area to area, and different soils belong to different varietals. So in the Aglianico area, you have volcanic sand of very old formation from several millennia ago. And this volcanic sand, by the way, was great to preserve some pre-phylloxera vines that still are there. Then in the Falanghina area, you have dark volcanic stone from a much more recent volcanic eruption, around three millennia ago. And then for the Fiano-Greco you have volcanic stone mixed into chalk. And with Fiano you have more balanced volcanic soil, again, stone, but lighter that what you find in Falanghina. So very diverse situations, but all of volcanic origin.
And what is the impact of the volcanic soils on the wine?
Volcanic soils bring minerality to the wine and particularly, in the mouth. Generally they give stronger body, longer finish, and then almost a salty aftertaste that is incredibly interesting when you're pairing them with food. And these soils also matter in winemaking, because what you want is to enhance that. So it is important to be as gentle as possible with the juice, to interfere as little as possible and that's why our whites don't go through oak. You want to preserve minerality as one of the elements together with freshness, together with aromatics, in particular for Falanghina. And also with the reds, you use as little new oak as possible, and you use large oak casks as much as possible, depending of course on the wines. It's important to keep this in mind, because you really want to enhance the aromas, minerality and freshness of the fruit.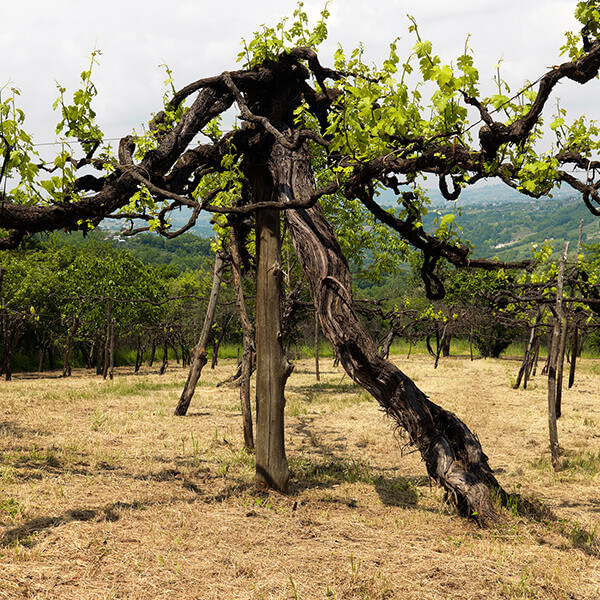 What is your winemaking philosophy?
Okay, it's a difficult question but I would say, in a nutshell, I want the person who drinks my wine to want to drink a second glass. That is my philosophy. Then going into the technical elements, we were the first ones in our area to push back the release date of the white wines and now everyone does it. Not before Christmas, which was the case, but giving six to eight months of stainless steel aging to the wines.
At the same time, we didn't go through the oak process because you want to preserve the primary characteristics of the grapes. This makes our wines, white wines I'm talking about, drinkable, so you want to drink again, have the second glass, which is critical for me. But at the same time, you want to enhance the characteristics, the body. You want to give some time for the wine to express itself so you don't want to put it in the bottle too early. With the red, the philosophy is similar. We try to be contemporary in style, so we use large oak casks and when I say large oak, it's between 10 and 20 extra liters of Slavonian oak.
We use lees aging for some wines when we believe that we don't need to do 18 months or 20 months or 24 months of oak aging. Like for the Serpico, that is in the Taurasi area, we don't believe you need to do 18 months which is the minimum to become a DOCG, we just don't do a DOCG. So our idea is we make wines by respecting the grape and by respecting what the terroir is teaching us. I believe, honestly, for our work in the winery, that we can only get what comes in from the vineyards. This approach is not just words. Our organization follows this approach.
The chief production guy is an agronomist, one of the most respected agronomists in Italy. The winemaker follows his lead. That changed over time, because in the beginning, we all had important consultants, and we found out where in our particular area the viticulture is the best. But you need to be very careful because you can harvest the vineyard in 10 different days depending on the situation of each plant. And in the same area, you can harvest over 20 days in different vineyards because of these characteristics. You cannot have a winemaker telling you, "Okay, that's a good average point." You want to have an agronomist harvesting at the right time each of the varietals, and then the winemaker follows it. So that's a little bit of the organization that is behind the philosophy; vineyards first, winemaking afterwards.
How has the winemaking at your winery evolved over the years?
You can describe our evolution like we progressively understood that we have an incredible potential. The viticultural history is incredible in the area, but the winemaking is relatively recent. There were only a few producers when we started and over time, we came to understand that our wines really have their worth, say, around the world. Progressively we were more and more careful in the vineyards to harvest at the right time, which seems a stupid thing, but in reality, when you harvest between mid-October and mid-November, it's difficult because it rains every day.
You need to select the right point when you want to harvest, when the grapes are mature, but at the same time, you don't want to lose it because it's going to rain the day after. And this is the fight we do every year, and this is the difficulty of making a good Greco and a good Fiano and a good Aglianico. The work in the vineyards is really 90% of the quality of the wines. Then in the winery, progressively, we understood, again, our potential in reducing the percentage of barrique new oak for the reds, in getting more and more into larger oak in order to allow the varietals to express more of their primary characteristics. So these are the two things we mostly did over time.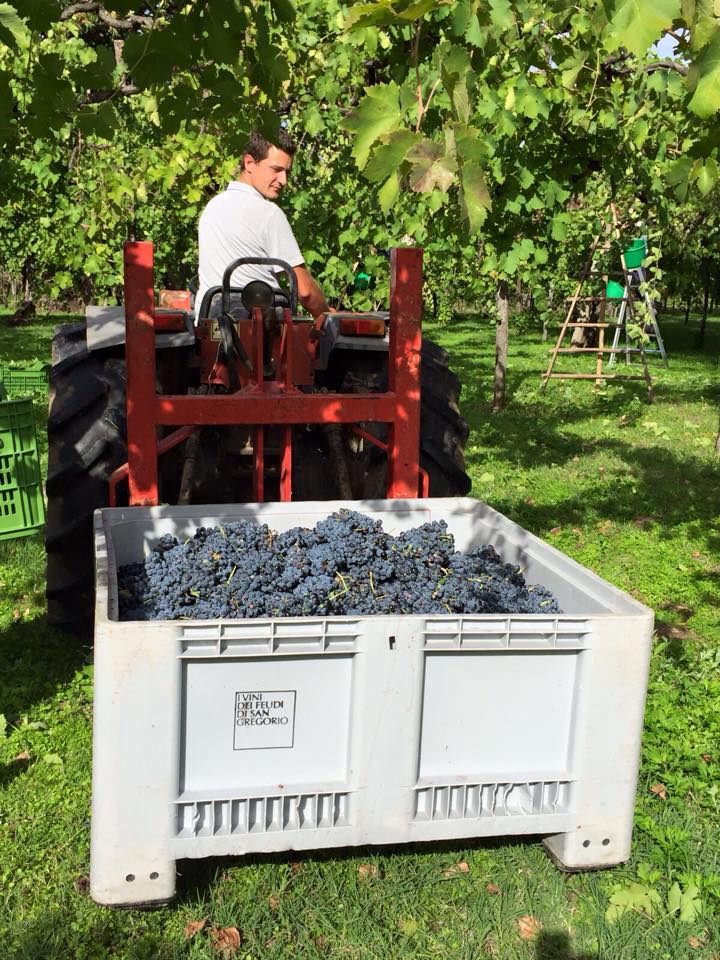 From a marketing standpoint, everybody knows Brunello, Barolo. What does Campania need to do to become a part of that conversation?
It's very difficult because if I had a good answer, we would already be a part of this conversation. But in reality, there is a structural point and in our DOCG, the production is much more limited. Traditionally, people drink the wine in the region and enjoy it. Not much production has been devoted to export. When we started exporting our wines, everybody else was already there, so it was very difficult to bring the wines outside Italy.
So now we have this problem that, although in some areas like New York there are many who are curious and want to learn and try new things, in reality, the market is saturated and there are categories that are way more known. I believe that most of the future success of our region is in our hands because, first of all, we still need to improve the quality of the wines, in particular as a community, because now there are more producers. And I believe that, although on average our wines are very good, we still have the potential to improve the standards. We need to work on that and the good thing about wine is that you always have something to learn. Even in Barolo and Brunello they have something to learn. We're not spoiled by commercial success, so we need to learn even more. And another thing is that we can learn from any kind of attachment to the market. So I believe, really, we can do that.
And the second thing we need to do is that we need to, and you're helping me in doing this, we need to market this. We just need to tell our friends, consumers around the world, the story behind it because anybody can do a very good packaging of the wine, anybody can also make a good wine now, and from every world region. But the story of our area is unique and if we are able to tell the story, if we're able to tell that these varietals were the first ones to be produced in Europe, to say that we still have an enormous number of pre-phylloxera vines that preserve the authentic characteristics of the viticulture like it was three centuries ago, if we're able to tell this story, I think it's going to help.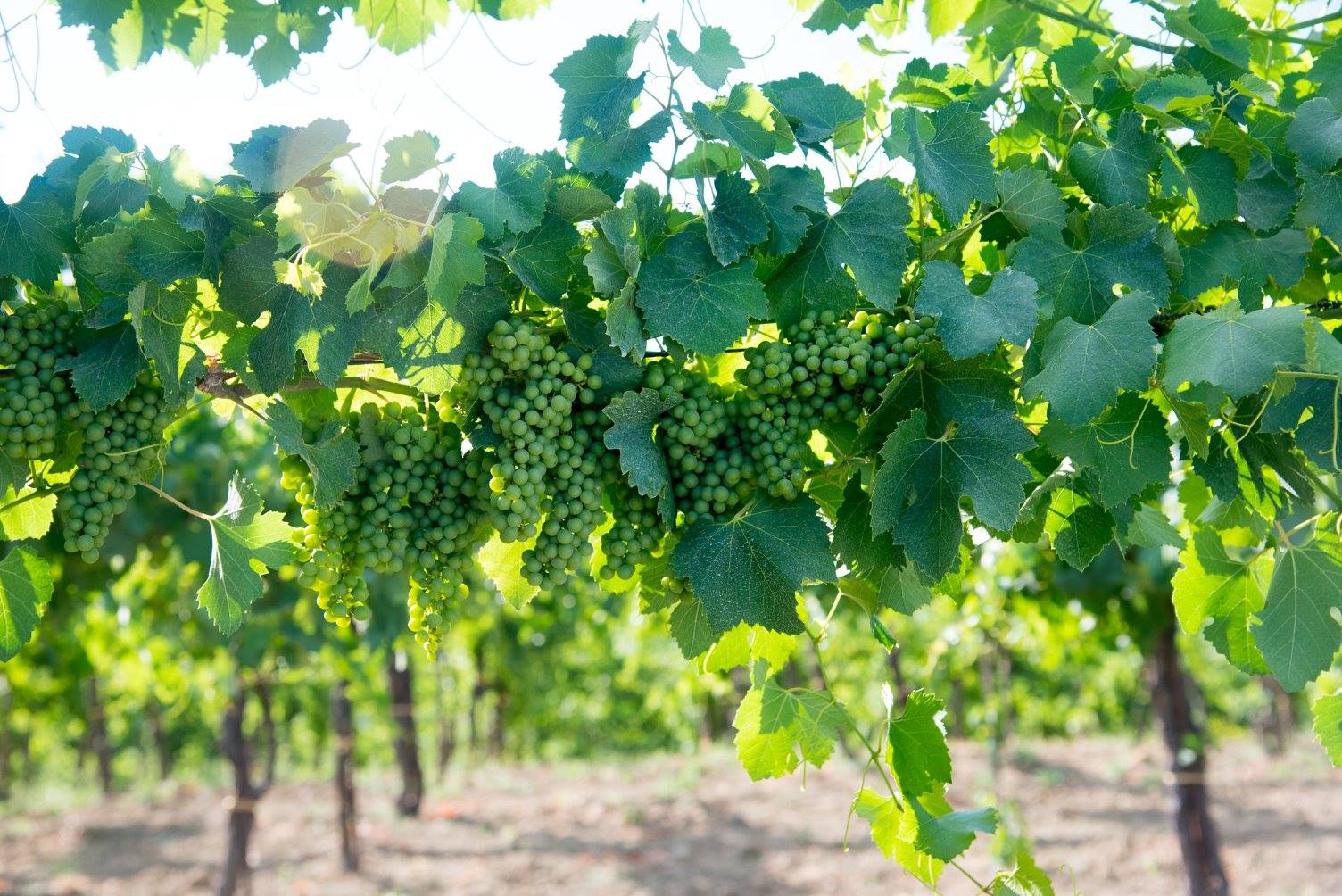 Do you use all indigenous grapes in your wines?
Yes, we focus on them. We planted them from the old vines, sometimes from pre-phylloxera vines, so in a way, we have a variety of clones. For each of the varietals, there are 40 to 50 different clones, which has increased the diversity in our hands. I believe that diversity is everything when you want to make great wine, to have as many options as possible. And you may do only one single varietal, but you study and you learn more about your varietal and your soils. We have a ton of small stainless steel containers where we can separate everything.
The only intruder is that we have these two hectares of Merlot that are 70-year-old vines and we don't know where they came from. The guy who sold the property to us sold it during the winter, so we did not notice that it wasn't Aglianico. And then we found out it was Merlot, and so we do this wine that is a single vineyard Merlot called Pátrimo. We asked the regulator to change the law to allow us to do it and we are doing it, because we believe it's a great Merlot, and we believe it's a shame to tear it down and put Aglianico if Merlot has been there forever, but it is the only, let's say, intruder. We like to say it's a little bit of a natural varietal too because it's been there a long time. But otherwise, it's all indigenous varietals.
What percentage of your wines are white versus red?
Whites represent between 55% and 60% of our total production, depending on the year, depending on the quality of the vintage. But overall, it's roughly balanced. Although in some areas, we're way more known for the white wines and some people expect our white wine percentage to be higher. This is because our white wines really stand out due to the characteristics of the soil, the climate and the varietals. But the production is balanced.
Can you tell us a little bit about the red indigenous grapes that you grow?
The red indigenous grape is Aglianico. Aglianico has a Greek origin, it comes from the Greek word, "Hellenica". It came all the way down, in reality, from Anatolia, Turkey, to Greece, to Puglia to Campania. And in the Taurasi area, Taurasi is a name of a town, Aglianico becomes a Taurasi, if it undergoes a certain aging protocol like Barolo and Nebbiolo, the same relationship. And Aglianico found in the Taurasi town has the best terroir, the best area to express itself because of the volcanic, sandy soil. Aglianico is one of the last varietals to be harvested in Italy, in the beginning of November. The fruit is incredible. The fruit is very rich, but at the same, because of the volcanic soil, the minerality shows in the aftertaste. There is one element that is typical of all Aglianicos, and in particular, the Taurasi. If you do a correct job with the oak, there is almost this wild element of wet wood to it, or something like wet forest floor. This is an element that is typical to some Italian wines, also some Sangiovese from some areas, and is very typical of Aglianico. Wines made from Aglianico enjoy incredible longevity. Wines can be drunk after 30 years easily. The harvest has very high acidity, which supports this longevity, and I think it is one of the great Italian red varietals.
You make wonderful white wines. Can you tell us about those varieties?
Of the whites, we have three varietals. In Irpinia, the Avellino town where the winery is located, we have two. We have Fiano di Avellino, coming from the Latin word, "apianos", because it has a very sweet juice and it was loved by bees, "apis" in Latin. And then Greco, Greco coming from "Greek", so coming from Greece, giving birth to the Greco di Tufo, so there are two DOCG. Tufo is a name of a town, and Greco becomes Greco di Tufo, is the Greco grapes are sourced from the area. It's in one of the smallest DOCG in Italy. Today, I think there are no more than 800 hectares of planting of Greco. Greco is very extreme because it grows well on chalky soil and the vine has to really fight hard to feed the grape. So it's one of the lowest yielding varietals in Italy, and is one of the most concentrated. The color is very dark, it's a very intense yellow. It has this very long and almost harsh aftertaste which may make you think it went through oak, but it doesn't.
Fiano is a much more gentle varietal because the soil is a little bit aggressive, it's of volcanic origin, but the vine looks better and the wine is more balanced. What the nose promises, the mouth delivers. With white Greco, the nose is very closed and the mouth is explosive.
Falanghina is the third white and it grows on volcanic soil a little bit further away in the Benevento province, but still very close by. And Falanghina is an aromatic varietal, so the aroma tasted in the nose is brilliant, it's a super enjoyable wine, very simple, immediate in the mouth. Not very structured like the other two. And I think it's incredible because they grow 20 kilometers away from one another, but they're so different.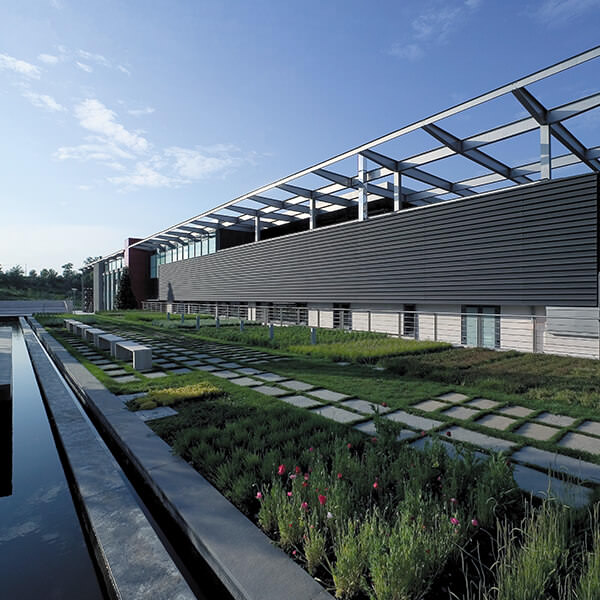 You built a new winery in 2004. Can you tell us a little about it?
We started in 2001, we finished in 2004. It's been 13 years so it's still quite new in the sense that it's been built with a contemporary approach. We started in 1986 making wine. We don't pretend we have two centuries of history, so we made a contemporary architectural structure that is still, I would say, up to date today. And we decided to make a winery that was not just a place where you make wine, but also a place where you communicate the wine, where you do pairings. We have a Michelin-starred restaurant on the first floor where we have events. So it's an open place, we have over 30,000 people visiting, because it's a nice architectural piece.
It's a bit of everything together. We have our offices, but at the same time, we have guests there having events and conferences. We have the restaurant. Then we have, of course, where we make the wine. It's all in a single unit. And I believe this is quite unique because in many places you find different buildings doing different things. You have offices in one end, you have the winery on another end, and you have maybe a hospitality guest house. We have everything together.
We were lucky because we built the winery from scratch. In a way, we built it with the idea of bringing together everything that has to do with the wine and all the people that need to be behind the wine. I believe that the production and the offices should not be separated. They should be together. Even the people who sell the wine, who market the wine, that do the invoices for the wine, they should feel the wine atmosphere. They should not be located somewhere else.

And tell us about the labels. Some of them have beautiful artwork on them.
Yes, just to better explain the artwork, we named ourselves Feudi Di San Gregorio after Gregory the Great, he was very important in Christian history. Known as San Gregorio, or Gregorio Magno, he used to own, as a part of his personal wealth, a portion of land where the winery is located today. He was very important in the history of the church, and the church was super important in the history of winemaking from the Roman times to the modern Renaissance and the French development in the 17th century. For this reason we decided to name our winery after this important pope and we decided to select artwork that belonged to Byzantine art, which was the most popular art at the time. These are all details of mosaics from Byzantine art.
The design itself of the labels, the sides and the minimalistic design of the labels, was created by a great Italian designer who was living in New York. His name is Massimo Vignelli. He did this in 2001, at the same time that we were building the winery. So it was a very important part of our history, the new millennium, let's say. I think this minimalistic label has helped us a lot in making the brand important. The guy was famous here because he designed the Bloomingdales brown bag, for instance, he designed New York subway maps, the American Airlines logo, and we are doing a little bit of advertising. But he was very important for many American corporations, and we had the luck to meet him because he had a house by the winery on the Amalfi Coast about 50 kilometers from the winery. He visited us, we became friends and he was so important in our development. And I think design is important. I think the beauty of the bottle and the label are components of it. It has to be good, it has to be beautiful, it has to be well-designed. All these things are important. And sometimes in wine, we're just focused on the quality of the wine, which is super important, but all the rest, I think, matters too.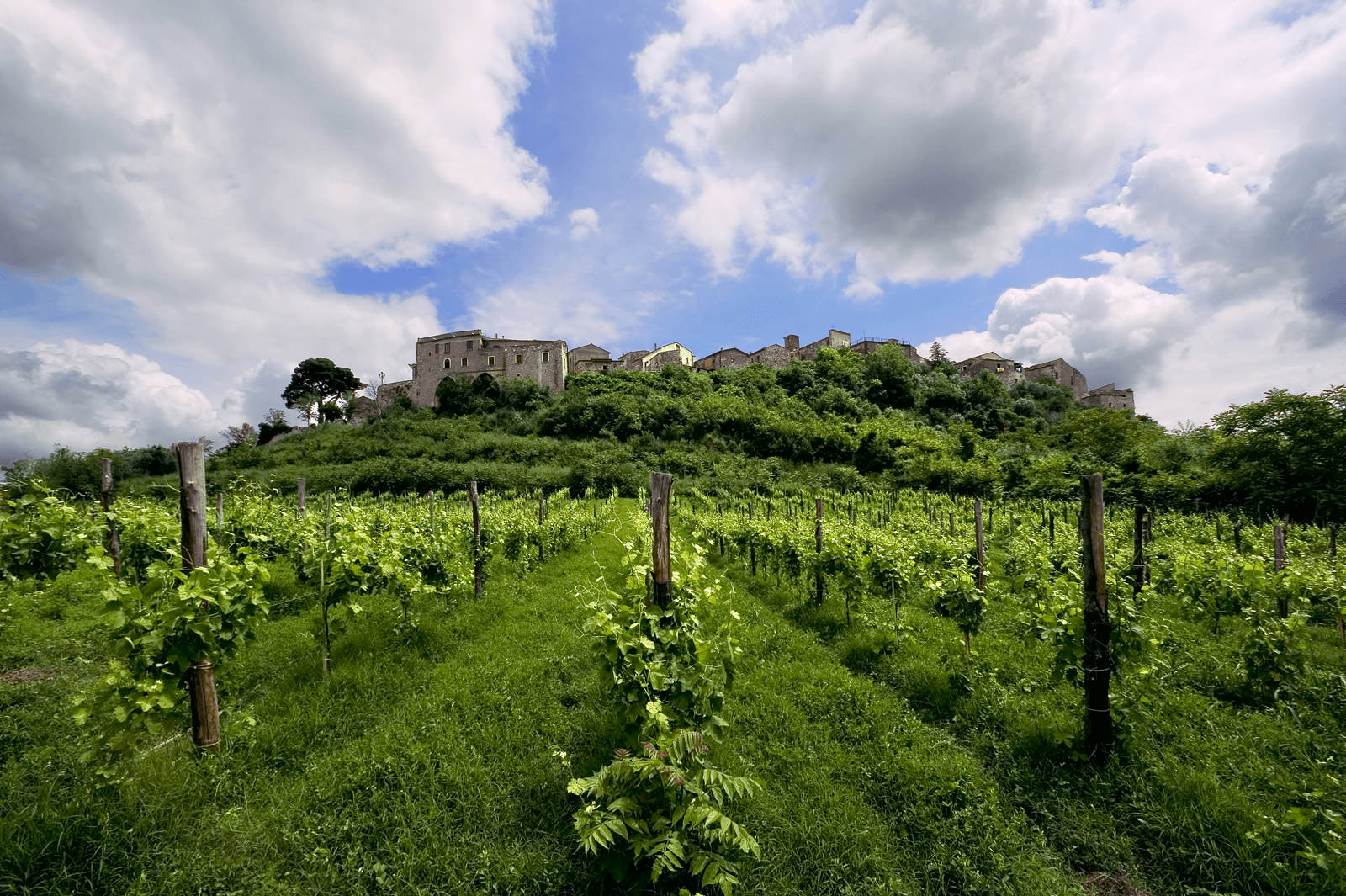 Follow Lisa Denning and her award winning food and wine blog, TheWineChef.com.

Check out Winesearcher to find Feudi di San Gregorio wines near you.