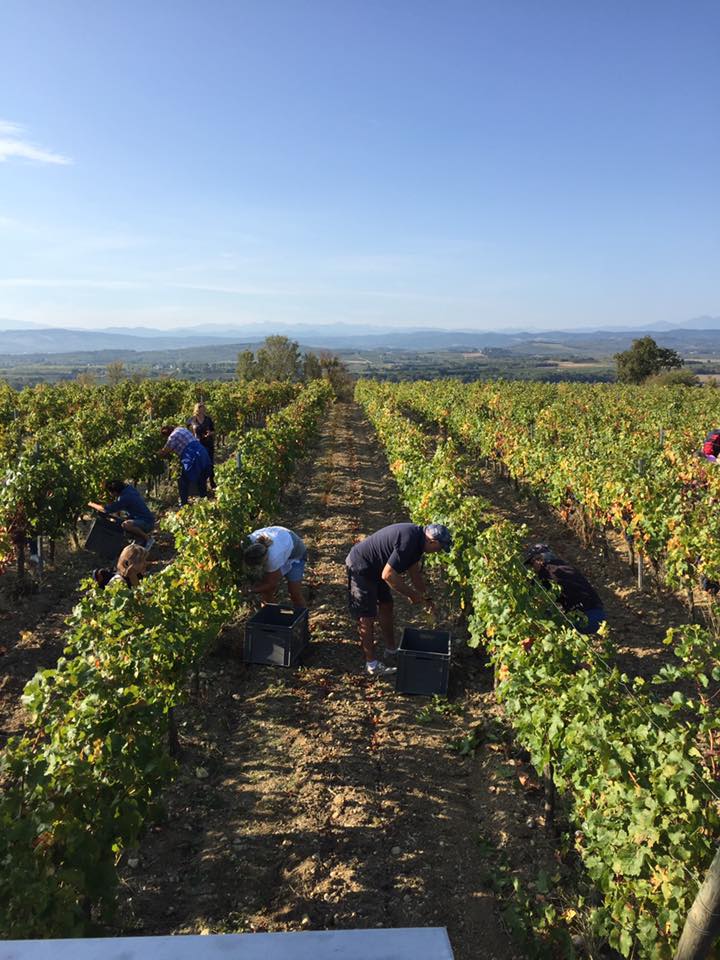 Château Guilhem is within the Malpère wine appellation of Languedoc, lying between the Atlantic and Mediterranean Oceans. Bertrand Gourdou is the fifth generation of his family to run the 92-acre estate. It was Bertrand's grandfather who, in the 1970s, first saw the potential that traditional Bordeaux grapes could reach in Malpère's unique terroir. Thirty years later, the appellation was born and is now mostly planted with Merlot, Cabernet Franc, Malbec, and Cabernet Sauvignon.
Bertrand sat down with Grape Collective to talk about the day he flew back to Languedoc from Paris to stop the imminent sale of the winery and the changes he's made at the estate since taking over fifteen years ago.
Lisa Denning: You're a fifth generation winemaker. When you were growing up did you always think you'd be in the family business?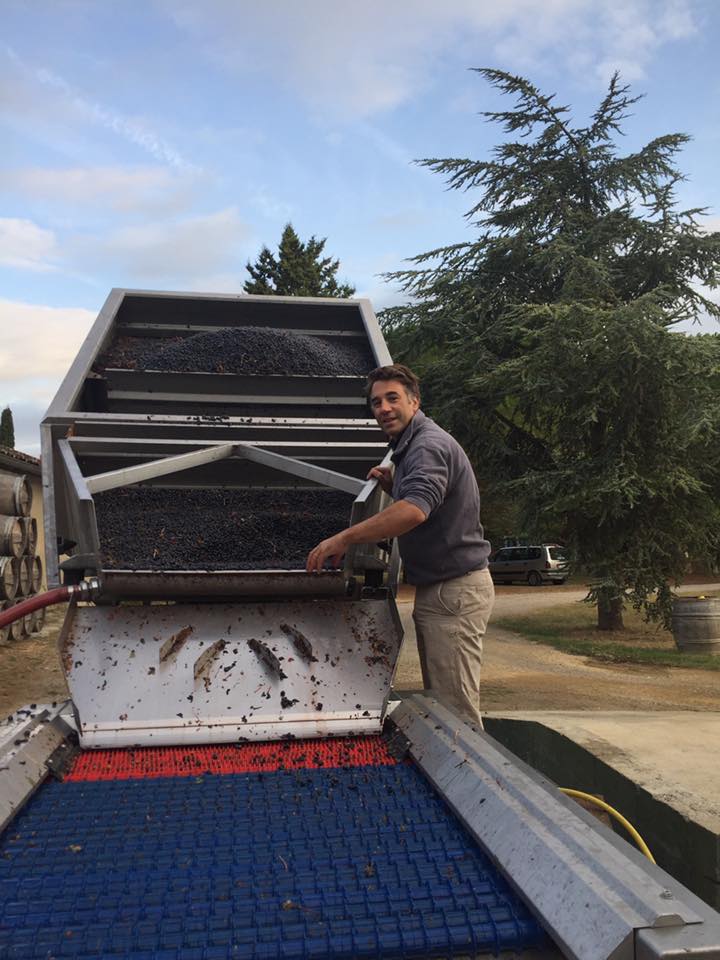 Bertrand Gordou: I think so, yes. When I was little, my mother used to bring me to the vineyards during harvest but we lived in Toulouse, about an hour away, because my father is a surgeon and he's not involved in the wine business. It's my mother's side of the family and I think my parents wanted me to be like my father, a surgeon or some kind of doctor. So I studied medicine but during the second year I realized I was not so keen on medicine and I stopped and decided to go into the wine business. I went to London to learn English and I used to work in the wine shop at Harrods. I stayed there for a year and, finally, I came back to France to learn how to make wine. I studied at the business school of Toulouse and I worked for Layton's which is an English importer. I also used to work for E&J Gallo, the American company and for a French supermarket chain as wine buyer.
(Bertrand Gourdou at left.)

Can you tell us a brief history of Chateau Guillaume.


The name Guilhem comes from the Middle Ages. There were people who lived in the twelfth century in the south of France and they had their own religion called Catharism and they had very strict rules, no meat, etc. They were killed; completely destroyed by the King of France in the thirteenth century, exactly in 1244 at the Montsegur Castle during a very hard battle. So, Guilhem is very well known in South of France. They were the Kings of Montpelier before the king of France got the monopoly of the power. Guilhem is my mother's name and I wanted this property to follow our name.
Back in the 1970s, Chateau Guilhem was the first estate in Malpère to be planted with traditional Bordeaux grapes. Until then, it was mostly planted with Rhône varieties. Tell us how that happened.

My mother was an oenologist and she built the first independent wine laboratory in Limoux in 1976. She and my grandfather made different analyses of the soils and climate. They found that there are influences from both the Mediterranean and Atlantic Seas and that there was limestone in the soil, perfect for Bordeaux grape varieties. They were convinced that it could be interesting to put some Merlot and Cabernet in this area so that's what my grandfather did. He planted it and today we have only Bordeaux grapes varieties growing at the estate.
He changed the winemaking techniques too. He introduced the first stainless steel tanks in 1972. It's hard to imagine, but today if you buy a stainless steel tank, the thickness of the stainless steel is just three millimeters. Back in the 70s, it was eight millimeters thick and they had to be built directly inside the cellar. Unbelievable! For Languedoc he was quite updated. Nobody had stainless steel tanks at the time. He also bought a frigidaire to cool the grapes and was the first to introduce cold maceration.
Tell us how the AOC Malepère came about? I understand your family had something to do with that?
Yes and me too! That's why I'm here because I was sure about the potential of this appellation. But it's difficult when you start to create an appellation but it's also more interesting to be a pioneer. Here, in Malpère, we were the first. My grandfather introduced the base and my mother tried to fix the quality and the style of the Malepère wines. And I brought the file with all the charts of the Malepère to the Ministry of Agriculture and we finally got it. So, in fact, my grandfather, in 1970, introduced the first grapes of Malpère Cabernet and 30 years later, we got the agreement of the appellation. And that's why I came back, to create the appellation for these unique Languedoc wines with Malpère Cabernet.
It sounds like your grandfather was quite the trailblazer. What kind of wines did his father make?
His father made bulk wines back then and it was my grandfather who wanted to change things and make quallity wines.
At one point your mother decided to sell the property. Tell us what happened.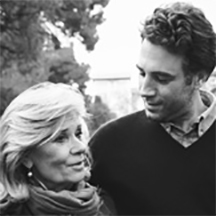 My mother was the oldest of four children and my grandfather decided to give 4 equal shares of the property to each child. My mother decided to be the manager of the estate. She worked 20 years at it. In the 1980s and 90s it was very difficult because Languedoc started to be a bit more known. But known for Syrah, Grenache and Carignan, not for Merlot or Cabernet. So each time she presented the wine everyone would say, "Hey what's wrong? I don't want to have a bottle of that. I want to have a real Languedoc. Give me Syrah, Grenache, or Carignan." But after 1985 we only grew Bordeaux varieties. So it was really difficult.
(Bertrand with his mother Brigitte.)

By the end of 90's, she had sold a lot of grapes and a lot of land until finally, in 2003, she had only 15 hectares instead of hundreds, like in the 70's. Her sister and brothers wanted more money from the estate and so, under pressure she decided to sell the château. It was 2003 and I was working in Paris at the time and she called me on a Sunday to tell me what was going to happen. She told me that the signing would be taking place that Wednesday. I was petrified and after two days at my office I took a plane and came back to the chateau. I arrived at the notary's office and my mother and the buyer were there and she said to me, "What are you doing here?" I said, "I want to run the chateau." And, surprisingly, the buyer, a rich German entrepreneur, said to me, "You know, I am also the 5th generation in my family business. It's not possible to stop this family story, so, go ahead and follow your destiny. Stop the purchasing process!" It was crazy.
So that's why I am here. I made a 5 year pact to see if the winery could be valuable and now it's my 12th year at the chateau. The property is currently around 48,000 hectares and we always sell the wine; it's sold out every year. Also, during these 12 years, I began buying the rest of the shares. Today I have bought everything and I'm 100% the owner.
What's your total production?
We produce around 250,000 bottles (20,000 cases) a year.
How would you sum up your philosophy of wine making?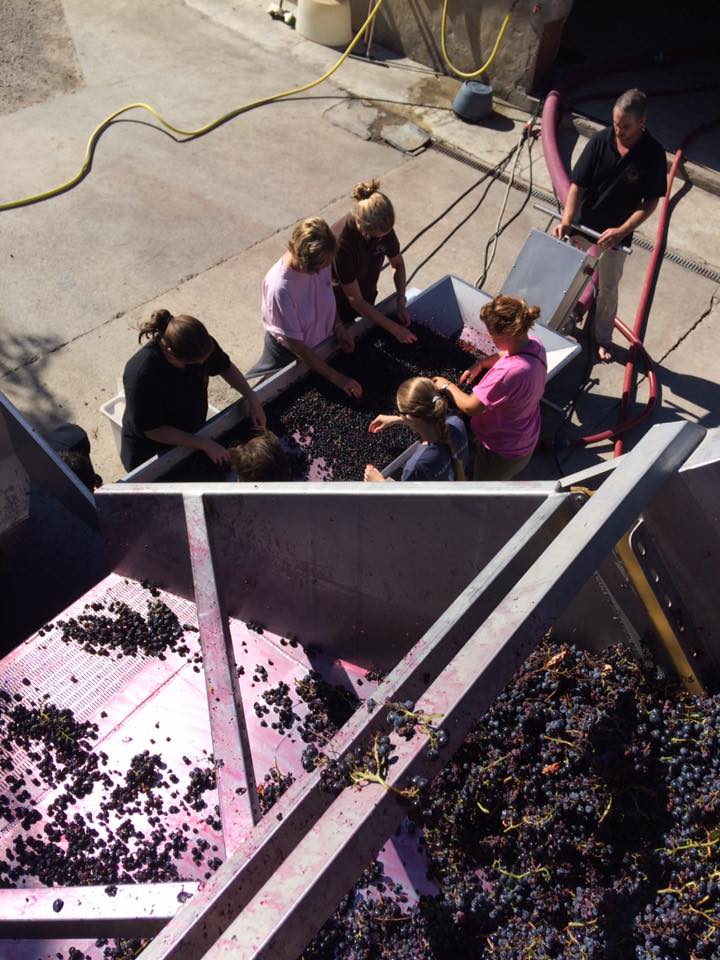 My philosophy is to make wine in the simplest way possible. For the rosé, for example, I don't press the grapes. I just take the free run juice from the tanks. For the reds, the vinification process is that we harvest quite early in the morning to keep the grapes cool but we just leave the fermentation — we don't touch the grapes much, only a few pump overs to extract a bit and that's it.
You're a certified organic winery. When did you start converting the vineyards to organic farming?

First we started as sustainable in 2007 which seemed logical to me, to get to know the vines and now we are certified organic since 2012. And especially when you're in a small place, where you have a lot of cooperatives around you, you want to be first. You want to do everything the most natural way as possible and also to be different than the rest. There's two reasons for it, one for the environment and one for the business. So finally it's totally natural to do it this way and even if the yield goes down a bit, we are growing the best possible grapes. I'm sure about that.
Do you notice a difference in the wines?
Yes we see an unbelievable difference. Also now we are on the way to becoming biodynamic too. We started with three hectares making a combination with three plantings, and we added essential oils from citrus, grapefruit and lavender. And it makes more and more sense and also it's more interesting.
The grapes are the same but the vinification isn't the same. Obviously the grapes are organic but our vinification process changed very quickly and since the 2006 vintage we haven't used any added yeast, only indigenous yeast. For the next vintages our goal is to vinify without added sulfates too. It's been a progression from sustainable to biodynamic and the new process of vinification.
It sounds like you were at the forefront of organic and biodynamic viticulture in your area. Are other wineries in Malpère starting to do the same?
Our area had been getting an unbelievable increase of organic farms up until the past couple of years. We used to get some money from the government to do it, 500 euros per hectare on the way to being organic and afterwards they would pay 300 euros to maintain the organic way of farming. But it's been two years since they stopped doing that. Now what we see is that the new winemakers don't want to go into organics because they need this financial help, so the total volume of organic farms is decreasing unfortunately.
Tell me about some traditional dishes from your area that you feel would go great with your wines?
Oh my goodness. You know, every year we present the cassoulet during a charity harvest at Chateau Guilhem. That's the main dish from Castelnaudary. Last year for 2017 there were 700 people and I served the cassoulet. It's a fantastic traditional dish. It was a dish for poor people because it's like paella in Spain, except the main ingredient in cassoulet is not rice, it's beans. It's made with the rest of all the meat you have leftover in the fridge and you add a bit of sausages. If you're rich you might put a leg of duck in it too but you always have some fat and pieces of pork. It's the Sunday dish, the main dish. Today we have great chefs from around the world who make fantastic cassoulet and it's not only from my area but it represents France, particularly southwestern France, all around the world.
What wine do you like to drink with cassoulet?
It can be fun to have wine from another region but the fantastic pairing is to have the local pairing. I love the Guilhem Clos du Blason with cassoulet. It's the oldest Merlot from the Malpère, and it was planted by my grandfather, so it's probably the oldest Merlot of the appellation. This is a wine that I make like a Burgundy wine. We hand pick the grapes, but also we press it by foot and it's fermented without any added yeast. And during the fermentation we press gently everyday to get more bitterness into the wine. And when the fermentation stops we put the wine directly into big barrels of 225 liters and we leave it for 18 months. It's a fantastic wine. It's a Bordeaux blend, but with more softness and more richness. It's very smooth.
It sounds delicious! What do you like to do when you're not working?
I enjoy visiting other vineyards.
All around the world?
Yes, my next trip is to Lebanon to see Chateau Musar. I also like to visit wineries in Italy, Spain and Portugal and I found some fantastic wine in Germany and in Austria, some amazing white wines. And of course the United States, California and also Oregon to taste the Pinot Noir. The next trip will be South Africa and New Zealand.
What do you like to drink when you're not having you own wines?
I love Cabernet franc. That is, for me, one of the best wines ever. I'm not really keen on Carignan and Grenache but Cabernet Franc is absolutely nice.