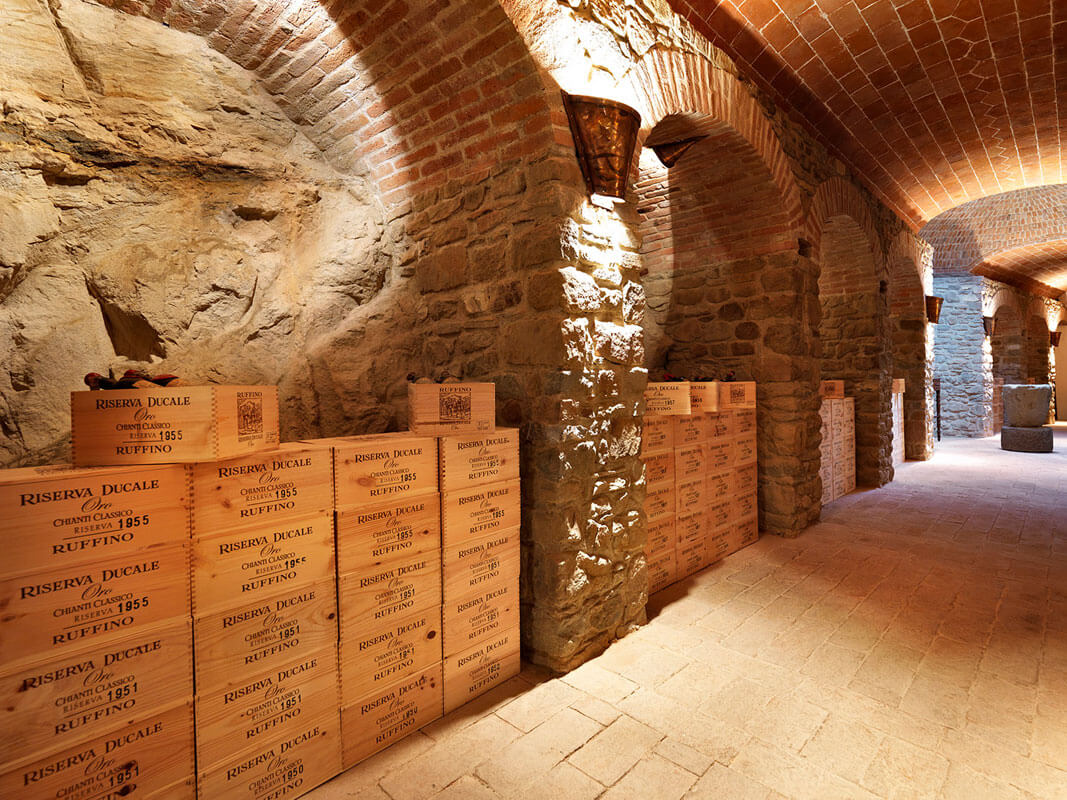 The Ruffino winery was founded in 1877 by cousins Ilario and Leopoldo Ruffino who came up with a marketing strategy that was unique for its time. Their plan was to create a Tuscan wine that would travel beyond Italy's borders and gain an international following of wine lovers. A particular focus of the cousins was the United States, a country where millions of Italians had immigrated beginning in the 1880s. The Ruffino Chianti, soon followed by the Riserva Ducale Oro, was one of the first Italian wines to land on American shores.

Since then, the winery — now owned by Constellation Brands — has acquired many prestigious vineyards throughout Italy and has become one of the most popular brands of Chianti in the world. "The Ruffino style has remained consistent over the years," says Gabriele Tacconi, only the fourth Chief Winemaker in Ruffino's 140-plus years. "We take a traditional approach to winemaking, keeping a balance between old and new techniques, but always respecting the fruit and the land it grows on." And by traditional he means that the use of oak in the aging process is restrained and the wines are never heavily flavored by new oak.

Grape Collective caught up with Gabriele to find out how he keeps Ruffino's quality consistent year after year at one of the largest wineries in Italy.
Lisa Denning: Can you tell me how you got into winemaking?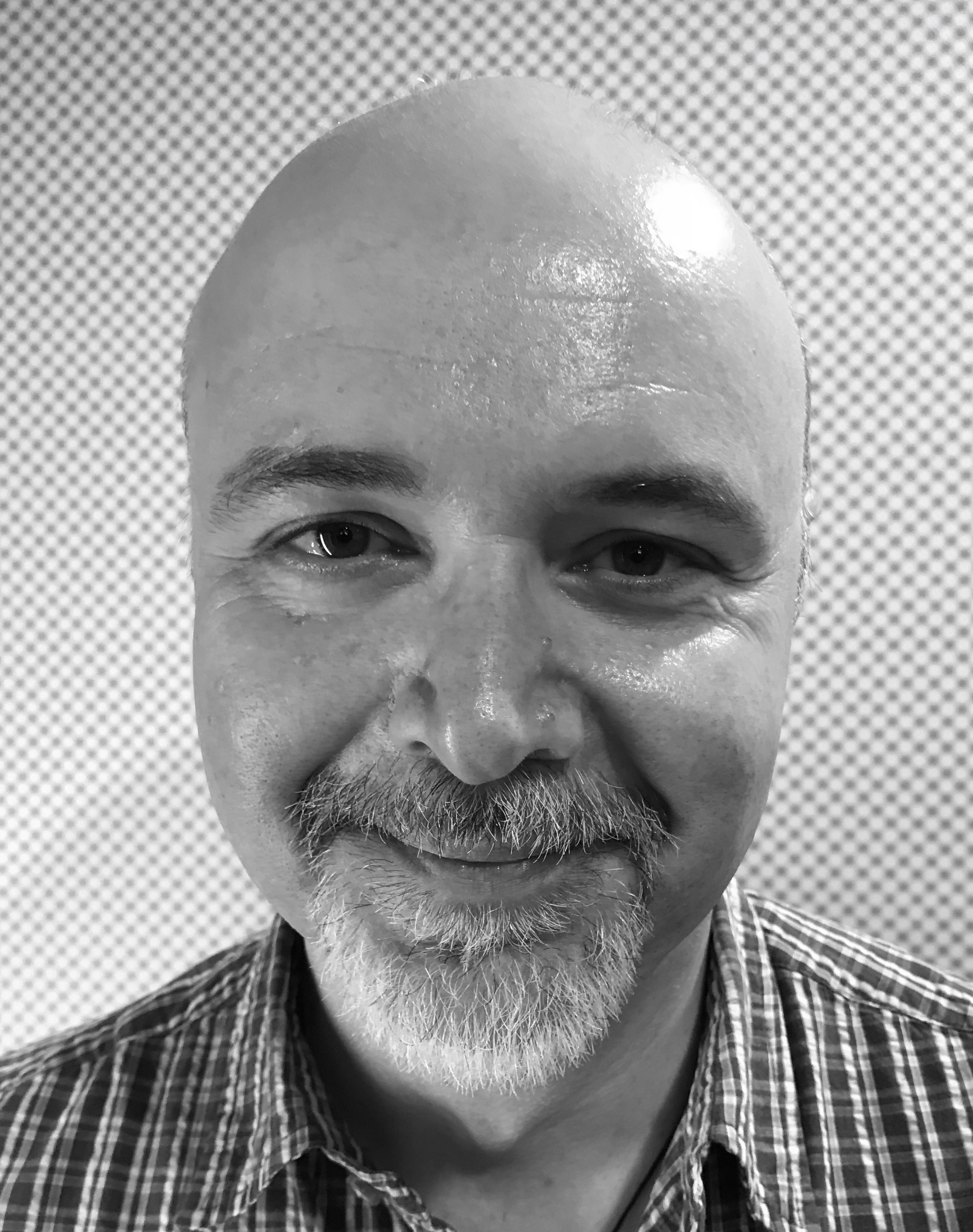 Gabriele Tacconi: My personal journey started a long time ago when I was a kid. My grandfather had a vineyard in a village outside of the town I was born in, Maranello, the land of Ferrari cars, Pavarotti, and balsamic vinegar. So, I grew up in the middle of a culture of everything passionate. My grandfather had a vineyard nearby in Lambrusco. I was in love with this little vineyard, this little wine. Eventually, after my studies, I began working, not in winemaking but I began taking sommelier courses and I was falling in love with wine so I wanted to be back to my story. My old story that started with my grandfather. So, I left my work.

What kind of work were you doing?
I was working in a tile factory, making tiles and spraying the color on top of them. It was very popular in my area because, around Maranello, it was famous for wine, parmesan cheese, cars, and tiles.

I left and went to Milan, to study winemaking and viticulture in the north of Italy. I got a moment suddenly, I woke up one day saying, "I want to do this. It's my life, I want it to be my life." So, I lived for years in Milan, but when I started working in winemaking, it was in Sicily, in Etna. Sicily is a unique and amazing land with amazing wineries and wine. One day I saw in a newspaper that there was a winemaker position available in Tuscany, which, like Sicily, has amazing reds. So I went from Sicily to this winery and I'm now celebrating 20 years at Ruffino.

Congratulations, 20 years is a long time. Can you give me a brief history of Ruffino wines?
Thank you! Ruffino was founded 142 years ago, in 1877, by two gentlemen, Ilario and Leopoldo Ruffino. The story is that they had a vision at that time. They wanted to create an ideal wine that everybody could enjoy. Not just locals in the village of Pontassieve, Florence, but everyone around the world. So, they started with this philosophy, creating wine that could travel, that could go outside of Italy, to France, England, and the US with the immigrants; many were leaving for the United States at that time period.

And that's how they started. They made this amazing wine from Sangiovese in a winery close to Pontassieve, with the idea of exporting wine. They bought grapes and they made the winery. They also bought wine from the area because a lot of small producers, were selling the wines locally. And, the story goes that there were a lot of fans of the wine, famous wine lovers like Giuseppe Verdi, the director, and the Duke of Aosta.Soon they began crafting a special wine that today still has the same level, the Riserva Ducale Oro. By creating this wine, from the best grapes of Tuscany, and then exporting the wine, that's how Ruffino became so popular outside of Italy in the beginning of the last century. And then in the 1960s and 70s there was the Chianti flask wrapped in straw. Chianti became so popular in the US as an everyday table wine in those "fiasco" basket bottles, of which Ruffino made up a large proportion.
Chianti, as a region, continues to evolve and Ruffino is a part of that evolution. We have been making the Riserva Ducale Oro with Gran Selezione standards from the beginning, before Gran Selezione was even created as the highest designation for premium Chianti Classico wines. So as soon as the designation was formalized, we were able to begin labeling it as Gran Selezione.

And then in 2003, the owners at that time sold the company to Constellation, correct?
Yes, the United States and Canada were the main markets because many Italians were also leaving Italy so, from '84, '85, more than 70% of our wine was sold in the US and Canada. The Constellation family, Marvin Sands and his sons, Richard and Rob Sands, are running the business and they purchased the stocks of Ruffino in 2003. And in 2011, Ruffino became 100% owned by the Constellation wine family.

What changes have you noticed since Ruffino was sold to Constellation?
I compare it to how it was when I joined Ruffino in 1998. The first thing that I was doing was not touching anything because everything was traditional, made in Italy, in an Italian way. So, Constellation didn't change the style of the wines or the winemaking tradition.

What really changed is that it brought money and since then, we have had an investment plan. We invest money, a lot of money, into vineyards, into the cellars, into knowledge and everything.

Would you say it was all positive changes then?
Yes. Absolutely. You need resources if you want to stay at the top and there's no way you can do that without investing. I mean, the bar is very high because there's a lot of good wineries out there. You have to spend money, you have to invest.

What is your total production for all of your wines now?
Our production of Tuscan wines is around 10 million bottles. We start from 5,000 bottles and go to 400,000 bottles of Chianti Classico depending on the product. If we merge the Veneto wines, the Prosecco and Pinot Grigio, we are around 20 to 22 million bottles.

With such a large company, how do you keep quality consistent across all the brands?
We invest in technology to have the best. What we can do technologically-speaking is to invest money in equipment to get the best from the fruit. And we invest money in the vineyards in order to keep the quality very consistent and to raise the bar because the bar is getting higher and higher. So, we work. We do a lot of coaching, as a team because things start from the people, the work. So, if you don't have a good feeling, if we don't speak the same language, we don't get good results. So, it seems strange, it's technical things, but also how we work. So, constantly improving the way you work is very important.
And, we do this. Secondly is the selection of the materials, the clones that we have, and the planting, being more specific in planting the vineyards. Knowing how the land responds to the selected clones — what the land gives us — is another key issue.

And, the third thing is that we have some powerful tools like picking the grapes based on the vigor of the vines. That seems like being extreme but vines are trees with fruits. If you pick one tree full of fruits all in the same day, you get very different selections. Outside, inside of the tree, north, east, west, south. It's different. So, with the vigor map of the vineyards, we can go and pick, separating the high vigor fruit from the low vigor.

So, working more, trying to get the best fruit, and separating the ones that are more ripe from the ones that are a little bit less ripe. It's technology along with experience. So, it's all these elements, including working together with the people, improving the teamwork and improving the single skills of, for example, the cellar master. He is with the wine all day. He has to taste. So, you have to go with them, taste with them. Stay with them. It may seem strange, but it's absolutely not. I think in any organization that's the key element, that you speak the same language, and work together.
We have a lot of tools now that we can use for the fruit, you have to wait until it's ripe, and then you have to be quick. Before, 50 years ago, everything was picked a little bit earlier. The grapes were a little bit unripe, with more acidity. Now, everybody wants very ripe fruit. You have to be quick, you have to be really smart.

And you're the Chief Winemaker for all the wines?
Yes. I work with a team and I have a chief cellar master in every single estate that we own, but I'm the one who oversees all the winemaking for Ruffino. It's a team of 12. A head viticulturist, and winemakers. I'm the one that is responsible for the wine, but, it's not my philosophy, it's the Ruffino philosophy that we share; it's a teamwork.

Let's focus on Ruffino's roots, the wines from Tuscany. Can you tell me a little bit about the terroir there and why Sangiovese grows so well in your vineyards.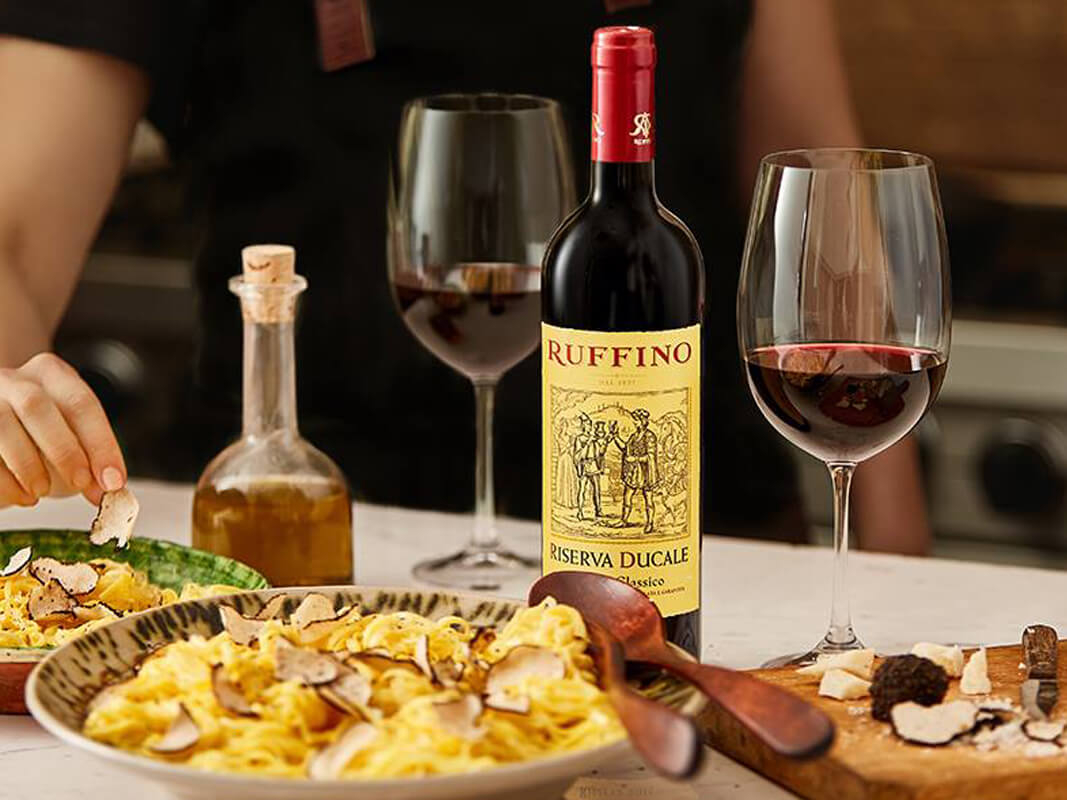 There's three elements. The food, the wine, and the land together. Sangiovese is a very traditional, Tuscan varietal that historically, has had an acidity and fruitiness that went well with the local Tuscan food. It was the grape, this varietal that was linked to the land, and its many types of soils, for centuries. All together, the life of the region, the food, the wine, they all created something unique that outside of Tuscany could not be the same. It could be a good Sangiovese in a good land, but not, all these three elements together. That's why it was so successful. I don't have another explanation.

And there are many different kinds of Sangiovese throughout Tuscany. Montalcino is more ripe, it's more sunny. Chianti Classico has a higher altitude with soils rich in minerals. Then we have 12 vineyard sites that are rich in clay. They give you the power, a very powerful tannic, Sangiovese. The combination of this land and soils are so different that in every single spot you go, you get something different. That's why all the wineries in Chianti Classico are so amazing because you taste not only one layer of Chianti Classico. Clones of Sangiovese are really changing a lot depending on the soil. You can taste many different interpretations of the grape. That's why it's so unique, so particular, so nice.

Sangiovese grows really well in Tuscany but it's not easy and can be very challenging. But without challenges, we are not happy. We fight sometimes against the weather because it's not sunny or it could be a little bit rainy. So, we fight and we get something back in the bottle that's unique.

And, it's 80, 85, 90, 100% Sangiovese depending on the bottle. Like, Greppone Mazzi, our Brunello is 100%. And, there's also the so-called Super Tuscan. In my opinion, Brunello is like a Super Tuscan wine. It's a very nice, elegant traditional wine. So, I would like to say that wines in Tuscany are split into two different categories, two different kinds of families. The traditional wine, they are following the classical rules. And, then there are the ones that are following modern rules. Those are the IGT wines like we have Alauda, we have Modus so, it's not a question of like Super Tuscan or non Super Tuscan. It's more that with modern, you can blend the Sangiovese in different ways.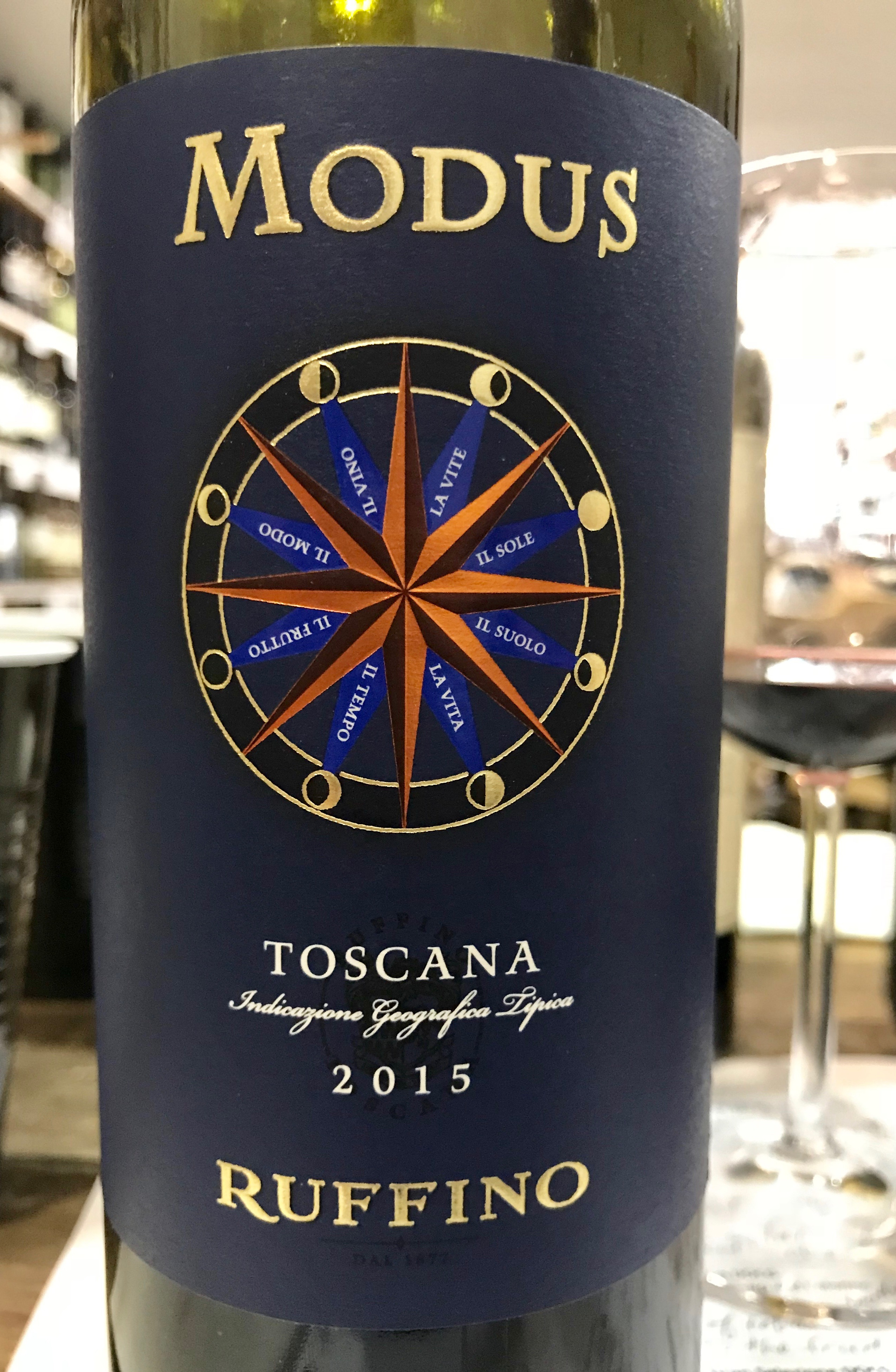 And, Ruffino has its hands in both styles?
Yes, we have been from the beginning, the trademark, the benchmark for Chianti Classicos. It's our heritage. Sangiovese is our flagship, but at the same time, Sangiovese can be nice for blending with Cabernet and Merlot and so we also have a small part, less than 20% of our wines, of IGT, Super Tuscan wines, Modus And Alauda. These are not the wines we are famous for, like the Chianti Classico DOCG wines. But even with the IGT wines I say we are traditional because we take a traditional approach with these new styles. We rely on native varieties like Colorino and Sangiovese, using Cabernet and Merlot only to enhance the wines.

And, when I say traditional, I mean that Ruffino Chianti Classico uses new oak, but not as abundantly as New World styles like with the Modus and Alauda Super Tuscans.

And, speaking of changes, have you noticed climatic changes that affected the winemaking for you over the years?
Yes. In terms of unstable weather. Not really going warm or cold because 2011 was really warm and then 2012 and 2015 were amazing, perfect, but '14, one year before, was very cold. So, cold, warm, cold, like you never know what to expect but I don't see a trend, I see something extreme. It wasn't like that 20 or 30 years ago, so something is changing.

It's interesting, most winemakers that I ask that question to say the same thing.
Because, we see the same thing.

What is your philosophy of winemaking?
It's the philosophy of the company, the brand, the heritage. It's not my name on the bottle, Gabriele. So, the Ruffino philosophy is to have a balance between what you can do with oak and with the tradition. We use bigger casks, and no new oak.
Second, is to use a little bit of everything. What we had 50 years ago, then we used a covered vat for fermentation. Today we use a covered vat for malolactic, but we're not using it for fermentation anymore because it keeps the heat. If you ferment in three days, you will lose a lot of things. So, we prefer a stainless steel process. So, our philosophy is to combine elements that are dated from 50 years ago, covered vats for example, with the new innovative things like open stainless steel fermenters. So, a combination of old things and new things and mainly, personally, to taste the grapes in the vineyard. That's something old.

So, taste, stay in the cellar, stay in the vineyard, tasting every single tank. Because, there's no other way than tasting. So, this sort of philosophy. Build something with the alcohol and taste and taste and taste in the cellar, that's our philosophy. Respect the fruit, respect the land, because from the land you get so many different things and you have to balance everything.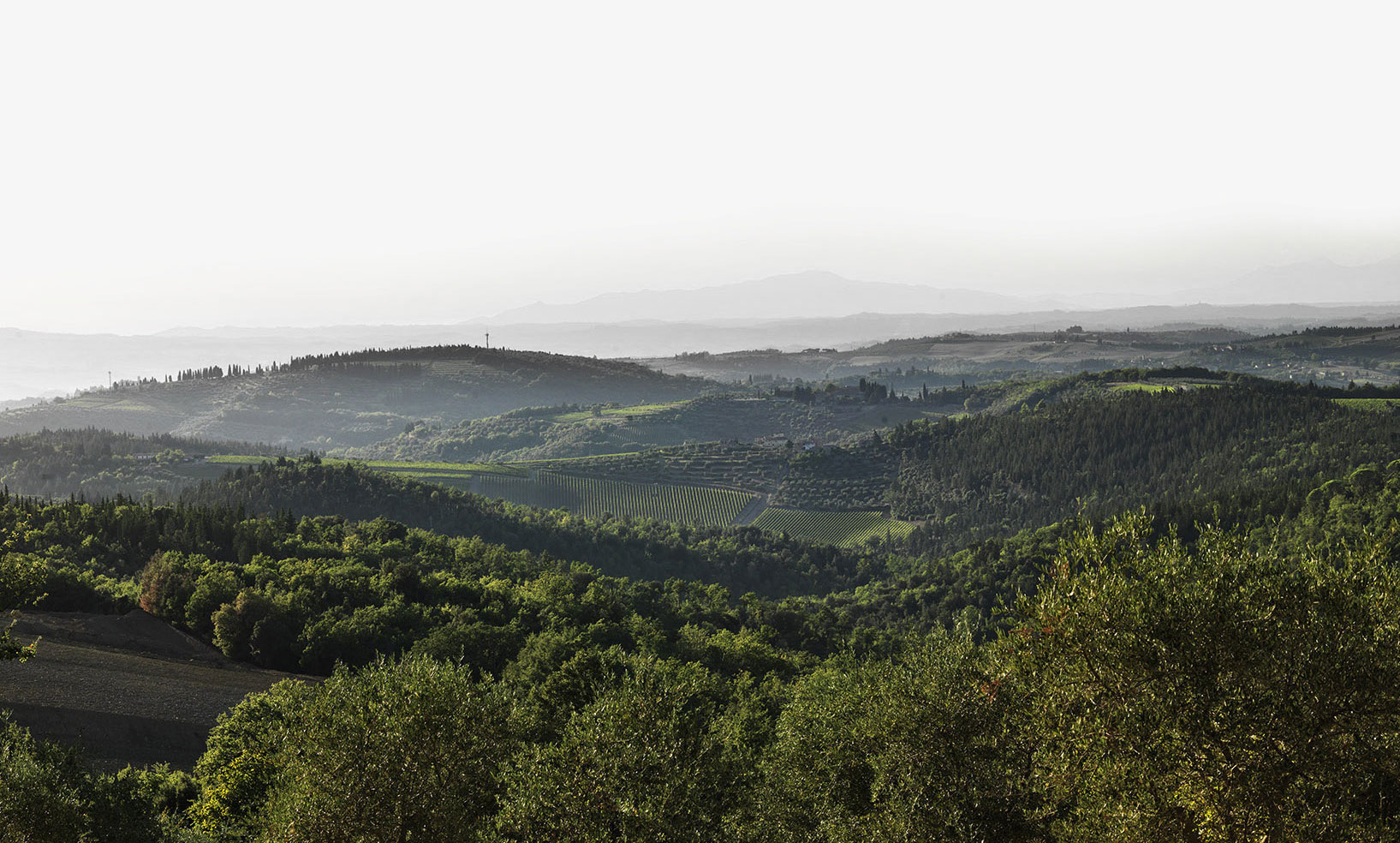 Which leads me to my next question is, are any of your vineyards farmed organically?
Good question, because we have started with this program and the first winery will be in Montalcino. The issue is that you have to be surrounded by organic fields because if you're not surrounded by them it's kind of difficult. So, we have identified Greppone Mazzi, the Brunello di Montalcino estate, as a good place for organic farming because it's separated from any other winery.

We're starting with the organic process because we truly think that in 10 years if you are not organic, you're losing something. Organic is going to be the future so we are starting with the Brunello and it takes three years to be approved because first they have to build the vineyard in a sustainable way, in the organic way. It's not like it can happen overnight. You need certification and the government checks everything.

It's pretty serious. Everything that Ruffino is doing is serious. Looking ahead, by 2021, we are planning to have at least 40% of our vineyards converted to organic.

Won't it take many years to convert everything to organics because you have many vineyards?
We are already sustainable so it's going to take less for us. There are many products that we are not using anymore, including some that are organic, like copper, since copper is a pollutant, and therefore, not sustainable.

I read that you enjoy making balsamic vinegar at home. How do you make it?
I have a friend that owns a small vineyard with trebbiano in Malvasio. It's not Trebbiano Malvasio, the Tuscan one. So, it's a different varietal. He presses everything and he boils the juice. He concentrates the juice, and with ferment, so, I'm helping him. Because, you need special equipment. I mean, you have to do this really on a big scale. And when you want to start, it takes 15 to 18 years, more or less, to get the first balsamic.

It's not something I can do in my kitchen?
You can do it in your kitchen on a small scale, but I make a lot. I have three sets of barrels. To start, you have to boil about 200 gallons of juice. It's not fermented, it's juice. You boil for 12 hours, you concentrate under the direct flame. That's not really a small thing. It's a big thing. But you could do a teeny, tiny amount, on a small scale for your balsamic, like 10 liters. You need a net to remove the solid part that is coming. Because, they burn, they give bitterness to the liquid. You need to strain it, to scoop the solids out. And then, after like 12, 14 hours, you get the concentration that you want and it's an amber colored, concentrated liquid. Then, you ferment partially and then you stop the fermentation with vinegar coming from the same vineyard; it's pure vinegar to stop the yeast. And then, you pour it into the newer barrel. Once a year, you remove from the old barrel the part that you bottle. It's like a solera method.

Oh, my goodness. How interesting. I'll bet it's delicious.
It is delicious. I'm making the grape one and the apple one. It's more elegant with apple. And my next project will be a cherry one from Vignola because Vignola cherries are famous in Italy, so balsamic vinegar from cherries. And, it works well with the food, so it's very nice.
One last question for you. What other wines from other regions around the world do you like to drink?
Italians are very traditional and 99.999% of the restaurants in Italy are Italian and so it's almost impossible to find wines from other areas of the world. But outside of Italy, my favorite wine is Champagne. I grew up with bubbles and I grew up with very vibrant, acid-driven wines that could go with any kind of food.
For reds, I drink mostly California wines if I can get a red wine from outside of Italy. Outside of the region, I love Etna wines and the opposite side, Alto Adige wines because I love everything about Sicily. But I also love mountain wines from the north because they're so linked to the land from the reds, Lagrein and Pinot Noir, to the whites, riesling, sylvaner, pinot blanc and sauvignon blanc, they're amazing wines. Every winery in Alto Adige is a nice winery and they are state-of-the-art wineries as far as technology. And the land is not easy to grow grapes. It's so mountainous and the weather is so extreme. I also like to drink Prosecco at celebrations and I like Lambrusco too.