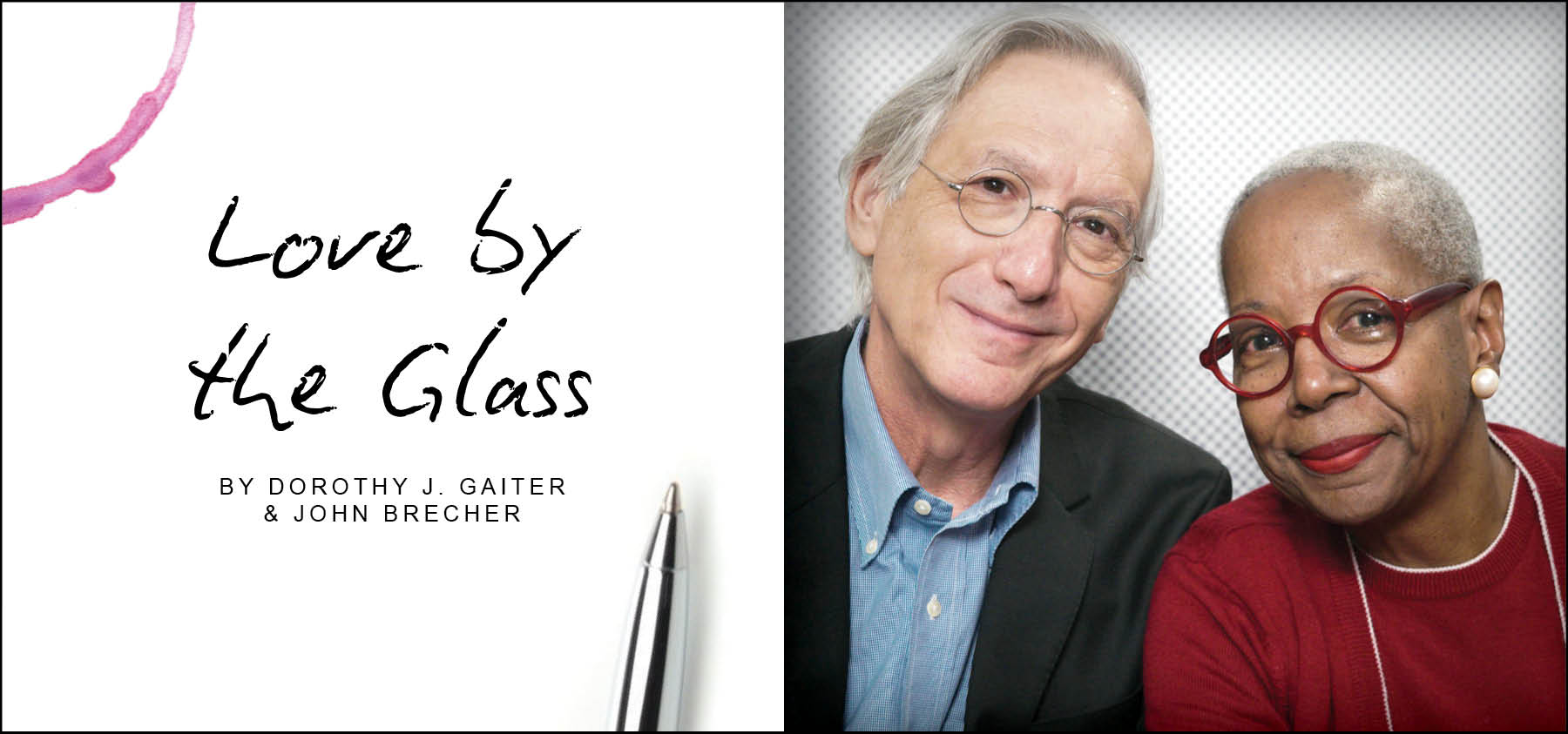 Wineries are living things, organic. At the head of the best ones are people with a clear vision of the wine they want to make and the heart to keep at it until they succeed.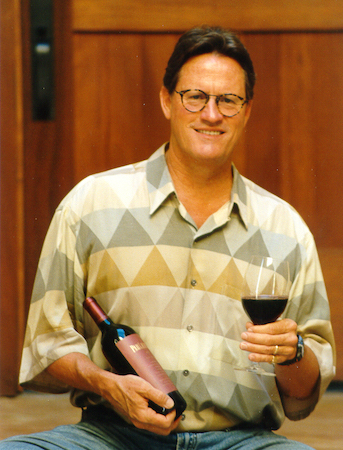 There comes a point, however, when the baton must be passed. At wineries in America, both big and small, many have not made it to the third generation. Some exceptions include Wente Vineyards in Livermore, Calif., which has fifth-generation members working in the family business, and E&J Gallo in Modesto, which has members of the fourth generation working in the company.
(Photo: Jayson Pahlmeyer)
Jayson Pahlmeyer, a former trial lawyer who was raised in Oakland, is a pioneer in American wine even though he started his namesake winery in St. Helena in 1986, more than a decade after others for whom that moniker applies. Like them larger than life, he has stood out as a fearless risk-taker, obsessed with excellence.
Did we say excellence? The reason we decided to write this column and look into what's happening at Pahlmeyer is that we just tasted three new releases and we were tremendously impressed – not just by how good they were, but how consistent they have been over time. The 2007 Pahlmeyer Chardonnay was our best-of-tasting in a column for The Wall Street Journal in 2009. It turns out that our notes on the 2017 -- two vintages separated by a decade – are strikingly similar. Before we go any further, check out these tasting notes, but be prepared to get very thirsty.
2017 Pahlmeyer Napa Valley Chardonnay. Green-tinged like Chablis, rich, chewy nose, filled with fruit, a touch of nutmeg and oak, a touch of pineapple soufflé. "It would feed multitudes," Dottie says. Clearly American with huge fruit and verve and presence but also tightly wound elegance. Endless finish. Stewed lemons, some burnt sugar like crème brûlée. Great acidity. Rich, big and yet under control. Huge yet intense, like a martini the way it resonates in your mouth. This bottle could last five hours. Actually a great deal at $80 considering prices for high-end Chardonnay today.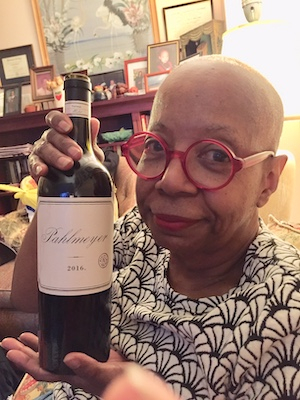 2016 Pahlmeyer Napa Valley Merlot. Nose of rich fruit and minerals. Dark, intense and lovely. Blood-red, brooding, like it has a core of black. Rich and ripe but pulls back at the end so it's not overmuch. Some licorice, huge yet with a tight rein on it. Elegant. More herbal with air. 97% Merlot, 2% Malbec, 1% Cabernet Sauvignon. $90.
(Photo: Dorothy Gaiter with a bottle of Pahlmeyer)
2016 Proprietary Red, 30th Anniversary Release, is available through the winery now but in stores this summer. Huge, chewy. Like a young Latour, tight and black. Black olives, massive and intense. Dry, tar finish. Later spicy, blackberries and a little menthol. Remarkable grace. Black pepper and blackberries. 80% Cabernet Sauvignon, 9% Merlot, 5% Cabernet Franc, 4% Petit Verdot and 2% Malbec. $200.
In the beginning, Jayson Pahlmeyer and John Caldwell, his one-time partner, worked to smuggle vines from Bordeaux across the Canadian border, where they were planted in Napa in 1981 to make Pahlmeyer's dream "California Mouton," according to the Pahlmeyers. From the beginning, Jayson attracted top talent. Randy Dunn made the first "California Mouton," the 1986 Pahlmeyer Proprietary Red, which Robert Parker gave 94 points. Bob Levy, now director of winegrowing at Harlan Estate, made Pahlmeyer's first Chardonnay, the 1991, which was an important element in the 1994 movie "Disclosure."(Jayson signed a bottle for Demi Moore.) Helen Turley was its winemaker for most of the '90s. Famed viticulturist David Abreu planted Pahlmeyer's Napa and Sonoma estate vineyards.
Yet Jayson, sensing some faltering of his wines in the marketplace and also reckoning with his desire to do something else with his life while he was still healthy, took two important steps in 2012: He went outside the family and hired as president Brian Hilliard, who had worked for Jackson Family Wines and Constellation Brands, and he hired Gaw Van Male, a local law firm that specializes in estate planning, to draw up a succession plan.
"At that point in time, I was coasting," Pahlmeyer said at a panel discussion on succession planning sponsored by the North Bay Business Journal in 2015. "And you know when you're coasting, you're going downhill. I wanted someone to ramp up the quality of the wine, ramp up the winery and make what I call 'best in class.'" Hilliard was also to act as a mentor to his daughter Cleo, now 36.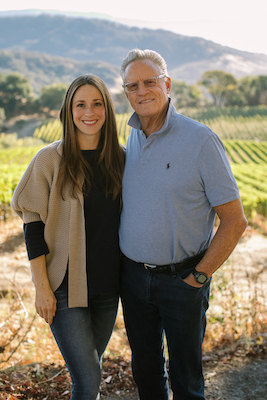 When we called Cleo earlier this week, she repeated what her father had said about coasting, adding, "We hadn't had an official president running the company for a few years at that point. He felt that we needed to bring in strong leadership to make some change and set the groundwork for the transition between him and me." Pahlmeyer LLC includes Pahlmeyer wines (pahlmeyer.com); Jayson by Pahlmeyer, its more affordable line; and the Wayfarer range, Burgundian-style wines from its estate vineyard in Fort Ross-Seaview on the extreme Sonoma Coast.
(Photo: Cleo Pahlmeyer with father Jayson Pahlmeyer)
In 2017, a year after the winery celebrated its 30th year in business, Jayson stepped away and appointed Cleo president. She had joined the company in 2008 and worked in various integral positions. With that done, Jayson made another dream come true: He retired to a beach. He's 74 now and he and his second wife, Paige, and their son J, who is turning 19, live in Hawaii, Cleo told us. "My Dad loves it there."
At the end of 2016, Hilliard told Jayson and Cleo that he felt his work there was done and left. Pahlmeyer winemaker Bibiana Gonzales Rave also left to focus on her own label. Cleo named Jennifer Williams, former winemaker at Spottswoode in St. Helena, to be consulting winemaker at Pahlmeyer. Williams is now among a string of awesome female winemakers Pahlmeyer has employed, like Turley. Todd Kohn, who was an assistant to the viticulturist at Opus One, joined Wayfarer as assistant winemaker in 2016. In 2018, Cleo promoted him winemaker there, making him also associate winemaker at Pahlmeyer.
Jayson Pahlmeyer didn't come from a wine-drinking family, but fell in love with wine in 1963 and began taking meticulous notes on everything he tasted and reading everything he could get his hands on. "I was completely enthralled by the idea that you could take a grape and create these unbelievable colors, aromas, flavors. And the differences from vintage to vintage – amazing!" he says on the company's website.
While her father's passion was making wine, Cleo, who has a Master's degree from Sotheby's Institute of Art in London, told us that her passion was continuing her father's legacy.
"I decided to join the company because back in 2008 my dad had started expressing a desire to retire; he was trying to figure out his path forward. I was, obviously, by no means ready to fill his shoes at that point, but I thought if there's no family working for this company, then it's not a family company and it won't have a family vision or institutional knowledge or anything like that," she told us.
"My dad was passionate about wine. He decided to drop everything and pursue his passion. And I got into this -- don't get me wrong, I love, love wine, but it was really important to me to carry on the legacy that my dad had started.
"When you're growing up, no matter what your parents do, you generally don't think it's very cool, whether they work for a big company or run their own company. And at that point in my life, I recognized the importance of what he had created," Cleo told us.
Jayson's other adult offspring, son Ralph, owns a finance business in New York City. Cleo and Ralph's mother is Janet Pahlmeyer Davies, an interpreter and translator who has worked for the Organization of American States.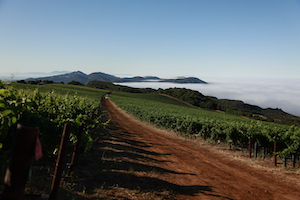 "My major task is to set a vision for the company, which is not that far off from the vision my dad started out with, which is to make world-class wines that are distinctly Napa Valley, California, wines. But going beyond that, if we keep doing what we've always done, some other people will surpass us at some point," Cleo said.
(Photo: Pahlmeyer Estate vineyard)
We told her that we have always appreciated the consistency in quality of the wines over the years. She thanked us for that compliment and added that in tastings of verticals the wines also display stylistic changes that reflect their era of winemaking in Napa.
In the '80s, she said, they were more "Bordeaux-like in style with harsh tannins." In the '90s, "viticultural practices were dialed back so the wines were more elegant and also becoming more ripe. In the early 2000s, we see ripeness being pushed to the extreme. Since the early 2000s, there's been more of a return to balance and elegance. Today, what I see as a modern Napa Valley wine is a wine that has that power and flavor that Pahlmeyer wines are known for, but also energy and verve and refinement." (Hmmm, that sounds a lot like our notes above, right?)
At her side is husband Jamie Watson, whom she has known since they were kids playing at neighboring summer homes on the beach in Neskowin, on Oregon's coast. He is, luckily, a partner in the firm that drew up the Pahlmeyers' succession plan. They have three children: Violet, who is turning six; "Teddy," James Theodore, who is three; and Maeve, who is three months old.
Are they the future of the winery, we asked.
"When you talk about our third generation, as much as my husband and I would like to see our kids working with us some day, if we forced them to become winemakers, they'd probably turn into a lawyer or a doctor," Cleo told us, laughing.
Dorothy J. Gaiter and John Brecher conceived and wrote The Wall Street Journal's wine column, "Tastings," from 1998 to 2010. Dorothy and John have been tasting and studying wine since 1973. Dottie has had a distinguished career in journalism as a reporter, editor, columnist and editorial writer at The Miami Herald and The New York Times as well as at The Journal. John was Page One Editor of The Journal, City Editor of The Miami Herald and a senior editor at Bloomberg News. They are well-known from their books and many television appearances, especially on Martha Stewart's show, and as the creators of the annual, international "Open That Bottle Night" celebration of wine and friendship. The first bottle they shared was André Cold Duck. They have two daughters.
Read more from Dorothy J. Gaiter and John Brecher on Grape Collective
Banner by Piers Parlett