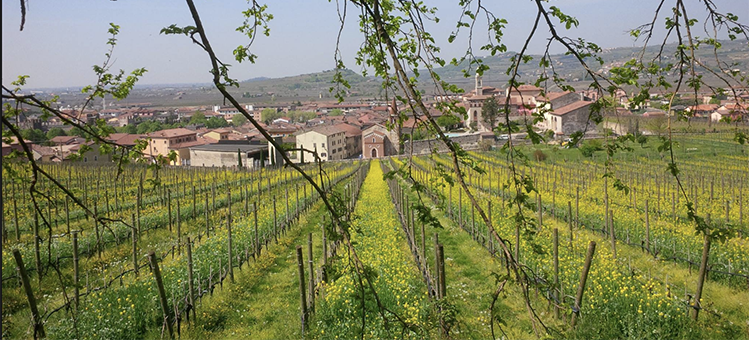 To be singled out as a reference point in the vast world of Italian wine is a proud honor. The Pieorpan family, now in its fourth generation, has earned this distinction by cultivating wines that are benchmarks far beyond the peninsula and serve as superb exponents for the thesis that Italian whites can age. Their inheritance includes working with ancient indigenous Italian varieties and traditionally propagated (massal selection) grapes, certified organic farming, and, in the cellar, meticulous control, all serving to capture and reveal the gentle climate, volcanic and limestone soils, and perhaps most importantly, preserve the identity of an icon.

This achievement is all the more remarkable in light of Soave's lamentably diluted identity over the past several decades. The wine became a huge commercial success in the 1970s, paradoxically setting the stage for its undoing: Lakes of thin, high-cropped Soave flooded the market, eventually drowning its reputation at home and abroad. In the years that followed, even quality-minded producers struggled to distinguish themselves. And those were few and far between, as co-ops dominated the wine landscape.

Fortunately, a new generation of wine lovers is ready to see Soave for what it is: a source of charming, delicately floral whites led by a distinguished cast of what Ian D'Agata calls "head-turning wines of real concentration and complexity."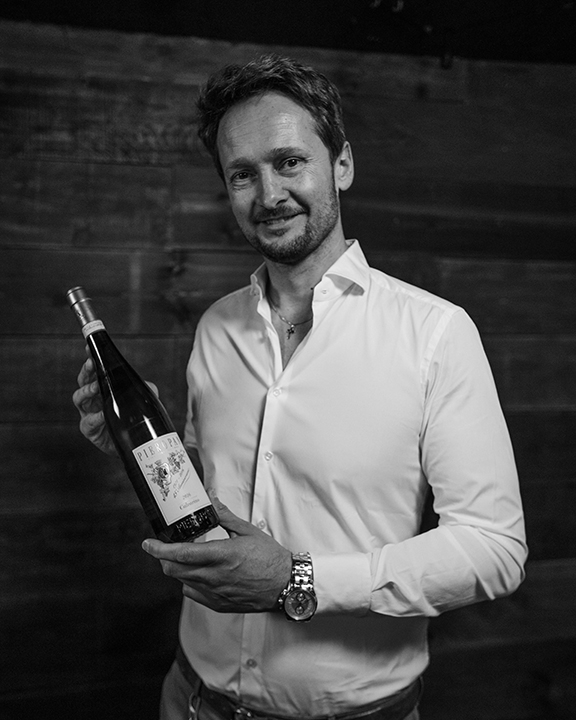 The latter come from just a fistful of producers and Pieropan, widely acknowledged to be world-class leader among them. (The 2016 Calvarino Soave Classico was named Wine & Spirits Number 6 wine in their ranking of Top 100 wines worldwide last year.)The family winery has succeeded over decades by zeroing in on the expressive characters of their varieties -- Garganega and Trebbiano di Soave -- in assuring the proper match of variety to site (Garganega loves hillsides, but all too frequently is put out on the plains) and refined their understanding of terroir: the expressive capacities of volcanic and limestone soils, the roles of altitude and exposition in developing certain aromatic elements of their alluring, long-lived wines. They were pioneers in the move to identify the characteristics of their exceptional single vineyards and among the first to bottle them as such.
While Chardonnay and Sauvignon Blanc are, to the horror of traditionalists, permitted blending partners in Soave, Pieropan has stuck with the time-honored indigenous varieties. Garganega, the leading player in Soave, is a grape known for aromas and flavors of delicate white flower, almond, and apple. But depending on site and soil, the grape can develop an explosive spectrum of floral and spice notes that unfold beautifully with bottle age. Italian wine specialist Melissa Sutherland has built a powerful thesis for the agability of Italian whites. Pieropan's offer solid confirmation.
The Soave region sits just east of Verona and is quite extensive, including some 3,000 wineries. Therein has lain another problem: wildly variable quality. From the hilly "Classico" zone, representing the historic heart of Soave, the region was gradually expanded to encompass less suitable flat fields. To address this, Soave has been carved into zones. The "Classico" in which Pieropan's vineyards are located, runs along a chain of hills that climb some 300 meters (+1,000 feet) above sea level. Here the soils range from dark, basalt-rich volcanic to bleached limestone, the former giving spicier, wines, moderate in alcohol but rich in dry extract for superb texture and weight with a subtle salinity. The latter yield wines of delicacy and grace. All are unified by precision and finesse. In their tall, elegant flute bottles, wrapped in heraldic labels, they announced their regal bearing with understated class and impressive presence in the glass. In other words, walk into a dinner party with one of these under your arm, and be prepared to impress.

Of three bottlings tasted from recent vintages, the 2017 Soave Classico DOC, a Garganega-led blend with Trebbiano di Soave, grown on a west-facing hillside of moderate elevation and volcanic soils, opened shyly, with alluring glimmers of flint on the nose. On the palate, the Classico is very fresh, brightened by a lovely acid line, brisk minerality, and a pleasing midweight texture, finishing with a trace of bitterness that underscores and unifies the wine's surprisingly complex elements. From the 2016 vintage, La Rocca, 100% late-picked Garganega from a south/south-west facing hillside of chalky clay soils, was more rounded, with richer, deeper notes of honey and ripe yellow fruits speaking of barrel aging and later harvest. Most arresting was the 2016 Calvarino. With 70% Garganega, 30% Trebbiano di Soave grown on traditional pergola (ensuring hand harvesting is a must) on the prime hillside Calvarino (meaning "little calvary," in reference to the difficulty of working this steeper site) vineyard, in ancient volcanic soils, the wine ages for a year on the fine lees, adding subtle dimension to the flinty minerality, savory herbaceousness, and beautifully phenolic character of this stunning wine.

Dario Pieropan (above right) and his brother Andrea are the fourth generation of the family to make wine in the Soave hills. Dario earned his diploma in agriculture, followed by a degree in viticulture and enology from the well-regarded University of Udine. After stints as assistant enologist for some wineries in Tuscany, he returned home to work alongside his father as winemaker. Now Andrea, a trained agronomist, sees to the vines while Dario makes the wines.

Grape Collective talked with Dario Pieropan about Soave' past and future, and the role of the Pieropan wines in both.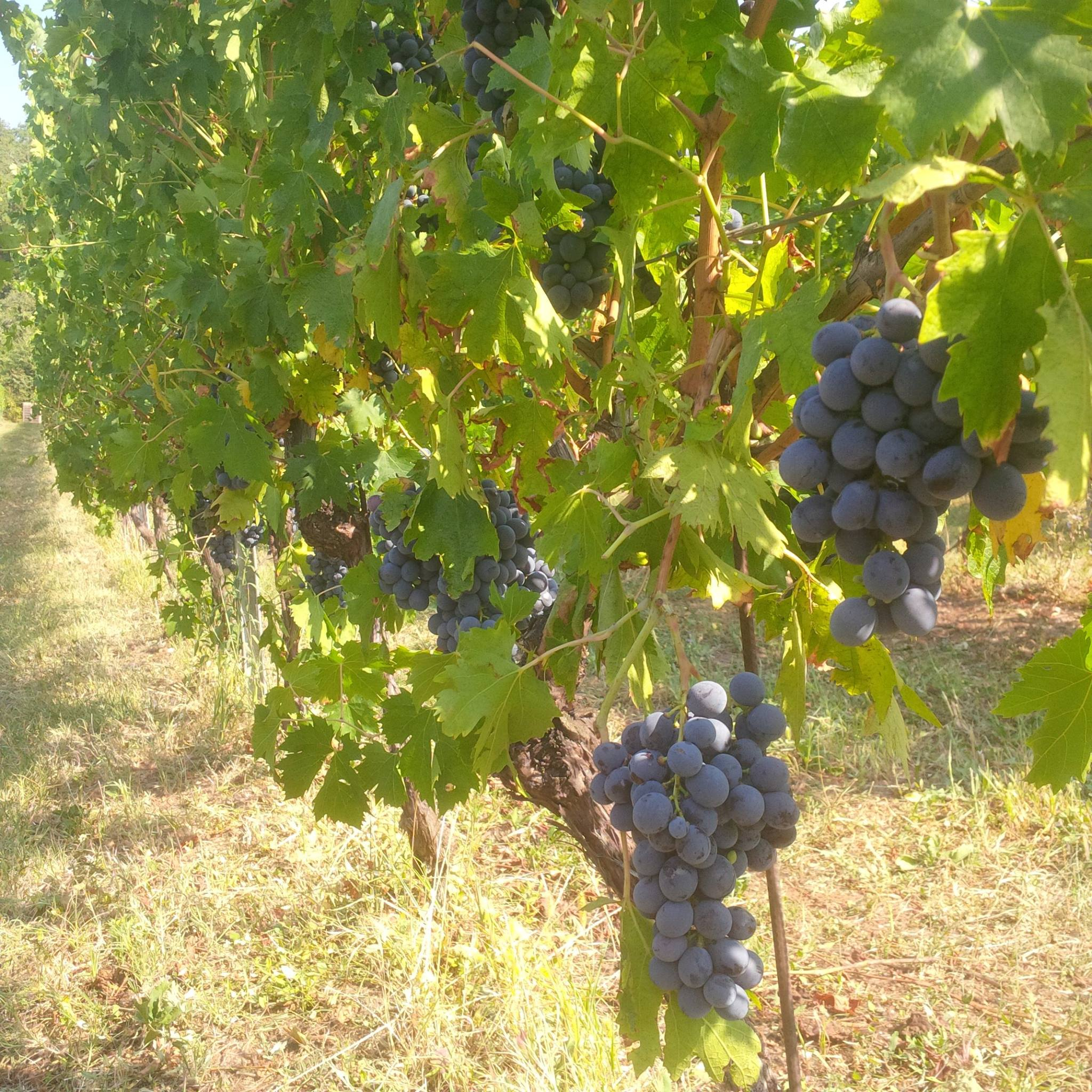 Grape Collective: Why should consumers be curious about Soave right now?
Consumers should be curious about Soave's ability to be bright, textured, and approachable while still offering deep complexity and nuance on the palate. The best Soave can age and evolve beautifully over several years, so there's always something new and intriguing to discover each time you return to the wine.
Why should a wine lover should reach for a glass -- or bottle! -- of Soave over the growing range of Italian whites available in the wider market today?
Consumers should reach for Soave first because it is aromatic, crisp, and refreshing. Second, it's a wine they can easily enjoy with food. Finally, the best Soave is made from ancient native Italian varieties. Soave has depth, nuance, and history. It's exciting to taste something that can be so many things at once.

How would you describe a well-made Soave to someone who had never tasted one?
In the glass, it offers a striking yellow color with golden reflections, opening with a swirl of expressive aromas, like honeysuckle, fresh-picked peaches, and flint. The palate is smooth and richly textured, at once both elegant and complex, with cleansing acidity. The wine delivers layers of fruit — apricot, golden raspberry, citrus, and pear — blending with hints of minerality, floral notes, and perhaps a touch of almond or cream. The finish is lingering and intense.

Looking back over the past half century, do you think Soave has gone through an identity crisis? If so, what have been the challenges of this?
I think great Soave has always had an identity. Unfortunately, there was a long time during which great Soave was difficult to find because many producers were focused on volume. I am proud that my grandfather and father, and now my brother and I have always been determined to offer the highest-quality Soave possible.

It's an exciting time now because people are eager to discover native Italian varieties and the nuances and layers that you can get from wines cultivated over centuries. Today the region is focused on quality and expressing our unique native varieties and exceptional terroir.

What do wine drinkers need to understand about your region to best appreciate Soave in general and your family's wines specifically?
Consumers should understand that the best Soave is made from native grapes — primarily Garganega, but also in some cases a bit of Trebbiano di Soave — which are grown with low yields in vineyards high on the hillsides of Soave. In the cellar, the wines must be made in a way that emphasizes high quality and the nature of the soils and sites where they are grown.

Our portfolio is a great example of the different expressions you can find in Soave. We have a Soave Classico, which is our youngest and most vibrant wine. We primarily use Garganega, but we blend in about 15% Trebbiano di Soave, which adds acidity and lift.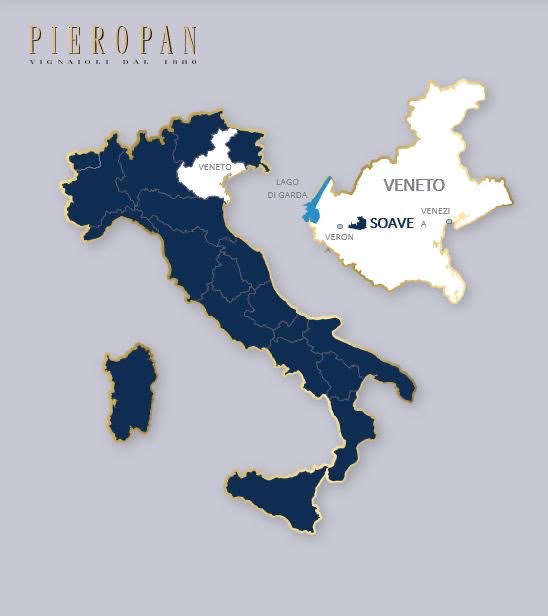 Our single-vineyard Calvarino is also a blend of these two grapes, but in this wine it's 70% Garganega and 30% Trebbiano di Soave. As a single-vineyard wine, this Soave is a reflection of the difficult-to-work, ancient soils. They are rich in clay, basalt, and volcanic-ash rock, which gives the wine attractive savory and mineral qualities. We consider this our most traditional and authentic expression of Soave.
With La Rocca Soave, we want to fully explore the complexity of 100% Garganega. La Rocca is the richest Soave in our portfolio, crafted from Garganega that was harvested supermatura, or later than usual, for greater complexity. La Rocca sits on the Monte Rocchetta hill, just below a medieval castle. The unique climate here and its chalky, clay soils produce grapes with very intense aromas and fruit characteristics.
Aside from extraordinary history and tradition, what do you feel sets Pieropan apart from other Soave producers?
For generations, we have kept our commitment to the highest quality and most expressive Soave possible. My father especially focused on developing single-vineyard crus and letting those sites and styles dictate how the wines are made. Now as the fourth generation, with hopefully many more generations to come, my brother Andrea and I are committed to making Soave Classico at the highest level. We want to continue to raise the prestige of this classic wine region and Pieropan's role in Italian wine. We are looking to the future and taking with us the lessons of the past.
An example of how we are pushing forward is our new cellar, which we began using a year ago. Built into the hills of Soave, the cellar has been designed to be one with the environment and the landscape, with low environmental impact. We feel this is necessary to give us the best expression of Soave here in its birthplace. It gives us new spaces to work more efficiently and with less stress, also allowing us to store our wines under optimal conditions.

Which factors have changed in Soave over the last decade or so that consumers should know about? And what, if anything, has changed at Pieropan over that timeframe?

In the last decade, we have seen the effects of climate change. Agriculture and wine production have consequently also changed. It seems that every growing season is now a challenge. Our experience and expertise have also grown over the years. We started with the fundamental and visionary teachings of our pioneering father. We've added our own experiences. So, with generations of learning, we feel prepared to face any difficulties.
In the last few years, the palate of Soave consumers has changed, and so have some of the choices other producers make. We are firmly convinced that maintaining our methods, which stay true to the pure essence of Soave, is the right way to ensure the continued success of our winery for future generations.
Please explain Pieropan's farming philosophy and practices.
We want our vineyards to be harmonious with the landscape and the earth. Our vineyards are all certified organic. We also take a low environmental impact approach to pest control. We also strongly believe that a good job can only be done when the team is tight-knit, and people work closely together. The people who work with us every day in our farm and cellar feel part of a big family.

How is climate change impacting your farming or cellar work?
Climate change is a huge challenge that we cannot ignore. We are already acting, consulting with experts and developing solutions for how to maintain the best results from our vineyards. So far, our results are encouraging. I strongly believe that Soave will have a bright future, even with the challenge of climate change. Our property is located entirely within the Classico area set in the Soave hills. Even if there is an increase of temperatures, this hillside location will preserve our vineyards and grapes. Preserving our traditions while also taking the best from new technologies will allow us to continue to offer the best Soave wines to our consumers.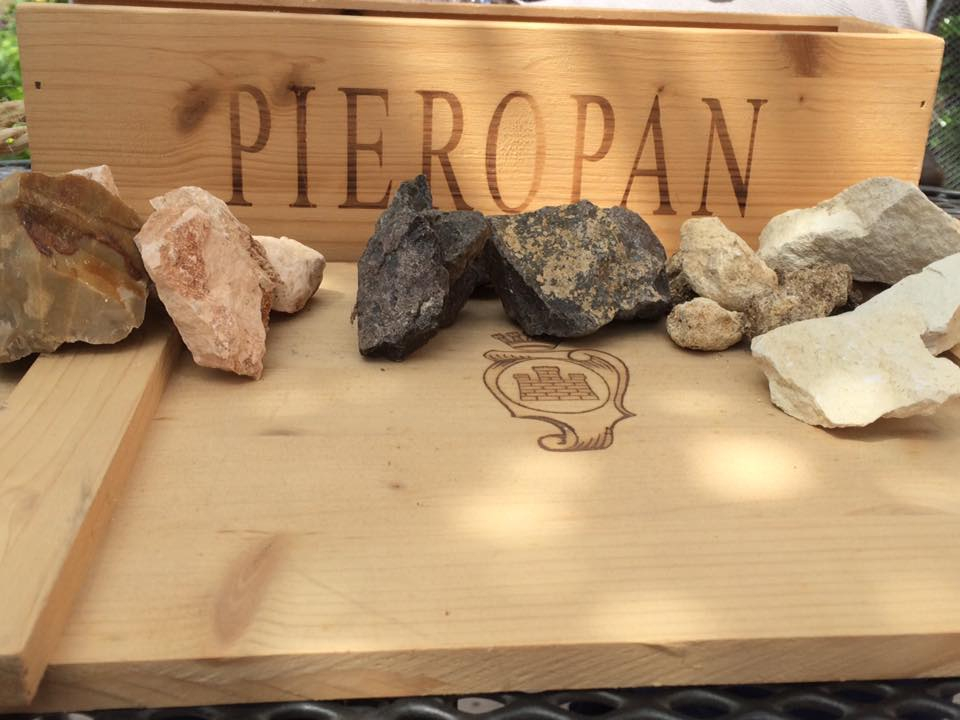 Can you offer a sketch of the soils and microclimates you work with?
The Classico area mainly has volcanic soil from the Eocene period [56 to 34 million years ago] with some exceptions. For example, at La Rocca the soil is more clay and limestone with fossilized marine content. The hills in Soave Classico are quite gentle, with a maximum altitude of 350 meters [about 1,150 feet]. Our summers are quite warm with good sun exposure.
How important do you believe working with massal selections -- planting or replanting vineyards using cuttings from existing vines in the same vineyard, selected for specific attributes, in hopes of preserving both their qualities and the diversity of the site -- is to the wines you produce?
Since our family has been farming vineyards in Soave since 1901, we have been reproducing Garganega and Trebbiano di Soave through massal selections. The biotype [specific mutations within a given variety] we look for has strong skin, smaller berries, and looser bunches with good color when ripe. We think that more plants that are different — not clones [genetically identical reproductions of a single plant] — can give more diversity. We like to think of it like this: Instead of having a single singer, you have an orchestra or chorus of voices that produce a richer sound. So, yes, it is important!
How about in the cellar?
For all our wines, we use a selection of native yeasts. The entire process is temperature controlled, never over 60 F°. SO2 [used to stabilize wines since Roman times] is added in low quantities during the spring/summer before bottling. We never do malolactic fermentation as we think that this can reduce the aging potential of our Soave and some typical local primary aromas can be lost. For our Classico and Calvarino Soave, we ferment and age the wines in glass-lined cement tanks, while La Rocca moves to barrels from 500 to 2,000 liters in size for an additional year of aging.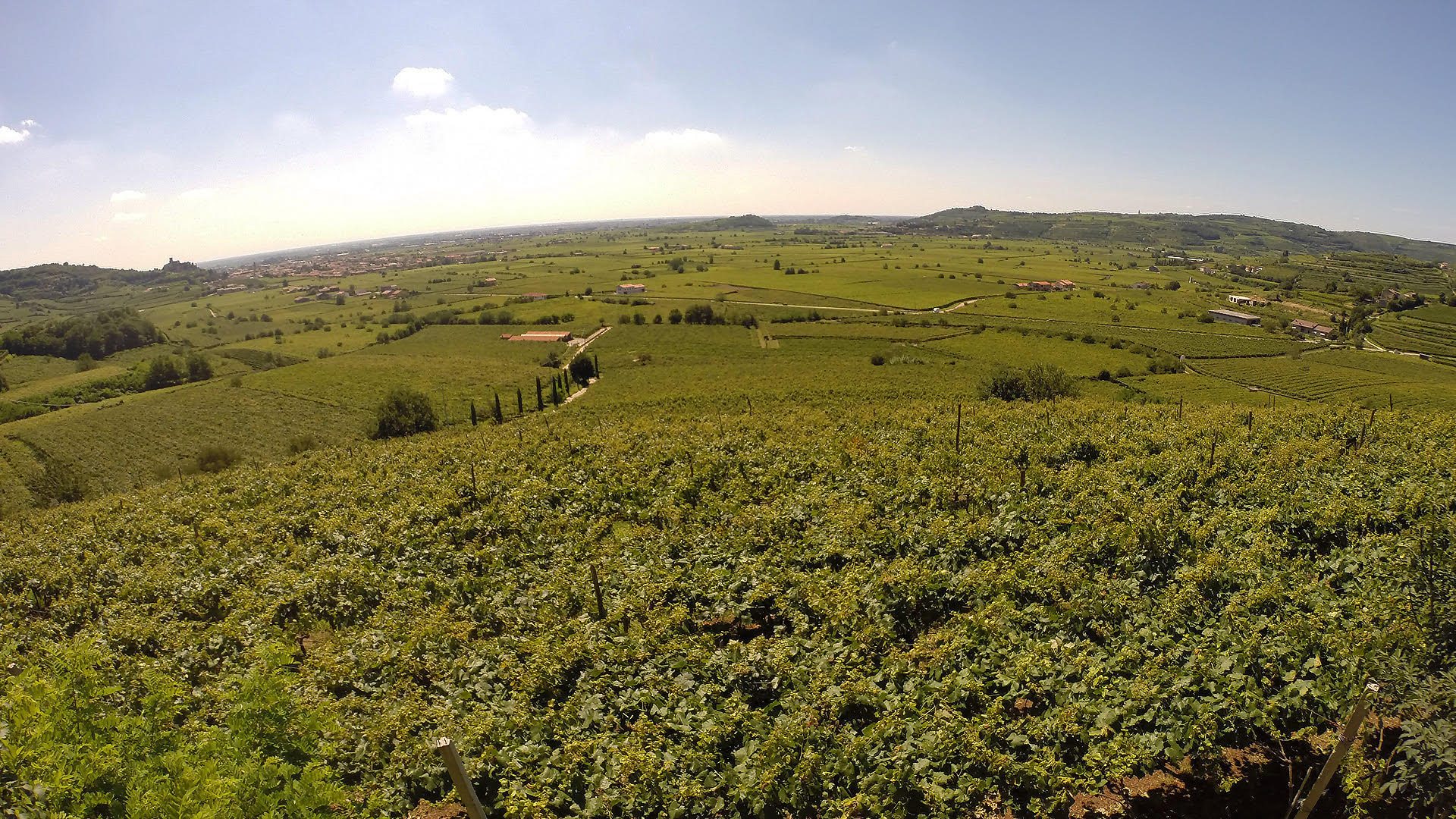 As a bastion of tradition in Soave, and a benchmark of Italian white wine, what role do you see for innovation in your wine growing or making?
Innovation and new technologies have benefits to consider, but we always ponder every new choice to ensure the traditions and unique values of Soave wine are maintained. But new technologies can also help us. For example, they can save energy and water resources, making our work more environmentally sensitive.

Please talk about the aging curves of your Soaves, especially Classico and Calvarino.

Our wines are recognized for their aging potential. Older vintages of our crus, Calvarino and La Rocca, can often be found in restaurants and wine shops. What is less known is that our Soave Classico also has an elegant durability. Both our Classico and Calvarino seem to age similarly to the profile of a great Chablis. On the other hand, La Rocca, coming from different soils, is more reminiscent of a Riesling due to the tertiary aromas that come out as the Soave ages.
Your Soaves seem ideal food wines. Please share some classic local pairings for them.

Soave Classico makes an excellent partner for soups and starters — especially vegetable-based dishes like asparagus [a notorious challenge to pair with wine], peas, and zucchini — as well as egg-based or seafood dishes. It is an excellent aperitif. Serve at 12°C/53°F.
Calvarino also makes an excellent aperitif and partners a wide range of dishes, especially vegetable quiches, delicately flavored fish, shellfish, and cheese soufflés. Serve at 12°-14°C/53°-57°F.
La Rocca makes an excellent pairing with complex dishes, even those with strong flavors. Try with bold risottos, such as porcini, or celery, squash and almond. Also partner La Rocca with salt cod, salmon, scallops, and crab. 12°-14°C/53°-57°F.
This interview was lightly edited for clarity and concision.
Images courtesy of Pieropan