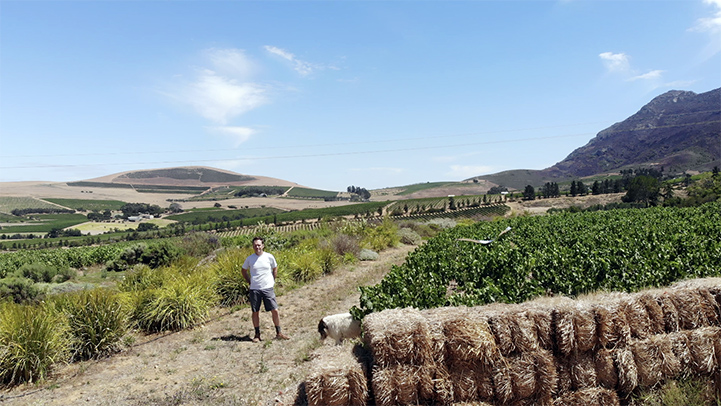 Called "Het Zwarte Land" in Afrikaans (the Black Land) because of the dominant indigenous Renosterbos plant which takes on a dark appearance when viewed from the distance. Swartland is located 30 miles north of Cape Town in South Africa. First colonized in 1685 by French Huguenot refugees, it was traditionally known as a mixed crop farming region with a focus on cereal crops. Until recently it was largely forgotten as a winemaking region as Stellenbosch became the hub of South African wine.
Over the last twenty years a group of ambitious young winemakers have put Swartland on the international wine map. In his 2013 book, Wines of the New South Africa: Tradition and Revolution, Tim James describes Swartland as "among the most dynamic contributors to the rebirth of South African Wine." Young winemakers including Chris and Andrea Mullineux sought out and championed vineyards with old bush vines of Chenin Blanc, Cinsault and other heat resistant varietals that had been mostly neglected and sold to cooperatives to be made into cheap blends. Such is the critical and commercial success of these new old vine based Swartland wines that the old bush vines have now become highly commercially prized and fashionable wineries from Stellenbosch are buying grapes or establishing outposts.

The soils and climate of Swartland vineyards are very diverse with a wide range of altitude and microclimates. Dry heat is the primary commonality as well as cooling breezes from the Atlantic. The vines also benefit from a good variation between day and nighttime temperatures. The wines tend to be rich and concentrated but with an acidity that provides balance.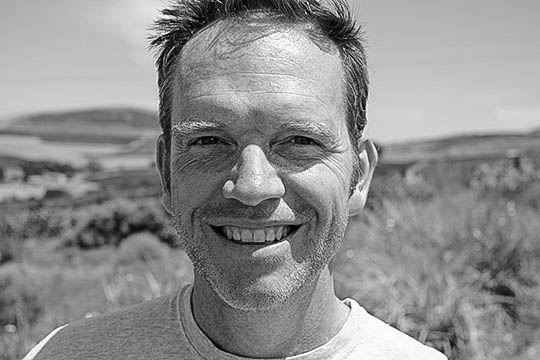 Grape Collective visits with Chris Mullineux at his Roundstone Farm property in the Swartland.
Christopher Barnes: Chris, tell us a little bit about your journey in wine.

Chris Mullineux: I studied winemaking at Stellenbosch University. Not far from where we're standing now and while I was studying, I visited all the regions of South Africa, so Stellenbosch, Constantia, Elgin and everywhere. But one day I drove out to here to the Swartland at that stage, a very unknown wine region and met a winemaker, a good friend of ours now, Eben Sadie who was working at a winery called Spice Route and just fell in love with the wines he was making and the region here.
So I started spending more and more time here and initially got a job working in another region, Tulbagh, but we started making wines at that winery from grapes, from the Swartland. And we just absolutely fell in love with the quality, the way you can make these incredible wines without having to manipulate them too much in the vineyards and the winery.

So when it came time for my wife Andrea and I to start our winery, it was kind of a no-brainer to move here and settle here. The other great thing was at that time in 2007 there were not a lot of wineries here, there were only seven or eight wineries, but there were a lot of vineyards. So it's quite a big farming region, but not a big wine region historically. So a lot of the farmers would plant vineyards and deliver them to the local cooperatives. And that was a great opportunity for us because we could go to these vineyards and, say to the farmer, "Well that's an amazing block of Syrah, Grenache and Chenin. Rather than deliver it to the cooperative, could we rent it or lease it from you and use that to make wine?"

So it was, there was a lot of opportunities here back then as well. So it was an easier place for us to start up. A really interesting wine region.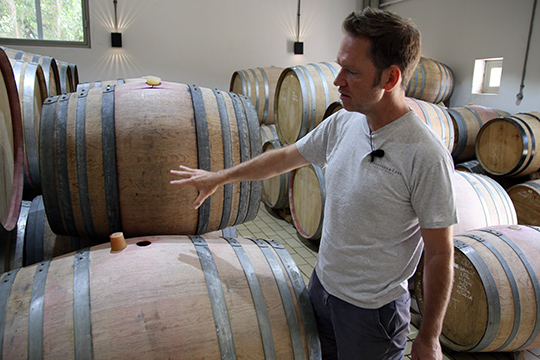 As I understand it, there were a lot of really old bush vines that were sort of underappreciated or going into bulk wine that the guys like you came and discovered and helped to create a reputation for.

So back in the eighties, nineties early two thousands, there were hundreds of hectares of old vines and they were being blended with young vine fruit in these big blends in the cooperatives. And that's what we did. We said, "Well that's a really special vineyard of Chenin. It's a shame that you're blending that with some young other fruit." So we identified the really special vineyards and I think one of the nice things of the Swartland is because it's a farming community, the farmers also farm wheat and oats and olives and cattle, so they're not necessarily dependent on just fruit or wine for their living.

So some of them were happy to leave vineyards in the ground because their father or their grandfather had planted them, was kind of a sentimental thing. So at that time they wouldn't necessarily be profitable on their own and we were able to come in and pay obviously the farmers a lot more for it and now they're happy to keep them in the ground for sentimental reasons and for commercial reasons.

And because of the success you had with old vine Chenin and the quality it produced, it's becoming a harder thing now to find some of these old vines.

For sure, yes. I mean it's competitive, a weird word, but it is in a way competitive now that you have a lot of other wineries moving here. People from outside Swartland coming to just buy fruit from here. But that's a good thing.

It's making the farmers get more for their grapes, they're able to pay their workers better, look after their staff and it keeps the vineyards in the ground. So we see it as a good thing. It's not a stress.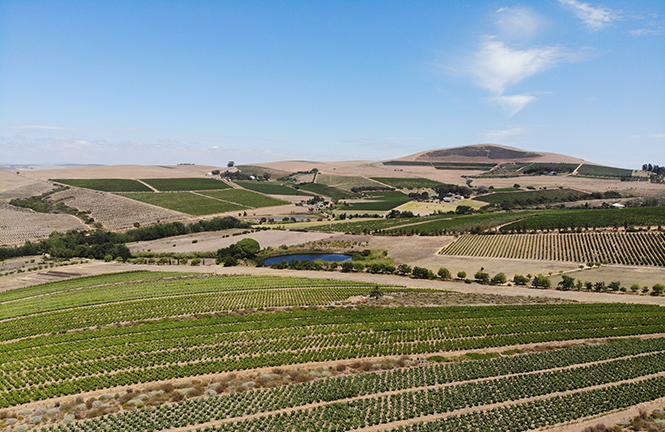 Talk a little bit about the terroir in Swartland.

So we're on a mountain now called Kasteelberg. The Swartland has three main sorts of terroir, Kasteelberg is slate, or Shifa as the Germans call it. It's a very shallow, rocky soil. Then we have about a meter of top soil and then it's super hard bedrock below. So there's quite a tough environment for the vines to grow, the vines you can see are smaller, the clusters and bunches are smaller, so you get a lot of natural intensity in the wine.
Just behind us, there's a mountain they called a Paardeberg, which is a huge granite outcrop and the mountain is super old.
It's 400 million years old. So it's really weathered into almost like sand, beach sand. It's has very deep soils, the vines are much bigger, the root systems are much bigger. So because of that, the vines are less stressed in a way so they get much more acidity. The pH is lower, you get a bit more floral characters in the wine, so really different style there. And then these rolling hills behind us is what we call the iron soil. So the soil is very rich with clay and iron and they produce wine with a lot of mid-palate, a lot of density to them. Those are the three terroirs, we work with and most of my wines are blends of those. So even if it's our straight Syrah or our straight Chenin, they're actually blends of the different terroirs together, and each of those soil types brings complexity and balance to the blend.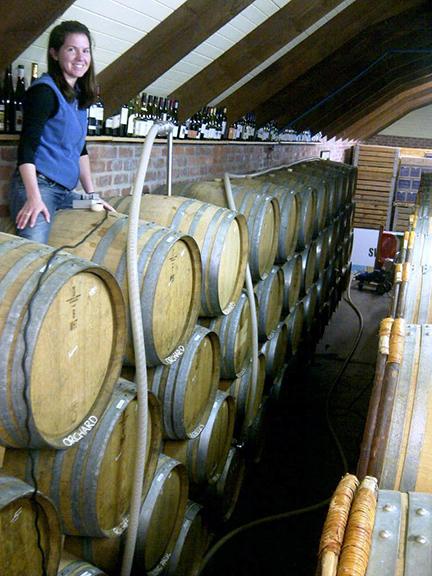 (Andrea Mullineux working on blends - photo by Mullineux Wines)
And Swartland is famous for blends. Which is almost a little counterintuitive in today's wine market where people are like, we want a Cabernet Sauvignon or we want a Cabernet Franc, or they need the labels to identify and sell the wine. How did that occur and why is it successful?

It's all about balance and complexity in the wines. Because it's warm and dry, we have a shorter growing season, so from a fruit sector harvest is a relatively short period compared to other wine regions. So the fruit sometimes maybe doesn't have as much complexity as it would if it had a longer hang time. We get that by blending different varieties or different vineyards together and our approaches in the winery and the vineyard, not to try and use too many chemicals. f we need acidity in the wine, rather than add from a packet, we'll go and find a vineyard that brings acidity. If we want perfume in the wine, we'll find a vineyard that gives us perfume.

We'd rather blend for that balance and complexity in the wine then have to add or do something in the winery. It's all about quality and we do make single varietal wines, so we do straight Chenin, straight Syrah. But still, most of those are actually blends of different Syrah vineyards from the different soil types. Our straight Syrah, the freshness comes from the Paardeberg mountain. The structure comes here from Kasteelberg. The different sites bring that balance and complexity to the wine.

And how would you describe wines from the Swartland to someone that's never tried them?
I think what we're all trying to do as a group of winemakers is understand what is the style of Swartland wines. Being in a warm, dry place you never can have insanely high acidity. So if you're looking for a racy Muscadet or Sauvignon Blanc, it's the wrong place to come. Our wines have a natural texture to them. So kind of a nice mid palate that they've got a weight to them, whether it's red or white, but it's a balanced power. So it's got freshness, it's got acidity as well. So it's always this balance of mid palate texture with freshness on it. But that's the core of what the region is about.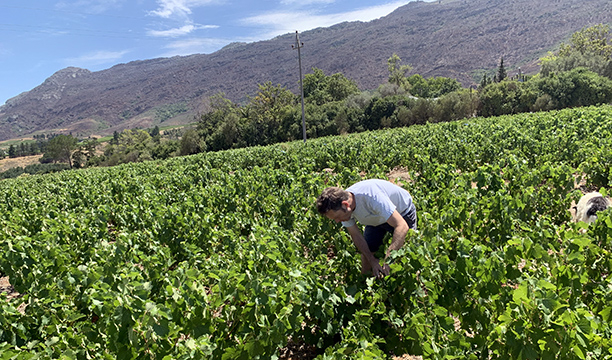 Talk a little bit about the bush vines. What is it about a bush vine that contributes to the texture and the quality of the wine?

As you can see here, we're still quite early in the growing season and it's pretty sunny. So we've got a lot of sunlight here and we've tried to a chord on vineyard, so vineyards on a VSP and the thing there is you tuck the shoots into to actually expose the bunches to more sunlight. And here we've got so much sunlight that if you do that, you get very one dimensional flavors in the wine. The wines get very jammy, they just smell like fruit. You don't get any perfume or, or spicy aromatics. Bush vines we prefer for a few reasons, the first is it's like an umbrella, so the vine kind of shades the grapes, they're a little bit exposed to the sun, but they also got quite a bit of shade during the day.

You do get some fruit in the wine, but also a lot of floral and spicy aromatics. The other reason is bush vines are smaller, so they use less water, the yields are naturally lower. So in a dry place like this, they are better adapted. Bigger trellised vineyards tend to need more water, which we don't necessarily want to give. So it's just naturally suited to this area.

And let's talk about water because that's been a challenge here in South Africa, in general. You've had drought issues, how as a winemaker, do you deal with these, you know, quirks of mother nature?

Well, it's everything. So it's planting the right grape varieties. If we would try to grow Chardonnay or Cab or Merlot here it would be a struggle, they're not grape varieties that are adapted to a warm place like this. So we'd have to give them a lot more water using the right root stocks obviously. But grapes like Syrah, Grenache, Chenin, they're, they're much more adapted to this kind of climate. Then it's the way we farm. So by farming more naturally, by not using Roundup, no herbicides.

We use mulch and cover crops. There's much more life in the soil, more organic matter in the soil and that helps to preserve moisture in the soil and makes the vines naturally more strong. And then obviously we have to be realistic that we're never going to have huge yields. So we're harvesting four to six tons of hectare, which is 25 to 30 hectoliters a hectare and that's basically what we can ripen. We're realistic that it's always going to be a sort of a moderate crop, but it makes an incredible quality so that's the give and take.
Take a 360-degree virtual reality tour of South African wine regions. This experience only works in certain browsers including Google Chrome. You can also experience the VR tour directly via the Youtube app.
And Chris, tell us a little bit about bush vine, Chenin Blanc. Many people are familiar with Chenin Blanc from the Loire, I think South Africa is developing a name, but for people that may know Loire Chenin Blanc, like how would you compare it?

Well historically Chenin was kind of an underappreciated grape in South Africa and only in the sort of '90s did winemakers trying to take it very seriously. But at that stage we didn't really have a style. So there were many different styles. People try to make it a very racy crisp style by picking the grapes super early, and there were styles much more oaked and heavy, almost like Chardonnay style. You know, what we thought was Chardonnay style, and then there were other people who try to copy the Loire leaving a bit of RS (residual sugar) in the wine. But I think all of those are trying to be something else, they're not trying to be what South African Chenin is about. And then over the last 10 years we've kind of realized what's great about South African Chenin.

So the best styles are roughly sort of 13% alcohol, 12 and a half to 13, they're dry. So less than two grams of sugar because we don't have an insane amount of acidity that they have in the Loire. We don't need to leave sugar to balance out that acidity. We've got a nice acidity so our wines must be dry to have that refreshing balance. But the key is that because we have old vines, we have a warm climate, the bunches are small, the berries are small. You get a lot of this lovely texture on the palate. We always tell people here who don't know South African Chenin, it's like taking your favorite Loire Sauvignon Blanc with your favorite Chardonnay from Burgundy, blending them together. You get this nice creamy texture but with an incredible freshness and glint through of acidity and that's, that's what South African Chenin is about.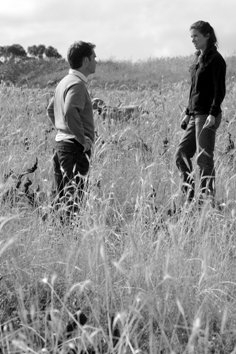 (Chris and Andrea Mullineux - photo by Mullineux Wines)
That sounds delicious, I think I'd like a glass of that. Talk a little bit about your philosophy of winemaking.

So it's the philosophy we have in the vineyard and the winery is very similar so we just try to be sensible about it. The French have a great saying which translates to sort of reason farming. In the vineyards, we don't use any herbicides and pesticides as I was saying, we will normally use Bordeaux mixtures of sulfur and copper in the vineyard. But if there's a really wet vintage, we will use a systemic spray and the winery is the same. We don't use yeast or acids or enzymes. Most vintages we don't filter.

But if there is a vintage where you know the wine is going to re-ferment on the way to New York or London or Berlin or wherever, we will filter it because we do want it to be stable and taste the same way that we intended. So we try to be as hands off and let the wine represent its terroir as best as possible. But every now and then you do need to intervene and if we do need to filter, we will, and we do add a bit of sulfur obviously to make the wine stable but also nine vintage out of ten. It's less than the organic limit, so sensible winemaking.

And you get some very, very hot vintages here. I think 2016 was very hot, what do you have to do differently in those vintages?

So yes, 2016 was really warm vintage. 2012 was a really warm vintage. Look, I think the way that we farm the vines makes them a bit better buffered against those extremes. We do have to drop a lot of crop. So 2016 our yields were 50% down. So we, when we, when we see the heatwaves coming, we'll reduce a lot of crops. So that helps to keep the vines balanced and without stressing too much. Yes. Who knows? I mean, with climate change maybe things will change. We might need to look at new varieties. People are starting to plant things like a sort to go to, to maybe be better buffering and even more warm climates. But for the moment, the way we're farming, using carbon crops, mulch, composts, having life in the soil and having moderate yields, I think works really, really well.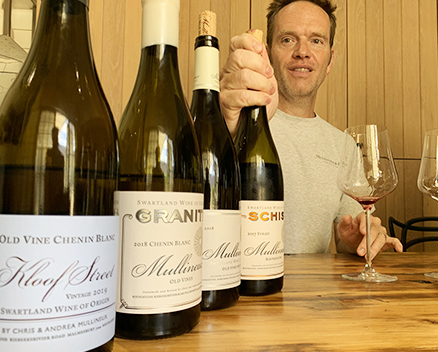 And you mentioned the Syrah, but are there other varietals that you think could be exciting for the Swartlands?

For sure. I mean we, so we've planted recently Macabeo, Verdelho, there's new clones of Grenache that are now in South Africa, Grenache Noir and Grenache Blanc and Grenache Gris for the first time. So obviously mostly just Mediterranean varieties, varieties that come from a warm, dry place that instinctively should work here, but we have to test them out and see.

What do you say are the biggest challenges for South African wine, in general?

Well there's a few things. So obviously the climate, if it's going to get hotter and drier, that's going to be a huge challenge. There's the fact that we are a small industry so we don't have a lot of negotiating power with tariffs and things like that. So for a winery like us, exports most of their wine when we export to the US or Europe or Asia, the import tariffs are extremely high. So it makes our wines a bit more expensive sometimes.
Then obviously we have a lot of political uncertainty. Which is a whole other kettle of fish. Those are all things that are difficult to control. So we were aware of them. We try and work as best we can against them, but at the end of the day it's up to us to do our best and make the best wine that we can and find people who love them.

South Africa obviously has a difficult history with apartheid, how does the wine industry together deal with problems of diversity, which is an issue I think in every wine region, not just South Africa.

Look, there's a few things. So firstly we need to get more local people at higher positions in wineries. Because at the moment a lot of the locals are, you know, working in the vineyards in the winery doing sort of the basic jobs and the idea is to try and uplift them. Because the government doesn't do much, sorry government. But it's true, where to educate and uplift them. So we need to give our guys training and not just training on pruning, but training on other things that they can move up in the business, which we do. We send our guys on constant training.
There are a few really good initiatives in the industry. So my wife Andrea, who's the winemaker for the winery, she's the chair of a guild called the Cape Winemakers Guild, which is a group of about 50 of the best wineries in South Africa. And they have a program called the protege program. Every year they send between six and eight previously disadvantaged kids to study winemaking at University. And then they give them a three year guaranteed internship. So they work for three wineries after they graduate for a year at a time. So at that end of that program, they've got amazing education and amazing work experience that they can go into the industry. And we've had two of those guys as interns and we now work with both of them. They are both employed as full time.
There are opportunities, but it's a long way to go. We've, our country, has a lot to still to do with that.

Chris, talk a little bit about the biodiversity that you've encouraged in your vineyards.

I think that's one of the special things with the Swartland especially is it's not a monoculture of vines and it's a very big region, but not with a lot of vineyards. So there's a lovely balance in the area of different crops, but also nature as well. We've got this amazing local plant kingdom called Fynbos, which grows on the mountains here. And when we planted this vineyard for instance it's quite a big block, it's 20 hectares and we didn't want to disturb that natural balance that already exists, so within the vineyard, we planted corridors of our Fynbos.

We literally went into the mountain, took cuttings of the Fynbos, got a nursery to route it for us. And then when we planted the vineyard, we planted these corridors, which break the vineyard up and it's a home for wasps or ladybirds to live. And then they go into the vineyard during the day and feed on aphids or any insect pest. So there's a lot of insects around, but there's that natural balance that is still here and that helps us be able to farm again without using pesticides. So we're lucky to have the space that we can do that.
Video and photography by Piers Parlett unless indicated