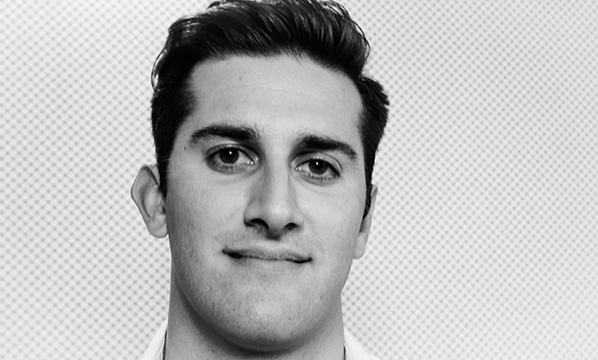 Elia Pellegrini used to eat, sleep and breathe soccer until a devastating knee injury at the tender age of 22 derailed his professional sports career. Unsure of his next move, he returned home to work for his family's Tuscan winery, Aia Vecchia.
The Pellegrinis had been growing grapes in the area for several generations before Elia's grandfather founded the winery in the late 90s with vines he purchased in Bordeaux. The property consists of two estates, one in Bolgheri, birthplace of the Super Tuscans, and the other in the more southern part of Maremma. In addition to international varieties — Cabernet Sauvignon, Merlot, Cabernet Franc and Petit Verdot — Aia Vecchia grows Sangiovese, Vermentino and a small amount of Viognier.
Grape Collective caught up with Elia to talk about his transition from soccer to wine and about how his family's winery distinguishes itself from other Super Tuscan producers.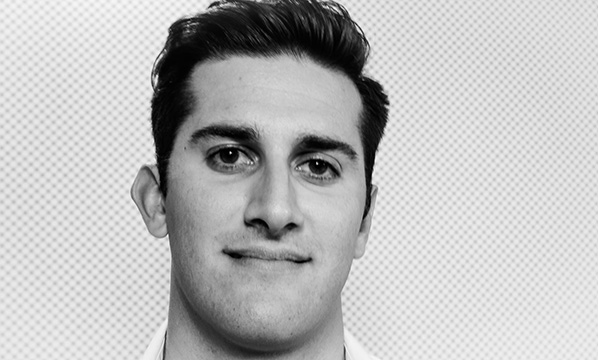 Tell us about your personal journey to winemaking.
I was born in the house next to the old winery of my grandfather and every morning he came to tell me, to remind me, that I was going to be the new generation at the winery. But, actually, I wanted to do something else, which was to be a soccer player in Italy and I made it to a professional soccer career. But, then I had to have surgery, and here I am back in the winery. I'm back in the wine business, so he was right. Now I'm taking care of the winery of my family.
How long were you actually playing as a professional soccer player?
I signed my first contract when I was 16, and I played until 22. The best team I played for was Livorno and I played the minor leagues for more experience but then one day my knee blew up. After surgery, I started to see the dark side of the soccer life. I was living in another part of Italy and so I came back to Tuscany where it's warmer, sunnier and to my family and the winery. The winery was growing and they needed someone to take care of the commercial part. They needed someone with younger, stronger energy who could travel and so here I am.
Was it hard leaving the glamorous life of a professional soccer player?
It was hard in the beginning. You put everything into the soccer life. The way you eat, the way you live. The whole life for you, it's soccer. And when you leave, you have to start over, a new life. I didn't study winemaking. I studied linguistics in high school and then I had to give up school. English at least helps me to be here and to take care of the business of my winery.
Did you play with any soccer players that went on to become very good?
Yes. I played against Sebastian Giovinco and he's now playing here in the MLS. He plays for Toronto. I played against Claudio Marchisio, played for the Italian National Team. In Livorno, I played with Cristiano Lucarelli which is like a flag player of the team. I played with many great players — Galante, Diamanti — Now I can't remember the others, but great players. I was not that great (Laughing). I was coming from the young team, and trying to put myself in that position.
Your family has been grape growers for several generations. When and why did they decide to bottle their own wine under the Aia Vecchia name?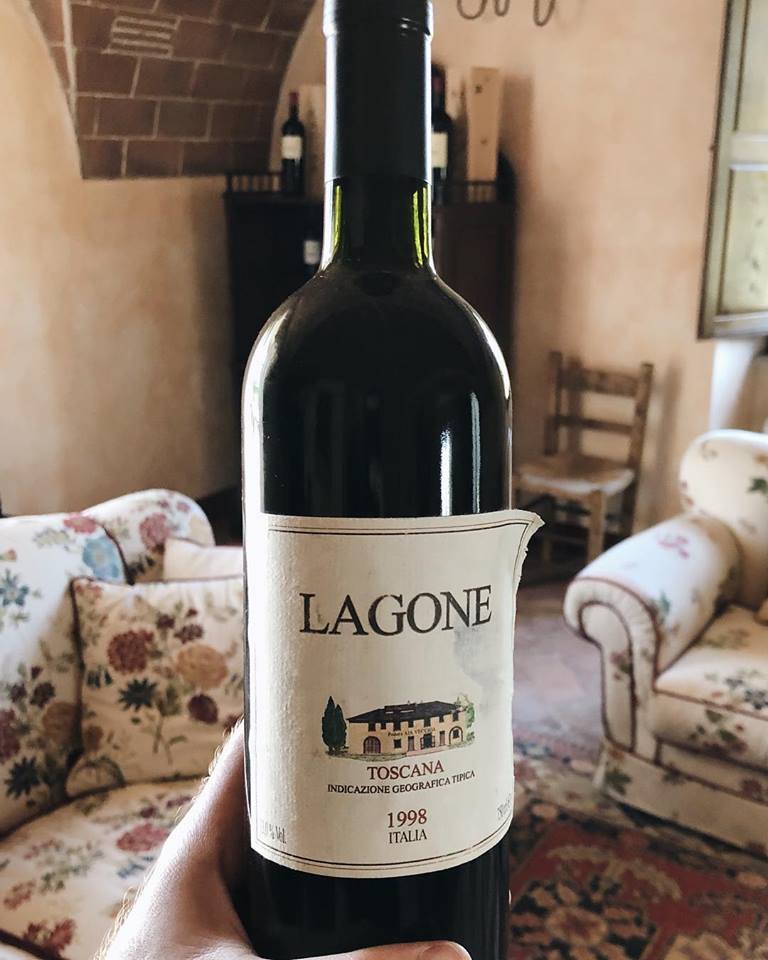 Everything started with my great-grandfather who was working with the grapes, working with wine, but never focusing on high quality or our own production. He used to travel with his horse collecting vinacha. Vinacha is the skin of the grape, used to make grappa. He was traveling farm to farm to buy vinacha and resell it to grappa producers. Then my grandfather followed that business. He was selling our grapes, buying and selling some wine. And then the big step happened when my grandfather, my uncle, and my father met a very famous winemaker that was in the area of Bolgheri where we come from. His name was Tibor Gàl. He was a Hungarian winemaker and he used to make the wines at Ornellaia until 1998 and then he started to consult with us. With him, we decided to found Aia Vecchia. In 1998 the first bottle we produced was Lagone with Tibor and my family.
What is your philosophy of winemaking?
My philosophy is to always respect the traditions of the area and to make a good quality and good value wine. We need to respect the area where the wine is made and to give everyone the possibility to taste our wines. There are many amazing wines around the world, but what's important when tasting wine is to be reminded of the area it comes from. When you try a wine, and you know the story behind the winery, that's what's important for me. To always respect the quality and the traditions of the area.

Tell us about the terroir of your vineyards, and what makes it special for grape growing.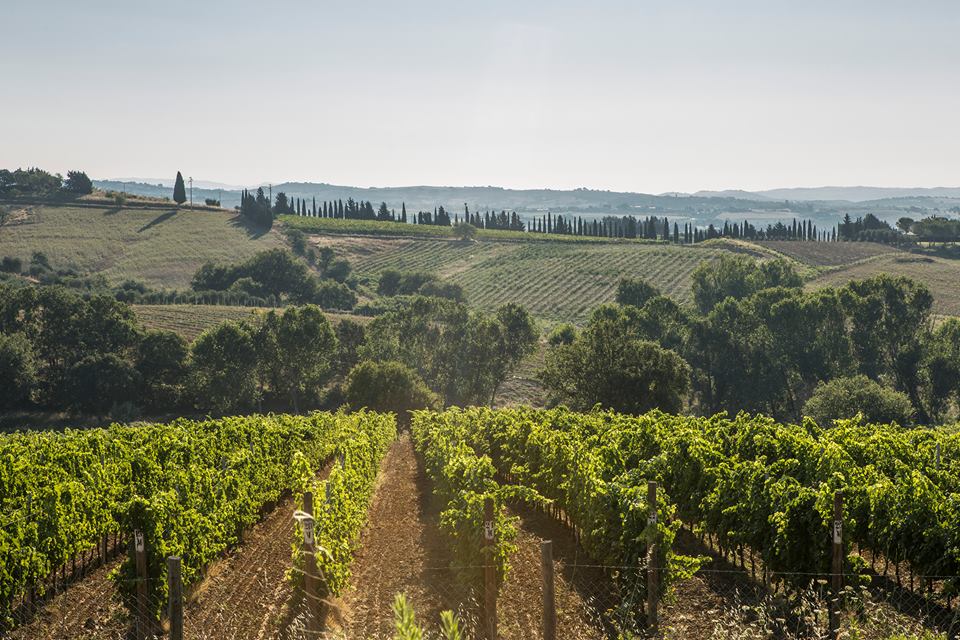 Bolgheri and Maremma, where we have vineyards, are special places, thanks to the combination of the hills and the sea. The hills protect the vineyard in the wintertime when the cold winds arrive from the north. We are always protected by the hills and the aromas remain inside the vineyard. And then there is the Mediterranean Sea, which mitigates the weather and allows us to have elegant acidity in the wine. During the nighttime, we have a good thermal exchange. The breeze from the Mediterranean Sea always arrives in the vineyards because our vineyards have one of the highest elevations and we have a good exposure. And another very important thing in Bolgheri is — and many producers make fun of us — we say that we have two suns. We get the sunshine in the vineyard, but also the reflection from the Mediterranean Sea, like a mirror. So we have a lot of light in the vineyard. The soils are clay, limestone and sand, perfect for Bordeaux varietals and that's what grows the most in Bolgheri and Maremma.
What is your total production?
We produce 350,000 bottles, around 30,000 cases, so it's a medium-sized winery.
Super Tuscans, when they came onto the scene in the 1970s, were very popular. But then there was somewhat of a reaction against them. What is the public perception of Super Tuscans today?
I like to answer this question saying that the phrase Super Tuscan means everything and nothing. Super Tuscan is a term to explain some of the best made wines coming from an area in Tuscany that weren't made with traditional varieties. And it was a name given because these wines were called table wines. So for some of the highest quality wines, especially in my area, like Sassicaia which is an iconic wine known around the world, they were called table wines, which is in contrast with the high quality of the wine. Super Tuscan became a term to explain a wine with Bordeaux varietals made in Tuscany. Now, it's a little bit behind the times because there's IGT Toscana, there's DOC, and there's DOCG in our areas. So, I like and I don't like the term Super Tuscan because it really means everything and nothing.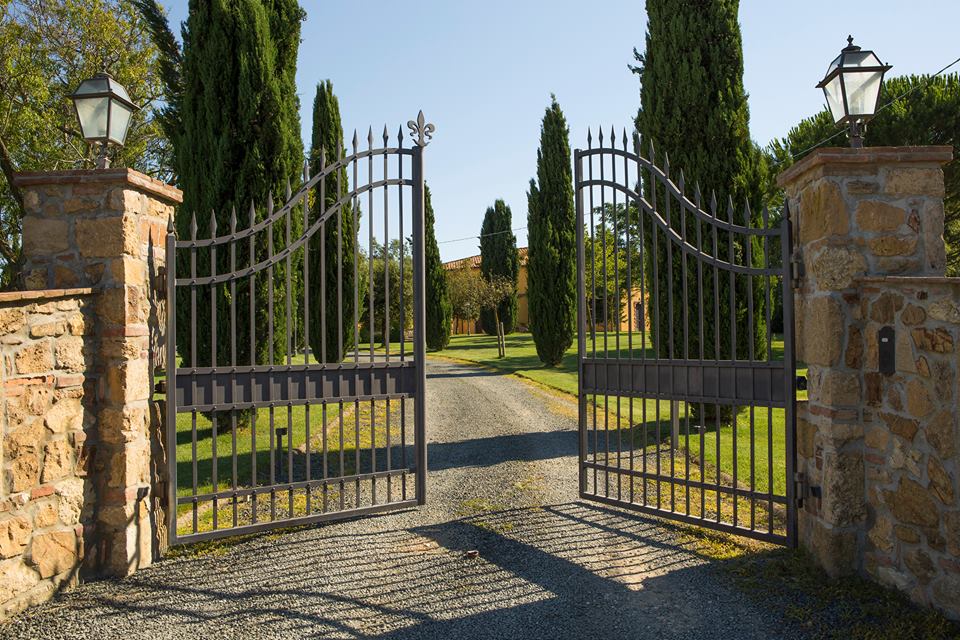 How do you distinguish your wines from these other producers, some of whom are selling bottles for hundreds of dollars?
When we started with Tibor and my family, we decided that we had to do something different. We didn't want to, and mostly we couldn't, compete with some of the most important wines in Tuscany and in our area, Bolgheri and Maremma. We had to produce high quality wines but with a great value. Wines that people can enjoy and put on the table every day. That was our idea to survive in the world of the Super Tuscans.
Do you grow your grapes organically?
We are trying to be as sustainable as we can, but we are still a conventional farm.
Tell us the difference in the soils between Bolgheri and Maremma.
They're similar, but also different. Bolgheri is a smaller, unique area. There are hills facing the Mediterranean Sea with sand, clay, and limestone soils. In Maremma, we tried to find similar characteristics. Our property is 2 kilometers away from the sea but Maremma is warmer, it's wilder. Maremma is a new winemaking area. Until the 1900s Maremma was a marsh, so the people used to live in a town up in the hills and there was no cultivation. Then they did the reclamation in 1920 and they saw that this untouched area had a lot of potential. The difference is, in Maremma, we always start the harvest earlier because it's warmer. The grapes are more mature and stronger. Bolgheri is more about elegance and structure together.
Do you grow different grapes in each area?
The majority of our grapes in Bolgheri are the Bordeaux varietals: Merlot, Cabernet Sauvignon, Cabernet Franc. In Maremma we have Merlot, Cabernet Sauvignon, Vermentino, Voignier and Sangiovese. The total is 42 hectares split between the two areas.
Can you tell us about the different wines that you make?
We make four wines. It's a very small portfolio and that is our philosophy. That was our idea, to make it easier for the customer to recognize us. One is Vermentino that we produce in Maremma. It's a 95% Vermentino with 5% Voignier. We produce Solidio, which is a rosé and the newborn baby from our portfolio. It's Sangiovese with a little bit of Merlot. And then the two most important wines for my winery are the Lagone, which a blend of Merlot, Cabernet Sauvignon, and Cabernet Franc. It's a blend of the two areas. We produce the grapes both in Maremma and in the area of Bolgheri. The other is the Sor Ugo, which is our Bolgheri Superiore, a Cabernet Sauvignon, Merlot, Cabernet Franc and Petit Verdot blend.
What is the most challenging part about making wine for you?
It's to keep giving the quality that our area is giving and, with the challenges we face, always respecting tradition. We need to make wines that are recognizable. We need to make wines that people can drink and appreciate. Those are the things that we need to respect and work on every day.
Can you elaborate on the challenges?
I can give two examples. We are having climate changes with some of the havests in recent years being the earliest we've ever had. We had to readjust ourselves to the way we work in the vineyard, the way we work in the winery. But, if we go back to 2014, it was the coldest and most rainy harvest we have ever had. So every year we have very different situations that we have to handle. You definitely adjust yourself in vineyard and the winery.
Which years do you believe are the best years for your wine?
Generally in our area the odd years are the best vintages with great vintages being the warm vintages. Our Bordeaux varieties: Merlot, Cabernet Sauvignon, Cabernet Franc and Bordeaux need warm weather for great maturation and structure.
Can you tell me about some traditional foods that would go well with your wines?
At Aia Vecchia, we are showing that our wines can be paired with seafood, which is something unique. Generally, if you think about Tuscany, you think about wild boar of which we have many, as well as many problems in the vineyards with wild boar. You think about a great steak, Bisteca Fiorentina. But also, for us, it's important to show that you can pair the wine with a seafood dish that has substance, with character, and with structure. You can make seafood with a spicy tomato sauce to match with our Bordeaux varietals which are structured wines. Of course, seafood is perfect for our Rosé Solidio and Vermentino.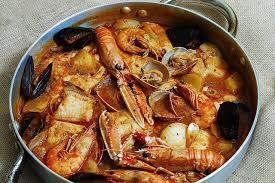 Are there any typical dishes?
So a typical dish from our area is called Cacciucco (pictured at right), which is a soup made with the leftover seafood of the day, and it's a bit spicy. There's roasted bread and tomato sauce in it. That's a perfect example of our food that pairs well with our wines.
Sounds like it could go with any of your wines.
It's perfect to have with the whole portfolio.
What do you like to drink when you're not drinking your own wines?
There are really a lot of great wines out in the world now but I like to drink the wines of my friends since I know the story behind them. The wine industry has really changed in the last 20 years. Now you can find great wines all over the world but what makes the difference for me is to drink the wine made by my friends. I know how they make it, how they think and it's the story behind it that interests me the most.
Can you give us a couple examples?
I can go from north to south. I'm very friendly with Luca Currado, winemaker at Vietti in Piedmont, so I like to drink his Barolo when I can. In Alto Adige, there's Alois Lageder who's making really great wine. In Tuscany, Casanova di Neri for Brunello. Of course, in my area, Ornellaia is my favorite wine for the reason that the winemaker who was making Ornellaia also consults for my winery.
What about outside of Italy?
Outside of Italy, I went to Napa for the first time for the Napa Premiere and it was a great experience. The grapes are like our grapes but different, more mature, more structured. It's a different approach for the wines, but I found those wines really good. Also, the Pinots from the Willamette Valley are really good. My girlfriend is from Portland, Oregon so we have visited a couple of wineries there.
Since we interviewed Elia Pellegrini, we learned that he and his American girlfriend were married. Congratulations Elia!