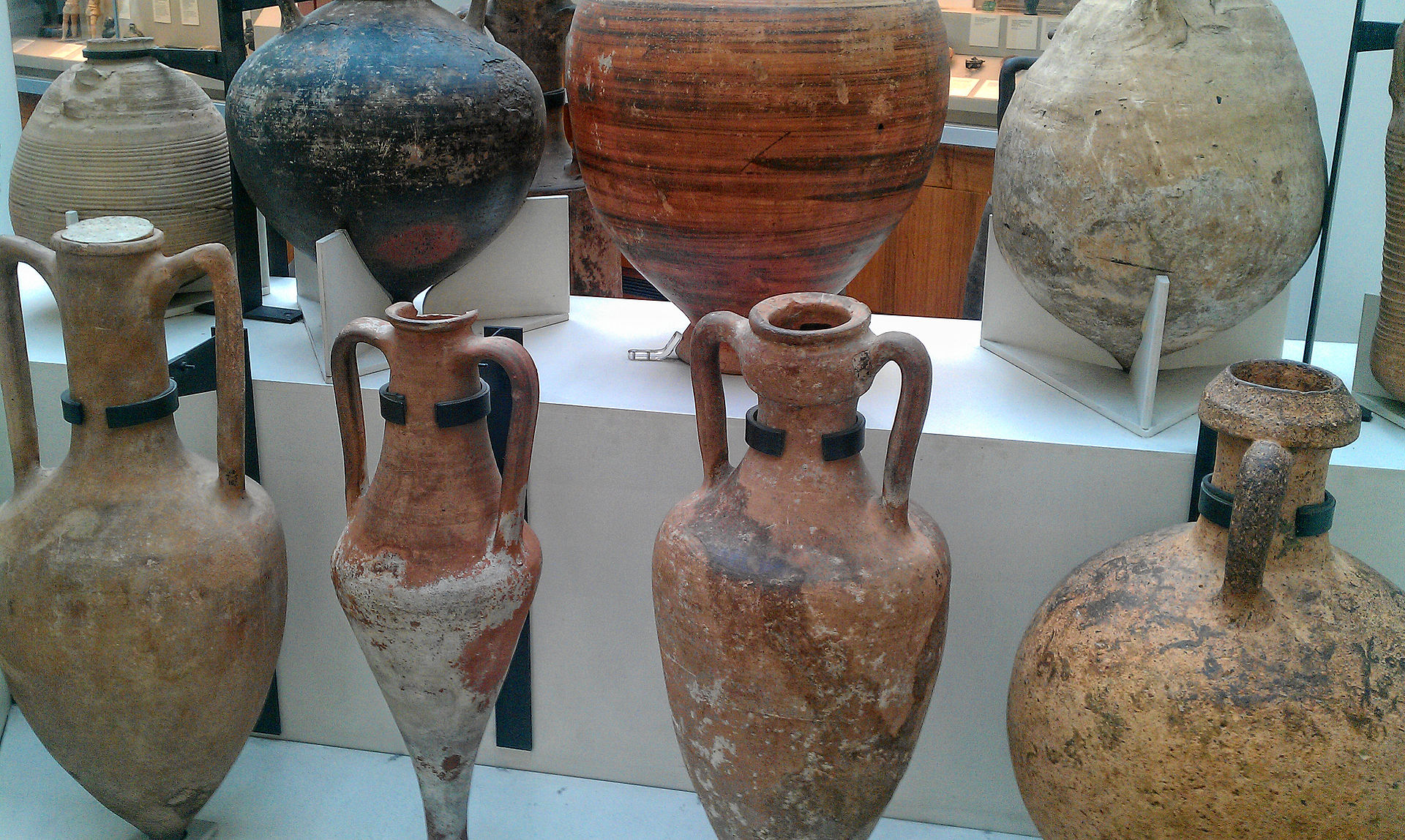 In ancient times, first the Etruscans, and later, the Greeks and Romans, used large clay vessels called amphorae for making and storing wine. Amphorae may be made in different shapes and sizes (ranging from 250 liters to thousands of liters). Examples of some common ones include: Roman, Qvevri and Tinaja amphorae. The Georgian Qvevri are lined with beeswax which is unnecessary for the Spanish Tinajas because of the harder type of clay used in their manufacture. In Georgia, this winemaking technique has been named to the UNESCO World Heritage list.
More recently, certain natural winemakers have embraced the use of amphorae. Sometimes they are used solely for fermentation and other times, for both fermentation and aging. The grapes are pressed and the juice fermented and remains in contact with the grape skins for periods ranging from a few days to several years.
Some of these winemakers, after pressing the grapes, bury the amphorae in the ground to keep the wine even cooler than the natural thermal insulation capacity of amphorae. In recent years, there has been a resurgence of this production methodology because the porous clay of an amphora protects the wine naturally from oxidation and thus, obviates the need for sulfur. The resulting wine is more stable and has a cleaner flavor with softer tannins, richer minerality and earthy notes. Red wine made in amphorae is typically less extracted and lighter whereas whites are often spicier.
The following notable wineries use amphorae:
Beckman Estate Vineyard (Oregon)
Clos Canarelli (Corsica)
Frank Cornelissen (Sicily)
COS (Sicily)
Foradori (Trentino Alto Adige)
Gravner (Friuli-Venezia Giulia)
Kabola (Croatia)
Domaine Jean Claude Lapalu (Beaujolais)
Adega José de Sousa (Portugal)
Luigi Tecce (Campania)
Domaine Viret (Rhône)
Paolo Vodopivec (Georgia)
Herdade do Rocim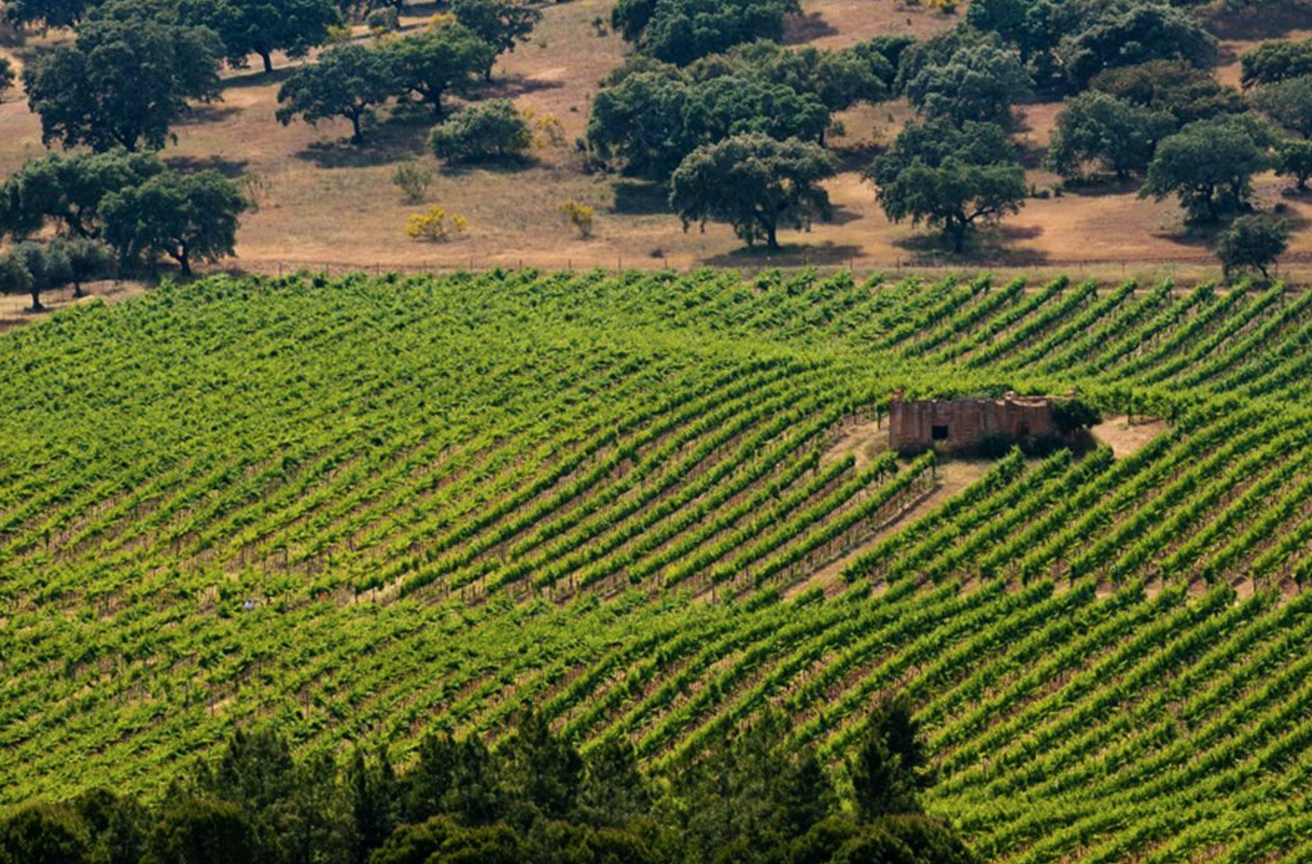 More than two millennia ago, the Romans introduced amphora winemaking to the Alentejo region in southern Portugal. Now, winemaking with amphorae, called talhas in Portugese, is rare but a few wineries, including Herdade do Rocim, have embraced the method.
Herdade do Rocim is located in between the towns of Vidigueira and Cuba. In addition to grapes, the region's major crops are wheat, olives, and cork. Herdade do Rocim comprises 100 hectares, 60 of which include older vines of nearly extinct indigenous grapes such as Trincadeira, Aragonez (Portugese name for Tempranillo), Arinto and Antão Vaz as well as newer Alicante Bouschet, Touriga Nacional, Cabernet Sauvignon and Syrah.

The winemaker, Pedro Rebeiro grew up on the estate as did his father and his grandfather from whom he learned how to work with amphorae. Rocim's 15 talhas range from 600 to 1000 liters. Herade do Rocim was the first Portugese winery to bottle wines made with amphorae; previously, they were consumed by locals dipping a container into an amphora.
The Movicortes Group, a Portugese agricultural machinery firm acquired Herdade do Rocim in 2000. Since then, the Vieira family that controls Movicortes has invested in additional land, land improvement and a state-of-the-art winery. Catarina Vieira, daughter of the late Jose Ribeiro Vieira, the founder of Movicortes, works closely with her husband, the winemaker, to produce elegant wines.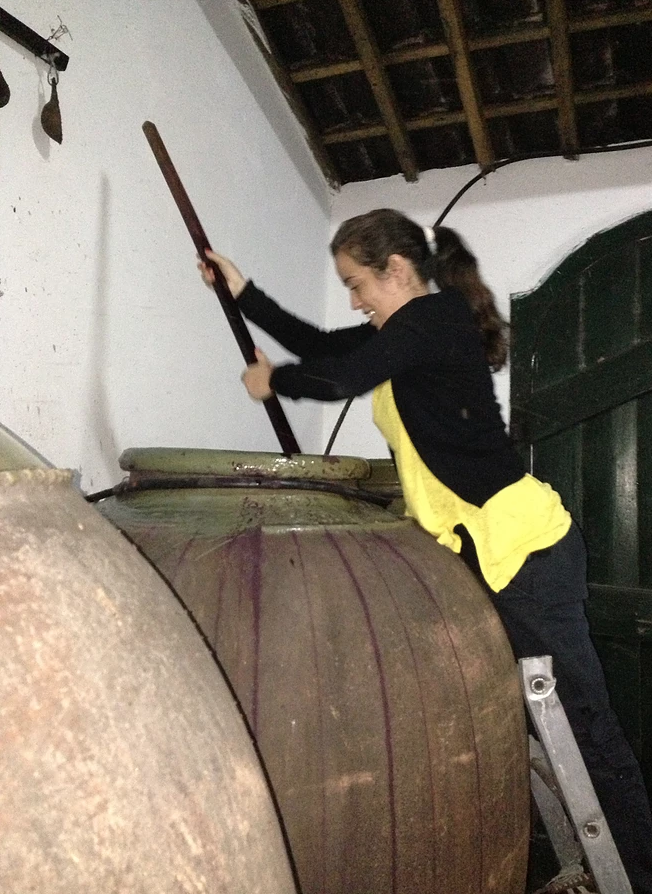 The Winemaking Process
Herdade do Rocim employs organic and sustainable methods but is not yet certified as organic. It uses only indigenous grapes in the wines made with amphorae: the white wines are made with Antão Vaz, Perrum, Rabo de Ovelha and Manteúdo and the reds, with Aragonez and Trincadeira. The grapes on the older vines ripen more slowly because they are lower to the ground and are shielded by leaves. The grapes are then harvested manually.
Once harvested, the grapes and their stems are added to the amphorae. The grapes are stirred a few times per day but otherwise left alone to undergo alcoholic and malolactic fermentation with indigenous yeast over approximately two weeks. Then the wine ages on the skins and stems for six months. To minimize oxidation, a layer of olive oil is added to the top of each amphora.
Because all the skins and stems settled to the bottom of the amphora during the aging process, when each wine is ready to be bottled, the wine flows the lees as a natural filter and then through a tap at the bottom of the amphora. The wine then is bottled in the winery typically with only a small amount of sulfur.
Herdade do Rocim Wines
Herdade do Rocim makes two wines in amphorae:
2014 Amphora Branco – This blend of Antão Vaz, Perrum, Rabo de Ovelha and Manteúdo is dry, aromatic and a bit funky with apricot, citrus and tropical fruit flavors, smoky, herbal and almond notes and nice acidity and minerality. Like fino sherry, this elegant wine goes well with olives, ham and other savory dishes.
2014 Amphora Tinto - A blend of 50% Aragonez, 30% Trincadeira, 10% Moreto, 10% Tinta Grossa grown in clay and sand. The wine is very balanced with supple tannins. This is a light, fresh red with black and red cherry, raspberry, rose petal and mineral flavors which would pair well with tomato-based dishes, paella, sausages and grilled meat and vegetables. ($16.99 at Grape Collective)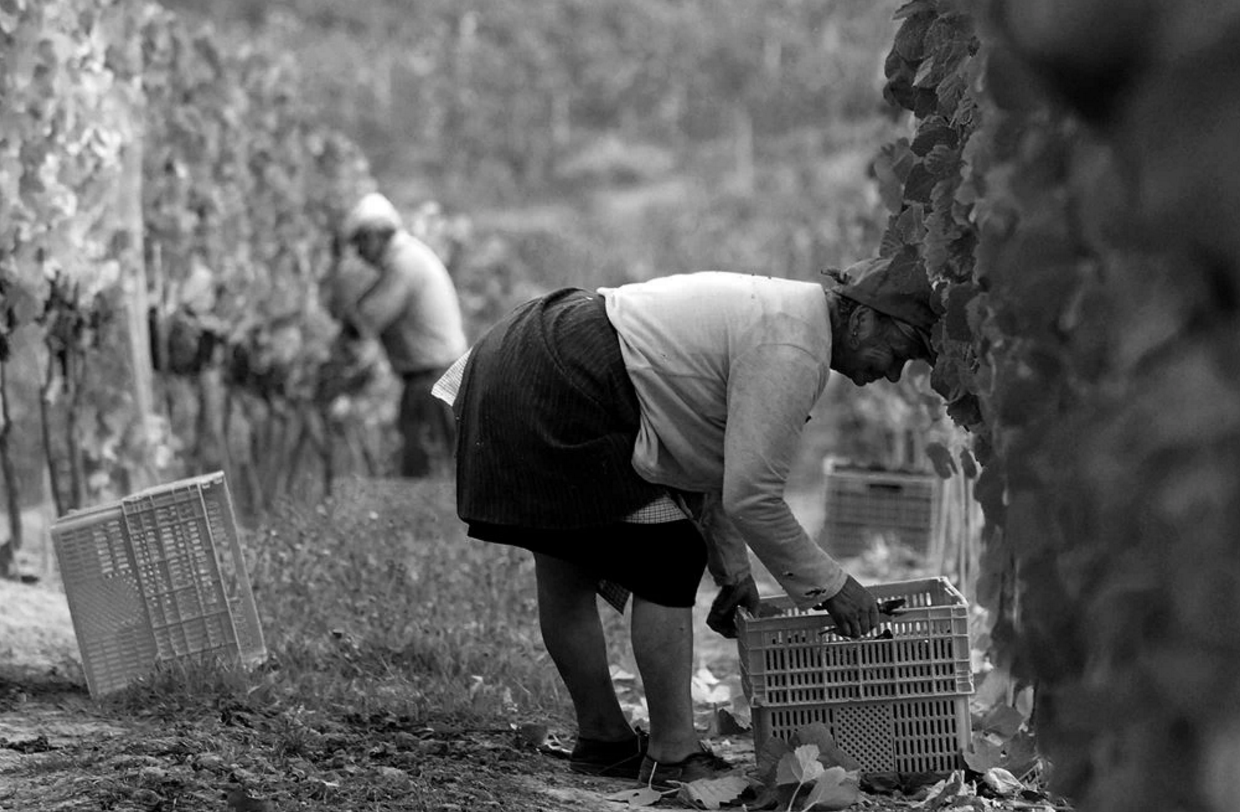 Herdade do Rocim also makes wines of different blends that it vinifies and ages in stainless steel and/or oak including:
Mariana Branco (60% Antão Vaz, 30% Arinto and 10% Alvarinho)
Mariana Tinto (Alicante Bouschet, Aragonez, Syrah, Touriga Nacional and Trincadeira)
Mariana Rosé (60% Touriga Nacional and 40% Aragonez)
Goivo Vinho Verde (Loureiro, Trajadura and Arinto)
Verdelho (100% Verdelho)
Espumante Rosé (100% Touriga Nacional)
Rocim Branco (Antão Vaz, Arinto, and Roupeiro)
Rocim Tinto (Aragonez, Alicante Bouschet, Syrah, Touriga Nacional, and Trincadeira)
Vale de Mata Branco (50% Arinto, 40% Vital, and 10% Viosinho)
Vale da Mata Tinto (Aragonez, Touriga Nacional, and Syrah)
Olho de Mocho Branco (100% Antão Vaz)
Olho de Mocho Tinto (Alicante Bouschet, Touriga Nacional, and Syrah)
Olho de Mocho Rosé (Aragonez, Touriga Nacional and Syrah)
Touriga Nacional (100% Touriga Nacional)
Alicante Bouschet (100% Alicante Bouschet)