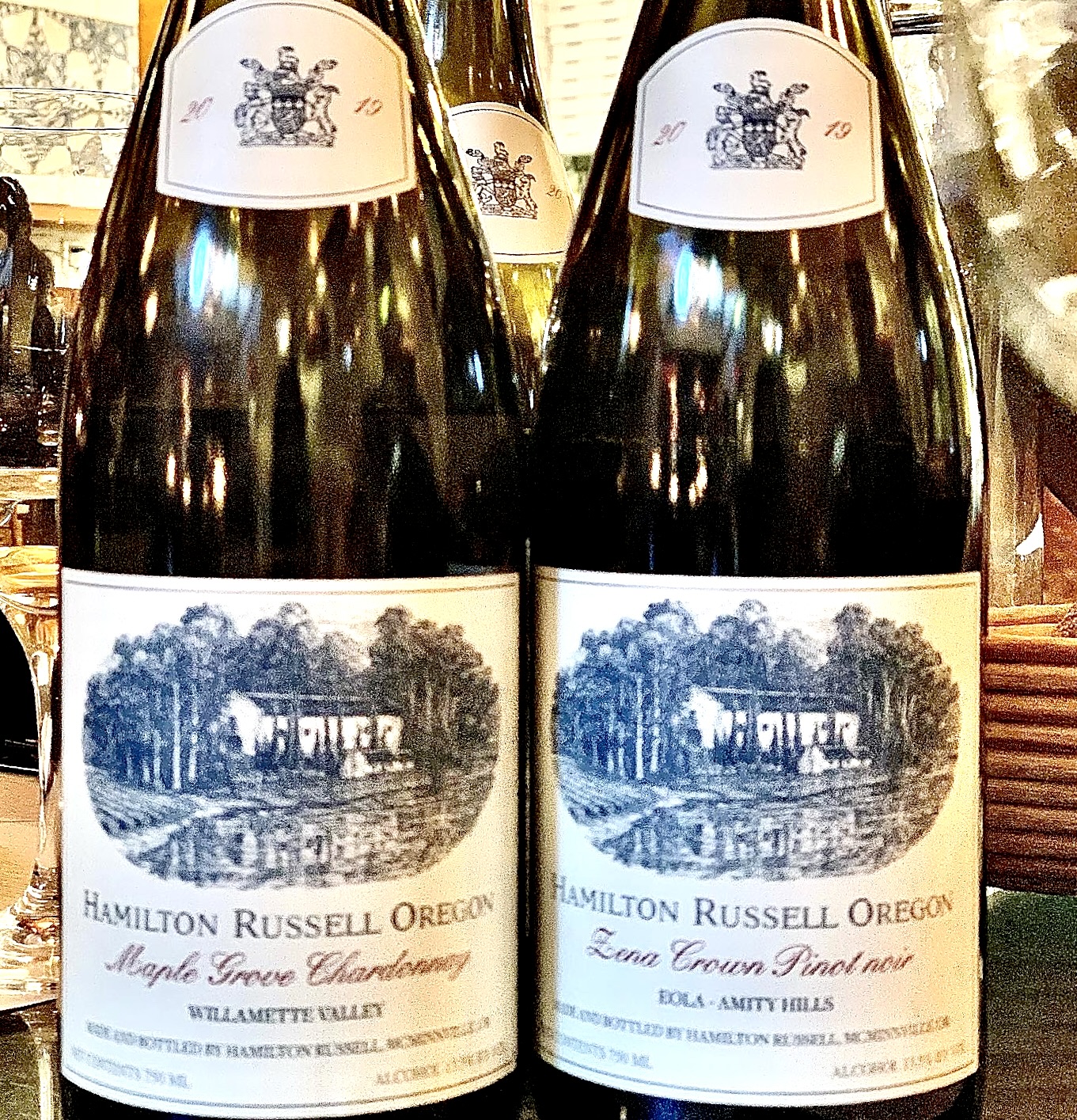 Hamilton Russell Vineyards was the first winery founded in South Africa's Hemel-en-Aarde Valley. In 1975 Tim Hamilton Russell, an advertising executive, set off on a journey to make distinctive cool climate wines when he purchased 425 acres of undeveloped land just behind the small fishing village of Hermanus, and began planting a selection of noble grape varieties.
"We were like mavericks out on a limb," says Tim's son Anthony, who took over management of the winery in 1991, "and now Hemel-en-Aarde is a very respected sub-region, broken into three distinct little appellations."
Leading the winery into a new era, Anthony Hamilton Russell narrowed the range down to solely Pinot Noir and Chardonnay. He also registered Hamilton Russell Vineyards as an estate, committing to work only with grapes grown on his own land. The Hemel-en-Aarde (meaning heaven on earth) appellation has since grown to about 25 wine farms, and Anthony has built a classically-styled brand of wines that have gained critical acclaim and can be found in many of the world's top restaurants.
After about 25 years, Hamilton Russell, who inherited his father's pioneering spirit, was on the lookout for new horizons. Inspired by the increasing popularity for less fruit-driven, more mineral wines such as the ones he makes in South Africa, Hamilton Russell believed that the time was right to build upon his brand's solid reputation. He and his wife Olive first thought about making wine in Burgundy; a shortlived dream since they would have been "at the back of the queue for the lesser appellations and getting the worst of the grapes."
Instead, they headed to a more promising place, the state of Oregon, another New World region similar to Hemel-en-Aarde in that it's well-suited to Burgundian varieties. Here, they believed they could afford to produce wines that would showcase the the bright purity of Oregon fruit within a framework of restrained classicism similar to European Pinot Noir and Chardonnay.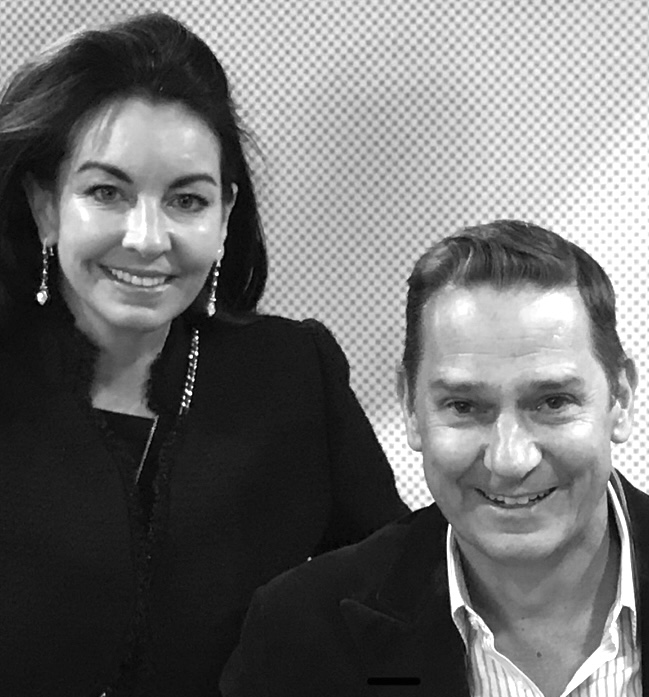 Through a joint partnership with California-based Jackson Family Vineyards, the ninth-largest wine producer in the US, Hamilton Russell Oregon now produces a Zena Crown Pinot Noir from Eola-Amity Hills, an AVA where some of the top vineyards and wineries in the state are located. And new to the roster is a Chardonnay from Maple Grove Vineyard, an area to the south of Salem that is being recognized by those in the know as an up-and-coming wine producing location. While the vineyards are owned and operated by the Jackson Family, Hamilton Russell and his team make all fruit-picking and winemaking decisions.
I sat down with Anthony and Olive Hamilton Russell who were in New York in October to present their wines at the Wine Spectator's New York Wine Experience.

Lisa Denning: Can you tell me how the idea of making wines in Oregon came about?
Anthony Hamilton Russell: America's such an important market to us. It's almost a quarter of everything we sell and we love coming here at least once or twice a year. It's very expensive to travel here from South Africa, expensive to spend time here. And while we have such great distribution nationally, we didn't have enough wine. Hamilton Russell is finite and there'll never be any more Hamilton Russell vineyards. And so to almost justify coming over to maintain Hamilton Russell as a brand, and also just for the sheer pleasure of being here, we felt we needed more.
And so we flirted with the idea of something in the northern hemisphere, which allows our winemaker to make the wine at Hamilton Russell vineyards, and then in his quiet time of the year go north to make wine in the northern hemisphere. So he gets that experience, that learning, that pleasure. And we double up on what the opportunity to make more wine without compromising the specialness of Hamilton Russell Vineyards, one red, one white.
We looked at doing a joint venture in Santa Rita Hills in Southern California some years ago, and very nearly did something with the Sanford & Benedict Vineyard. And that came up for sale and we didn't want to get involved at a point where new owners were coming in that might have had a different view on our involvement. And while that was happening, we were becoming a little less enamored with the more robust, open, full-on styles in that area and more in love with what was developing in Oregon.
Burgundy would've been a logical choice, but if we'd gone to burgundy to make wine on our weak currency from South Africa, with our small business, we would've been at the back of the queue for the lesser appellations and getting the worst of the grapes. So we would've gone in knowing we are making the lesser wines from an area and we wanted to make something really special if we did something overseas. And I'd been going to Oregon from '93, '94 and seen the whole place blossom. We've returned fairly regularly. Did the IPNC, presented wines there and just saw this this amazing development of a style that we felt fit with our philosophy that's slightly more restrained, spice and structure-driven; not just dramatic fruit, full on alcohol, soft, round, sweet, easy, juicy stuff. We like something a little more intellectual.
And at the same time, obviously a lot of French were making investments in Oregon. We know Veronique Drouhin. We had done joint articles together for The Telegraph newspaper comparing wine styles. And we were just intrigued. And then, very serendipitously, Jackson Family Wines' head winemaker is actually a South African, Graham Weerts. He's moved on to being involved with their vineyard development now and also the wineries, but at a fairly senior level. And he's great. He happened to be a really good friend of our winemaker, his wife particularly as they had studied together. And so we were able to use him as an ear on the ground in Oregon for opportunities to jump the queue and get a hold of the best sites from day one. And Jackson Family Wines, in the preceding few years, had been buying up a lot of Oregon properties and they'd built a massive cellar facility in McMinnville in a big old warehouse near the old airport, where the Spruce Goose is, that museum with Howard Hughes's big wooden aircraft. It was named the Spruce Goose because it was made largely of wood and it's held there and it's one of the most visited sites in the area. But anyways, it was just suddenly one day completely empty and I think they bought it up and they put this enormous cellar in it and it's central to the whole of the Willamette Valley.
And they also, being Jackson Family Wines, are very well capitalized in resource, and they had within that massive cellar the ability to micro-vinify little parcels, and the willingness to rent out space. And we also had the ability through their network and their new ownership of very, very significant vineyard sites to get grapes from Zena Crown, which is in the Eola-Amity, and at the time, Bramble Hill, which was in Ribbon Ridge.
And we had—through discussions, through tastings, through knowing Oregon—decided it was going to be one or the other for what we respected stylistically most. And we suspected it would be Eola-Amity. That's where all the somms have headed, where the French have headed. Slightly more structure, a little later ripening. The Van Duzer Corridor, funneling in cold maritime air, slightly heavier soils, a little less juicy and fruit forward and a little more intellectual stylistically. And as it turned out, our vinification and our first vintage of both those vineyard sites proved to us that the style that we most subscribe to was the Zena Crown from Eola-Amity Hills.
So then we decided we needed to find a Chardonnay. And again, using the Jackson Family Vineyards contacts, they had purchased a big property closer to Salem, a little further south from McMinnville, also still enjoying that Van Duzer effect from that break in the coastal range. And it's called Maple Grove. And it was very new and we are amongst the first to vinify and bottle. In fact, maybe the first to bottle under the name of that vineyard and not have it blended into other things. At the moment the appellation is Williamette Valley but soon Maple Grove will be another nested AVA, so that'll come.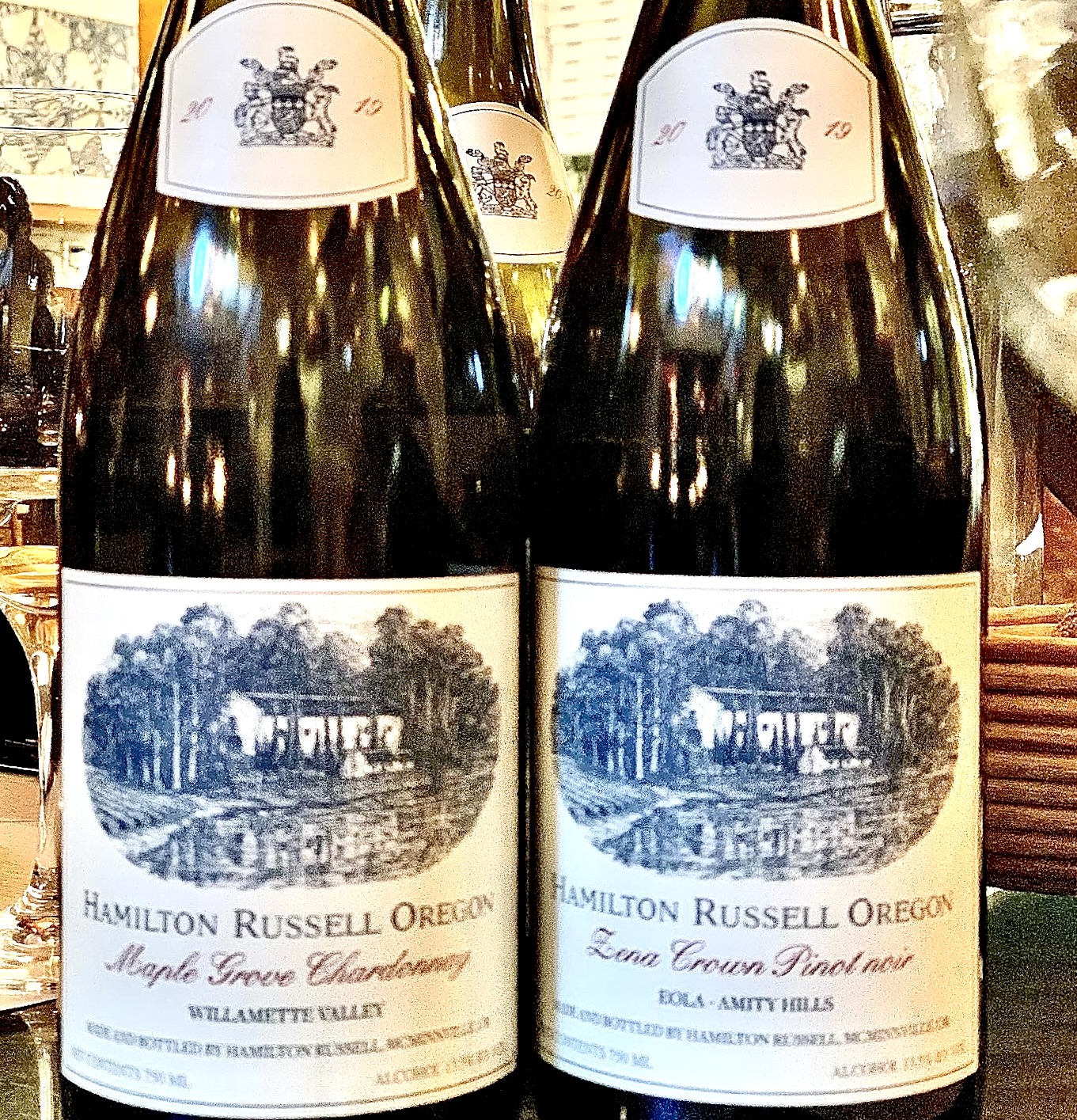 We went through the same creating AVAs within a broader appellation in our own area in South Africa around the time. In fact, exactly the same time that Eola-Amity Hills was created. So we are in the Hemel-en-Aarde Valley and Eola-Amity Hills was created in '06, and we were created in '06, completely independently, no cross referencing. So we know that eventually that vineyard will fall in an appellation. It was going to be called Independence, but to call anything Independence in America is fraught with legal things. And it's not a name that you can just use. So they're coming up with a name for it, but they will designate a new area for that. And we will be amongst the first movers, certainly with Chardonnay, which is exciting. But at the moment we fully, fully believe in Eola-Amity Hills. So the next steps will be to try and find a little bit of ground. And bear in mind, we're South African. Our currency is weak. We run a small, tiny, business there and so we can't just, like big international companies, go and buy a vineyard and develop a cellar. If we had the money, we would. But we will start with a small bit of land and plant vineyards, because it really only to us has true meaning if we own the site, if we own the grapes, if we own the vineyards and we're working towards that over time.
You don't make the Ribbon Ridge wine anymore?
No. It wasn't like it was obviously a lesser quality, it was just obviously a different style. And there were a bunch of people that thought it was far nicer.
Olive Hamilton Russell: But the intention right at the beginning was, we only wanted to make one Pinot Noir but we wanted one vintage with both sites and then decide which one to move forward with, to continue.
So you went with the one that really spoke to your heart.
Correct. And that's the philosophy of all our properties, one red and one white. And no reserves, no second labels. So what you drink with the name on it is the best that we can do. There's nothing that a special customer's getting that you can't get. And we're are also not debauching the brand for want of a better analogy by just putting the name on something that we are not completely proud of as the best we can do.
Are there similarities between your South African vineyards and the Oregon vineyards?
Yes, and it shows in the wines. You can definitely see the house style. But we couldn't impose that on Oregon if the terroir didn't allow that. Oregon is known to me, what we are trying to showcase is this wonderful, elevated purity of fruit, which is harder to get in South Africa. And we try to add to that a sense of spice and structure that comes easily to us in South Africa that's hard to get in Oregon. So Oregon would like that spice and structure and struggles with it. We would like the fruit that Oregon gets effortlessly.
Photo in the Oregon Vineyards: Anthony Hamilton Russell, Ken Kuperman (Vineyard Manager, Emul Ross (winemaker)
And so they differ in that way. Oregon is far less maritime. They claim a maritime inference, but quite honestly, it's much more continental. They have a shorter, sharper growing season too. Very hot months. And then it's cold on either side of the main area. In South Africa, we are much more steady because we are very strongly maritime. In Oregon, they reach higher peaks during the optimum ripening time, higher temperatures than we do in South Africa. And they're also much further north than we are south. So our whole thing is about being close to a cold body of water, where their whole thing is being quite far north with the same line of latitude as Burgundy. Where we are very soil-driven, the research we did in the early nineties really pointed to the very heavy clay being a main feature of our style, rather than cooler temperatures.

In Oregon, when we looked around, instinctively, we felt that the heavier, more difficult, more marginal soils were going to make better wine. So if you looked at the deep, rich red soils of Dundee Hills, which is a great appellation where Drouhin is, love the wines and all of that, but they're more sumptuous, more open, more fruit-driven. If you go down to Eola-Amity, in the parts we looked for, it's much shallower, much more difficult, a higher clay content, less deep rooted vines and more marginal, even though it's significantly more vigorous than ours at Hamilton Russell. But we wanted something a little more European in that sense and with as much clay as we could possibly find. And we've got that, but very different terroirs and remarkably, actually stylistically you can spot the family resemblance.
Olive Hamilton Russell: In the fermentation of the Oregon wines, we also use an endemic vineyard yeast that Anthony identified from our village in 1994. And then we kept it going in our Hamilton Russell Vineyard cellar. And then maybe five years ago, together with an organic yeast, we turned it into a table form and that is now available commercially. And so we use that in our Oregon wines combined with endemic vineyard yeast.
So it's a species, might be a new species of wine yeast, and it's something between saccharomyces cerevisiae and saccharomyces uvarum in its behavior. Emul, when he came back from the 2021 harvest in Oregon, said he'd heard from the reps that are selling that yeast—it was very expensive, but it's a great organic yeast— that it's been used actually surprisingly widely across America and in five different European countries. And it was at one point, a unique thing found in our vineyards, on Hamilton Russell Vineyards and it's called Sauvage, that's the name of the yeast and now it's become popular.

And we send our barrels over from our French cooper, Francois Frères, based in France, who we visited a few weeks ago. They're the exclusive suppler to DRC, Dujac and other producers in Burgundy. So we use them on the Hamilton Russell Vineyards and in Oregon. Using our own yeast and the same barrels doesn't ensure similarity, but it means that the differences are about the place, and purity of fruit, not about vinification. We just try not to be too opulent, too rich, too ripe. We pick a lot earlier than other producers. These are very true to Oregon, but, to me, the nice face of Oregon. Not the over the top thing. But at a high price. And actually, if you look at wine selling for about $86 retail in Oregon, very few are made in quantities over about 150 cases. Occasionally you get one at 200 cases. So this is up there with all of them.
Right. And that's about what your retail price is?
Yes, it's about $85 for the Pinot Noir and $65 for the Chardonnay.

And your South African are about half that, aren't they?

Yeah, because it's South Africa. They should be the same price as the Oregon wines and it's completely unfair. It's almost like trying to sell Greek wines 20 years ago. It's just not easy, but the very first Pinot I sold into America in 1992 was something like $6.99. And now it's $52 to 55. So we'll get there.
Can you tell me a little bit about your winemaker for the Oregon project?
Yes. Well, I've had four winemakers in my time. Hamilton Russell has had five winemakers overall in 40 years. So I would like to say that the team, the family and their involvement guarantees a certain style and level of quality. It's not suddenly magically switched on or off by the winemaker. Nevertheless, a great winemaker will inevitably just assist in that quest in a magical way. And our current winemaker, Emul, is just about to do his eighth vintage with us.
He's young, he's 36 and quite honestly the best we've had, in my opinion, not just because of skills, but the way he works with the vineyard manager and the entire team; it's is very much a real team effort. Everything from Olive to me, to our financial manager, to the person who helps with sales, to the vineyard manager, he's friends with all of us. And we're very, very close. He studied a BSC for wine making, so he didn't do the diploma courses that a lot of the winemakers did. And he worked then at a very big winery, Graham Beck wines, which was very capitalized and ambitious. And when you deal with logistics on that scale and then get something small, you can really hone in.
And he then worked under another pretty famous wine maker, Gottfried Mocke at a vineyard called Chamonix in Franschhoek, but the whole reputation of the Franschhoek appellation is for making interesting wines, but not great wines, but Chamonix made some great wines. So whatever was happening in that winemaking team, they were completely going ahead of the terroir. And Gottfried was his mentor for some years. And he's been absolutely wonderful and we hope to keep him. And in fact, one of the ways I think we might keep him is, if you're a winemaker at Hamilton Russell, you have the ability to find investors to start your own thing, just like that. They all assume that wherever the reputation of a brand is, it's to do with the winemaker. So they all want to bring them in to reduce the risk of the project they're starting and give them a chunk of equity or the winemaker can do their own thing.
So that's why we tend to lose a winemaker every decade. They go off to do their own thing, in our area, doing Pinot and Chardonnay as close to us as they can get. We are hoping that Emul will continue to work with us for years and years to come and maybe start his own project in Oregon. And that way, we still fly him over for this. And then he makes a bit of his own wine and does it that way. So it's another small benefit of what we are doing here other than just the learning.
Lisa Denning: When was the first Oregon vintage?
Olive Hamilton Russell: '18.
How do you envision the future of your Oregon project?
Anthony Hamilton Russell: If we were American and we were Hamilton Russell in California or whatever, we'd have lots and lots of spare cash and the very low interest rates that you have to borrow to do stuff. But we're South African and the interest rate and exchange rate in varies enormously. Interest rates can go up and down. We simply couldn't, in a real market with a real currency like America, just jump in and buy a whole lot of vineyard land and afford that. We have to proceed very slowly. And so the goal would eventually be to buy enough vineyard land to fill these kinds of quantities. Plant the vines, have them looked after. Obviously, remotely we'd have to contract somebody and we've got some very good ones for that. And then we'd still rent cellar space, but make wine from our own terroir, from my own grapes. That's the goal.
That to me is the integrity behind the brand. Less so the owning of the cellar or the tasting room or whatever. And we'd still send our winemaker over. We wouldn't hire another winemaker. And I think that's a reality. And one of the reasons we are here now, actually, is that next week we're going to Oregon to look at some possibilities.
Just to get a feel. The Maple Grove area is exciting because it's new and therefore relatively affordable. If we jumped into Eola-Amity Hills with all the famous sommeliers and French people working with it, you're through the roof price-wise. And we'd rather like to get something that's never been planted before and plant it up and do something different.
Lisa Denning: Sounds exciting.
Anthony Hamilton Russell: It does. It could fail.
Lisa Denning: Let's hope not. Is there anything else you would like to tell me?
Anthony Hamilton Russell: Well, just that our entry into Oregon is a sign, not so much of us trying to just grow the business and make more money, but almost an indication of how much psychologically we rate the US market. It enables us to come over here more regularly. It puts more in the pipeline. Vineyard Brands has done such a great job with us in so many states. And I think the difference is, our strategy is very different to most high-end Oregon producers, in the sense we have no mailing list. We are not trying to sell it to wine a club.
And that way we would get more than 50% more money. And this would make damn good money out of these quantities. We're prepared to sacrifice that 50% to put it through the whole country. So Vineyard Brands reaches 42 different states with us at the moment that we sell in and very little, very high-end Oregon wine is getting out of the Pacific Northwest and away from these private mailing lists. So our thing is, for the first five years or so, to make sure that we build a name across all of America and not just with a handful of interested customers in the Pacific Northwest. And that's a huge financial sacrifice for that period of time in order for that long term gain of being known. Because you go into restaurants here, if you see an Oregon wine on the list, it's an affordable low-end one, generally. Whereas there's some great wines being made there, but they just go directly to a few consumers. And that was a decision that we made right from day one.
Read more about Hamilton Russell Vineyards on Grape Collective: "Anthony Hamilton Russell of Hamilton Russell Vineyards on Making Pinot Noir and Chardonnay in a Slice of Heaven on Earth."