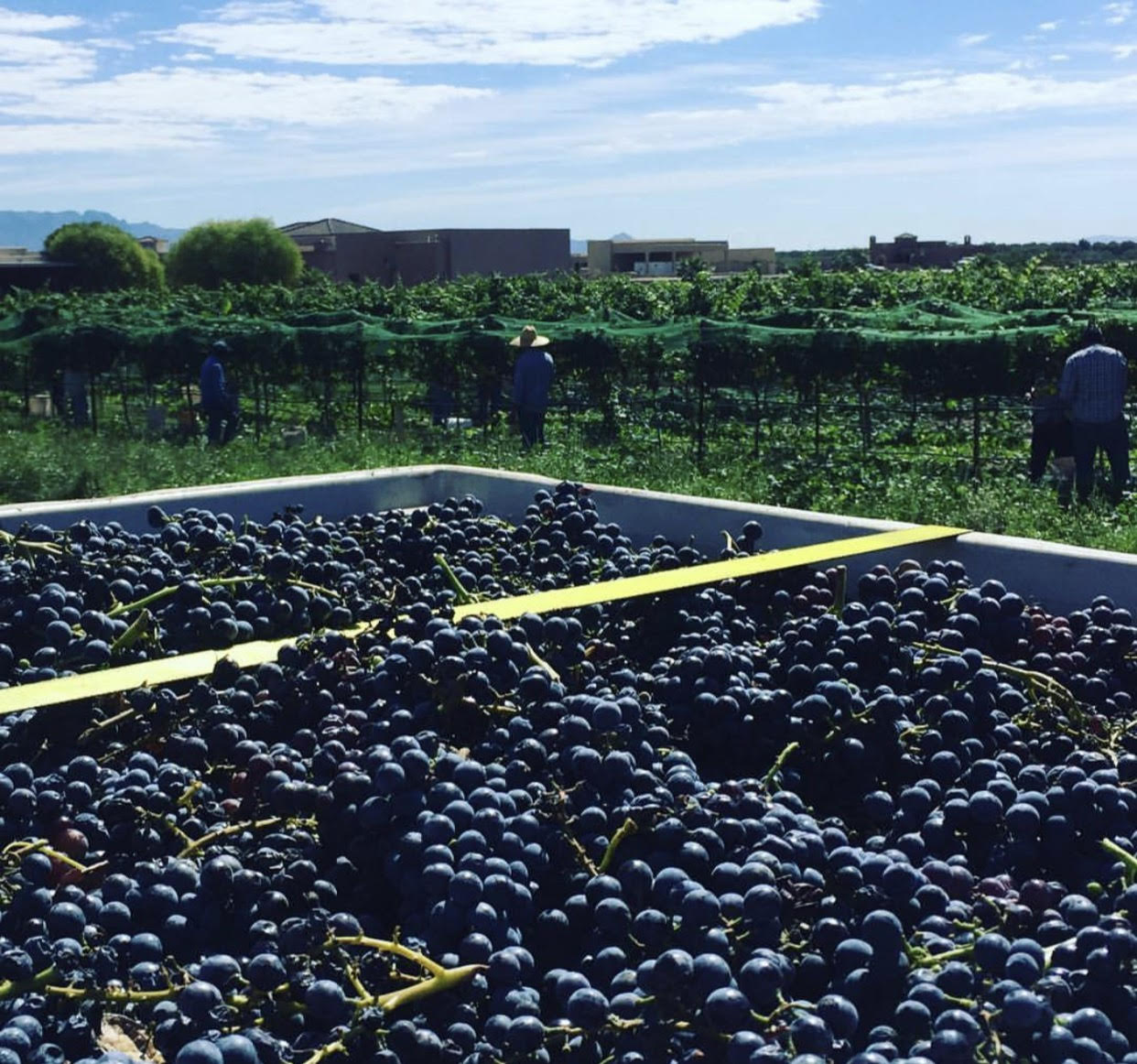 New Mexico is called "The Land Of Enchantment" for its stunning beauty and rich history. The spectacular terrain, bathed in over 300 days of sunshine each year, ranges from white-sand deserts to snow-capped mountains, and includes a vast network of national parks. In addition to its abundant natural attractions, New Mexico's colorful cultural history has contributed to the many distinctive architectural styles and numerous historical monuments found throughout the state.
The state's equally-enchanting food is a fusion of New Mexico's Spanish, Native American, and Mexican roots. Visitors to New Mexico are guaranteed to be asked, "Do you prefer red or green?" in reference to the state's iconic chile peppers, found in everything from sauces and stews to breakfast burritos and frito pie.
One thing New Mexico is not well known for is its wine. Yet, viticulture along the state's Rio Grande River began nearly 400 years ago with the arrival of Spaniards who brought their wine culture with them. By the late 1800s, New Mexico was one of the top five wine-growing regions in the United States, producing over a million gallons each year. Unfortunately, the momentum of New Mexico's wine industry halted with the onset of Prohibition in the 1920s. Many farmers had no choice but to replant their vineyards with other fruits, and most wineries, unable to survive financially, shut their doors. The few that remained sold their wines to the church for sacramental use. With the repeal of Prohibition in 1933, winemaking was hailed as a bright hope for New Mexico's future.
But less than ten years later another disaster, a natural one this time, struck the state. Torrential rains caused serious flooding, washing out bridges and roads, and destroying almost all of the vineyards. For the next forty years, New Mexico's wine industry was essentially nonexistent. Once again, it was the Europeans — this time from Italy, Germany and France — who, in the early 1980s, gave New Mexico's wine industry a much-needed kick-start. Attracted by the low cost of land, these pioneering immigrants began planting grapevines. New Mexico is now home to more than 60 wineries spread across its three AVAs (American Viticultural Areas): Mimbres Valley, Middle Rio Grande Valley, and Mesilla Valley.
Noisy Water Winery is located in Ruidoso, a village in southeastern New Mexico that takes its name from the Rio Ruidoso — the "noisy river" — that runs through it. Owner/winemaker Jasper Riddle wants to show that his state can make world-class wines. Born and raised in Ruidoso, Jasper, now a fifth generation farmer, had left the area for a decade to attend college and pursue a career in sports production. He returned in 2010 to take over the winery his parents had started the previous year. Since then, Noisy Water's production has increased from 1,000 to almost 40,000 cases each year and Jasper has turned a struggling startup into a successful business with over 80 employees and a loyal customer following.
Grape Collective caught up with Jasper over a wine pairing dinner at Noisy Water Winery.
Lisa Denning: Can you tell me how you got into winemaking.
Jasper Riddle: I come from a family of farmers, I'm fifth generation. My mother's family is from the east coast and her grandparents came over from Italy with grafted grapevines as well as apple seeds. The apple seeds took well to the new environment and my grandparents eventually became the largest farmers for Motts Apples for about 50 years.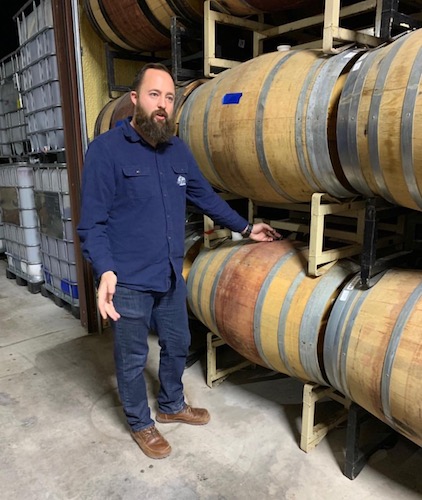 My parents came to New Mexico to vacation and they kept coming back because the people were nice and the cost of living was good. They became entrepreneurs and started a screen printing t-shirt business. After the sale of this business, they had empty real estate and a passion and curiosity about wine. They decided to open a "winery" in 2009 that sold a majority of other New Mexico wines and had a couple of custom crush wines of their own. It was a great idea but they quickly realized that winemaking was not something either one of them wanted to do.

I grew up in Ruidoso and then went to the University of Arizona. I worked at NBC Sports in football, interning as a sophomore in college. I had to change my schedule to work there on the weekends. After I graduated, I got a job in college football. I moved around a lot and jumped from university to university which was a grind and very stressful. I decided that's not what I wanted to do and eventually went back to work for NBC. One day Mom called and said they were going to put the winery up for sale and did I know anyone who may be interested in buying it. I said, "Yes, me!" I ended up partnering with my mom and purchasing the controlling share of the winery without ever having made a commercial bottle of wine. It was a bit of a leap I'd say! So I came back to my hometown to make wine. Many winemakers in New Mexico are from somewhere else where they had gotten burnt out and so they understood where I was coming from and they were very helpful to me. That was a massive leg up in getting started. I also did coursework from UC Davis and immersed myself in wine and winemaking.

Were the UC Davis courses helpful?
Yes, learning to make wine is very hands on as well as about the people you know. Having that knowledge basis so I didn't make critical mistakes gave me more confidence to try things. I was able to jump into things right away and figure things out quickly.

Tell us what you've seen happening in New Mexico's wine industry since you arrived in 2010.
When I came, the New Mexico wine industry was this backbone of winemakers and people who had come to the state from France, Germany, Italy and had pioneered the industry but it had been mildly stagnant from a case production standpoint for about 15-20 years by the time I arrived. The past 10 years has been exciting because there's been an insurgence of young winemakers, new people coming in, and some of the bigger players are getting involved with the larger wineries in the state, so there's been a growth and an explosion of New Mexico wines with the brands getting out there a little more. There's a lot of exciting things going on.

In terms of marketing, how do you think the New Mexican wine industry can grow?
Such a big hope for me is that we grow. I would love to see guys I know who are 60 or 70 years old hit a pay day. I'd love those people to be able to say, "Thank you, New Mexico!" Everybody knows New Mexico for green chiles. I want New Mexico wine to be one of those products where people say, you can't leave the state without trying the wine.

Breaking into the market and getting new consumers is difficult. My grandmother, for example, would only drink Seagrams and seven. A consumer like that isn't as likely to try wine but, once in a while, you get someone to try something new. To me, that's what should drive the industry. Getting someone who never drank wine to try wine. But how do you get those people to jump in? We get a lot of tourists from New Mexico and from Texas, two very different wine consumers. We get a lot of the true purists, the dry drinkers, coming from Mexico. Then we get a lot of folks from Texas where alcohol is a four-letter word. They're from an area that doesn't have a lot of consumption, maybe a dry county believe it or not, so for us we want to get those people to jump into wine for the first time and as you know, wine can be really unapproachable to the general populace. We say, "Hey, come on in, try a sweet wine, let's at least get you started on this process; let's get it so you're open to trying it." We even make a sweet wine-based product that's infused with chile pepper. It helps me bring in an audience that would never try my product. This type of wine brings in to the winery people that would never come in and hopefully they then love us and begin to love wine. And hopefully it will snowball from there. We have wine club members who started with us as sweet drinkers and now they're waiting for us to release some of our reserve reds, so that's a great transition. I love what sweet wines do for the winery and our tasting rooms. We have a tap room associated with us and we're seeing the same thing in craft beer. We get them in for the pecan amber ale and you slowly see them trying other stuff and that's cool to see.

My grandfather used to say, "Eat an apple one bite at a time." This has been my approach to life, the winery, and winemaking. At the end of the day we are farmers and we live to see another harvest. Do I have 5 to 10 year goals? Absolutely. Do I take notes and try to change and make the wine and the winery better each year? Of course. But at the end of the day I know that having my head too far in the clouds or spending time looking in the past does me no good. Especially in winemaking, you need to focus on what's happening in front of you and try to not take too much else too seriously, including yourself.

Looking to the future, do you have a plan to focus on sweet or dry wines? Do you have a personal preference?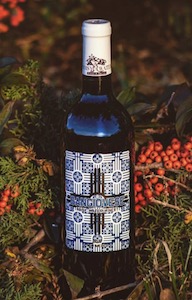 When I got into the industry I decided I was only going to make what I drank, dry reds. A good friend of mine asked me if he could buy my equipment once I went out of business! He reminded me that I was making wine in New Mexico, not Napa, and that I should make a little wine for every type of audience. I begrudgingly learned how to make sweet wines and, to my shock, won some of my first International Double Golds for sweets.

We need more wine drinkers, not less, in the big scheme of things. So I will make what the consumer wants as long as my team and I get to have fun doing it. I do however tend to drink more of our dry reds than anything but I love a glass of Moscato when it's 90 outside and I just want easy and refreshing.

What is your philosophy of winemaking?
Winemaking is quite interesting in the sense that some of us are 100% science and think everything is quantifiable. Others are 100% art and they think the wine will do what the wine will do. I'm going to say I am a little more in the middle. I think 80 to 90% of the variables we can and should control start in the vineyard. The better the fruit, the better the wine, assuming your winemaker takes care of his or her job. There is the 10 to 20% that we cannot control. It's that "Je ne sais quoi" about my job. There is this portion of what makes good wine that really comes from the taste. It's not quantifiable. It comes from the winemaker knowing what the wine needs and trying to help it find its way into the bottle when the time is right.

I try to achieve the full expression of the fruit. I'm not massive on oak and I don't oak everything because the consumer may want it. I want to showcase the fruit from our state and so I use 100% New Mexican fruit which is not always easy. Blending is what I like to do and I like to make those tiny little adjustments of 2% of a grape varietal, maybe it's just me being crazy.

As far as brand recognition goes for New Mexican wine, most people know of Gruet sparkling wines. How do you get all the other wineries, including Noisy Water, to be a bigger part of the conversation?
I am greatly thankful for the Gruet family and what they did for this state and continue to do. I think the product they produce is amazing and couldn't ask for a cooler "big" brand in our state. That being said, they did a great job paving the way for the new generation and I look forward to being a part of the next group of New Mexican winemakers that can step up, win big medals, work with great press and continue to further our brand and tell our story.

New Mexico is the oldest wine producing state in the US. We celebrate our 500th anniversary of winemaking in the next decade. That is something that is really amazing to me. At the end of the day we do 1.4 million cases a year as a state. Gallo does 174 million or so. New Mexicans need to work together to continue to push our wine into larger markets. I'm starting to see the rumblings of that happening and I look forward to being a part of the continued progress.

Let's talk about sustainable agriculture. Do you or many others in NM farm organically or biodynamically?
New Mexico and New Mexicans are amazing in the sense that they grew up on this land. Some of it has multigenerational families that have been on the land for centuries, before the state was a state. So there has always been a backbone of organic or biodynamic practices. To me biodynamic is the most sustainable thing we can really all talk about. It's letting Mother Nature take care of Mother Nature and, in a roundabout way, we are introducing back those things that we might have taken away years ago. There is something pretty comforting about that. My family has been using biodynamics in our farming practices for decades in our orchards in New York and across many crops we have grown throughout the US. I see more and more farmers returning to this style of farming in New Mexico and I believe it will continue to grow.

In the relatively short amount of time that you've been making wine, have you noticed any changing weather patterns that have affected your winemaking?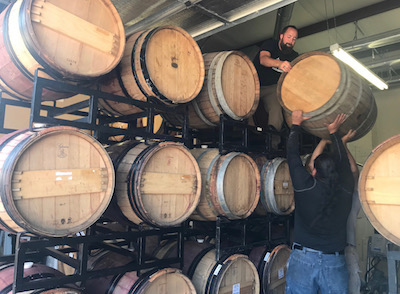 Weather is a hot topic amongst the wine industry right now and I do know that in the past decade I have seen some pretty drastic changes in between years. In 2011 New Mexico saw a freeze that was below zero degrees for over a week straight in some areas. We lost tons of vineyards and I'd say 25% of the vines in the state died. I've seen wet years and dry years during harvest, late frost, hail, and wind damage. Mother Nature has given me quite a fun array of things to work with.

I have no idea what the next 25 years has in store for me and there are some pretty intelligent people that seem to think it's going to bring some drastic changes. I just hope we are prepared for that. Water is always a concern for me living in the American Southwest and the conservation of it is something I do know will be a hot topic soon.

In terms of viticulture, what challenges do you face making wine in New Mexico?
New Mexico has to be one of the most rewarding yet challenging states to make wine in. We have these crazy little micro-pockets across a very large state that allow us to grow a little bit of everything. If you understand the land and the varietals you are working with, you have the opportunity to do extremely well. But we are a bit of a desert island, it's not like we have an abundance of people making wine since it's not the easiest thing to do here. We have extreme temperature changes and crazy storms that hit this state out of nowhere. We have hail and late frost after bud break which can be devastating. I haven't seen it snow in the summer yet, however New Mexico might throw that one at me someday! It's rewarding in a lot of ways because it's not easy. I've never liked easy.

You purchase all of your fruit from growers throughout the state. Tell us about the different types of terroir and the grapes grown throughout New Mexico.
We have vineyards across the state and we manage about 50% and we buy another 50% from some really amazing growers. We have vineyards in every AVA, but we are pushing New Mexico so I don't use the AVA name on the label which makes some of my growers mad, but I want to push New Mexico first and build the brand that way. Once New Mexican wine becomes more well known, I would start using the AVAs. I think it could confuse people now and it's most important for them to get to know New Mexico first.

The great thing is that we have almost 13 different vineyards, including our own, in our state that we worked with in 2018. New Mexico is the 4th largest state in the US by landmass. It's larger than most growing regions in the world. That gives us the opportunity to find those little pockets where we can grow varietals that aren't often grown elsewhere. It also gives us the option to grow a large bit of vinifera that most of the US cannot grow. As a whole, the state has a good bit of sandy loam soils and we definitely get a big diurnal shift so those factors give us some big advantages that my friends in say, New York, or Texas, may not have.

What do you think of the trend towards natural winemaking today and are you interested in experimenting with it?
I think there's some really cool things you can do with natural winemaking and, in its core, it's a really good idea — but so is communism! I think you can introduce a lot of problems into the winery by thinking it's all art and that there's no chemistry involved and that's a foundational problem I have with some natural winemakers. Someone who is classically trained and is willing to jump into that realm can do beautiful stuff. But I think there are people who are just jumping in that want to sing to the music and don't want to check anything. They believe that the chakras of the winery will adjust everything and could end up putting really bad stuff in the bottle and potentially make people very sick. We do some weird stuff in the winery too but it's beta testing but we make sure it's done safely and done with quality.

Congratulations on being named the Small Business Person of The Year by the SBA New Mexico. The Director of the New Mexico District, John Garcia, noted that you "contribute to the well-being of your community." Tell us how you do that.
For me it's all about working together when you're small and pioneering the industry. One thing I do is help the growers out and I'll take in good fruit if it's offered to me. There are growers growing a half acre of grapes in their backyard and it would absolutely break their hearts to see that fruit hang. For so many years, wineries in the state wouldn't take it and it would go to waste. My assistant winemaker wants to kill me whenever some sweet old man from Tularosa shows up with 700 pounds of syrah in the back of his truck and I buy it. But we'll figure out a place for it or sometimes we'll just crush it off on the side and consume it ourselves but at least we gave it a try and helped the guy out.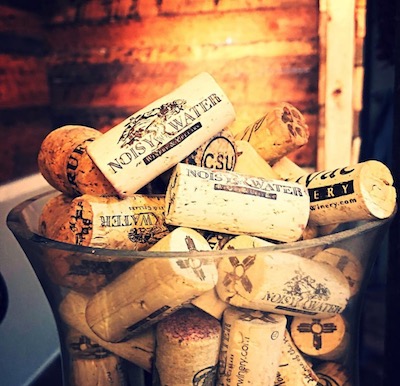 Another idea I had, when I first moved here, and I saw a lot of people making good wine and selling it for like $11. I said, "Let's make the wine even a little better and raise the price point so you can make some money." I also said, "Let's make wines you win awards for and get a loyal following direct to consumer so people understand there's a very big difference between your wines and what they pull off of the grocery shelves." They would say to me, "Well, Kendall Jackson's wines sell for $11 and I would insist that they were not our competition! That's very hard to teach, but now it's funny to see those same people now selling their wines at a higher price.

The overarching push for us is to have everyone succeed in this emerging industry. I help others if they need to use equipment, for example. And I get help too. Gruet has been a great big brother to all of us. Usually when wineries get that big, they're not that nice. Last year I ran out of citric acid and they said, "Come on by and pick some up."

When we came into the industry, we saw people who had been sold the dream from a vineyard management standpoint and they were having problems. We saw a lot of neglected vineyards and growers who couldn't sell fruit. We went in and said, "Look, this is what we'll do. We'll teach you how to grow good fruit. We'll do it for free, but we want contracts given to us at a fair price. You guys will finally turn a profit from your vineyards and we will get good grapes." So that's been our business model for the past 5 years. As of last year we had consumed all of the small vineyards in the state that needed help so we're working with extended partnerships with other growers, planting vineyards in other areas. We're getting into that growth model which is exciting for our state because if you've done the math, New Mexico is the fifth largest state by land mass and has 2.2 million people. It needs industry very badly.

People who had lost crops year after year are now getting an industry to jump into. For us to push on the New Mexico wine grower is liquid tourism and expand tourism across the state. Seeing that growth is exciting for us as an industry. What craft alcohol is doing as a whole in the industry, especially craft beer, has helped pave the way for the push of good craft consumption in the state of New Mexico.

Here in Lincoln County where the winery is, we would love to get our little pockets of beer and wine and distillation circling so we can really bounce people off of each other. My business plan is to get people here and they'll spend money and come back and talk well about it and then the culinary crowd will jump in too — big chefs coming in from cities and saying, "This is cool, this is interesting and unique." Our production facility has a venue for all the fun stuff: weddings, crush parties. The plan is to do two types of events: ones that help pay the bills for all the expensive winery equipment and also the events that really build community.

Another plan concerns the many Indian reservations throughout New Mexico. I would like to get them involved in the grape growing process and, as a benefit, hopefully down the road, it could decrease the incidence of alcoholism within the tribes. The idea is to teach sustainable alcohol consumption as part of the culture and that they would learn to enjoy wine as a part of meals. That would be great. New Mexico has archaic liquor laws and there are more problem drinkers here who only buy what's cheap, the 30 pack, for example. We're responsible in helping fix problems by giving people jobs. We're working with the Apache to get the tribes farming and we're having that conversation with them but it's baby steps right now.

Your 2016 Cabernet Sauvignon was awarded 92 points by James Suckling, what is your favorite meal to have with that wine?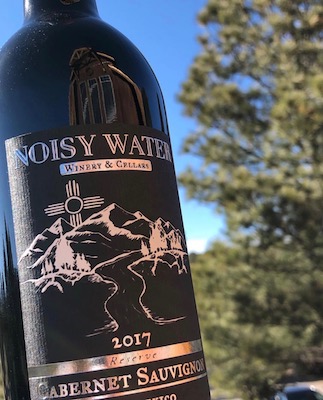 Our Cab has won medals at every single competition it has been entered in over the course of the past decade. That's exciting for me and lets me know we are doing something right, hopefully. It's often paired at my home with elk backstrap or tenderloin and with truffled mac and cheese, my wife's favorite.

What do you like to drink when you're not drinking your own wine?
When I go out to dinner, I love exploring the most unusual thing on a wine list. I think that when people are dining out and see a wine from Ruidoso New Mexico, that might be to them the most unusual wine on the list. But when I'm out with my wife, she doesn't like me to drink wine because then I start thinking about it too much — how it was made and how I could've done it differently and then I'm not focusing on the conversation with my wife so when I'm with her I usually order a cocktail or a craft beer!
Read more about Ruidoso, Jasper's home town, at The Wine Chef.