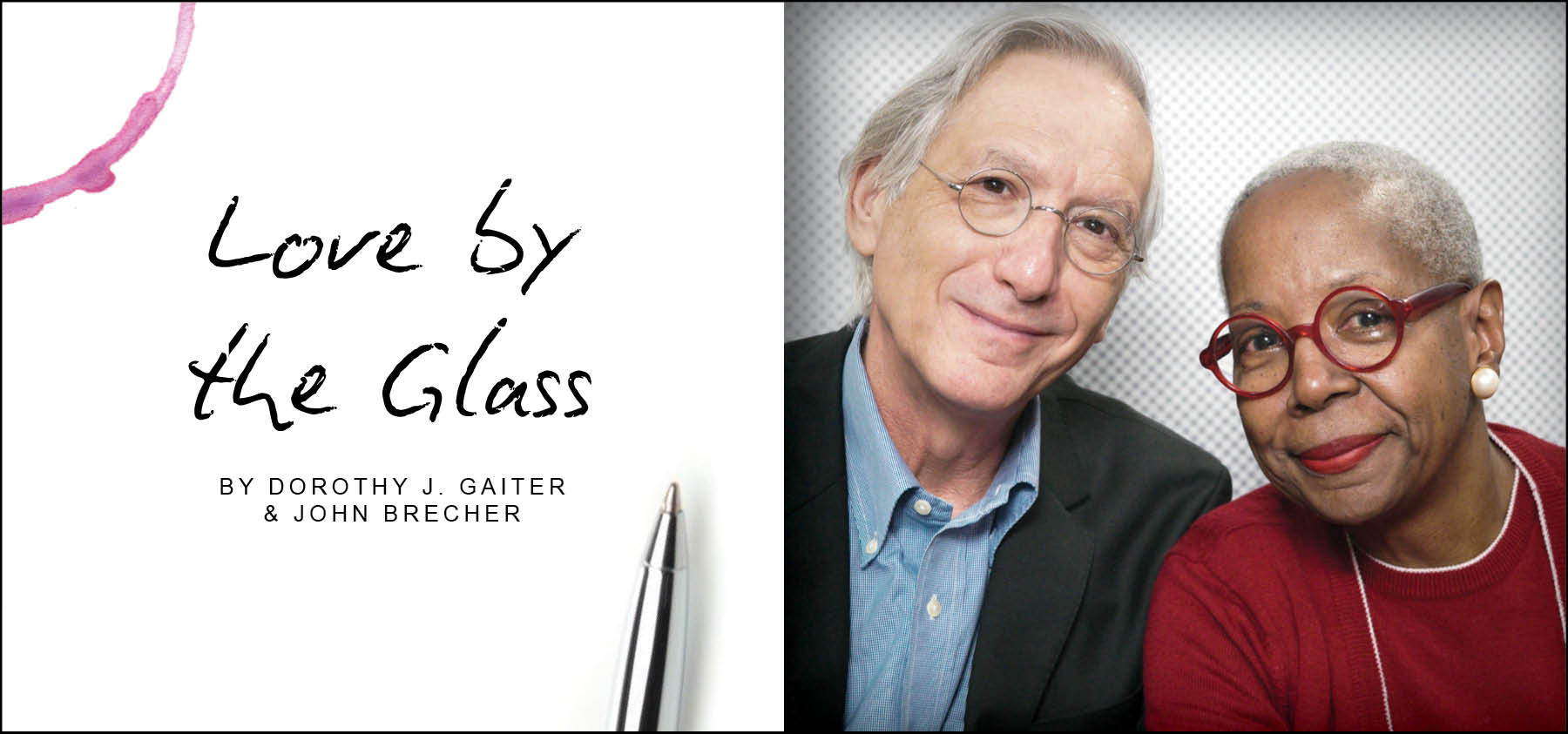 On April 14, 1979, we were married in Dottie's family's backyard in Tallahassee, Fla., where 17 of us shared 18 bottles of Taittinger Champagne, which seemed like the correct proportion to us. Then John's parents drove us to Jacksonville, his hometown, where we caught an Amtrak train north as part of a cross-country trip to Napa Valley, which we'd first visited a few years earlier.
As it happens, we just spent some time in Napa again, just ahead of our 40th anniversary. Here's our travelogue for that trip. If the pictures look like something your parents would have shot on vacation, that's about right. And if you are looking for news-you-can-use travel tips, it's best to look elsewhere (like this piece about upscale hotels by Brian Freedman for Food & Wine). This is something different. It's a tiny slice of Napa as seen through our eyes, as visitors for almost 45 years. What's more, like our column that ran in The Wall Street Journal on April 9, 1999, this was written largely by John because Dottie, now as then, is dealing with surgery on her spine.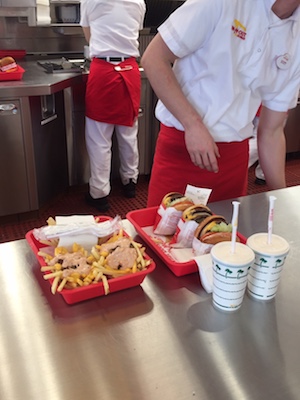 On this trip, we flew into San Francisco and rented a car to go directly to Napa (that rental-car system at SFO is a real treat, isn't it?). We drove over the Bay Bridge and, OK, we admit it: On our way to drink some of America's finest wines, we stopped at In-N-Out Burger in Vallejo and had our burgers animal-style. You only live once, you know? We were right around American Canyon when it rained, just a few drops. Then, right in front of us, appeared the most spectacular rainbow we had ever seen. We could see both ends of it. We actually appeared to drive under it, like a giant arch. Welcome to Napa!

We checked into the Meadowood – no, we could never afford this beautiful resort on our own. We were there as keynote speakers at the Symposium for Professional Wine Writers, an inspiring program with super-talented writers that's sponsored by the resort, the Napa Valley Vintners and the Culinary Institute of America.
We always try to get to Mustards Grill when we're in Napa, so we'd made reservations. As we drove south, we saw a full moon rising over the mountains, so when we arrived at the restaurant, we asked for a seat by the window.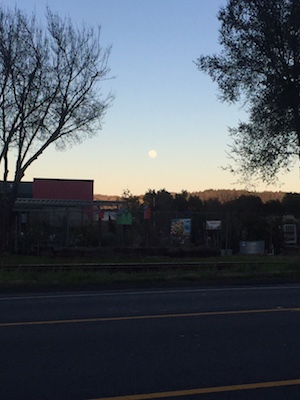 They asked us to wait just a couple of minutes, which gave us an opportunity to glimpse its garden out front. Then they gave us the most perfect table. As we ate, we watched the moon rise, rise, rise in the darkness.
Taking in the natural splendor of Napa Valley, the warm familiarity of Mustards and putting the rigors of our travel behind us, we bypassed some interesting white selections and started with a Pinot Noir flight – 2015 Baldacci from Carneros ("big and rich"), 2016 Bruliam from Santa Lucia Highlands ("honest, with great fruit") and 2017 Rivers-Marie from Sonoma Coast ("elegant"), all wines we haven't seen in New York. The total price for three good pours: $25.
A few months ago, John had searched without luck for Navarro Vineyards Dry Gewürztraminer, a wine we've loved for years. When he asked about it, our server was sympathetic. Even in Napa it's hard to come by. So we ordered the next best thing: a 2015 Navarro Edelzwicker from Anderson Valley, $49. We're also huge fans of Navarro's Riesling, also hard to find at home. The Edelzwicker is a blend, which changes, of grape varieties notable in Alsace. The off-dry 2015 has Pinot Gris, Riesling, Gewürz, and 5% Muscat Blanc. At 13.1% alcohol, it was fruity, aromatic, and clean, with nice weight. As the wine warmed, the Riesling became ascendant, much like the full moon.
Downtown St. Helena looked very much the same. We had dinner there at Market, as usual, which we like for its wine, food and vibe. There's always a vintner somewhere in the room, and this time was no exception, according to our server: Steven Burgess, whose father, Tom, founded Burgess Cellars in 1972 (a collage on our wall of things we love includes a label for 1978 Burgess Chardonnay). And for breakfast, a few doors down, we went, as usual, to Gillwoods Cafe, a charming diner where John was thrilled to order a favorite from his Southern roots that we don't often see in New York, sausage biscuits with gravy.
When we returned to our room after Gillwoods, it was time for Dottie to rest and John to run. He had stubbed his toe before we left New York, but he'd looked forward to this for so long and wasn't going to miss it. He essentially followed a route of our memories.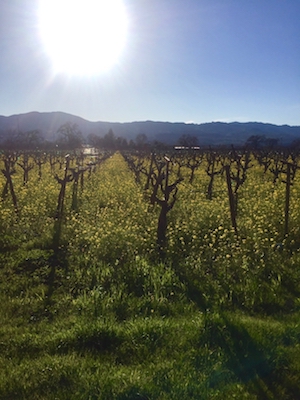 He went south a bit on the Silverado Trail. We've never seen such plentiful mustard among the vines. Then he made a turn onto the Pope Street Bridge, which spans the Napa River. It's historic, built in 1894 for horse-drawn vehicles, but not a good place to be a pedestrian. There is barely enough room for two cars to pass, so when John found himself on the bridge with two cars, he had to almost jump off to make way.
Safely across, he continued across Pope, where we've always wondered how it's possible that a mobile-home park still survives there considering that Napa has become home to so much money.
Then he turned left onto the main road, Highway 29, where the Ben Franklin 5 & 10 used to be. When the kids where young and we dragged them to Napa, that Ben Franklin was a godsend.
Just after the turn is Taylor's Refresher, or at least that's what one of the signs still says. It's actually Gott's Roadside now, and John couldn't believe the line to order, which stretched to the street. We always liked Taylor's/Gott's, but that line was crazy. (When he returned, the line stretched around the building. In New York, the rule is that if there's a line, you get in it, but John resisted.)
Ah, Salvestrin Winery. We had a wonderful time in the tasting room years ago, and then had another wonderful time writing about it recently. Behind Salvestrin is the historic St. Helena High School, which might not seem like part of a winery tour except it is on land that was originally the winery of pioneering viticulturist Dr. George Belden Crane. Dr. Crane's Vineyard, one of the very first planted in Napa, has become so famous that several wineries now proudly feature that name on the label. (For more about that, here's our column on Salvestrin).
There's the El Bonita Motel. This is the kind of old-fashioned, '50s motel that is invariably referred to as "clean and comfortable" and "unpretentious." But it's charming and inexpensive and well-situated, so we stay there when we're in Napa alone. We once took our girls there many years ago, before its extensive renovations, and they were horrified. They are not no-frills girls and if they could have divorced us, they would have, right then and there.
Fortunately, there was always the A&W, and it's still there (we are big fans of its breakfast biscuits). It really is amazing what survives and what does not over the years, like, wow, there's the Golden Harvest Chinese restaurant.
The Harvest Inn. Great and bittersweet memories. We honeymooned there. It was small and cute and just four years old when we stayed there. A kindly man named Richard checked us in. Beaulieu Vineyard back then sold a limited number of 1968 and 1974 Georges de Latour Private Reserve Cabernets each day for $35 a bottle. We bought the '68, went back to the Harvest Inn, asked Richard for two glasses and went right out back, into the vineyard, and drank that wine while the sun set over the mountains. It is the greatest wine we've ever had. Duh. The Harvest Inn is now sprawling and fancy. We stayed there again years ago with the kids and were told that they had given away the room we booked. Although they moved us the next day, their attitude throughout our stay was appalling. We never went back.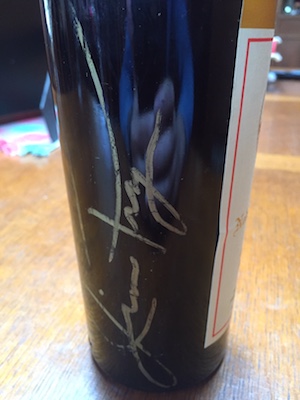 Prager Winery & Port Works is a survivor, too. It's one of the quirkier wineries in Napa. Many years ago, Jim Prager signed a few bottles for us in gold ink. He died two years ago at 84. We still have two or three. We simply have to build an Open That Bottle Night around them, but the memories are so strong.
And then one of the funnier memories. We visited Sutter Home years ago and the man behind the counter said they were making a White Zinfandel that was becoming very popular. At that moment, a guy ran in and asked, "Can I get two cases of your White Zinfandel?" In his mind, John could still see the man's car, backed up to the front door, the trunk already open. The tasting room guy swore he hadn't set that up.
Whoa. The new Louis M. Martini Winery. With its barrel room's red doors, it always seemed to us like the dictionary definition of a winery -- functional, comfortable for tasting and straightforward, appropriate to the honest wines made there. The winery sold a very light Muscato Amabile only at the winery, and only for a very short time, because it was so unstable they made just a bit and sold it quickly. We always hoped they'd have some when we dropped in. The new building, by all accounts, is beautiful. Wineries long ago realized that on-premises sales and the resulting direct-to-consumer business was a boon and so there's an arms race of sorts, with wineries getting bigger and bigger (in some cases bumping up against local laws) and fancier and fancier.
Everyone stops at V. Sattui, of course. It was one of the first places, years ago, where you could buy wine and food and then sit at a picnic table, and crowds did. But here's the surprise: Long after our first visit, we were judges at the L.A. County Fair, where the best wine of the entire judging turned out to be a V. Sattui.
At Whitehall Lane Winery – we still remember the first time we had their Merlot there – John stopped to decide how much farther he wanted to go. It would have been nice to go all the way to Mondavi – the first Napa winery we ever visited – but he didn't have the time. So he set another target. In just a bit, the new Prisoner Wine Co. winery began to loom in the distance. It's clearly very popular, as are its wines, but are we the only ones who find it a little bit abominable in its bulk? Is this the future of Napa?
John made the left at Galleron Road to, figuratively, see old friends. So many years ago, we visited Sullivan Vineyards & Winery, with its beautiful pond, picturesque wooden residence and striking art. JoAnna and Jim Sullivan treated us and our little girls like relatives, though they had no idea who we were. Years later, JoAnna sent Dottie a couple lilac bushes for good health, when Dottie was ill. Later during our most recent trip, we met a representative of the new owners, VITE USA Inc., based in Sausalito, who promised they will keep the winery, now called Sullivan Rutherford Estate, the same. The representative said the artwork, by the Sullivans' daughter Kelleen, still graces the walls.
John turned around and returned to the Meadowood. How fancy is it? When John got to the gate, the sharply attired attendant not only asked if he'd like some bottled water, but whether he'd like it chilled or at room temperature.
RunKeeper said the run was 10 miles and took two hours and 10 minutes. Actually, it took four decades.
When we got home, John figured he should go see a podiatrist after that stubbing. Turns out he had a broken toe. He hadn't felt it.
Dorothy J. Gaiter and John Brecher conceived and wrote The Wall Street Journal's wine column, "Tastings," from 1998 to 2010. Dorothy and John have been tasting and studying wine since 1973. Dottie has had a distinguished career in journalism as a reporter, editor, columnist and editorial writer at The Miami Herald and The New York Times as well as at The Journal. John was Page One Editor of The Journal, City Editor of The Miami Herald and a senior editor at Bloomberg News. They are well-known from their books and many television appearances, especially on Martha Stewart's show, and as the creators of the annual, international "Open That Bottle Night" celebration of wine and friendship. The first bottle they shared was André Cold Duck. They have two daughters.
Read more from Dorothy J. Gaiter and John Brecher on Grape Collective