Some may know Carnuntum as a region near Vienna famous for its archeological discoveries from the Roman Empire which date to 6 AD. In addition to the Roman occupation, relics of the Celtic, Ottoman, German and Russian conquerors have been found. But one need not dig deep to find delicious Carnuntum wines.
Carnuntum is the smallest Austrian wine region and is located south of the Danube River from just southeast of Vienna to Slovakia in Niederösterreich.
Given the region's fertility, Carnuntum has long been known for its agriculture. Farming of grain and vegetables began about 13,000 years ago. Grape cultivation began about 7,000 years ago. (Currently, wind is also being harvested on the extensive windmill farms).

Carnuntum has three major growing areas aggregating approximately 900 hectares of vineyards: the Leithagebirge (Leitha mountain ridge), the Arbesthaler Hügelland (hillside around Arbesthal) and the Hainburger Berge (mountain range around Hainburg). The soil is primarily rocky (limestone) clay, loess, sand and gravel.
The Pannonian (from the Roman name for the area) climate entails dry summers and warm autumns with cooler evening temperatures due to the proximity to the Danube River and Lake Neusiedl. These conditions enhance the grapes' ripening fully.
Decades ago, Canuntum wines were primarily white but now half are red. This climate and terroir are particularly favorable to red wine varietals such as the indigenous Blaufränkisch, Sankt Laurent (a cousin of Pinot Noir) and Zweigelt (Austria's most planted grape, which is a hybrid of Blaufränkisch and Sankt Laurent) as well as later ripening international grapes such as Cabernet Sauvignon, Merlot and Syrah.
Carnuntum winemakers also produce charming, fruity and aromatic white wines such as Grüner Veltiner, Sauvignon Blanc, Traminer, Muscat, and Gelber Muskateller.
Weingut Franz & Christine Netzl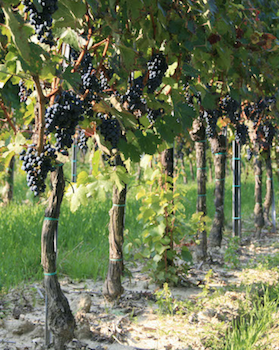 The Netzls make elegant, aromatic wines that outperform their price points.
The family-owned and operated winery is based in Göttlesbrunn in central Carnuntum. Franz Netzl is a second generation winemaker. The team comprises Franz, his wife, Christine, their three children and six others (and more during the harvest).
Currently, Netzl cultivates 26 hectares of vineyards in Arbesthaler Hügelland in a valley surrounded by hills near Lake Neusiedl with holdings in the Aubühel, Bärnreiser, Haidacker, Holzweg, Kräften and Neuberg sites. Netzl employs sustainable practices.
80% of Netzl vineyards are planted with red varieties: Zweigelt, St. Laurent, Blaufränkisch, Cabernet Sauvignon, Merlot and Syrah, while the remaining 20% are planted with white ones: Grüner Veltliner, Pinot Blanc, Chardonnay and Welschriesling. 75% of Netzl's production is red wine.
The grapes are all harvested and selected by hand. Fermentation occurs in stainless steel vats; the reds are fermented on their skins. Reds are aged in barriques and whites, in stainless steel.
Netzl produces two sparkling wines, a rosé, three classic whites (Grüner Veltliner Classic, Chardonnay Classic, Grüner Veltliner Bärnreiser Classic), four other whites (Welschriesling, Muskatina, Sauvignon Blanc and Weisburgunder Bärnreiser), four classic reds (Zweigelt Classic, Carnuntum Cuvee, Rubin Carnuntum, and Edles Tal), five single vineyard reds (St. Laurent Selection, Syrah Schuttenberg, Merlot Bärnreiser, Cabernet Sauvignon Aubühel, Zweigelt Haidacker). Total annual production is around 80,000 bottles.
2015 Grüner Veltliner Classic - This unoaked wine has notes of fresh tropical fruit, green apple, and white flowers with a bit of pepper, and balanced with nice minerality and acidity.
2015 Grüner Veltliner Bärnreiser - Bärnreiser is one of Netzl's warmest vineyards with loess and gravel soil. The juice is fermented in small oak barrels and remained on the lees for six months with battonage, which gives full-bodied structure and finesse. The result is a velvety, juicy balanced wine with a bit of oak.
2015 Chardonnay Classic - This wine is from the Haidäcker vineyard grapes that are is fermented in stainless steel. It is fresh and crisp with apple and tropical fruit notes.
2015 Carnuntum Chardonnay - Also unoaked, this medium-bodied, round Chardonnay tastes of stone fruits and melon with freshness and acidity.
2015 Muskatina - The Gelber Muskateller grapes for the Muskatina grow on the highest hill in the region, the Schüttenberg, where the soil is primarily gravel. The wine is crisp and refreshing with elderflower and muscat flavors. It pairs well with light fish or chicken dishes or eggy ones like soufflés and quiche lorraine.
2015 Weissburgunder Barnreiser - Pinot Blanc aged without malolactic fermentation. It has nutty and honey notes with ripe fruit and nice acidity.
2015 Rosanna Rosé - Named for daughter Anna Marie, or Rosanna, this is a 100% Zweigelt. The juice is separated from the mash after 12 hours of maceration. It tastes much like Provencal rosés with fresh strawberry, raspberry and watermelon flavors and bright acidity and a dry finish.
2013 Zweigelt Classic - The grapes are harvested by hand and the wine is aged for ten months in small French oak barrels. It is deep ruby red in color with juicy cherry and red berries on the nose. This Zweigelt is fresh and well-balanced with soft tannins. (Available at Grape Collective for $16.99)
2013 Carnuntum Cuvée - A blend of 40% Zweigelt, 40% Blaufränkisch, and 20% Merlot is from several vineyards with loam and loess soils. It is vinified in stainless steel tanks and then aged for a few months in large oak barrels. The wine has a dark garnet color, cassis, cherry and other berries on the nose and nice spice and herbal nuances. It is elegant with nice ripe tannins. It would pair particularly well with vegetable and meat dishes with herbs, Asian spices, olives or mushrooms.
2013 Rubin Carnuntum - This wine from 100% Zweigelt is called "Rubin Carnuntum," a regional trademark. The fruit is ripe but with good acidity which is aged in small used French oak barrels. The wine is deep ruby in color. On the palate, there is supple red cherry and berry flavors and an earthiness. It is balanced with smooth, ripe tannins with a long finish.
2013 Edles Tal - The name means "noble valley." It is a blend of 60% Zweigelt, 30% Merlot and 10% Syrah. The wine is fruity and a bit spicy and well balanced.
2013 Anna-Christina - Named for the Netzls' daughters, it is a blend of 60% Zweigelt, 20% Merlot and 20% Cabernet Sauvignon from Bärnreiser (for the Merlot), Aubühel (Cabernet Sauvignon), Haidäcker (Zweigelt) vineyards which have loamy soil and loess made in a Bordeaux style. The grapes are harvested when very ripe yielding juicy and spicy dark cherry and berry flavors with soft tannins and nice minerality. Falstaff named the wine as the number best Austrian red of 2016!
Food Pairings
All of the Zweigelt wines would be excellent with poultry, roast lamb, mushroom or tomato-based dishes, and grilled food or hard cheeses. The reds can stand up to Asian spices. The whites have enough acidity for cream sauces.