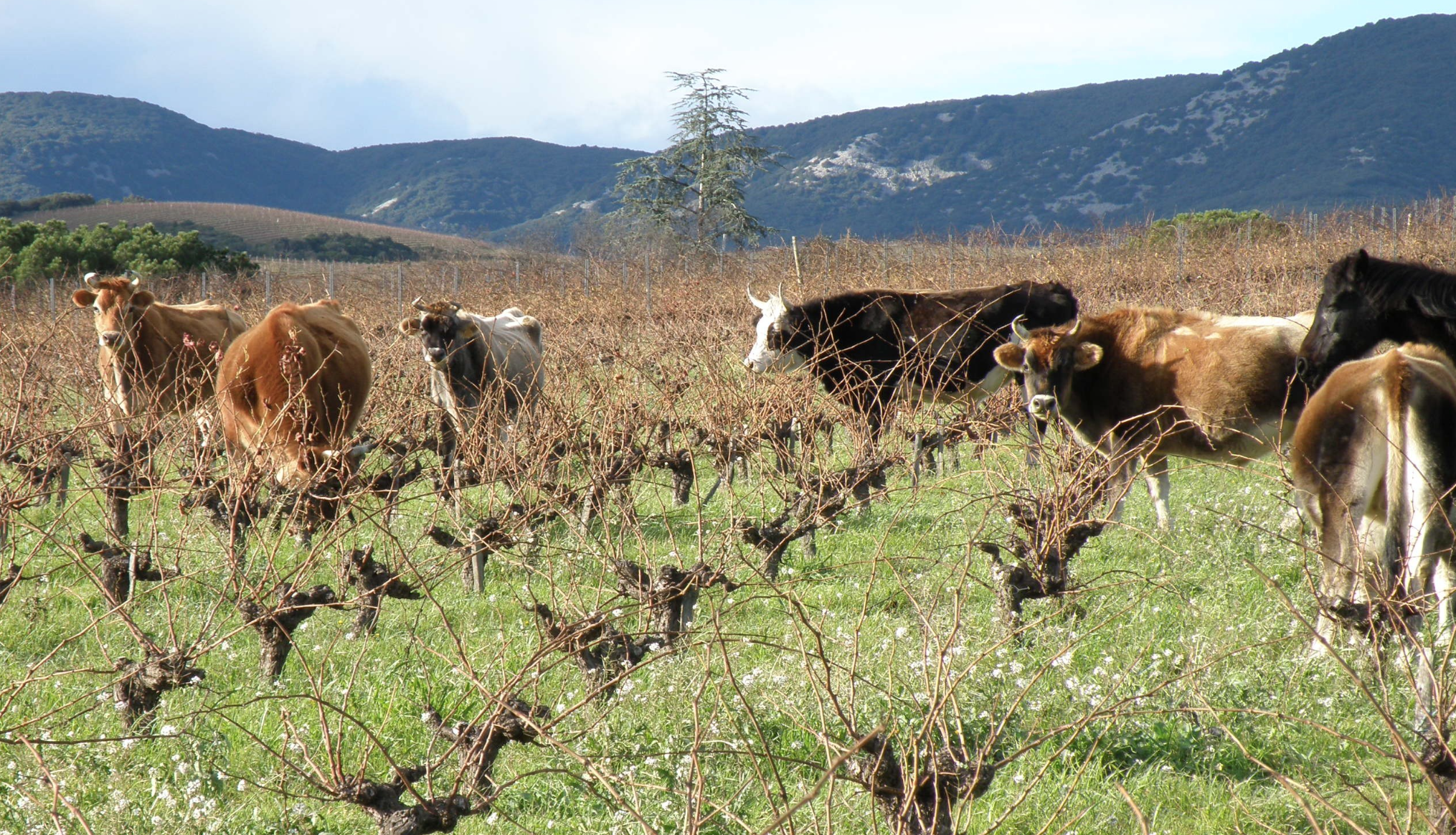 In 1993, Didier Barral founded Domaine Léon Barral, named for his grandfather, near Lenthéric in the Faugères region of the Languedoc.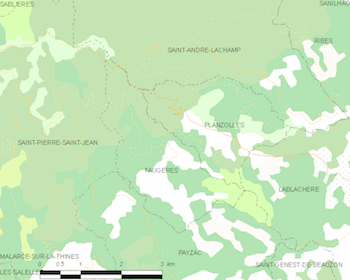 He is well known for being an early proponent of biodynamic practices and conservation efforts on his 30-hectare property. Moreover, Barral is recognized for making delicious, complex, balanced expressions of Cinsault, Grenache and Syrah with the garrigue, redolent of lavender and thyme, specific to the region.
Biodynamic Methods
Barral believes that the most essential efforts for his wines are in the vineyards. The Faugères soil is composed of slightly acidic schist which imparts a distinctive minerality to the grapes. His sustainable methods include encouraging biodiversity. His 20 cows, horses, and pigs graze among the cover crops which aerate the soil and generate microbiotic activity and nutrients. Barral custom built a mechanized roller to roll the grass and to make mulch without compacting the soil too much.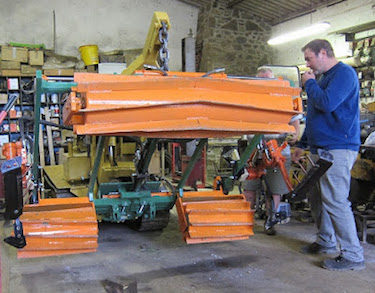 This rolling, together with the animal droppings, encourages earthworm reproduction. Barral uses no chemical herbicides or insecticides. These efforts enrich the soil and create a balanced environment.
Faugères has a Mediterranean climate with intense heat, and sometimes drought, during the growing season. Barral vineyards are planted primarily with Carignan, Mourvèdre, Syrah and Cinsault. Barral prunes the old vines (up to 90 years) in the goblet style to protect the grapes from the strong sun. Unlike many in the Languedoc, Barral does not employ trellising. Trellising would restrict Barral's ability to plow in multiple directions; he has found doing so has yielded fresher, higher-acid fruit.
The harvest is done by hand as is the sorting in the cellar. The younger grapes are destemmed but Barral also uses whole clusters of older ones. Barral vinifies the wine in gravity-fed, cement vats and ferments the juice with natural yeast. Then it is macerated over three to four weeks and then lightly pressed through a wooden basket press. He does not add sulphur dioxide. None of his wines are racked, filtered or fined.
2013 Vintage
Although the spring in the Languedoc, as in the neighboring Rhône valley, was cold and rainy, the summer was dry and the fall, warm which resulted in well-ripened grapes. In Faugères, and some other Languedoc regions, the vintage was excellent. Barral's three 2013 Faugères have concentrated fruit and powerful tannins and will likely age well. They pair well with braised meat, game, lamb, lentils, roasted beets or other vegetables.
The Wines
He produces three Faugères and one white wine:
The Faugères classic (sometimes referred to as "Tradition") is a blend of 50-60% Carignan and 20-30% each of Grenache and Cinsault from 40- to 70-year old vines planted on 14 hectares. It is aged for two years in cement and stainless steel tanks. The 2013 is rustic with fresh cranberry and pomegranate and dark fruit flavors together with layers of pepper, menthol and smoke.
The Faugères Jadis, a 50% Carignan, 30% Grenache and 20% Syrah (from south-facing 30- to 50-year old vines planted on 10 hectares) blend, is aged for two years in barrels, 10% of which are new oak. The 2013 is dark purple in color, earthy, juicy dark cherry and plum fruit with cassis, black pepper, anise, and Provençal herbal notes and a hint of dark chocolate. It is nicely balanced with crisp acidity and an elegant finish. In his New York Times review of Faugères and its producers, Eric Asimov chose Barral's Jadis as his favorite.
The Faugères Valinière is a blend of 80% Mourvèdre and 20% Syrah from 15- to 30-year old vines planted on 4.3 hectares that is aged in barrels, 10% of which are new oak. The predominantly Mourvèdre cuvée includes Syrah grapes from northern-facing vines which mature later and thus more concentrated which increases the wine's complexity. The 2013 exhibits black fruit and herbs as well as layers of anise, violets and spice. It is inky, full-bodied, and would be best after at least two to four years of aging. It is a powerful wine that will be long-lived.
The Vin de Pays de l'Hérault Blanc is a tiny production made from 80% Terret Blanc/Gris (nearly extinct, late-ripening Mediterranean grapes), 10% Viognier and 10% Roussane grown on 20- to 90-year old vines on 3 hectares. It is aged for six to eight months in a concrete tank and then, for 10 to 12 months in old barrels. The 2012 shows fresh apricot and pear flavors, with earthy, herbal and honey notes. Barral makes it without sulfur and slightly oxidative. It is pressed using the same vertical wooden basket press Barral uses for red wine.
All of the Domaine Léon Barral wines are expressive of the garrigue, the unmistakable fine terroir. The wines have great freshness and tension, with balance and finesse. The Barral wines are imported by Kermit Lynch.
Given their high quality, Barral wines, unsurprisingly, are featured on wine lists at many fine restaurants.