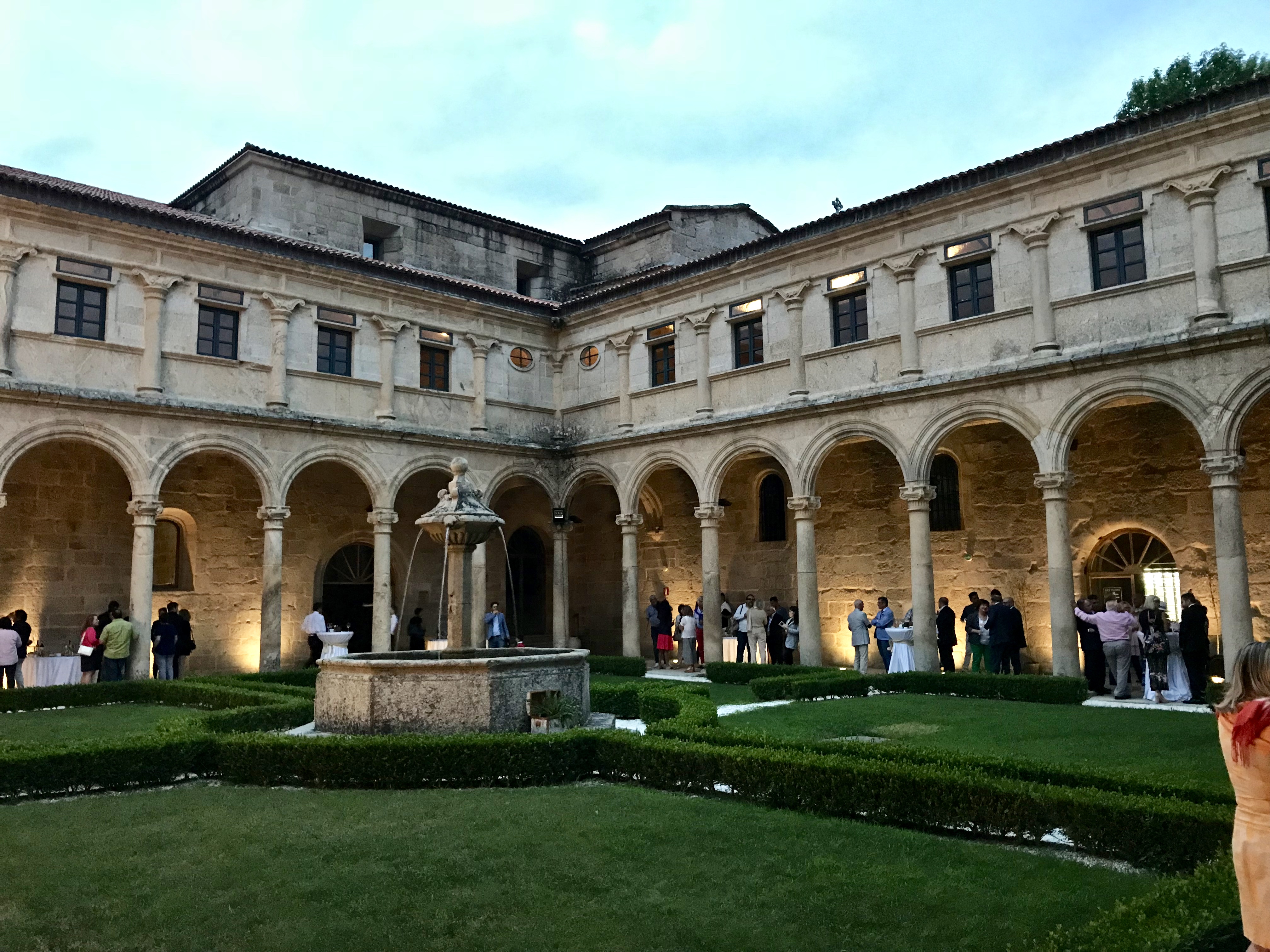 When thinking of Spanish wine, what usually comes to mind is Rioja, a region famous for its full-bodied, ruby red wines made from Tempranillo. But with over 70 wine DOs (Designation of Origins) throughout Spain, there are many other areas crafting beautiful wines that are well worth discovering.
Ribeiro — not to be confused with other, similar-sounding DOs like Ribera del Duero or Ribeira Sacra — is one of these hidden Spanish wine treasures. Never heard of it? Neither had I, until a recent trip to the area turned me into a big fan of their unique, food-friendly wines crafted from native grapes. The most widely planted variety in Ribeiro is Treixadura. Not sounding familiar? No worries. It's pronounced tray-sha-door-ah, and one taste of its delicious white wine will have you smitten.
And here's an interesting tidbit: local folklore has it that the first wine to land on U.S. soil came from Ribeiro, brought over by Christopher Columbus in 1492.
WHERE IS RIBEIRO?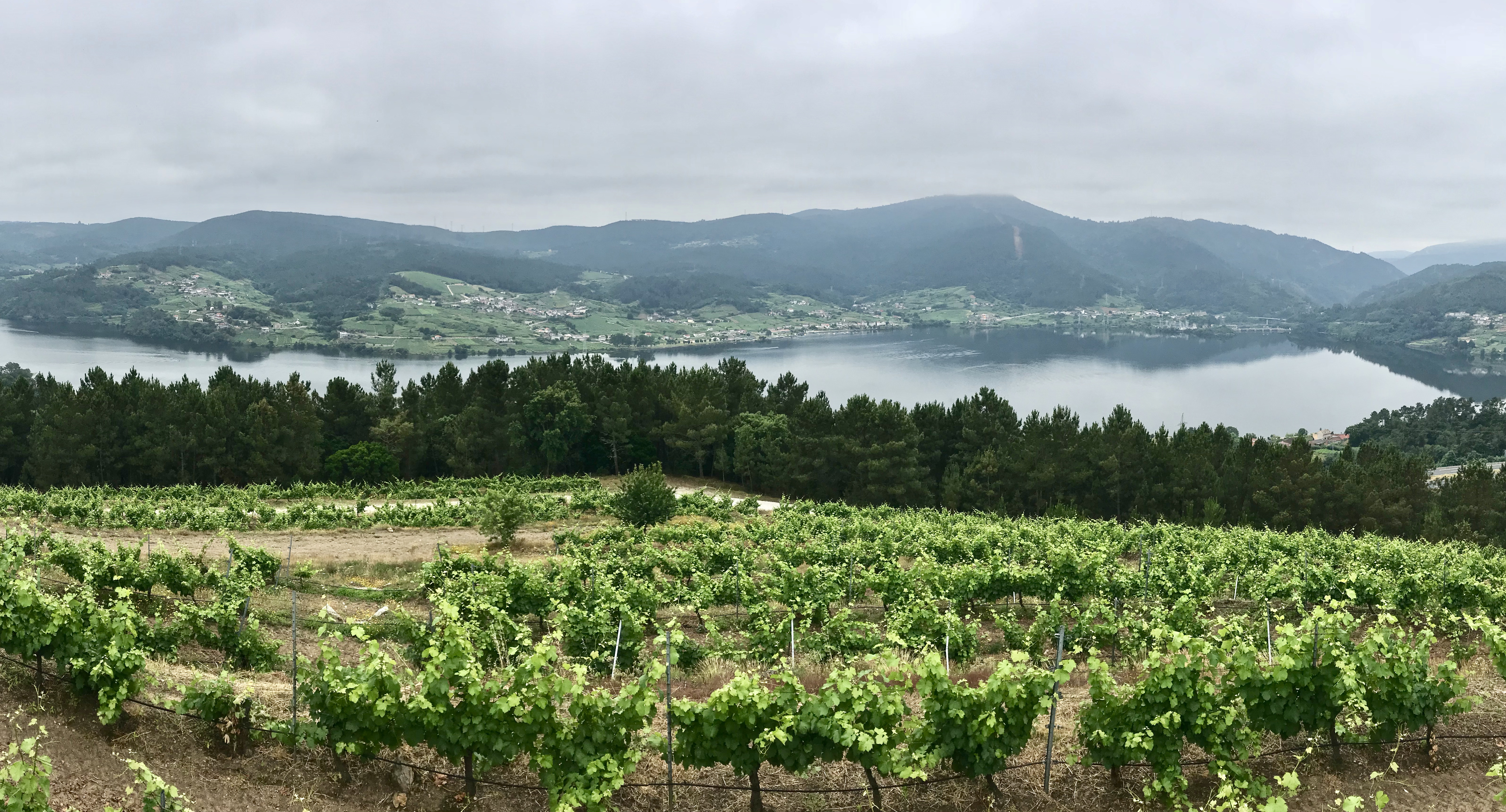 Ribeiro is part of Galicia, in the northwestern corner of Spain, bordering the Atlantic coastline. Known as 'Green Spain,' its lush vegetation comes from a higher amount of rainfall and humidity compared to most other Spanish regions. There are five wine DOs in Galicia: Ribeiro, Ribeira Sacra, Rías Baixas, Monterrei, and Valdeorras. While the most famous may be Rias Baixas (where Albarino is the star of the show), Ribeiro has the distinction of being the oldest registered DO, since 1932.
Ribeiro, located about 30 miles in from the ocean, is protected from harsh Atlantic weather conditions by a range of mountains. Its unique climate, both Atlantic and Continental, allows the grapes to fully ripen and develop a floral, aromatic complexity while keeping the mouthwatering freshness that Galician wines are known for. In the local dialect 'ribeiro' means riverbank and water is a key element of the area with the best vineyards planted on the steep slopes of the four rivers that converge here (photo, above).
A BIT OF HISTORY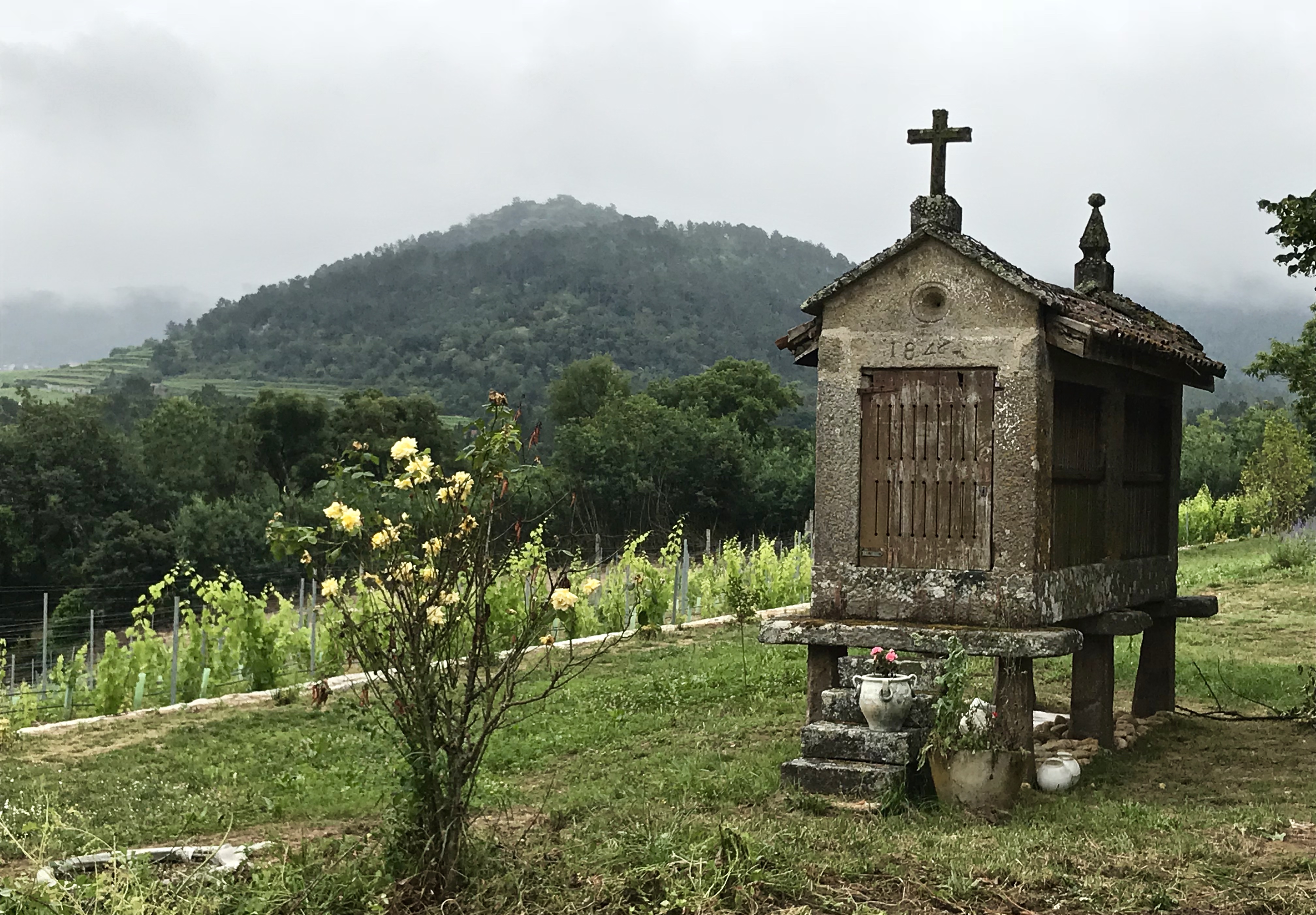 Winemaking in Ribeiro goes back nearly 2,000 years when the Romans introduced it to the area. Over the centuries, the Ribeiro wine industry has had its ups and downs (to put it mildly!) starting with a big downer in the 5th Century AD when the Barbarians invaded the area and destroyed its vineyards.
Things started looking up by the 10th Century when Cistercian monks arrived and began cultivating wine grapes for use in religious ceremonies. By the time of the Spanish Golden Age, during the 16th and 17th centuries, Ribeiro was an active wine community with many of the wines being exported to England where they had become very popular.
Another downturn occurred during the 20th century as the focus of many European winemaking communities turned to mass production. Native varieties were replaced by high-yielding, non-indigenous grapes, resulting in wines of lesser quality. Many of the small, family-owned vineyards in Ribeiro were abandoned when their wines grew out of favor and they could no longer survive financially. During the past 25 years there has been an ongoing recovery of these neglected terraces, all replanted with native varieties. The return to traditional winemaking in Ribeiro has also been enhanced by the use of updated technology, allowing for even better winemaking than in the past.
(Photo above, a typical Galician 'horreo' or granary, on the property of Priorato de Razamonde winery, used in the past to store feed for the animals.)
WINEMAKING IN RIBEIRO TODAY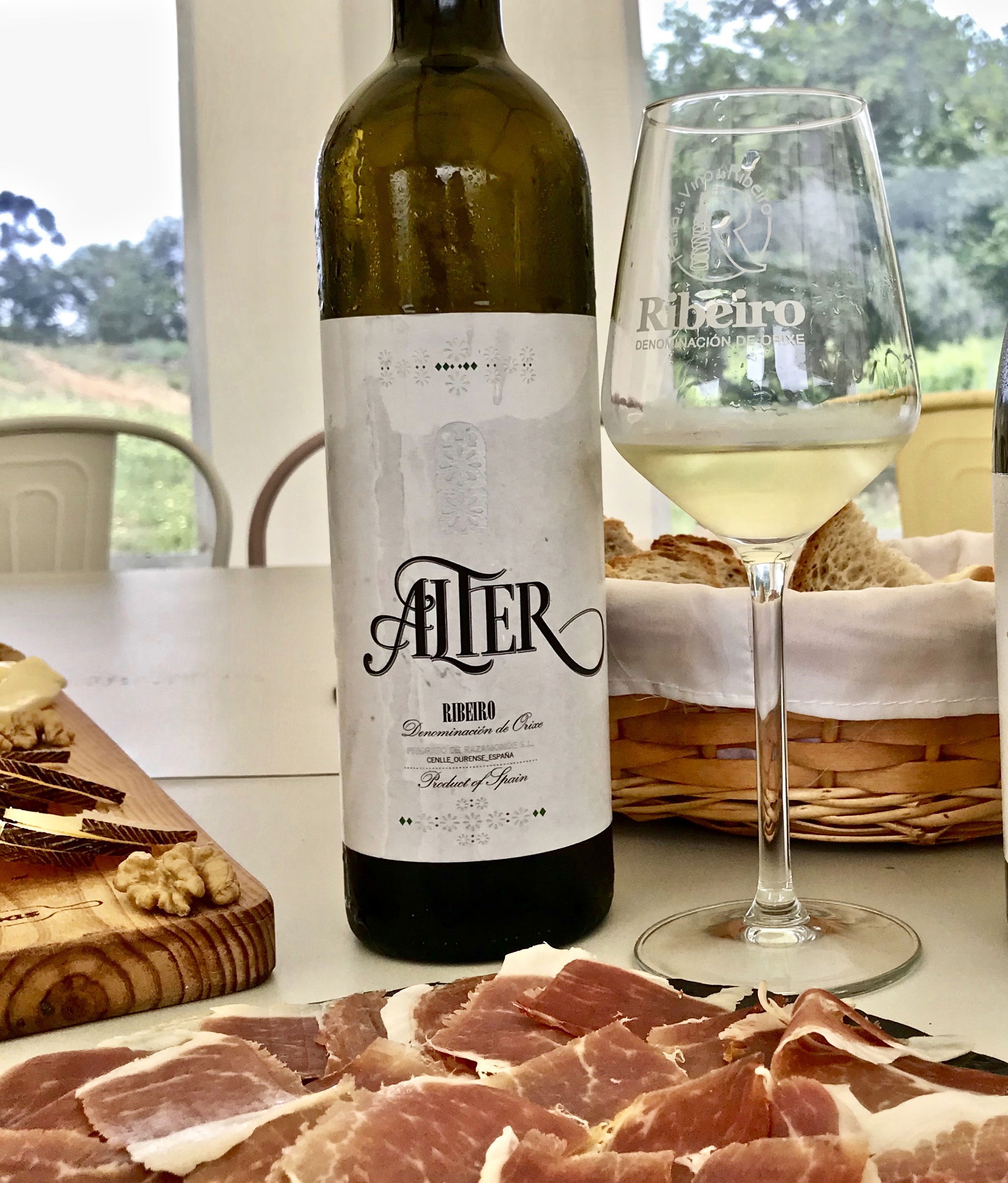 Ribeiro is a land of mostly small plots ("colleiteiros") divided up amongst families who tend the vines by hand and make wine from their own grapes. There are also a smaller amount of large wineries and two main cooperatives that keep many of the small farmers in business by purchasing their grapes.
90% of the wine produced in Ribeiro is white, typically a blend of mostly Treixadura with other indigenous varieties like Albarino, Godello, Torrontes, Loureiro and Lado. Treixadura produces an extremely aromatic wine with notes of tropical fruits and white flowers. These well-balanced white wines are fruity, yet acid-driven, and a perfect accompaniment to many types of food, from mild cheeses and fresh seafood to cured meats and sausages.
Red Ribeiro wine is made from indigenous grapes of Caino, Brancellao, Mencia, Ferron and Souson. While it represents only 10% of the production, the wines are worth seeking out for their unique character; intense, dark, and rich with a mouthwatering acidity — perfect for heartier meals. There is also a very small amount of Tostado, a unique, sweet wine made from a selection of the best grapes.
PRODUCERS TO LOOK FOR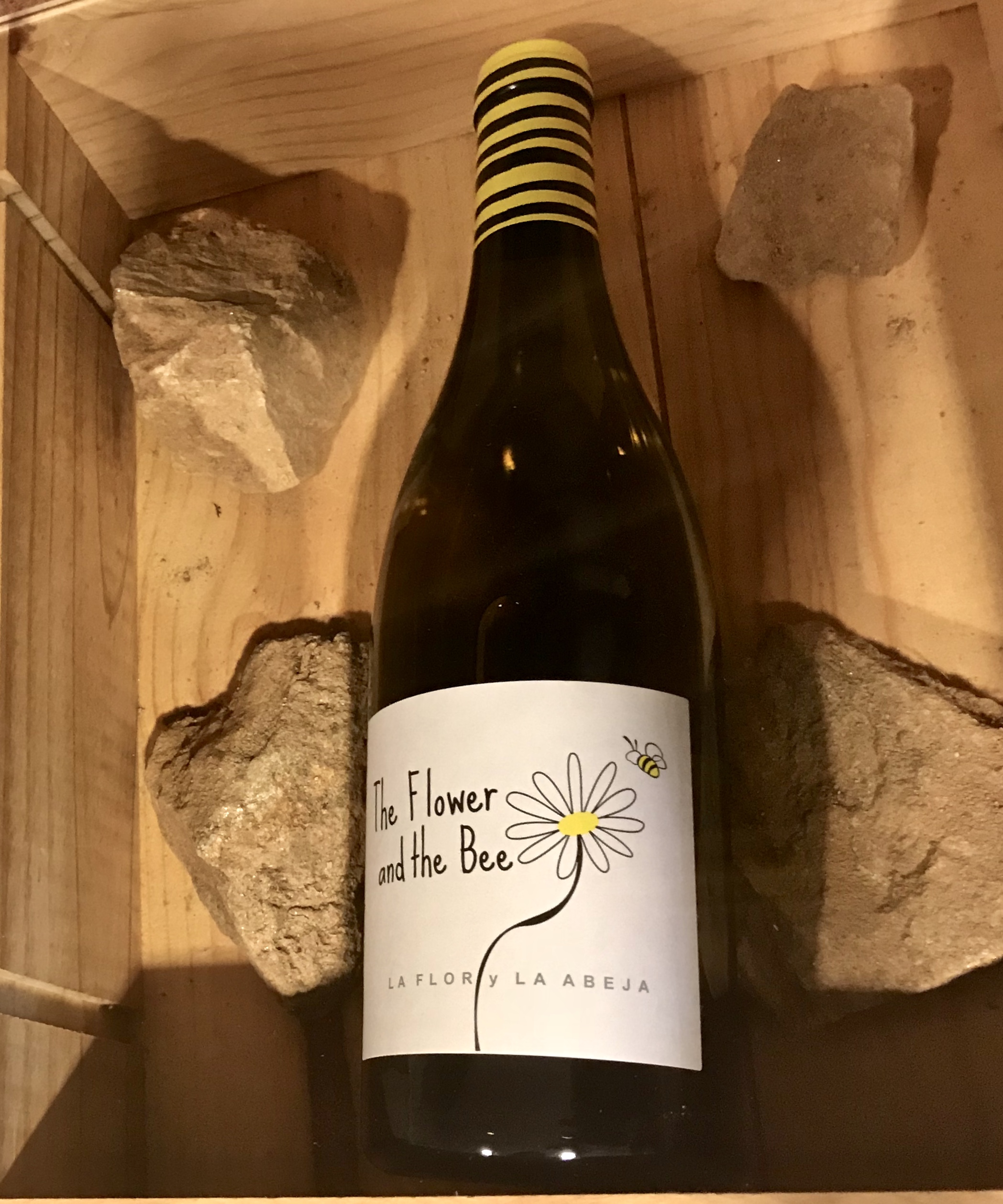 Coto de Gomariz is a biodynamic winery with a non-interventionist winemaking style. The wines, both whites and reds made from native varieties, are unoaked, fermented naturally, and bottled without filtration. Their 'The Flower and the Bee' 100% Treixadura white wine has a round, creamy texture and refreshing acidity. The red 'The Flower and the Bee' is made from 100% Souson and is medium-bodied with a deep purple color and aromas of ripe cherry fruit.
(At right, a bottle of The Flower and the Bee with pieces of granite that its vines grow in.)
Priorato de Razamonde is an award-winning winery with origins in the 17th century when it was a priory for the monks who grew grapes there. The current winery was started by two brothers who wanted to make wine for friends and family, but soon decided to sell the wine after realizing its great potential. Look for their 'Alter' 2017 white, a blend of 80% Treixadura with Godello and Loureira. Extremely aromatic with scents of tropical and citrus fruits, green apple, and white flowers, the wine has a mouthwatering acidity, rich texture, and long finish.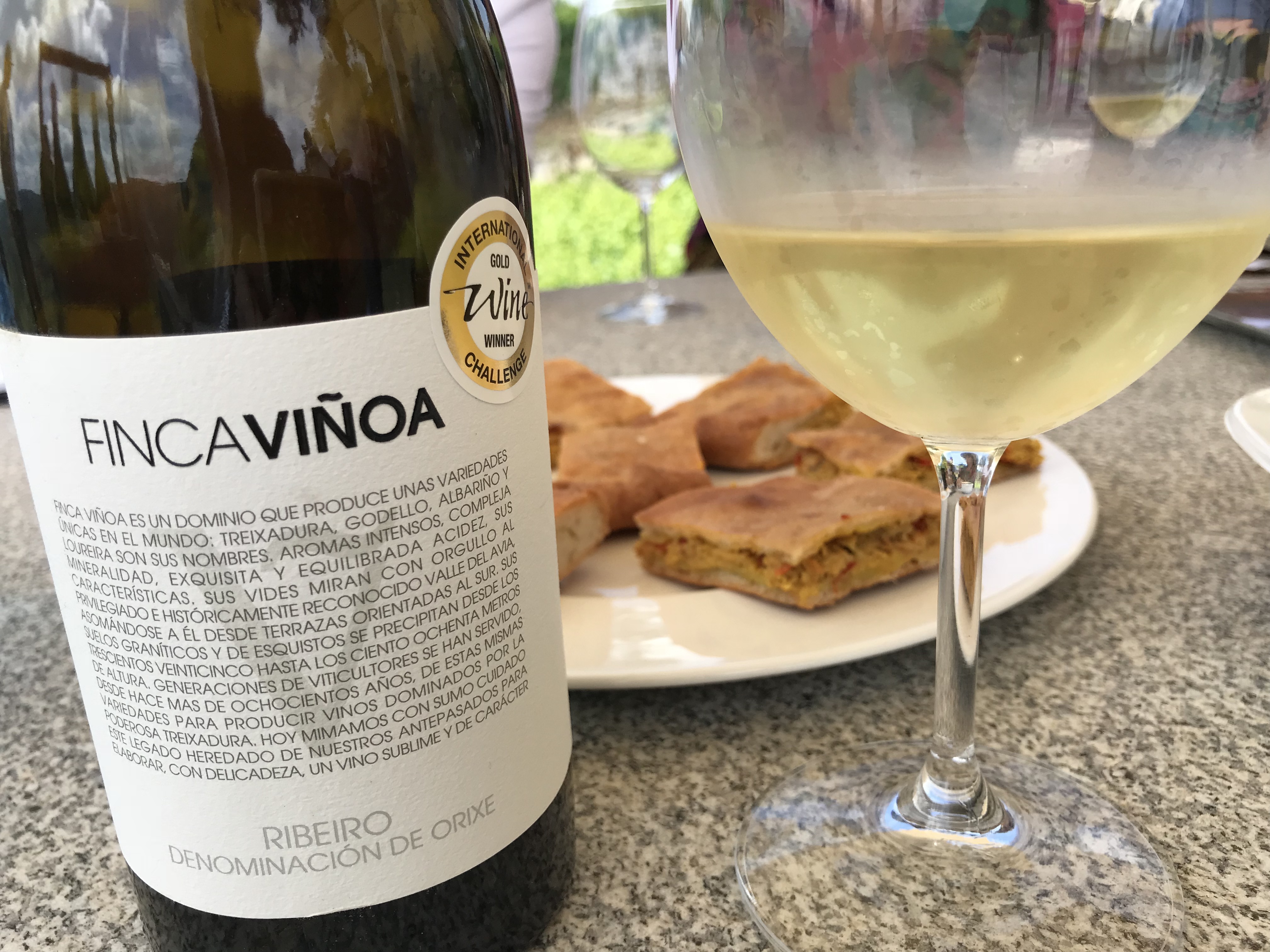 Finca Viñoa's owners are on a mission to recover all of the estate's previously abandoned vineyards located on steep terraces of granite, sand, and slate schist. The 'Embotellado Tardi' 2015 is a white blend of 90% Treixadura, 5% Albariño, 3% Godello and 2% Loureiro. The wine has a steely minerality and complexity gained from extended aging in its lees.
Pazo Casanova. This property was once owned by nobility (a 'Pazo' was a manor house for wealthy families) and winemaking has taken place here since the 18th century. Their 100% Treixadura has aromas reminiscent of white flowers, orange blossom, and citrus which carries through to the palate with a slightly earthy, almost grassy, quality. The wine is full and round with well-integrated acidity and cries out for shellfish, salads, ceviche, pasta, and rice dishes.
Bodegas Gallegas is one of the largest family-owned wineries in Ribeiro and makes several delicious wines from the everyday drinking to special occasion wines. The 'Gran Alanis' is made from 85% Treixadura and 15% Godello and has distinctive floral aromatics with a round and creamy mouthfeel and hints of savory herbs.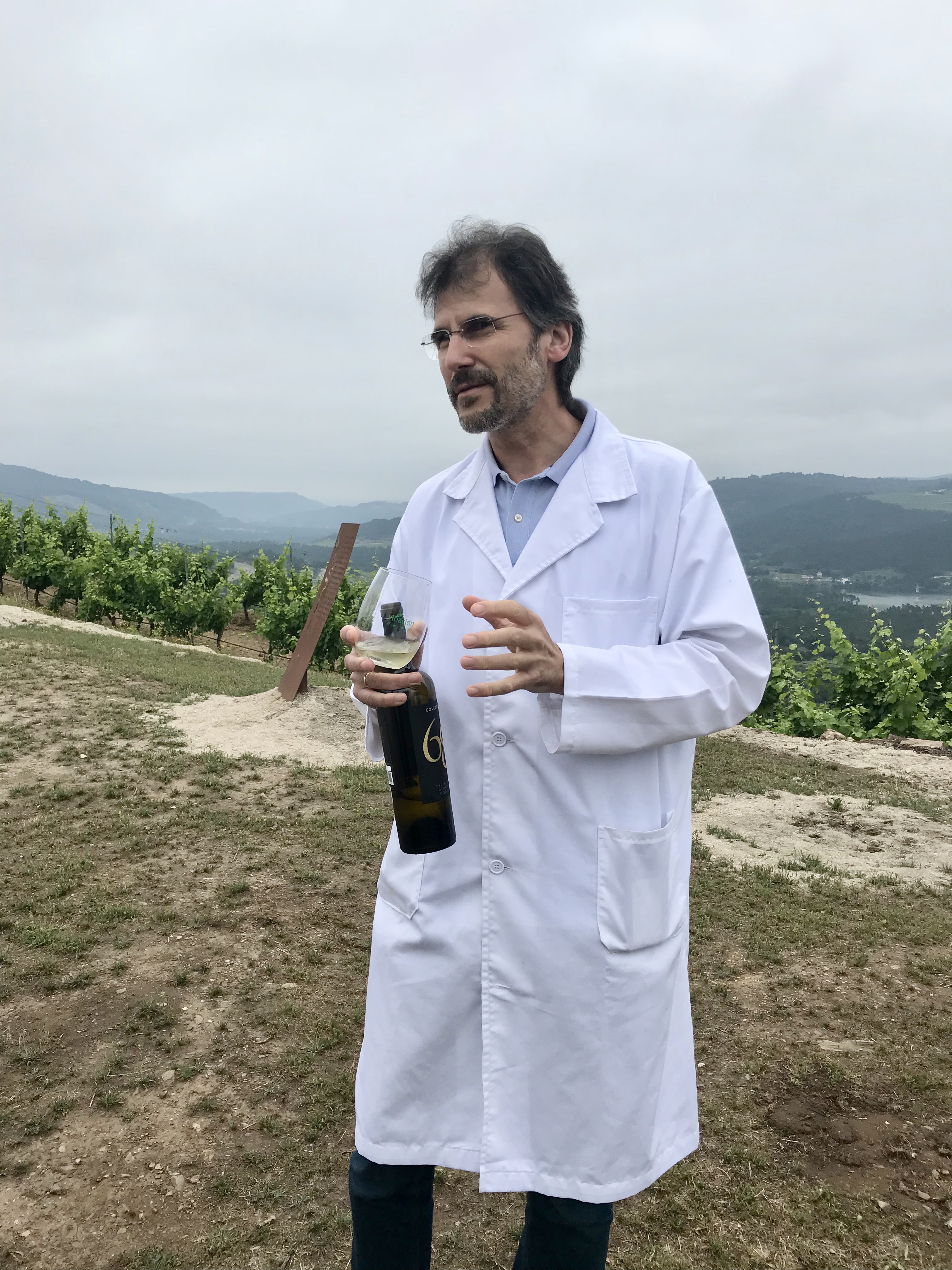 Vina Costeira winery is one of two cooperatives in Ribeiro. Started 50 years ago by a group of visionaries who wanted to recover the indigenous grape varieties of Galicia, the winery buys grapes from small, family-owned producers. The cooperative is very strict in their selection of fruit and conducts analytical tests before accepting any grapes for purchase. The bright and citrusy Viña Costeira white blend is 70% treixadura and is the best selling white wine in Galicia.
(At right, Manuel Castro, winemaker at Viña Costeira.)