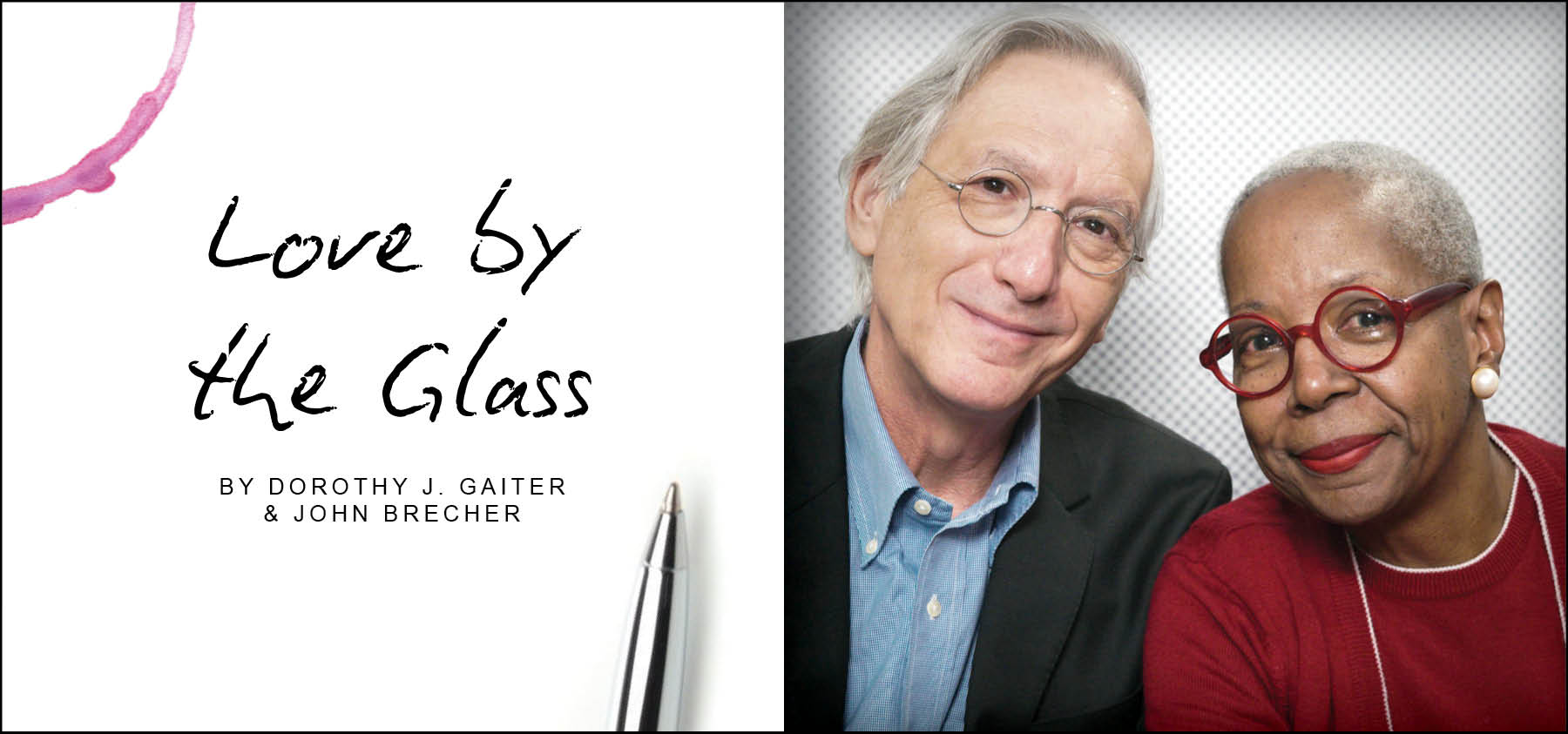 One of the good aspects of the globalization of wine is the planting -- in the right places, of course -- of grapes in areas other than where they're best known. We're not talking here about the usual suspects like Bordeaux varieties, but grapes like Petit Manseng, Fiano and Tannat growing in, say, California. A fun part of expanding your wine life is trying these, crafted by skilled, adventurous and confident winemakers who view grapes like colors on their palettes, with all manner of creative possibilities at hand.
We have always been drawn to these. Years ago, we saw a Tempranillo from Abacela Winery in Oregon on the wine list at Artist Point restaurant in Disney World. Tempranillo, the great grape of Spain, from Oregon? Had to try it. And it was absolutely perfect with planked salmon. We remember the tastes to this day.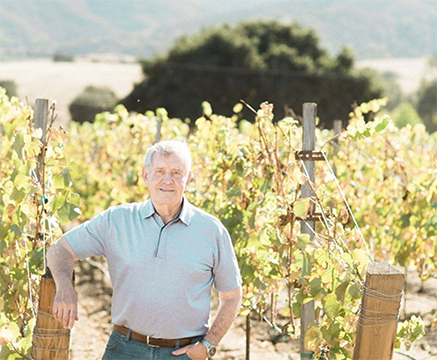 (Photo: Al Scheid)
So we were interested, yet a bit skeptical, when Scheid Family Wines of California sent us seven small-production wines made from varieties we don't usually see made in the USA. Dolcetto? When we think of Dolcetto, we remember sitting on a curb at a farmer's market in Piedmont and quaffing a bottle with a sandwich. How would this measure up? Well: "It leads with pleasant, earthy, raspberry-cherry fruit. It tastes like fruit, really charming. Lovely." The Viognier was even better. We got increasingly excited as we went through the Tannat (now mostly associated with Uruguay), Albariño (Spain) and Touriga Nacional (Portugal). We wrote about the wines: "There's a mid-thing happening. They are all tasty and easy to drink, but with a lot of character if you're willing to think about it. They're carefully done." The winery made just a small amount – maybe 100 cases – of each.
We knew that Scheid was a huge operation that, at least in part, made wines found in supermarkets. What was this about? It was time to make some calls.
Heidi Scheid (photo below) gave us some history. In the 1990s at Scheid, the now 48-year-old pioneering, innovative and sprawling wine enterprise, there were 26 grape varieties growing in their vineyards in the Salinas Valley in Monterey County.
"After we whittled them down to 14, we were really proud of ourselves. This really simplifies things, we thought. Well, now we're up to 39. I'm not quite sure really how that happened," said Scheid, executive vice president and daughter of the founder and chairman, Al Scheid, who is now 86.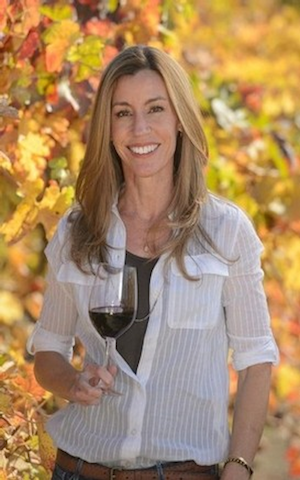 "We definitely have a mindset. Everybody who works for Scheid Family Wines has that curiosity: What if we did this? What if we tried that? It exhibits itself in the vineyards and in the winery, where we're trying new things, new technologies and some traditional ones. And that extends into these unusual varieties. Everybody gets excited when we get to try that first crop of Fiano. It's kind of cool to see how a variety like that can do in Monterey."
That spirit of adventure is especially present in the company's namesake small-production (8,000-case) winery operation, Scheid Vineyards. That's where you'll find Scheid Vineyards' winemaker, Marta Kraftzeck, 63 (photo below right), who says she was the first female winemaker in Monterey, starting more than 35 years ago.
"I have a lot of fun for a winemaker. It's challenging but also very exciting because most people work with maybe four or five varieties and I get to work with 40," said Kraftzeck, who was born and raised in Monterey County.
"It's interesting to taste them separately, evaluate them and see how they're doing in our region," Kraftzeck added. "Furmint is on the list, a Heidi suggestion." It's scheduled to be planted in the spring, Scheid said. Furmint is mostly associated with Hungary; we wrote about one a few months ago.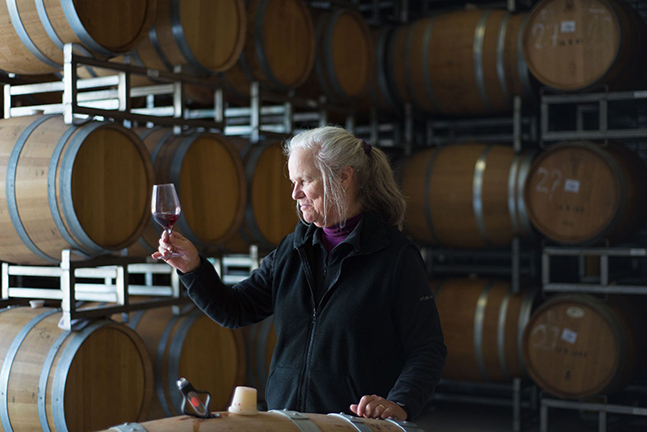 The now certified sustainable company that Al Scheid, a financial and entrepreneurial wizard, began has grown to 12 estates (the latest one is organic) that sprawl over 4,000 acres of vineyards and four AVAs along a 70-mile stretch of the Salinas Valley. That gives the company diverse climates and soil types in which to plant many different types of grapes. The company produces more than 500,000 cases a year, which makes it one of the largest family-controlled wineries in the U.S. Most people have probably never heard of it because little of its wine is bottled under its own name.
The company started out selling all of its grapes to wineries. Al Scheid, a Harvard Business School grad, recently of E.F. Hutton, hit on the idea of growing grapes in fledgling Monterey County in 1971 as a tax shelter for wealthy investors who needed to offset losses against regular income. So, along with partners he eventually bought out, he began buying land to plant vineyards. Before a single grape was planted, he negotiated a 30-year contract to supply grapes to Almaden, which gave him a list of grapes to grow, Heidi told us.
"They wanted French Colombard, Chenin Blanc, which we no longer have, and Flora. There was some just weird stuff there," Heidi told us.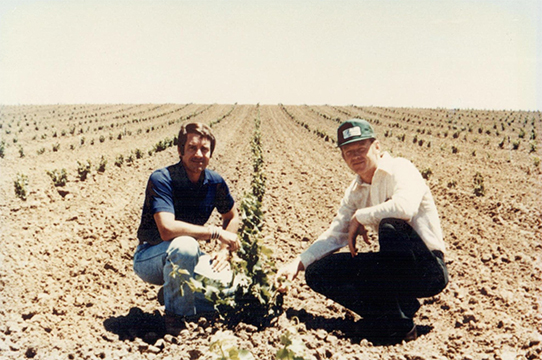 (Photo: Al Scheid and Dick Peterson at the newly planted San Lucas Vineyard in 1979)

Then, in the '90s the plant louse phylloxera hit and they did a "big replanting," she added. The "French Paradox" segment on "60 Minutes" aired, extolling the virtues of red wine in the diet of the French. Given the convergence of those two events, the Scheids converted substantial vineyards to Merlot, Cabernet Sauvignon and Chardonnay, still selling grapes to others.
That has changed. Last year, according to Heidi Scheid, 55, the company sold 10% of what it grew as grapes and 60% as bulk wine to other wineries. About 30% was bottled wine for Scheid's brands.
Scheid Family Wines includes names like District 7, Metz Road and Ranch 32, a Chardonnay and Pinot Noir that began as an exclusive label for BevMo, but has now gone national, with BevMo having the Ranch 32 Classic line, Heidi told us. Scheid also makes house brands for large supermarket chains including Kroger. Heidi's brother Scott, 58, is president and CEO. Kurt Gollnick, a well-respected viticulturist, is COO. Dave Nagengast is VP of winemaking; Kraftzeck and the company's other winemakers report to him.
In that universe, Scheid Vineyards is small – less than two percent of their total production – and the unusual varieties are even smaller. But why?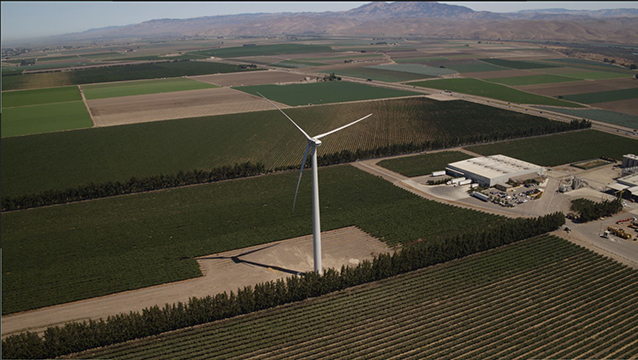 "We all travel and taste things," Heidi told us. "We all get together and talk about them. Sometimes Marta will make suggestions. Rarely does sales come into it. We're only planting an acre or two, not really in commercial quantities. Grenache Blanc started out with one acre and now we have six acres. We thought it was doing so well so now actually there might be some market for a nice Grenache Blanc at this price point.
"Things move slowly at a winery, so it took eight years."
They also make a Grüner Veltliner, but Scheid said they don't want to mimic the Grüners from Austria they've tasted and loved. "We want to make a Monterey Grüner. We want to be true to our vineyards and our terroir."
They also have "wine geek dinners" Scheid said, at Kraftzeck's house several times a year where participants "all bring bizarre wines that we've unearthed. It's super fun to have these esoteric varieties that people haven't heard of."
It can be amazing and eye-opening when an experiment goes extremely well. "Sometimes you get really surprising results, like our Petit Manseng. It just lights us all on fire, we love it so much. It's super high acid and makes a fantastic dessert wine," Scheid said. "It's not super commercially available but is in our tasting room in Carmel. We are certainly planning on doing it again."
Kraftzeck, who has a master's degree in Enology and Viticulture from UC-Davis, was first a plant geek, with a bachelor's in Botany from UC-Santa Cruz. Her first job was working with the late L. Peter Christensen with the extension service of the UC system in Fresno. Christensen, the son and grandson of grape growers, was an internationally known viticulture scientist and "was widely considered the world's leading authority on grapevine nutrition and fertility management," his obituary notes.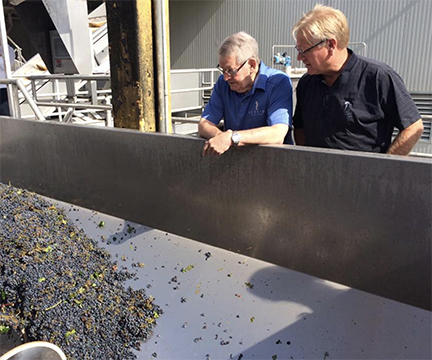 (Photo Al Scheid and Kurt Gollnick inspecting a load of Cabernet from the estate Hames Valley Vineyard)

After doing that, she moved back to Monterey, looking for work in viticulture.
"I wanted to work with grapes," she told us. "I'd worked with the Fresno County Farm Advisors, but nobody around here would hire me to work with grapes even though I spoke fluent Spanish." So she took a job as an assistant winemaker at Monterey Peninsula Winery, became winemaker there and then moved on to the job of winemaker/viticulturist at Chateau Julien in Carmel Valley for 20 years. She joined Scheid in 2009 as production manager and then transitioned to winemaking.
At Scheid, "I get to just concentrate on the wine and keeping tabs on the barrels," she told us. "A good winemaker just takes care of the fruit. Honestly, just let the fermentation go. You're just watching it, just taking care of it. The wine just makes itself, and you're just a caregiver, making sure it doesn't fall down."
As humble as she sounds, though, she is such a figure of authority and respect that she and Heidi once walked out to a tiny vineyard within the Riverview Vineyard, the company's northernmost in Monterey, and discovered a handmade sign that read "Marta's Vineyards." Scheid said the vineyard crew made it. It's the site of some of the small grape experiments, while others happen in larger parcels.
"It's very interesting to do all of these varieties," Kraftzeck said. "Some have been OK, but not something that we'd necessarily want to write home about. As with most winemakers, the initial vintages are kind of trial and error. What kind of color are you going to get? Is this too tannic?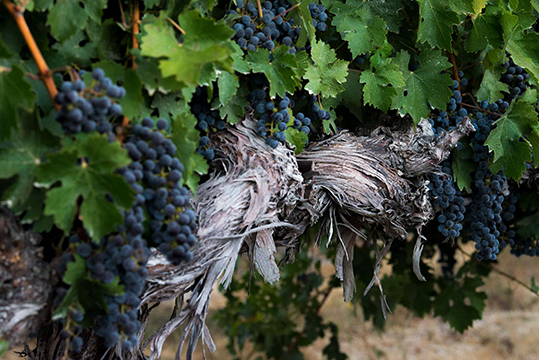 "It's always a learning experience for us and the vineyard, making it, just even growing it."
In the end, she added, "you can take a trip around the world with the varieties we make."
And that's what makes this so exciting. When you see a variety you might not expect to see from a certain place – Tempranillo from Oregon, Petit Verdot from Italy, Grüner Veltliner from Monterey – give it a try. These were almost surely not made as cash cows, but as passionate little experiments by creative winemakers. They are likely to be wines with personality, wines that speak of their location and the winemaker, wines you will enjoy meeting.
Dorothy J. Gaiter and John Brecher conceived and wrote The Wall Street Journal's wine column, "Tastings," from 1998 to 2010. Dorothy and John have been tasting and studying wine since 1973. Dottie has had a distinguished career in journalism as a reporter, editor, columnist and editorial writer at The Miami Herald and The New York Times as well as at The Journal. John was Page One Editor of The Journal, City Editor of The Miami Herald and a senior editor at Bloomberg News. They are well-known from their books and many television appearances, especially on Martha Stewart's show, and as the creators of the annual, international "Open That Bottle Night" celebration of wine and friendship. The first bottle they shared was André Cold Duck. They have two daughters.
Read more from Dorothy J. Gaiter and John Brecher on Grape Collective
Banner by Piers Parlett
Find Scheid Family Wines on Winesearcher.