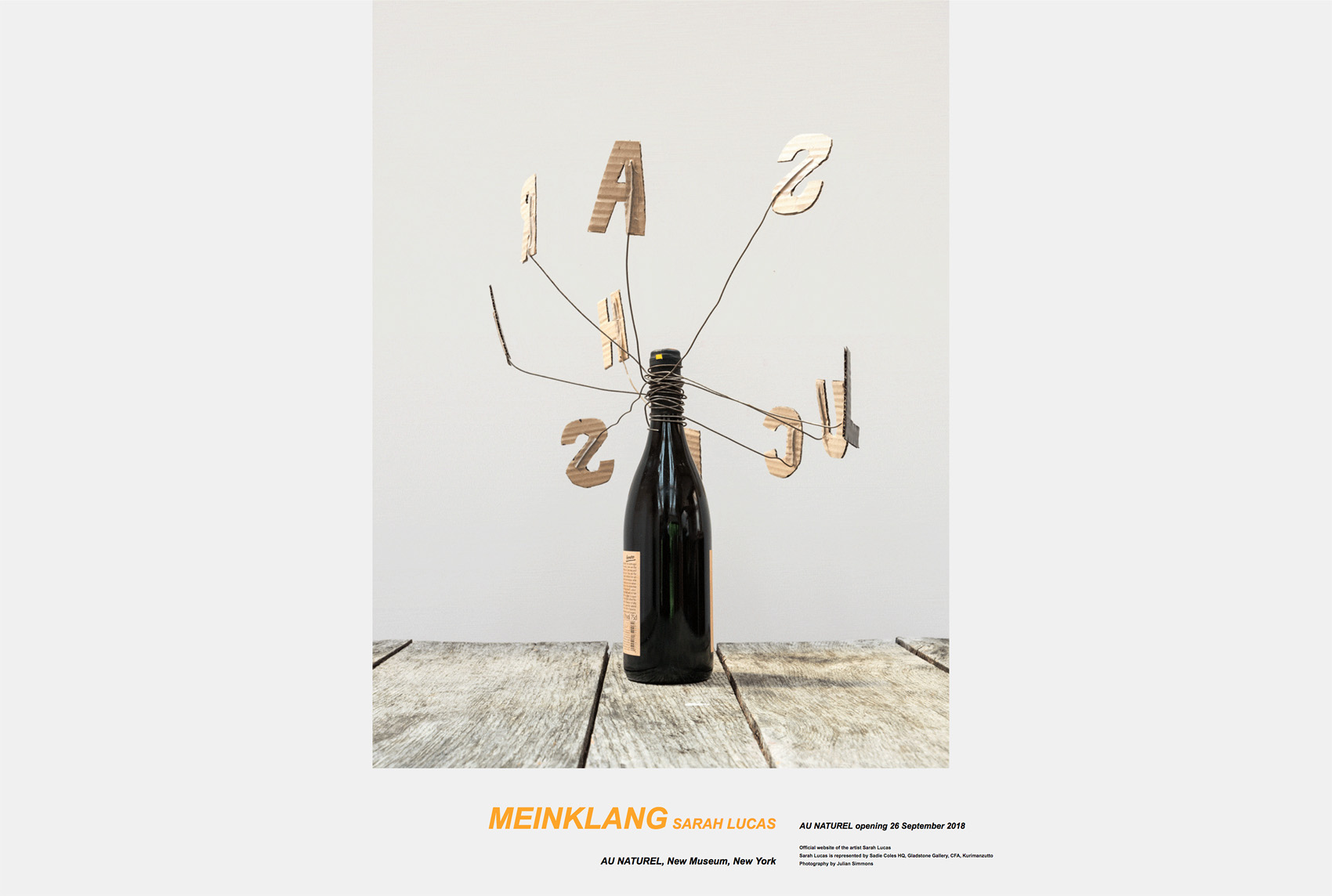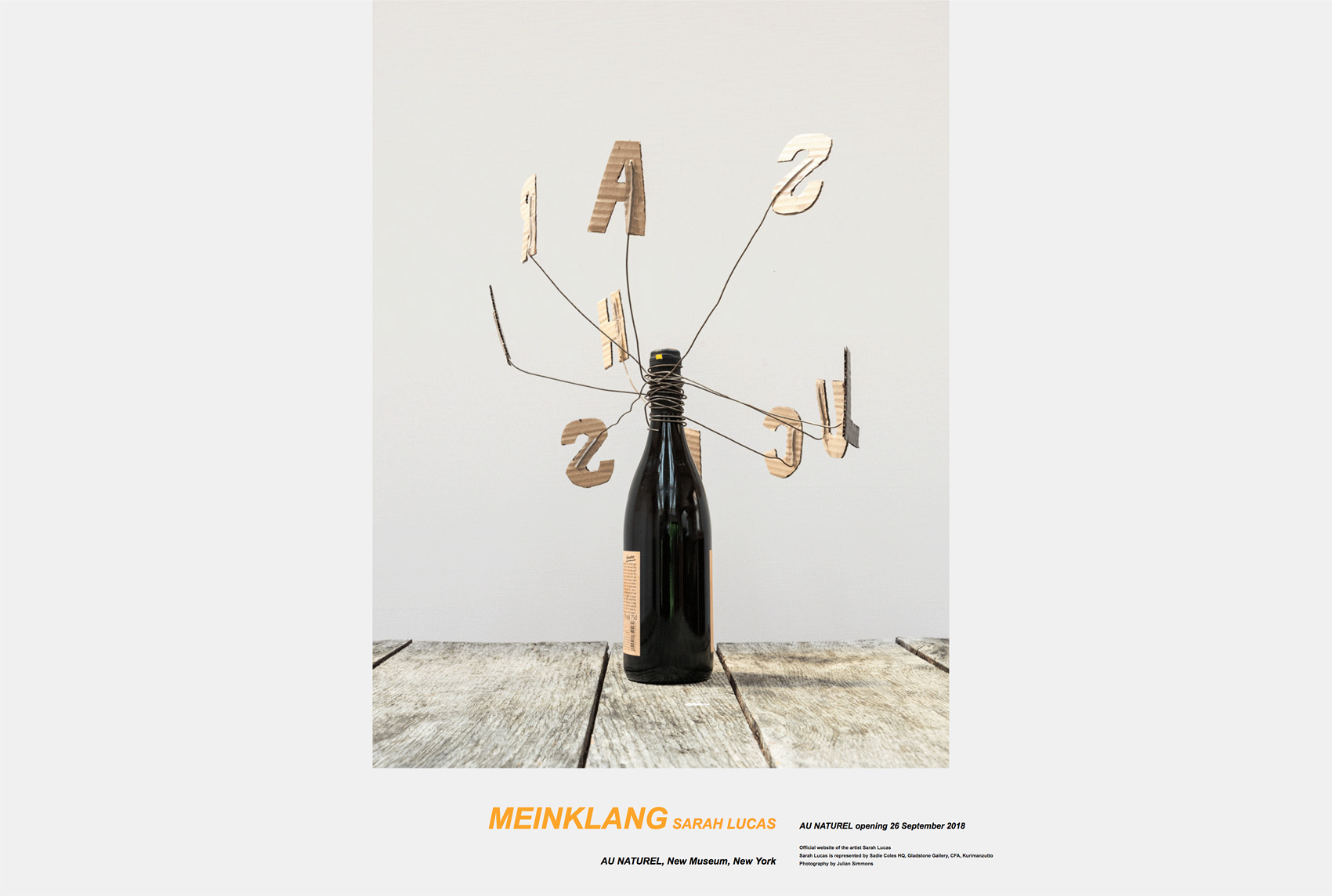 (Photograph by Julian Simmons)

April 9th, 1917, almost 102 years ago, Marcel Duchamp forced the art world to rethink the nature of art. Duchamp presented an upside-down urinal signed and dated with the signature "R. Mutt, 1917," and titled Fountain. Today Sarah Lucas, an English art star, has transformed a bottle of Austrian winemaker Meinklang's Pinot Noir, asking questions about the nature of wine and its relationship to art. The piece Mienklang Sarah Lucas, part of her Au Naturel show, is a bottle of Meinklang Pinot Noir with the letters S-A-R-A-H L-U-C-A-S cut out of cardboard and attached to the bottle with wire. And how did one of England's most recognized contemporary artists find interest with a cult Austrian natural wine?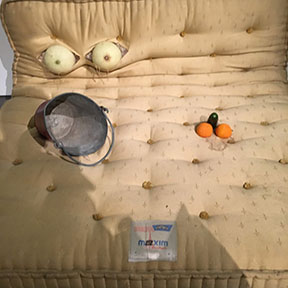 In 2011 The Guardian described Sarah Lucas as "the wildest of the Young British Artists, partying hard and making art that was provocative and at times genuinely shocking." One of England's most celebrated modern artists, she is often recognized as part of a movement known as Young British Artists which became a world art phenomenon with the Sensation show featuring fellow artists Tracy Emin, Damien Hirst and Gary Hume. Lucas represented Britain at the 2005 Venice Biennale.
Roberta Smith in the New York Times gave Lucas' New Museum show a rave review describing the art as "raw, sexually hilarious and heartily skeptical of propriety and societal repressiveness, especially concerning the body and its basic impulses." The title of the show refers to a sculpture of a mattress with two grapefruits lodged within the mattress (which is bent against the wall, forming its own headboard) and, lower, a beat-up red fire bucket. For him: just two oranges flanking an upright cucumber in line with the bucket.
An example of her playful, provocative art is a performance video, Egg Massage, made by Lucas and her partner, the artist Julian Simmons, with whom she lives and collaborates. In it, Simmons lies naked on a kitchen table, while Lucas breaks eggs and spreads them over his body. Simmons also manages the Sarah Lucas website. Grape Collective reached out to Simmons via email to inquire about the origin of the Meinklang Sarah Lucas sculpture. Here is his response: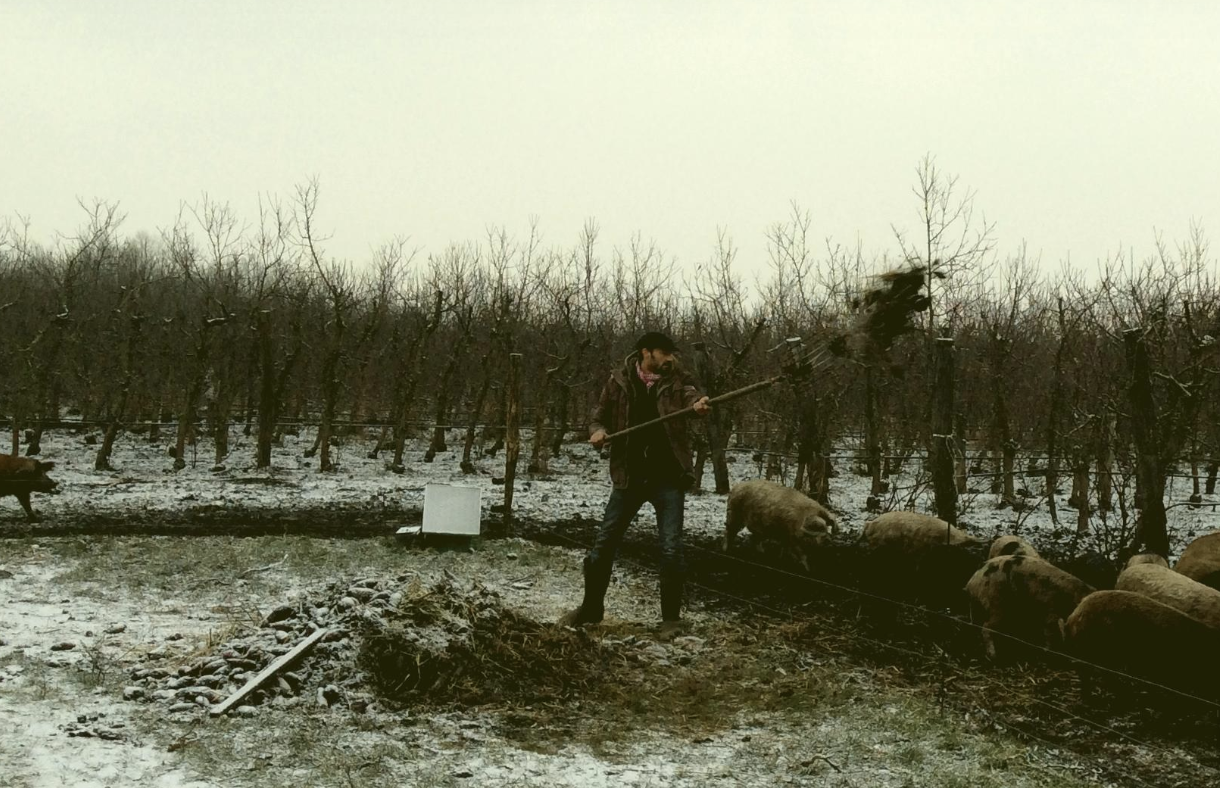 (Photo: Meinklang breeds Mangalitsa pigs which are one of the oldest pure-bred European pig breeds)

"…it must have been a rather unexpected sight - to come across a bottle of wine (and unopened!) in a show of such at that. I imagine you probably carry a cork-screw with you at all times, and would have been ready to sample the wine if it were not for the plexiglass! The piece is dated 2018 and grew out of a bottle of wine friends gave us, who are very much on the organic, biorhythm and no-sulphite side of things.
One of the reasons Sarah used the bottle, was that it was there - most of the materials she uses are to be found near to hand, and the non-fussy 2 tone colours - tan works well with wood furniture, mdf, brown manila paper, tan tights, flesh, etc."
And what of the wine? Meinklang is one of Austria's most prominent natural wine producers. A family-run mixed farm, Meinklang is set in the middle of the World Heritage Site of the National Park Neusiedlersee in the far east of Austria. They embrace biodiversity and call their farm a Wein-Garten" (on which they grow not only grapevines but also other fruits, vegetables and herbs and raise livestock such as cattle, horses, pigs, sheep and chickens.
Meinklang has worked with Pinot Noir since the '80s. They now have two vineyards with 35-year-old vines with different clones producing two Pinot Noirs. Their Pinot Noir is skin-fermented for eight or nine days, no stems, no temperature controls, no fining or filtration. It is aged partially in old wood barrels and partially in stainless steel. They make about fifteen thousand bottles per year of the wine. Meinklang's Niklas Peltzer describes the wine as "not a complicated wine," but rather "about freshness and drinkability and not long aging."
For Petlzer it was a happy surprise to find out his wine had become part of the Lucas New Museum show. "Somebody I know in New York came to me and said oh your wine is in an exhibition in the New Museum and also some people have texted me. It is awesome and cool but we never had any contact with her. It is a cool honor but I can't tell you more than that. It's pretty exciting."
And thus a bottle of wine has transformed into a piece of art. Could it be that this transformation has also created a record for the most valuable bottle of Austrian wine in existence? If you were to buy this Pinot Noir in a shop it would cost around $20. According to Christies auction house website Lucas' art has sold in their auctions for between $61,000 and $380,000.

Grape Collective reached out to Austrian wine expert Stuart Pigott via email and asked his opinion on Meinklang Sarah Lucas. He responded: "I always like the in-your-face directness of Sarah Lucas who strongly reminded me of several strong and intelligent young women I met when I studied painting in London back in the early 1980s. We must have first met around 1996 in Berlin, where I had recently moved, and from the beginning she drank copiously, often consuming some other stimulants on top of that.
For her like almost everyone else in the YBA (Young British Artist) scene wine was just one element of their intoxication "cocktail". I often saw her in high spirits, but never blind drunk like her colleague and artist friend Tracey Emin often was. It's therefore a real surprise that she should include wine in her work and a cool insider wine like Meinklang from Burgenland in Austria. Did she drink too much of this stuff some time? Quite possibly, because I can think of no other explanation."
Sarah Lucas Au Naturel will be at the Hammer Museum in Los Angeles from June 1st until September 1st 2019. Find Meinklang at your local wine shop on Winesearcher.