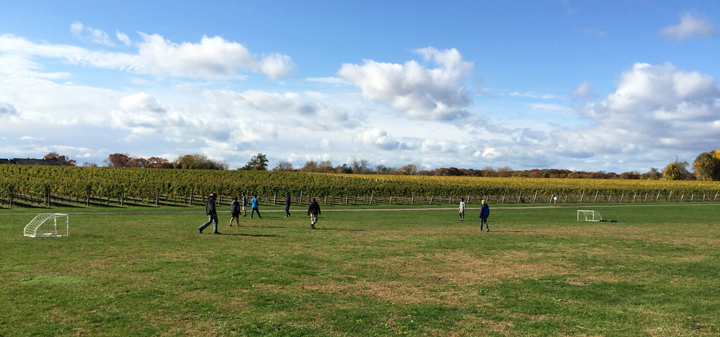 Gone are the days of sitting on the grass, over a blanket, surrounded by vines in full bloom with music in the Long Island air and kids uninvitingly picking unripe grapes. No more are the late afternoons with a cheese plate on your lap and Wölffer in your glass. The sun over the horizon reinventing its evening disappearing act. Gone, too, are the big crowds in the main tasting room — the beautiful and classical European accentuated room with high ceilings and colossal French glass doors, where it is always wine o'clock — enjoying the vineyard view in its full splendor in July. So are the great days at the wine stand and main building, where the flagship rosé flows freely and the party never seems to end. Novembers at the winery are another story.
Below: Sunset. (Wölffer)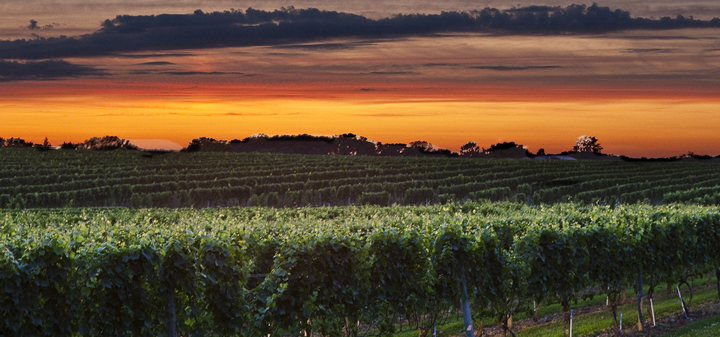 The 2014 vintage safely occupies large stainless steel tanks, macerating or settling down. What remains? Pump overs, punch downs, racking juice to barrels and tanks, bottling, long fermentations. And soccer. The daily ritual of the cellar crew is a 40-minute competitive match of soccer during lunch break.
Even during harvest, with all the hard work and little sleep, the games go on. Last fall, longtime winemaker Roman Roth invested in new goals with nets. The previous wooden goals without nets were not cutting it — it was difficult to judge when the ball went in — and these games are important, you see! The dailies are fun; it's good exercise, builds morale, and energizes you to finish the afternoon and night work, when greater inspiration is sometimes needed.
The first week of harvest work, combined with running around for forty-something minutes mid-day, is something to get used to. By the second week, your body can not do without it. Just remember to stretch well. None of this is made easier by the fact that Wölffer practices sustainable farming and traditional wine making techniques that don't rely heavily on newfangled technology.
A warning to all the new "players" during harvest: Roman is a very competitive and physical player, a real perfectionist in the cellar as well as on the soccer field. Watch out for his stop-and-go. No one likes to lose the daily game, especially if an extra hour of sleep or staying later for clean up and putting the pressed juice to sleep is in the balance. There is early talk of goal-line technology for next harvest. Let's see what FIFA says.
Below: The harvest. (Wölffer)
A typical day starts by clocking in at 8:00 a.m. Groups are organized to their assigned tasks: multiple pumps, presses, de-stemmer, and tank set-ups. Grapes are harvested by another group under the guidance of vineyard manager Richie Pisacano and soon start arriving at the cellar. Someone works the forklift and hauls the bins of fresh grapes over the de-stemmer, another person oversees the de-stemmer and directs the grapes down into the crusher, another person empties the bins of stems, and yet another person (anyone near, really) watches the juice bin in the press so when the juice line is low air is not being pumped in through the hoses and in with the fresh juice. This goes on all day. The receiving tanks are then sealed and a settling agent is added to the pressed juice. Harvest work is usually done outdoors and the weather is not always accommodating. This sometimes means just cleaning tanks or big totes in cold weather, but sometimes it includes standing for long stretches in front of a vibrating sorting table. These days end as late as 2 a.m. (including one and a half to two hours of clean up) with no days off. For five to six weeks. It is important to eat well and get as much rest as possible.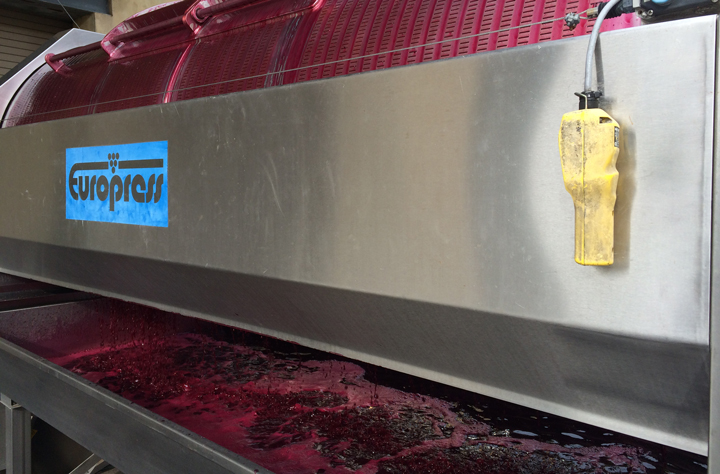 But now, in early November, those days are finished. But that's not to say the work is. The work has simply shifted indoors: pump overs, punch downs, racking, and bottling. Pump overs and punch downs are performed three times at day for two to three weeks for the reds. This means showing up at night (for the rotating group) for a session of one and a half to two hours of punching down 1.5-ton bins (20 to 30) full of crushed grapes. Punch down is performed with a stainless steel bar with handles and a flat, round base at the bottom, all manual labor. You essentially punch down the cap to integrate it back into the macerating, or fermenting, juice.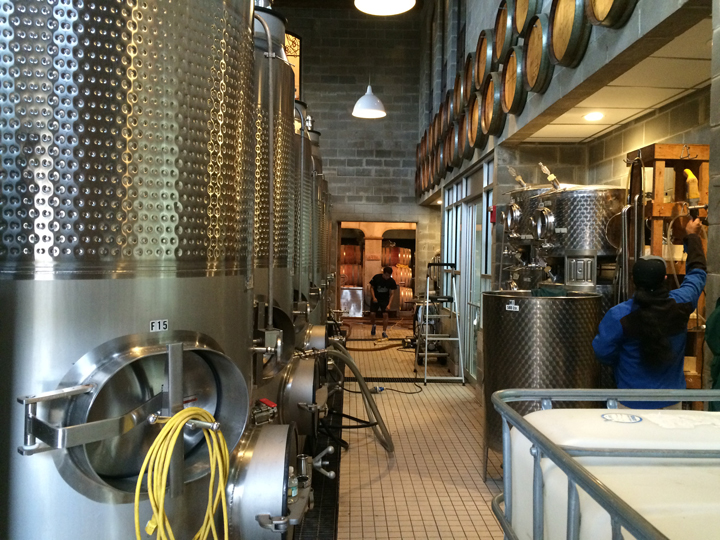 There are usually seven to ten tanks that need pump overs, too. Pump overs are performed with pumps and hoses, the objective is to wet the cap at top by pumping fresh juice from the bottom of the tank. These are both cap management processes during maceration and fermentation. Racking is another frequent task during and after harvest as new juice is constantly racked into new tanks to separate it from sediment build up. Pumps and hoses are used for racking as well.
The early wines, roses and light whites, which were harvested first, are undergoing fermentation. A portion of the fermenting juice meant for the roses will go (and continue fermentating) into old oak barrels to make the Grandioso rose, older oak and lees aging for texture. Once fermentation is complete, the light whites will remain in stainless steel tanks for less than a year and be bottled and released next spring. The reds macerate for two-three weeks, fermentation is soon induced, then pressed in late November. After a week or so for lees setttling, wines go into barrel for aging. The light reds see up to a year, the fuller reds up to 21 months.
After the new vintage of the sparkling wines was bottled a bit early this year, December will be dedicated to racking older vintages, most of the bottling will have to wait until early next year.
Soccer is still being played outdoors, at least for the time being.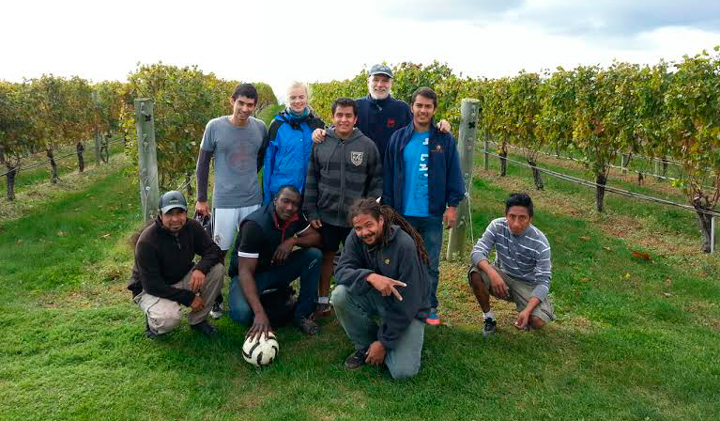 About The 2014 Vintage
You will find Roman in high spirits these days. No, he is not on a current winning streak on the Wölffer soccer field, but he is very "pumped" about this year's vintage: "long hang time for the grapes produced fully ripe, healthy grapes." This after a historic 2013 with the highest brix levels for some of the reds.
Yes, there is plenty to celebrate once again at Wölffer.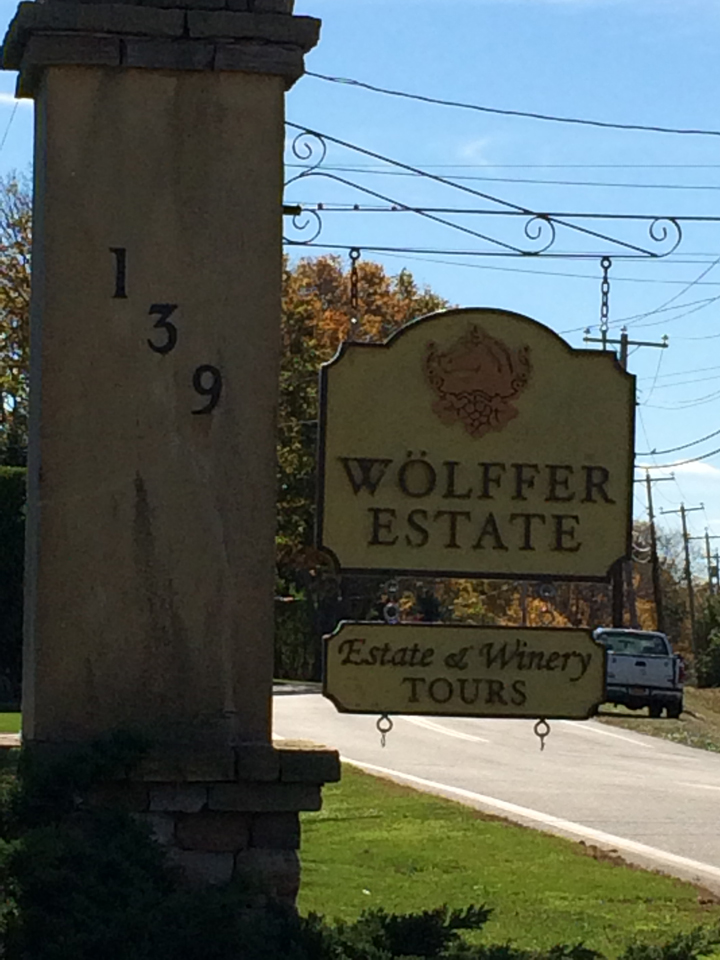 The Wines
Do not tell Roman he has a small cellar, he will not believe you. The ever increasing lineup at Wölffer includes three Chardonnay, a Sauvignon Blanc, a Trebbiano, two lovely roses, eight red wines, two Methode Champenoise sparkling wines, two anniversary wines only released in great vintage (Claretto and Christian's Cuvee) and three sweet wines. The last two years they have even started making brandy (from Trebbiano grapes) and this year gin (from grape juice and juniper berries). There are also Roman's personal offerings: two Rieslings and powerhouse Merlot, Grapes of Roth, which gets better every year. There are also a rose vinegar, a non-alcoholic grape juice and low-alcohol ciders.
The Whites

The Estate Chardonnay is a simple mineral-driven white with some citrus notes over a medium body, some malolactic fermentation for texture. The Perle is a tasty, round and creamy Chardonnay with some new oak and about eight months on the lees. The 2013 is currently in wood barrels and aging beautifully. The White Mischief is a wild yeast fermented Chardonnay, predominately stainless steel fermented, it's fresh, full body with rich melon fruit and noticeable acidity.
The Reds
A solid entry level Cabernet Franc, not as structured as the Loire Valley's but a very decent version. Easy-drinking, nice on its own or with food. A Pinot Noir, Landius, with nice complexity, some earth with ripe fruit and depth. 2013 will be a great vintage for the reds and Ladius (from barrel tasting) has the structure and strength the 2014 lacks. The 2013 will be one to put down, the 2014 (recently moved to barrel) is an early drinker. Grapes of Roth Merlot (2008) is a full body, concentrated wine with black fruits and some toasted oak. 2014 is currently macerating and has, as expected, a lot of weight, power and aggressive but round tannins. Update: the wine has been moved to barrel after its three-week maceration period and a week of lees settling. Claretto (2010) is an anniversary wine. Cabernet Sauvignon made in the Amarone style where the grapes are dried out to raisin size, concentrating the natural sugars for high alcohol content. The wine is engaging while big, lush and powerful, sweet fruit and a very long finish. Have it by itself or whatever you want, a brownie even.