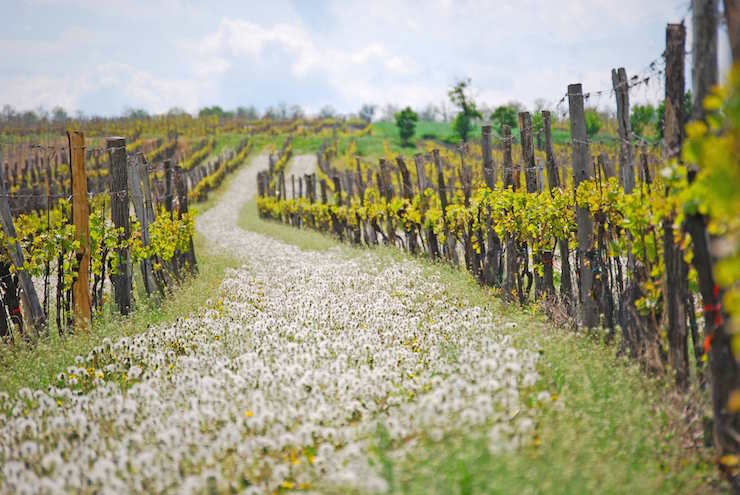 Austria is universally famous for its music, culture and pastries but less so for wine. Although wine lovers have long prized its dry and sweet Rieslings and Grüner Veltliners, many are just getting acquainted with Austrian reds, even though its red wine production can be traced back four millennia!
Austria has over 20,000 producers raising more than 300 grape varietals which is surprising for such a small country (the total country has approximately the same population as New York City). Most of these producers are small and sell their wines directly.
The most famous regions are Wachau, Kamptal and Kremstal in Niederösterreich in the northeast where the dry and sweet Rieslings and Grüner Veltliners are made. Most Austrian red wines, however, are made in the southeast regions Carnuntum and Burgenland which borders Hungary.
The Neusiedler See is a 13-mile long but shallow lake that straddles Austria and Hungary. The lake is key to the Burgenland's terroir as the warm, wet winds that blow over the vineyards impart distinctive minerality.
Weingut Strehn, located in Deutschkreutz in Mittelburgenland (also called the Blaufränkischland), has been producing red wines for 60 years. The winery is now owned by third-generation Monika Strehn. One of her sons is the winemaker, another, the vineyard manager and her daughter runs the operations.
Strehn cultivates 50 hectares planted 90% with the red varieties Blaufränkisch (14 hectares), Zweigelt, Cabernet Sauvignon, Cabernet Franc, Sakt Laurent, Merlot, Syrah and Pinot Noir, and 10%, with the white varieties Riesling, Grüner Veltliner and Chardonnay using sustainable methods. All the red grapes are harvested, sorted and destemmed by hand; the whites are harvested mechanically.
Strehn makes most of its wines solely from the indigenous varietals Zweigelt, Blaufränkisch and Sakt Laurent. In addition, it produces several red wine blends: "Pandur" comprised of Cabernet Sauvignon, Merlot, Cabernet Franc, Merlot, and Syrah; "Kult," Cabernet Sauvignon, Merlot, and Zweigelt; "Vin Villa," Gamay, Sakt Laurent, Cabernet Sauvignon; and "Rhapsody," Cabernet Franc, Syrah. Strehn also makes a Merlot and a Mittelburgenland DAC (Lemberger) and two whites, a Riesling and a Chardonnay. It imports only the Zweigelt, Sakt Laurent and Blaufränkisch wines to the United States.
Zweigelt, the most planted grape in Austria, is a hybrid of Sakt Laurent and Blaufränkisch, and is grown in heavy loamy soil. The 2014 Strehn Zweigelt is fermented in stainless steel and aged in stainless steel and oak. The wine is deeply purple with bright, red berry, juicy flavors and hints of black pepper. Its fruitiness complements poultry, game and tomato-based sauces, barbecue and spicy foods. ($15.99 at Grape Collective)
Sakt (Saint) Laurent is a cousin of Pinot Noir. 2013 Strehn Sakt Laurent is from 30+ year-old vines in clay and gravel. It is fermented in vats and aged in old oak. The wine is ruby purple in color and tastes like a cross between Pinot Noir and Syrah with complex, velvety layers of deep black cherry, roasted cranberries, smoke, anise and other spices. It has firm but ripe tannins, nice acidity and impressive length. Like Pinot Noir, Sakt Laurent is very food friendly and particularly well-matched to poultry, game, fatty fish like salmon and mackerel, richly-sauced foods and grilled vegetables. ($18.99 at Grape Collective)
Blaufränkisch (pictured below, right), another indigenous grape that was once a favorite of Charlemagne, is grown in loess and gravelly soil. Unlike most Zweigelts, many Blaufränkisch wines are age-worthy. Strehn makes three Blaufränkisch wines, its classic and three single vineyard wines.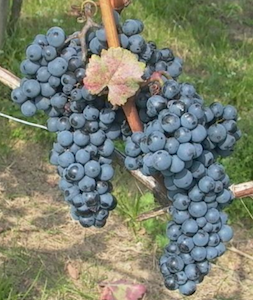 Strehn Blaufränkisch Classic is fermented in stainless steel and aged six months in old barriques. The wine is garnet in color and well-balanced. It has ripe red berry, currants and pomegranate with the kirsch notes, as well as some spice, zesty acidity and minerality.
Strehn Blaufränkisch Reserve Weisses Kreuz is reddish purple and shows anise, cranberry, raspberry, peppery and violet notes with soft tannins and good acidity.
2012 Strehn Blaufränkisch Roter Schotter is aged 12-18 months in new oak. The wine shows more complexity with lovely layers of black cherry, smoke and spice. It is medium-bodied with silky tannins and light oak. ($28.99 at Grape Collective)
Strehn Joseph Blaufränkisch Mittelburgenland is fermented in stainless steel and aged in old oak. The wine is bright crimson with intense fresh fruit, sour cherries, blackberries, anise, full, juicy and smooth. It is full-bodied and has a long finish. It could be aged but is accessible now.
All of the Blaufränkisch wines would be excellent with roast lamb, mushroom or tomato-based dishes, and grilled food or hard cheeses.