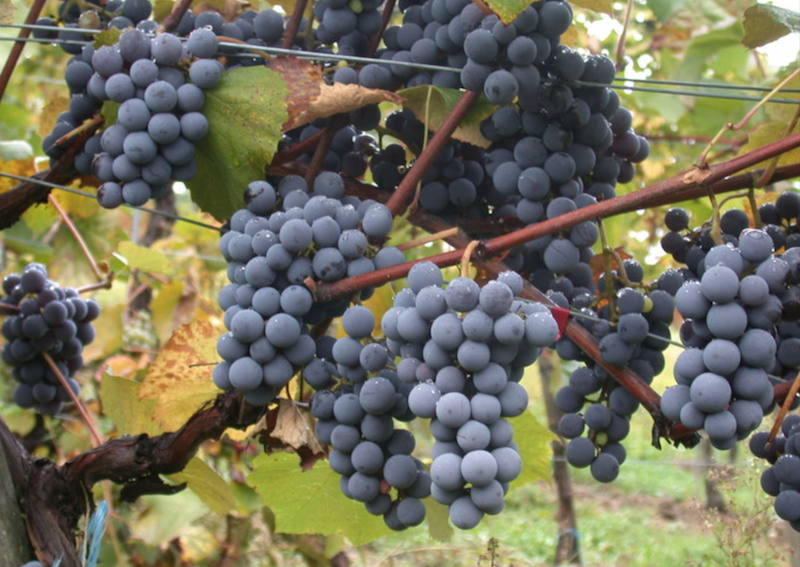 "That Gamay is so hot right now," is something Will Ferrell's character, Mr. Mugato, in Zoolander would utter about Beaujolais' noble variety these days. An avalanche of Beaujolais Nouveau, already on the northern shores of the US, is soon to be unleashed and dispersed in every given direction to invade your local wine shop by the end of the week. Yes, it is that time of the year again, Beaujolais Nouveau Thursday (Nov. 19th) marks a new edition of this celebrated, and much romanticized, wine event. Gamay (aka Gamay Noir a Jus Blanc) has been denounced by a Duke, its wines chaptalized and manipulated in various ways to increase appeal, and has been misrepresented in this all-for-profit November one day fair - but Gamay is more than Beaujolais Nouveau.
Beaujolais was first cultivated by the Romans, and the Benedictine monks planted and made wine from the 7th century to the Middle Ages. Gamay's second-string status began when it failed to impress the Duke of Burgundy Philippe the Bold and in 1395 he outlawed the grape's cultivation, favoring the planting of the more 'elegant' Pinot Noir. The grape would remain south of Burgundy, in Beaujolais. Beaujolais AOC was established in 1936.
The phenomenon of Beaujolais Nouveau in its infancy was nothing more significant than a simple wine of the vintage drunk in the cafes, local bars and bistros of Beaujolais and Lyon. In 1951 Beaujolais Nouveau was recognized and the official release date was set for November 15th. The wine became popular in Paris, extensive marketing and winemaker and businessman George Duboeuf did all the rest. The world soon got the BN wine bug and before too long millions of bottles were dressed up in festive labels and destined for international markets. In 1985 the date was changed once again to the third Thursday of November - but Gamay's story is still not complete.
Winemaking techniques and practices adopted during the 1950s like chaptalization, or the adding of sugar to increase alcohol levels, high-tech carbonic maceration, and the implementation of cultured yeast for certain desired flavors and aromas were quite common for the production of Beaujolais. In the 1980s a group of winemakers (Marcel Lapierre, Jean Foillard, Jean-Paul Thevenet and Guy Breton) in the very same region shook up the local wine scene and began to put forth less invasive winemaking practices. Influenced by the teachings of a chemist turned winemaker, Jules Chauvet, and motivated perhaps by the vision of a less foggy tomorrow, set out to produce un-manipulated, expressive wines with character and balance.
Where Beaujolais Nouveau ends, Gamay begins. And Gamay can impress.
Gamay is very popular these days and there are a number of beautiful expressions all over the world. More and more you are seeing bottles from unique locations. Everyone is having fun with Gamay and not only on the third Thursday of November.
Some Gamays to consider...
After Beaujolais gained AOC status, nine crus were created in the years between 1936 and 1946. Regnie made it a total of ten when it was added in 1988. These wine areas typically produce more complex and exciting Gamay, and some can even be quite special. Some of the Crus to keep in mind are Morgon, where a healthy number of great examples can be found, Moulin a Vent, and Fleurie.
Some of the wines that consistently grab our attention are Marcel Lapierre's and Jean Foillard's Morgons, the latter's Cote du Puy, perhaps one of the finest Gamay expressions, is layered and deeply complex young, mesmerizing after 7+ years. Yvo Metras Printemps - Fleurie - is unique, shows lovely peppery notes, but it's expensive and somewhat difficult to find. Also from Fleurie, Clos de La Roulette is consistently delicious, the Cuvee Tardive can go for miles.
There are also great values: La Madonne - Beaujolais Village Nouveau - is a bargain in the low teens and always solid, Marcel's Lapierre's Galouis is one to raise the elbow often with.
The Loire Valley is another reliable source for great Gamay. Henry Marionnet Premiere Vendage is a pure, natural expression of Gamay, around $20, is one not to miss. Domaine St. Nicolas "Gammes en May" by Thierry Michon, a stone's throw away from the Atlantic ocean, is a one-of-a-kind Gamay, it shows a very intriguing salinity, honest fruit, and funk.
Italy's Valle d'Aosta Gamay from Grosjean with its Alpine influence and lovely rusticity is a good one to try.
The US has its gems as well. Edmunds St. John Bone-Jolly from El Dorado Country is bright, tangy and candied. Oregon's Bone & Arrow will grab your attention with it's Loire-like air.